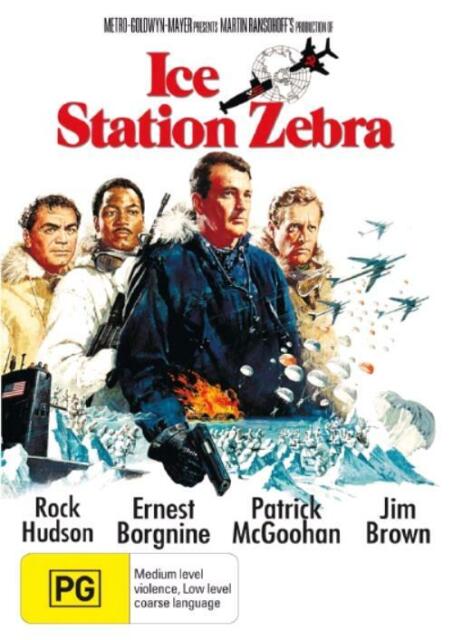 Patrick McGoohan in Ice Station Zebra (1968)
There is a scene in Ice Station Zebra (1968), in which Patrick McGoohan's character is required to dive into the flooded torpedo room of the nuclear sub to rescue a trapped officer. Being a strong swimmer, Patrick insisted on doing the scene himself rather than use a stuntman. Australian Olympic swimming champion Murray Rose had been cast in another role, so a quick alteration to the script had him accompany McGoohan in case something went amiss. Rose later reported that while the two were standing up to their necks in the rising water, Patrick whispered to him, 'Now I've done it, my foot's stuck.' Rose immediately dived down and was able to free his compatriot's foot which had become wedged tight in the torpedo rack. Had McGoohan done the scene alone, as it was originally written, he might well have drowned.
Richard Greene
Exceedingly good-looking, British actor Richard Greene was just beginning to take Hollywood by storm (his fan-mail rivalled that of Tyrone Power for a time), when World War Two suddenly intervened and he promptly headed back home to enlist in the Royal Armoured Corps of the 27th Lancers. He distinguished himself throughout the conflict, eventually attaining the rank of captain. At war's end he endeavoured to re-kindle his Hollywood career but without success. When offered the part as Robin Hood in a TV series titled The Adventures of Robin Hood, he was strapped for cash and eagerly signed on. The series would run for five years and make him a rich man. Five years later he virtually gave up acting when he purchased a farm in Ireland and began breeding horses. In 1982, he suffered brain injuries in a fall and died three years afterwards following surgery.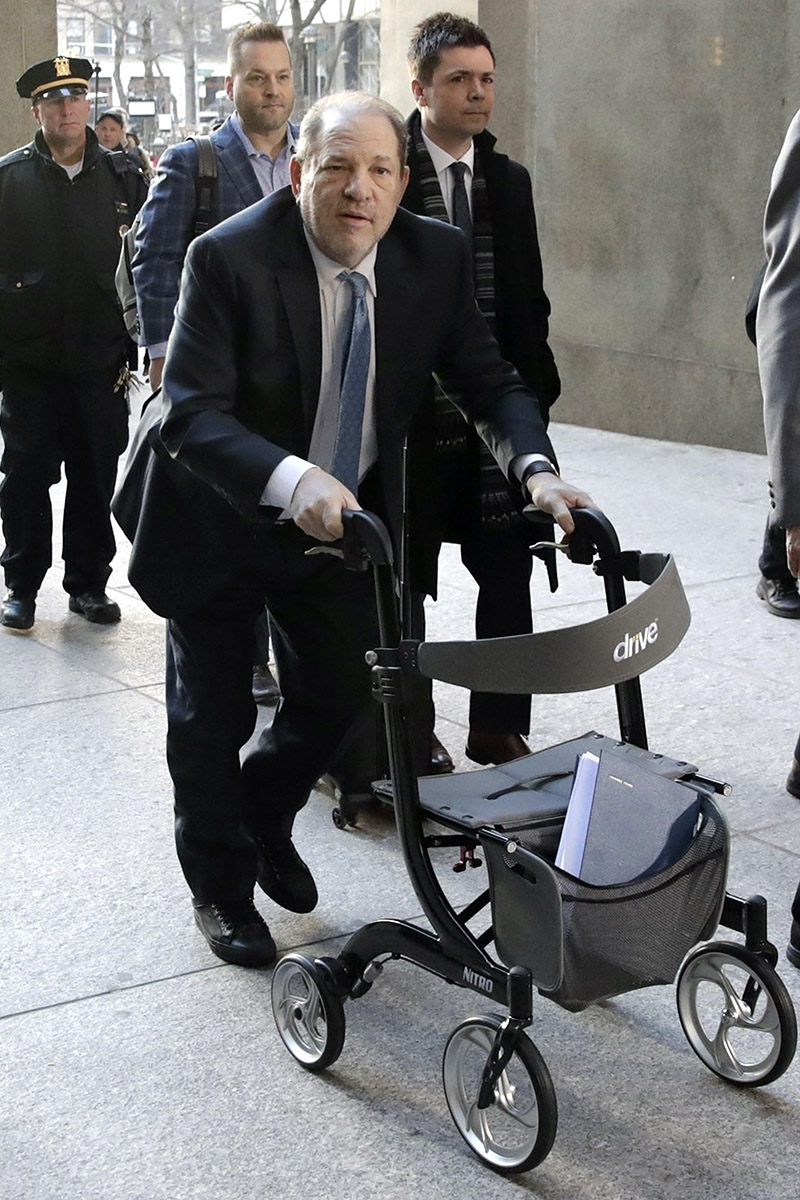 Weinstein arrives in court
On 14 October 2017, the Academy of Motion Picture Arts and Sciences expelled film producer Harvey Weinstein from its ranks. The Academy issued a statement saying the board did so 'not simply to separate ourselves from someone who does not merit the respect of his colleagues, but also to send a message that the era of wilful ignorance and shameful complicity in sexual predatory behaviour and workplace harassment in our industry is over.' Evidently, it took over a century for such heinous conduct to be noticed and acted upon. Sixty-seven year-old Weinstein was sentenced in March 2020, just prior to his sixty-eighth birthday, to twenty-three years in prison after being convicted on charges of third-degree criminal sexual acts and first-degree rape. He is serving his sentence at the maximum-security Wende Correctional Facility near Buffalo, New York.
Herbert Marshall
British actor Herbert Marshall lost his left leg in action during World War One and was rehabilitated with a wooden replacement fitted. To cover up his disability he developed a very deliberate square-shouldered and guided walk that was largely un-noticeable. In fact, his public were generally unaware of his disability his entire career. Consequently, he was able to grace almost a hundred movies and TV series, many of them, especially in his younger years, as the romantic lead. Probably, best known for his portrayal of Bette Davis' betrayed husband in the 1940 drama The Letter, he died just four months short of his 76th birthday in January 1966.
Courteney Cox 'discovered' by Bruce Springsteen in 1984
From 1989 until 1995, Courteney Cox of Friends fame was in a relationship with actor Michael Keaton. She first became noticed in the 1984 Bruce Springsteen music video for his hit single 'Dancing in the Dark', when she was paid $350 to look 'surprised' when he 'randomly' selected her from the front row of the audience to dance with him. Courteney suffered her first miscarriage in 2001 during her marriage to David Arquette. She gave birth to their daughter, Coco, in June 2004, but has since miscarried another seven times. David and Courteney divorced in May 2013.
Dame Edith Evans
At the age of eighty, Dame Edith Evans attended the 1968 Academy Awards. This was highly unusual for a non-American to attend the ceremony. Having won the BAFTA Golden Globe and the New York Film Critics' awards, she was fully expected to win again for her performance in The Whisperers, but it was not to be. The untimely death of Spencer Tracy saw his co-star in Guess Who's Coming to Dinner, Katharine Hepburn, land a lot of sympathy votes and emerge triumphant. It was one of the biggest upsets in Oscar history.
Cher (with Nicholas Cage) in Moonstruck (1987)
Singer/actress Cher has led an interesting life. She turned seventy-six in May 2022. Her father was of Armenian ancestry; her mother reputedly had Cherokee ancestry but that is still unverified. Cher was born Cherilyn Sarkisian in 1946, but her legal name was changed to Cheryl LaPierre in 1961 after her step-father adopted her. In 1979, she legally shortened her name to Cher, with no surname. She has given birth to two sons – Chaz Bono in 1969 (to Sonny Bono), and Elijah Allman in 1976 (to Gregg Allman). Chaz was born a girl and christened Chastity, but decided to undergo gender reassignment surgery in 2009 and is now legally Chaz Bono. Cher felt that the late Sonny Bono was a good father, but described Allman as 'absolutely useless' and 'not worthwhile at all'. He had not called Elijah in two years.
Cher began dating record producer David Geffen after she and Sonny split up. At one time she was living with rock musician Gene Simmons of 'Kiss'. Some men she has dated are (in alphabetical order): Warren Beatty, Eric Clapton, Tom Cruise, John Heard, Val Kilmer, Ray Liotta, Richie Sambora and Eric Stoltz. She has also openly admitted having had a lesbian affair in her mid-teens. In 1991 she rejected the role of Thelma Dickinson in Thelma & Louise. It ultimately went to Geena Davis and the picture was a major box-office hit.  Cher won an Oscar for her performance in Moonstruck (1987). As for her singing, she has become the only female vocalist to have a # 1 hit single in the US charts in the 1960s, 1970s, 1980s and 1990s. Only five other performers have completed the double of having had both a #1 single and an acting Oscar. They are: Frank Sinatra, Barbara Streisand, Judy Garland, Bing Crosby and Jamie Foxx.