KATHARINE HEPBURN (1907-2003)                
Borne one of six kids from Hartford, Connecticut, Kate was thirteen when she found her fifteen year-old brother Tom hanging from an attic beam in a relative's house. The family said he had accidentally hanged himself while attempting a trick his father had taught him. Kate was not so sure and his death affected her dramatically. She shaved her head, appeared to change her sexuality, and began dressing as a boy but would not say why she did this.
Kate & Spencer Tracy
When she met Spencer Tracy who was a notorious bisexual and alcoholic, prone to binges that often lasted for a week or so, she took it upon herself to look after him (as she would have cared for her brother had he lived). She did so for almost three decades until Tracy's death. It has been claimed that their relationship was never consummated; but was a deep friendship, nothing more. They made a total of nine films together.
Kate & husband Ludlow Ogden Smith
At least one writer, an ex-hustler named Scotty Bowers, has claimed that he had become close to Kate and had personally set her up with over 150 female lovers over the span of their friendship. Whether or not she was a lesbian (or even bi-sexual), however, is debatable. Despite her closeness to her family, she never disclosed details regarding her relationship with Tracy or, indeed, with anyone else, male or female. She had married wealthy Ludlow Ogden Smith in 1928 and made him change his surname to Ludlow because she did not wish to be named Kate Smith. There was a portly singer of that name at the time. Kate and Ludlow divorced in 1934 but remained lifelong friends.
Howard Hughes & Kate
Hepburn won 4 Oscars, all as the films' leading lady. – Morning Glory (1933), Guess Who's Coming to Dinner?  (1967), The Lion in Winter (1968) and On Golden Pond (1981). She was nominated a total of 12 times and admired Bette Davis more than any other actress. Oddly enough, she particularly disliked Meryl Streep, claiming she could recognize Meryl's constant search for tactics during her performances! Kate's head shook noticeably later in life, but she was adamant that this was merely a hereditary condition and that she did not suffer from Parkinson's disease.
BETTE DAVIS (1908-89)
Ruth Elizabeth Davis hailed from Lowell, Massachusetts. Her first film (for Universal) was Bad Sister (1931) and was not well-received. The studio wanted to change her name to Bettina Dawes but she point-blank refused to do so. A year later she signed a 7-year deal with Warner Bros. and soon won her first Oscar for Dangerous (1935). The following year she turned down a very poor role and was suspended by the studio. She high-tailed it to Europe, eventually sued Warners, but lost the case. The quality of the parts offered her by the studio, however, quickly improved. She wanted the Scarlett O'Hara role in GWTW (1939), but Warners would only release her to Selznick if he would hire Errol Flynn from them to play Rhett Butler. That was never going to happen. All of America expected (and wanted) Gable to play him.
Bette & husband Arthur Farnsworth
Bette married four times and was rumored to have had numerous affairs along the way. At the Hollywood Canteen during the Second World War she ran the establishment and was known to select handsome servicemen for late night dalliances. All the other hostesses were barred from dating anyone they met at the Canteen. Five years after the war ended she was Oscar-nominated for All about Eve (1950), after she replaced an ill Claudette Colbert in the Margo Channing role.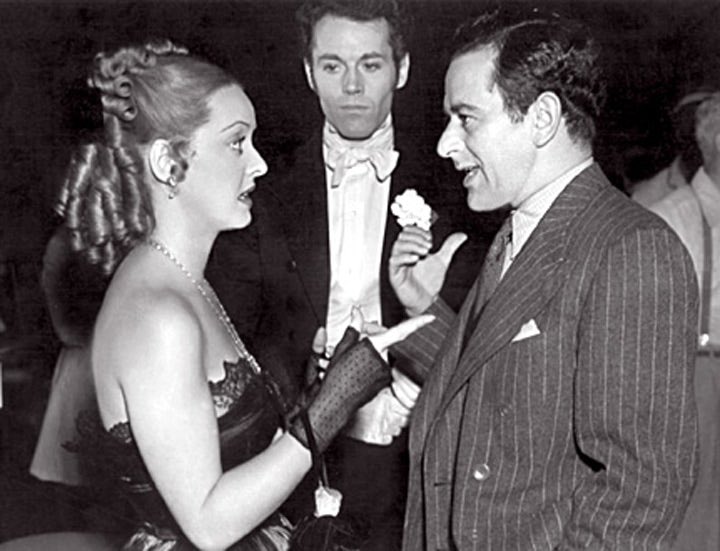 Bette & director William Wyler on the set of Jezebel (1938)
Of her four trips down the aisle, only one of her husbands died before she could divorce him. Arthur Farnsworth died after a fall on Hollywood Boulevard, in August 1943, in which he took a blow to the head. Prior to that he had also banged his head on a train journey between LA and New England, before falling down a stairway at their New Hampshire home. The marriage was in its third year at the time of his demise. Bette always said that director William Wyler was the love of her life, but he was a married man and refused to divorce his wife to marry her.
Director Steven Spielberg paid $578,000 for Bette's Jezebel (1938) Oscar, then donated it to the Academy in 2001. Throughout her illustrious career Bette had been Oscar-nominated eleven times, yet won just twice. Judy Holliday won for Born Yesterday (1950), when both Anne Baxter and Bette had to share All about Eve votes for Best Actress in a Leading Role that year. Bette was a lifelong smoker. Even after suffering four strokes she continued to smoke 100 Vantage cigarettes daily! In 1985, her only daughter, B.D. Hyman, published a 'tell-all' memoir titled My Mother's Keeper. She described Bette as domineering and an alcoholic. Davis cut B.D. and her two sons from her will.
GEORGE SANDERS (1906-72)
He was born in St. Petersburg, Russia to British parents who left Russia prior to the revolution in 1917 and returned home to Britain. George is the youngest of two acting brothers, the other being Tom Conway. The siblings tossed a coin to determine which one would change his name. Tom lost and promptly dialled a random number on a payphone. The Conway Fish Market answered. George was convinced by a secretary at the advertising firm he worked for to try his hand at acting in the 1930s. The secretary was the then unknown Greer Garson.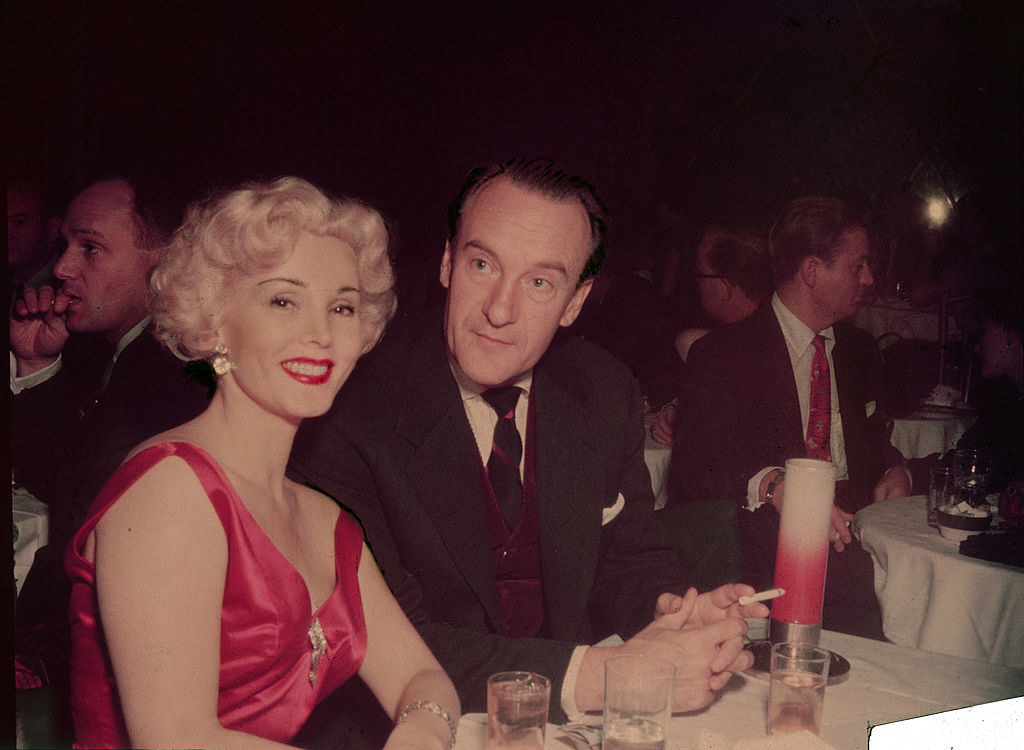 George & Zsa Zsa
George married four times; one of his wives was Benita Hume, the widowed former wife of screen star Ronald Colman. The union with Sanders lasted eight years until her death in 1967. He also wed two of the Gabor sisters – Zsa Zsa and Magda. Today, he is best-remembered for his Oscar-winning performance as theatre critic Addison de Witt in All about Eve (1950); and for his voicing of Sher Kahn in Disney's The Jungle Book (1967). In 1972, George confided to David Niven that he would kill himself the moment he felt he had out-lived his usefulness. And he did. In 1989, three months shy of his 66th birthday, he consumed a massive amount of Nembutal pills in Spain and was gone.