Fans of the 1957 movie version of the musical South Pacific will well remember the enchanting Eurasian girl who played Liat. France Nuyen came out of nowhere (literally) and became the dream girl of many men around the world who saw her playing Bloody Mary's daughter on Bali Hai, yet her life story reads like the script of a very bad B-movie.
France as Liat in South Pacific
She was born in July 1939, in war-torn Marseilles, to a French mother and a Cambodian father. As a child she was severely beaten, sexually abused and neglected by parents who had no time for her. She retreated into a mute autism-like state, afraid to be seen or heard. Her mother was emotionally and physically unstable; her father usually absent with the merchant marine (he was a cook), so she was deposited with distant relatives and strangers who physically abused her.
At the age of eleven France was diagnosed as mentally retarded and removed from elementary school. 'My salvation was being placed in a local art school with students twice my age', she recalled decades later, 'because I could only communicate through drawing.' Her natural beauty made her a perfect subject for art students. 'I was a good model, and the students marvelled at how I could stay for hours without moving. They didn't know that part of an abused child's survival is staying perfectly immobile. Of course, any person who didn't push or hit me was nice. Ignorance was bliss.'
At 17, she moved to Hell's Kitchen, New York City with her invalid mother and was briefly employed in her father's restaurant. 'My father, a man I never knew, threw me out after two weeks, and I was taken in by a Canadian family who lived in the same building', she remembered. A modelling agency sent her picture to director Joshua Logan who was casting South Pacific. He, Oscar Hammerstein II and Richard Rodgers interviewed her for the part of Liat. 'They asked me to sit, stand, and trot around the room – then I walked away with a 7-year contract to 20th Century Fox.' She was sent on a three-week English-speaking course, given $350 a week, and placed in South Pacific. The movie made her known world-wide and a year later when it hit the theatres, earning her a two-year extension on her contract and the starring part in the Broadway production of The World of Suzie Wong. She had no acting training for South Pacific, but spent 18 months at Lee Strasburg's Actor's Studio during her time playing Suzie Wong.
in The World of Suzie Wong (1960)
But stardom and recognition did not automatically bring happiness. 'I was lonely and scared', she said, 'spending my first year in Los Angeles living in a tiny motel room a couple of blocks from Fox. My entertainment was listening to a Spanish-language radio station, the only thing that remotely sounded familiar to me.' In 1960 Marlon Brando made a point of meeting and seducing her. His penchant for oriental women was no secret. It did not last, of course, and she had few illusions about him as a person. 'He just wanted an excuse to be a big little boy and dress up and be someone else and see how long he could fool everybody.'
France & Robert Culp in an episode of I Spy
In later years, and still beautiful
In 1963, France embarked on the first of her two short-lived marriages, this one to a New York psychiatrist. It ended soon after her daughter Fleur was born. Marriage number two was even more disastrous. France met Robert Culp on the set of his TV series I Spy in 1965. When asked about their three-year marriage she had only this to say: 'That lasted about 18 hours – maybe a little longer.' She has remained single ever since. A self-educated woman, France Nuyen has pulled herself up by her bootstraps and made something of a life that began in sadness and despair. She sustained her existence with television work over several decades and has attained a master's degree in clinical psychology which she uses to help battered, delinquent children with drug problems. In 1989 she won 'Woman of the Year' in Los Angeles for her psychological work in that area.
Lovely Joan O'Brien was one of the most under-rated great beauties of the screen. And she was also one hell of a singer as well. She was fifteen and still at Chaffey Union High School in Ontario, California, when she was signed to a singing contract by Tennessee Ernie Ford's manager. In 1953 she was named among Hollywood's new debutante stars, a group that included Marilyn (Kim) Novak, Ann Francis, Sara Shane and Pat Crowley. By 1954 she was singing on The Bob Crosby Show, where she appeared for the next four years until it folded. At 18 the stunning blonde wed guitarist Billy Strange, the first of her five husbands. One child and two years later it was over.
Joan belting out 'After You've Gone' on The Bob Cosby Show
Her movie career saw her appear in just 10 films, the best of them being Operation Petticoat (1959), alongside Cary Grant and Tony Curtis. She and actress Madlyn Rhue became firm friends making this picture and Joan would later be a bridesmaid at her wedding. The Alamo (1960) and The Comancheros (1961) soon followed, both with John Wayne. Most of her screen work was as a guest star on television series in the fifties and sixties. Joan travelled to Manila in 1962 to make Samar with the husband of Dinah Shore, George Montgomery. No sooner had she arrived than Montgomery made a pass at her and she threatened to return home immediately. The issue was resolved and she stayed to make the picture. She and Elvis Presley had a brief affair while making It Happened to the World's Fair in 1963.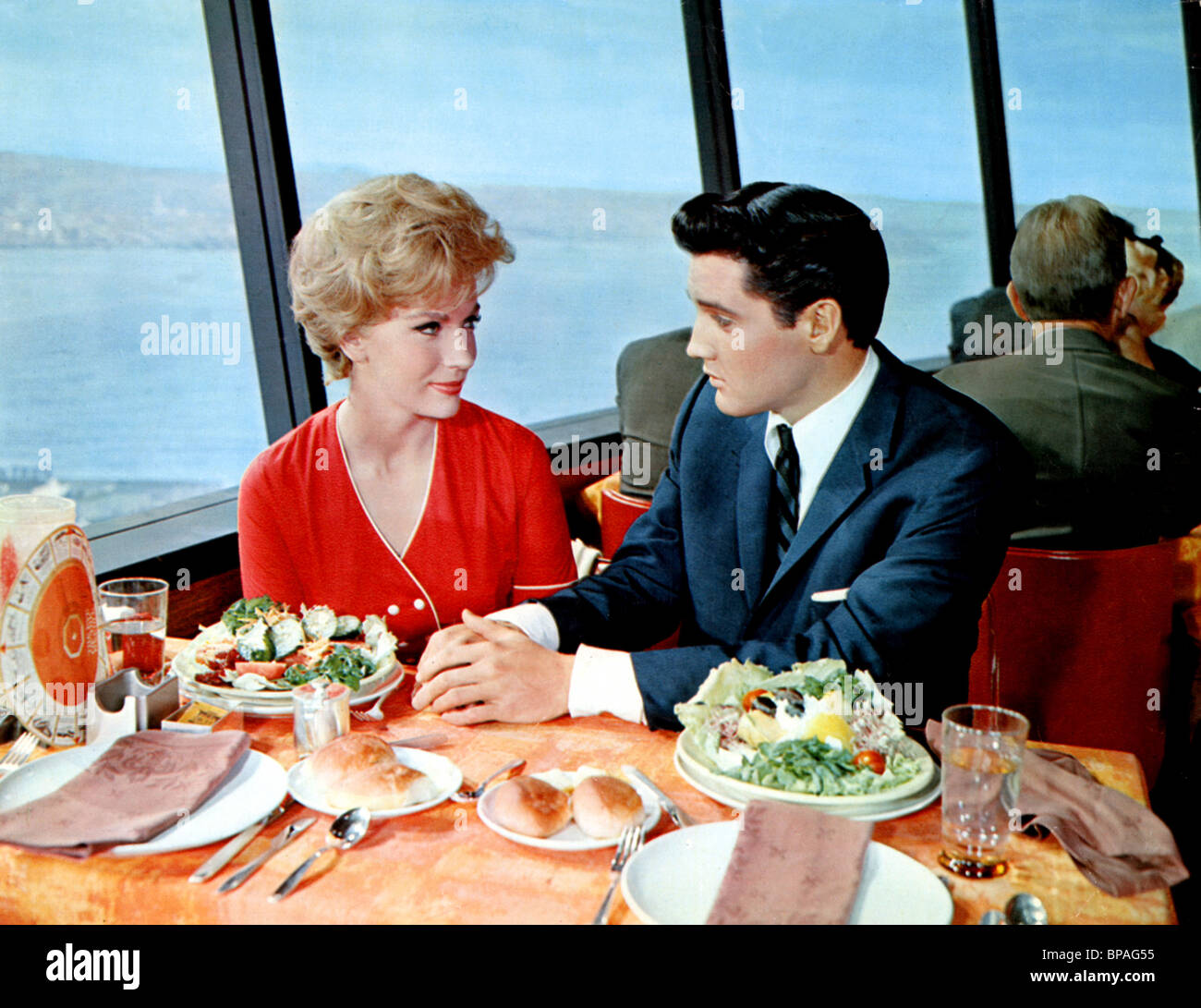 with Cary Grant in Operation Petticoat     and in It Happened at the World's Fair
By April Joan had married her third husband, but after just one month the fiery couple decided on a trial separation following her first suicide attempt. In August she told the Superior Court that the attempt was 'faked' in an effort to impress upon her husband how unhappy she was with his treatment of her. Then her two previous husbands sued for custody of her children, their lawyer presenting photographs of Joan's wrists that she had clearly slashed again while she was recovering in hospital. Her third husband's lawyer produced semi-nude photographs of her in revealing poses, both of which she denied posing for. She was also accused of being promiscuous by husband number three.
Opposite John Wayne in The Comancheros                                          Robert Vaughn
Her divorce would be finalized by October. By then she was already involved with actor Robert Vaughn (Napoleon Solo in The Man from U.N.C.L.E.), before his lack of total commitment drove them apart. She was an invited guest to a soiree in his home in 1965 and almost died from an overdose of sleeping pills in his guest bedroom. He rushed her to a hospital and she just managed to pull through. In March 1966, 30 year-old Joan married her fourth husband. By October 1967 they were divorced. Her acting career was over two years earlier and she began touring with the Harry James Band as its vocalist. Eventually she would become an executive for Hilton Hotels and marry a retired Marine Lt. Colonel in 1979. They would remain together for 25 years until his death in 2004. As of 2016, the now 80 year-old former actress/singer lives quietly in Auburn, California. Vaughn passed away on Nov 11, 2016, aged 83.