AUDIE MURPHY (1924 – 71)                     1094
Audie Murphy's World War Two combat record is well-known to his fans, indeed to history. Enough to say that he was America's most highly decorated soldier of the entire conflict and a worthy Medal of Honor winner. Not a bad effort when we consider he was rejected by both the Navy and the Marines before being reluctantly accepted by the US Army. Fighting in North Africa and in Europe he accumulated 33 medals for heroism under fire. He was also decorated by the governments of France and Belgium for personally killing 240 Germans and capturing a whole lot more, yet to look at him, even 20 years later, people generally felt he was incapable of hurting a fly. He was baby-faced (even into his thirties) and self-effacing, almost shy. But looks can be deceiving.
America's most decorated
soldier of WW2
On his return to the USA after the war Audie was eventually contracted by Universal for whom he made a lot of B-features (mostly westerns) throughout the fifties and sixties. He did, however, star in one monumentally huge box-office hit – To Hell and Back (1955) – the tale of his own exploits during the war.  The picture was so successful that it remained Universal's biggest box-office earner until Jaws topped it in 1975. His real life best friend Charles Drake played his buddy in the picture. Both Audie and James Arness (Matt Dillon in Gunsmoke) were in the 3rd Infantry Division that participated in the landings at Anzio and in Sicily. Murphy was in the 15th Infantry Regiment. Arness was in the 7th. He was wounded at Anzio and shipped stateside.
scenes from his most successful film – To Hell and Back
Audie was a bona fide hero to many boys around the world (myself included), not only because of his war record, but because (to us) he was just about the best cowboy star on planet Earth. We couldn't get enough of him. Even today, over half a century later, I still watch one of his movies every month or so. I have a stack of them in my collection and, surprisingly, most of them hold up pretty well. He made 34 westerns in all and, I'm embarrassed to say, I have seen every one of them!
Audie the western actor
By the sixties, however, the studio system that employed him was gone. The new owners of Universal, MCA, ditched their contract players in favour of 'per picture' signings. The western genre was just about gone as well and Audie's movie career went with it. There were a couple of war pictures and a boxing feature, but his bread and butter westerns became fewer and fewer.
                                               Wanda Hendrix
He was born Audie Leon Murphy in 1924 in Kingston, Texas. His folks were share-croppers and very poor. He joined the army in order to support his siblings, sending home most of his monthly pay packet to help out. After the war ended, even as his screen career took off, he suffered from what today would be termed as 'post-traumatic stress disorder' (PTSD). Back then it was known as 'combat fatigue'. Audie had a 'hair-trigger' temper, often awoke screaming in the night, and rarely slept without a loaded semi-automatic pistol nearby. He almost beat a man to death in a bar fight and was fortunate to escape attempted murder charges.
In 1946, he arranged to meet Wanda Hendrix after seeing her picture on the cover of Coronet magazine. They fell in love and were married in January 1949. But the union was a turbulent one. Audie's fits of depression, insomnia and his nightmares took their toll. At times he even held Wanda at gunpoint. By September 1949 his passion for gambling on long-shots at the track had wiped out her savings. They divorced in April 1950.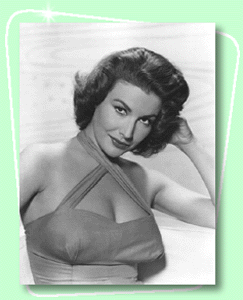 Jean Peters                              Beverly Tyler                  Mara Corday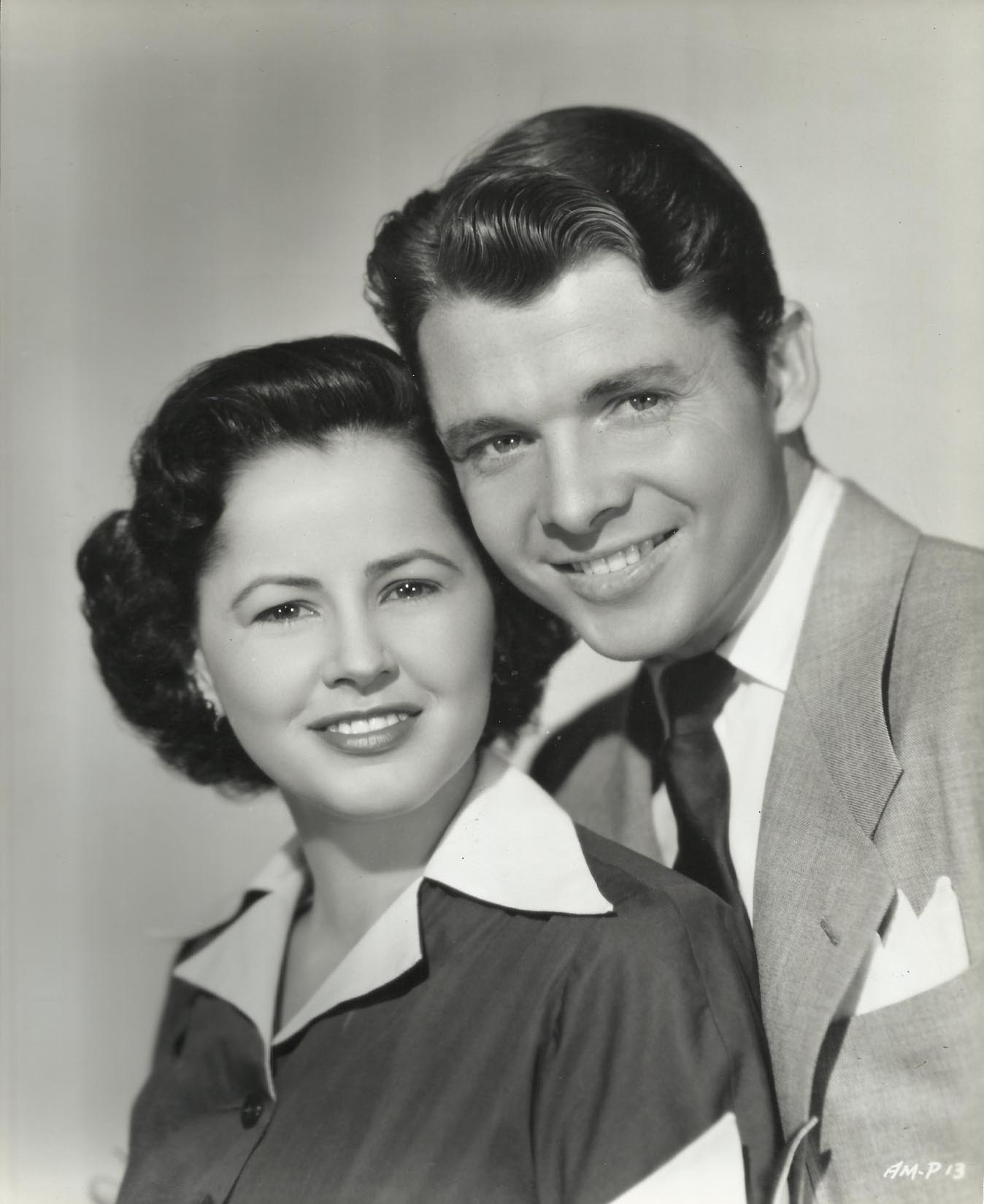 Peggie Castle                           Pamela Archer
Several of his pals vowed that Audie slept with scores of Hollywood beauties in his hey-day, among them Jean Peters (the future Mrs. Howard Hughes), the very pretty Beverly Tyler, Mara Corday and sexy Peggie Castle. Good friend Doug McClure said of him: 'He seduced more girls than any man I ever knew, with the possible exception of Errol Flynn.' Be that as it may, very few women's names have been linked with his, other than those listed above. If he was as promiscuous as McClure claimed, he was discreet about it. In 1951 he married airline stewardess Pamela Archer and the union lasted 20 years until his death.
Lawrence Tierney
There is a story told about Murphy and an incident at a racetrack. It may or may not be true. He was sitting, studying the form guide when two women walked past. He glanced up at them before returning to his guide. A huge Italian man appeared out of nowhere and threatened him. 'I'll tear your head off if I ever catch you looking at my wife again', the man roared. A friend accompanying Audie swears the actor casually pulled out his semi-automatic and laid it on the table. 'I killed 350 of you guys during the war', he said. 'One more wouldn't make any difference.' He then fixed his grey, cold eyes on his antagonist – and the man departed quietly. Great story. I hope it is true. A similar outcome occurred when he quietly warned the extremely drunk Lawrence Tierney, a known brawler, to keep his language down in front of Murphy's wife and friends. Witnesses say he asked Tierney three times, very quietly but very firmly, fixed him with the same steely-eyed stare, and won the day without a punch being thrown by either man.
In his later years Audie's insomnia worsened and he became addicted to a very powerful sleeping pill called Placidyl. He eventually overcame his addiction. Incidentally, he was a non-smoker who (publicly at least) never touched alcohol. Some sources claim he had drink problems, but I can find no real evidence of this. It would be fair to say, however, that authorities turned a blind eye to his indiscretions (because of who he was), and these are said to have included some drunk driving incidents. After turning down a lucrative offer to do a beer commercial, he explained his decision thus: 'How would it look', he said. 'War Hero Drinks Booze? I couldn't do that to kids.' His gambling remained a serious problem, however. He once owned several ranches and bred horses, but over the years he lost the lot.
In fact, in 1968, he filed for bankruptcy. Three years later he was dead at 46. He was on his way to a business meeting in a light aircraft that was engulfed in thick fog and struck a mountainside near Roanoke, Virginia. All aboard died. Audie's remains were interred with full military honours at Arlington National Cemetery. Cemetery records reveal that his grave is the next most visited resting place there after that of President John F. Kennedy.