The Mirisch brothers, Walter, Marvin and Harold, produced a number of highly profitable movies in the fifties and sixties – Some Like it Hot (1959), West Side Story (1961), The Pink Panther (1963) and In the Heat of the Night (1967) were among them. The Magnificent Seven and The Great Escape were two more. The iconic western cost $2 million to make, was shot on location in Mexico, and it made a star out of Steve McQueen. Its follow-up three years later, The Great Escape, turned him into a super-star.
McQueen as Vin Tanner
It was Yul Brynner who suggested to Walter Mirisch that he adapt Akiro Kurasawa's classic Seven Samurai into a western, and this gave the bald star a big say in who was cast in the picture. George Peppard was approached for the role of Vin Tanner. So, too, was Gene Wilder (believe it or not), but Yul pushed hard for McQueen to play him and won him the role. Unfortunately, the two actors developed a disastrous relationship on the set and Brynner very quickly regretted giving him his support. Even so, McQueen's presence and performance helped turn the picture into a classic.
Chris & Vin
McQueen was starring in his own TV series at the time (Wanted: Dead or Alive), the producers of which refused him permission to do the movie. He overcame the problem by deliberately crashing his car into a tree, obtaining a medical certificate that excused him from the set of his TV show for several weeks, and hopping onto an airplane for Mexico as soon as he could. McQueen knew a good part when he saw one and he planned to become a movie star. Television was just one step on that ladder.
Much of the friction between the two actors came about because of Steve's blatant up-staging of Yul at every opportunity. Eli Wallach played the bandit leader Calvera, and in his biography he recalled at least three examples of this. When you watch the movie they really are quite obvious – McQueen shaking the shotgun shells (to check if they were loaded) was one; holding his hat up to check on the sunlight and the wind's trajectory was another; leaning off his horse to scoop water with his hat as he crossed a stream was a third. Each one drew the audience's focus off Brynner and onto him. It got so bad that Brynner employed someone to watch McQueen and report back to him how many times Steve touched or played with his hat whenever Brynner was speaking. In the end he confronted his co-star. 'If you don't stop that I'm going to take off my hat', he warned, 'and then no-one will look at you for the rest of the film.' Both men possessed egos the size of the Grand Canyon.
Even in this publicity shot Brynner appears
to be considerably taller than McQueen
Calvera (Eli Wallach)
Determining which of the two stars was the biggest prima donna is a matter of opinion. Brynner was just a half inch taller of the two men, yet he employed a small mound of dirt to stand on in their shots together, making him appear substantially taller on-screen. McQueen was aware of this and took to giving the mound a kick each time he walked by it. Years later, when he was dying of cancer, Steve called Yul and apologised. 'You coulda had me kicked off the picture when I rattled you', he said. 'But you let me stay and that picture made me, so thanks.'
Elmer Bernstein was signed to provide the film's music, an inspired choice if there ever was one, although he was not the first choice of director John Sturges. He wanted Dimitri Tiomkin, but the two had a falling out when Dimitri insisted on a song accompanying the opening credits. It had worked with Gunfight at the OK Corral in 1957, but Sturges was dead against the idea and they parted company. Bernstein's theme is now considered to be one of the truly great movie themes of all time. He would combine again with Sturges three years later to compose the equally memorable theme tune for The Great Escape.
Peasant farmers all dressed immaculately in white
It would appear that censors can be a problem no matter which country is chosen for location shooting. Filming was delayed for some time after Mexican censors demanded that the peasants shown in The Magnificent Seven be seen to be wearing clean clothes, despite them being farmers! Consequently, dozens of deliberately dirtied costumes had to be thoroughly cleaned. Those same censors insisted on script changes that would present the Mexicans in the picture in a more favourable light. All this stemmed from the shooting of Vera Cruz in Mexico in 1954, in which the Mexican people in general were appallingly depicted. Justifiably, from then onwards, the government insisted on strict control of how its nation and its citizens were portrayed in feature films shot south of the border.
Britt & Chico (James Coburn and Horst Buchholz)
Lee (Robert Vaughn)
Bernardo O'Reilly (Charles Bronson)
Harry Luck (Brad Dexter)
James Coburn (Britt) and Robert Vaughn (Lee) would remain close friends for almost 50 years, yet this was the only movie in which they ever appeared together. Originally, the part of Britt was to go to veteran actor Sterling Hayden, but he withdrew (probably for tax reasons), so Vaughn suggested his old schoolmate Coburn as his replacement. The two friends helped each other to acquire roles throughout the remainder of Coburn's life. As of 2016, only Vaughn (84) remains alive of the original eight leading players in The Magnificent Seven:
Year of death  Age     Actor                           Character
1980                50        Steve McQueen          Vin Tanner
1985                65        Yul Brynner                Chris
2002                74        James Coburn             Britt
2002                85        Brad Dexter                Harry Luck
2003                69        Horst Buchholz           Chico
2003                81        Charles Bronson         Bernardo O'Reilly
2014                98        Eli Wallach                 Calvera
Robert J. Wilkie about to finish second in a duel
A couple of the supporting players have interesting stories. My Saturday morning matinee days as a boy were responsible for my affection for a character actor named Robert J. Wilkie. It seemed to me that he played a 'baddie' in every B-western known to man. In The Magnificent Seven he was the loud-mouthed cowboy who challenged Britt to a duel – gun versus knife – and lost (of course). His career spanned 301 screen credits. Not bad for a guy who began performing as a high diver at the Chicago World's Fair of 1933-4.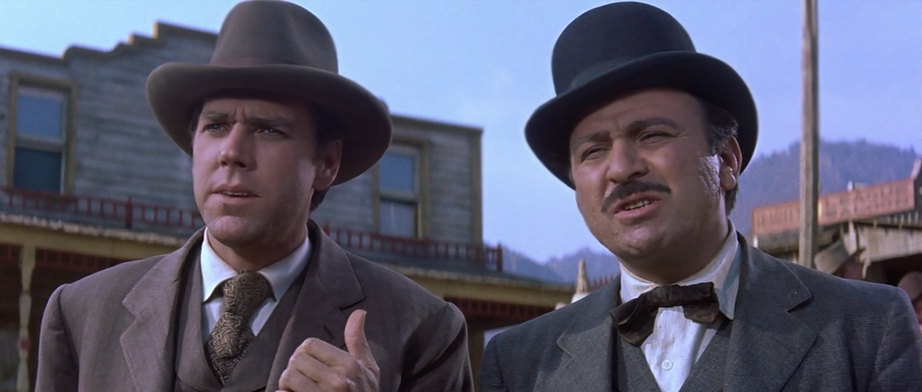 Bing Russell and Val Avery
The other gentleman of interest is Bing Russell. He plays one of the two stagecoach passengers concerned about the dead man in the street early in the film. The man with the moustache is Val Avery. Bing is the other guy. Fans of Bonanza might recognize him as playing the deputy in that series. He was also the bartender in Tombstone (1993), a film starring his own son Kurt as Wyatt Earp. Bing was also the owner of the Portland Mavericks Baseball Club, the only independent Class A team in the Northwest League. He passed away in 2003.
Kurt and Bing Russell
McQueen, Coburn and Bronson were all retained by Sturges for The Great Escape in 1963. By then The Magnificent Seven had been released in Germany and all three were besieged by German autograph hunters while on location. Surprisingly, the film considered by many to be the iconic western of all time did not fare well at the box-office in America. It was, however, enormously popular in Europe and Australia.