Luise Rainer
While there is no doubt that Hollywood admires actors and actresses who win Oscars, it is equally true that the industry only likes to employ those who make money, and to be able to do one does not necessarily mean you can do the other. Take Luise Rainer, for example. She hit the jackpot two years running with The Great Ziegfeld (1936) and The Good Earth (1937), but when MGM tried to put her into 'money-making' pictures that did not require enormous acting skill, she lost interest and her career more or less evaporated because the studio lost interest in her as well.
Down the decades there have been a lot of stars who were nominated for Oscars, but never managed to win one, yet all of them remained popular with the ticket-buying public. Most of these people should have collected Academy Awards, but they nevertheless enjoyed long, well-paid careers. Had Oscar smiled on them they, too, might have fallen victim to the 'Oscar curse'. Perhaps, career-wise, they were fortunate to miss out.
Peter O'Toole holds the unenviable record for most nominations, eight in total, without a win. It is still a mystery how his portrayal of the title character in Lawrence of Arabia failed to beat Gregory Peck's To Kill a Mockingbird for Best Actor in 1962. Maybe it was because Greg was an American and Pete was a Brit. Maybe. O'Toole's loss for Becket the following year is more easily explained. Both he and Richard Burton were nominated for that film so votes were split, and that enabled Rex Harrison to positively steal the statuette that year. Other than Anthony Quinn for Zorba the Greek, the other four nominees that year were all Brits.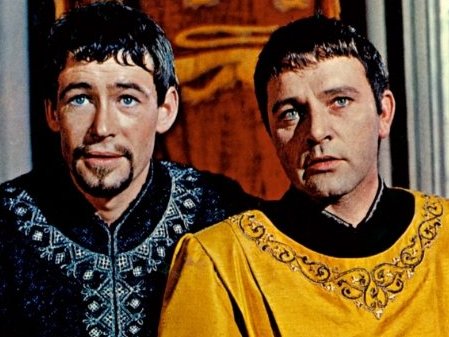 Peter O'Toole & Richard Burton in Becket (1964)
Richard Burton had seven unproductive cracks at picking up an Academy Award. I have never held a high opinion of Burton's movie skills although, undoubtedly, he was quite something when performing on stage. I do not think he chose his pictures all that well, often letting salary decide for him. His fans would probably argue that he should have won for Who's Afraid of Virginia Woolf? (1966), but he was up against Paul Scofield for A Man for All Seasons. No contest. I especially enjoyed him in Becket (1964), for which he was nominated, but I liked O'Toole equally in that picture who was also nominated. Academy voters had the same problem.
Glenn Close, brilliant but unlucky in Dangerous Liaisons (1988)
Glenn Close has been a bridesmaid six times but never a bride. She was pretty good in Fatal Attraction (1987) and better in Dangerous Liaisons the next year, but missed out on both occasions, beaten by Cher for Moonstruck and Jodie Foster for The Accused respectively. With a touch of luck she could easily have been successful in either year. Or both.
Deborah Kerr in From Here To Eternity (1953)
The wonderful Deborah Kerr also missed out six times. I thought she was superb playing against type in From Here to Eternity (1953), but Audrey Hepburn was well and truly the 'flavour of the month' when she debuted in Roman Holiday and was probably always going to win. It was a 'personality' win rather than an 'acting' win. Pity. Deborah's nun in Heaven Knows, Mr. Allison (1957) was terrific, but Joanne Woodward's turn in The Three Faces of Eve was a stunning tour de force.
Thelma Ritter in All About Eve (1950)
Character actress Thelma Ritter was unsuccessfully nominated six times in the Best Supporting Actress category. Her best chance was probably her first nomination (for 1950's All about Eve), but her performances were all very similar and voters may have felt that way too. She played cynical maids and neighbours well, but her range was limited.
The gorgeously talented Amy Adams
Lovely Amy Adams has been nominated five times and is yet to kick a goal. Personally, like a lot of her fans, I continually find myself thinking of her as Princess Giselle in Disney's Enchanted (2007). She really was a delight in that film. Unfortunately, I have not seen any of her five nominated films, so I cannot form an opinion on her performances in them.
Charles Boyer & Irene Dunne in Love Affair (1939)
One of the screen's great ladies, Irene Dunne, was also a five-time loser, and one of those times was for her performance in Love Affair in 1939. Sadly for her, that year's winner happened to be none other than Vivien Leigh for her iconic portrayal of Scarlett O'Hara in Gone with the Wind. Unlucky, Irene.
Albert Finney as the title character in Tom Jones (1963)
Albert Finney has given numerous fine performances in his long and distinguished career, five of which were Oscar-nominated, yet he is still to land enough votes to win. Tom Jones (1963) surprisingly won Best Picture in a really weak year, but Sidney Poitier knocked off Finney for Best Actor with Lilies of the Field. Fair enough. Finney and Tom Courtenay received the 'kiss of death' when both were nominated for The Dresser (1983), leaving the road clear for Robert Duvall to win for Tender Mercies.
Arthur Kennedy     
Arthur Kennedy was a greatly under-rated actor who always gave a sound performance. His five nominations were ample reward for a highly professional player, although none of them really deserved an Oscar.
Monty Clift in From Here To Eternity (1953)
Montgomery Clift was nominated four times without saluting the judge. One of those nominations was for From Here to Eternity (1953), but it was the same old story. Clift and Burt Lancaster shared nomination from the same picture and both were very good in it (except for Burt's lame attempt to play a drunken scene). Anyway, they were forced to split the votes and that left the door ajar for William Holden to win for Stalag 17. Personally, I think that if either From Here to Eternity star had been nominated alone he would have beaten Holden.
Marsha Mason & husband Neil Simon 1977
While Marsha Mason was married to writer Neil Simon for around a decade, she appeared in five movies he wrote, three of which earned her an Oscar nomination – The Goodbye Girl (1977), Chapter Two (1979) and Only When I Laugh (1981). In all she was nominated four times, yet even with the added advantage of having a husband writing directly for her she was still unable to chalk up a victory.
Barbara Stanwyck in Double Indemnity (1944)
One of Oscar's truly undeserving also-rans would have to be Barbara Stanwyck. She missed out for Stella Dallas (1937), Ball of Fire (1941), Double Indemnity (1944) and Sorry, Wrong Number (1948). She would not have expected to win against Luise Rainer's The Good Earth in 1937, and in '44 she was up against Ingrid Bergman for Gaslight (the winner) and Claudette Colbert for Since You Went Away.
Other four-time losers include Annette Bening, Charles Boyer, Jane Alexander, Michelle Williams, Rosalind Russell, Mickey Rooney, Claude Rains, Ed Harris and Agnes Moorehead.