Anthony Quinn
When it came to love and marriage Anthony Quinn was a bona fide, gilt-edged hypocrite. He was livid when he found out on his wedding night in 1937 that his first wife, Katherine De Mille, (CB's adopted daughter) was not a virgin. So he beat her up. As far as he was concerned a wife had to be a virgin. Her first lover had been none other than superstar Clark Gable. Director Victor Fleming had been another. Quinn later claimed he was so distressed by this that it was nearly forty years before he could bring himself to watch Gone with the Wind because Gable was in it and Fleming had directed it.
It almost goes without saying that Tony took lovers, married or unmarried, wherever and whenever he chose. He had children out of wedlock too. Several. As far as Tony was concerned his marital status, or that of his many lovers, had no bearing whatsoever on whom he slept with. He was a man in a man's world. Even so, he and Katherine would remain together for 27 years and produce five children. A cynic might suggest that an up and coming actor would have been a tad foolish to bash and ditch the daughter of one of the industry's most prominent directors and expect to still have a career once the dust had settled. He and CB never did get along; not for several years anyway.
Katherine & Tony
Cecil B DeMille
Five kids or not, the love of Quinn's life was actress Suzan Ball, a nineteen year-old he met on the set of City beneath the Sea in 1952 when he was thirty-eight. Within a year, however, she was stricken with bone cancer that tragically resulted in the amputation of one of her legs. Quinn offered to divorce his long-suffering wife and marry the stricken actress but she refused him. Suzan later wed actor Richard Long, one of the stars of the 60s TV series Big Valley. The story goes that as her husband and family gathered at her deathbed, the final word she whispered was not 'Richard'. It was 'Tony'.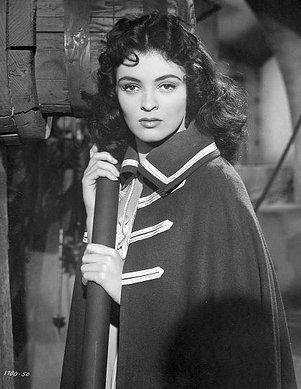 Suzan Ball
As Mrs Richard Long
Quinn's affair with Virginia Hill, the girlfriend of gangster 'Bugsy' Siegel, ended when the mobster took Tony into an alley at the point of a gun and quietly suggested he end it – that moment! Tony wholeheartedly concurred. Siegel was scarcely a 'one-woman guy', but he was quite obsessed with Hill. Quinn was no 'one woman guy' either. His numerous lengthy Hollywood relationships included Marlene Dietrich, Ruth Warrick, and Barbara Stanwyck. One night stands featured Lupe Velez, Evelyn Keyes, Shelley Winters, Margaret Leighton, Yvonne de Carlo and Lili St. Cyr. The ill-fated Carole Lombard and (decades later) the equally doomed Inger Stevens briefly found their way into his bed. Of course, there were scores of other, less famous scalps on his belt.
Virginia Hill & Ben (Bugsy) Siegel
He embarked upon an affair with young Rita Hayworth when they made Blood and Sand together in 1941. Estelle Taylor was still married to boxer Jack Dempsey when she and Quinn were sleeping together, but that was fine according to Tony. His long affair with Maureen O'Hara started in 1946 while she, too, was married to someone else and Tony was still wed to Katherine. He and Ingrid Bergman had known each other for years before they consummated their relationship when they made The Visit together in 1964. 'I reckon there wasn't a man who came within a mile of her who didn't fall in love with her', he said. Then, he began servicing her daughter Pia Lindstrom at the same time! Mother and daughter even compared notes on his performance in the sack.
Pia & Ingrid 1959
His long affair with Maureen O'Hara eventually turned into friendship. Maureen failed to mention in her autobiography that she and Quinn were ever lovers. Tony was far less reticent in his. 'She counted the days until her husband returned from overseas', he wrote, 'so she could divorce him and marry me…but Maureen and I were not meant to be married. Something always came up to keep us apart, a picture, or another affair, or some problem in the timing. Every once in a while, we landed on the same picture – Against All Flags, The Magnificent Matador – and resumed our affair'. Quinn devoted several pages of his memoirs to their affair, yet Maureen either found it not worth discussing or she had completely forgotten it! Perhaps, her Catholicism and the fact that she was a married woman combined to erase her memory. Or maybe, just maybe, Tony was telling big fat whoppers. I know who I believe. Over their careers Tony and Maureen made six films together, beginning with The Black Swan (1942) and culminating with Only the Lonely in 1991! For that matter, she and John Wayne were said to have been lovers for decades, that it was common knowledge on the sets of their movies, yet she did not mention that in her autobiography either.
O'Hara & Quinn in Sinbad the Sailor (1947)
Tony met wife number two in the early sixties when he went to Rome in 1961 to make Barabbas. In 1966 he ditched Katherine in order to marry his new love Jolanda Addolori, a wardrobe assistant on the movie. Cecil B had died back in 1959 and Quinn had become a very big star by then. One of their sons, Francesco, was good as Rhah in Platoon (1986), but a heart attack would claim him in 2011 at the age of 48. Eventually, his father discarded Jolanda as well after 31 years and three sons together, when his girlfriend, 33 year-old Kathy Benvin, gave birth to their daughter Antonia. Antonia was his 12th child and the fourth born out of wedlock. In all he would marry three times and father 13 children (that we know of).
Tony & Jolandro
Francesco Quinn in Platoon (1986)
When he picked up his first Oscar for playing Brando's brother in Viva Zapata! (1952), Anthony Quinn became the first Mexican-American to win an Academy Award. In 1957 he did it again when he won for Lust for Life (1956). There were two unsuccessful nominations as well. Personally, I thought his portrayal of Auda Abu Tayi in Lawrence of Arabia (1962) worthy of another nomination, but it was not forthcoming. In a 1973 interview with Cinema TV Today he reminisced about his varied lifetime pursuits: 'By 21, I'd studied to be a priest, been a preacher with Aimee Semple MacPherson, worked with Mae West and boxed with Primo Canera'. Mae claimed she and Quinn were lovers, but he always denied it. One of his closest friends in the final years of his life was New York crime boss Frank Costello. Quinn passed away in Boston in 2001 at the age of 86.
 Quinn as Auda Abu Tayi in Lawrence of Arabia (1962)