In 2013, singer/actress Deanna Durbin passed away at the age of 91 in her adopted country, France. Actor Joseph Cotten had preceded her by nearly twenty years. Way back in 1943, Hollywood gossip columnist Hedda Hopper set the cat among the pigeons when she wrote that Deanna and Joe, both married to others at the time, had spent the night together in a room at Universal studios. The information came to her via a tip-off, she admitted later.
Columnist Hedda Hopper
Cotten immediately phoned Hedda and blew his top, promising to kick her derriere if she wrote another word about him and Deanna being an 'item'. She ignored the warning and, according to Cotten's autobiography, he saw her at a Beverly Hills Hotel function and took action. He walked up to her table and unceremoniously kicked her backside through the cane-bottomed chair in which she was seated. Then, according to his recollection, a 'group of gentlemen' carried him shoulder high into the next bar and toasted his health. In his autobiography, Cotten stated that he and Deanna had stayed at the studio on the night in question, but in their separate quarters. Joe was a highly respected actor and 'southern gentleman', Deanna was innocence personified, the kind of young girl that every parent in America, indeed the world, would love to have as a daughter. So there the story really should have ended, and it did – until around forty years later!
In the mid-eighties, Cotten's life-long pal, renowned actor/director Orson Welles gave an interview to a journalist named Henry Jaglom. In it he made the following statement regarding his good friend Joe and young Deanna: 'What Hedda was doing was printing that (Cotten) was balling Deanna Durbin, which he was. In cars, in daylight, where everybody could see.' Clearly, Welles had no doubt that his friend was being intimate with Miss Durbin often. Of course, this is still only hearsay, but the question most people began asking was – why would Welles lie? Cotten and Durbin were both still alive, so he was not only risking damaging or destroying his friendship with Cotten, he was also placing himself in a position to be sued for defamation by either or both parties. Neither Cotten nor Durbin did or said anything. Not a word.
Cotten and Welles in The Third Man
A retired nurse named Pat Hudson was living in Los Angeles in the late forties. Her mother was in a relationship with an undercover cop who told them of catching a couple having sex in a parked car on Mulholland Drive some years earlier. He did not recall the specific date. The couple turned out to be Cotten and Durbin, he said, stars he recognized at once. He let them go. Once again, this is hearsay, second-hand hearsay at that. It can be credited or not. Miss Hudson's friend, another nurse, was tending Deanna's terminally ill father in his final years. Just before he died in 1976, he told her that Deanna's first child was fathered by Cotten. None of this would ever stand up in a court of law, but on closer investigation we find a couple of interesting details.
Deanna's first marriage, when she was 19, was to an assistant director named Vaughn Paul. It lasted just two years, from 1941 to 1943. The supposed affair with Cotten began on the set of Hers to Hold, in the same year her divorce came through. In June 1945, she married again, this time to 43 year-old producer – writer – director Felix Jackson, a reserved, quiet man she had been friends with for years. On 7 February, just seven and a half months after the wedding, Deanna gave birth to a daughter. Jackson stuck around for another six months before walking out on her and the baby. Deanna told the press that the separation happened out of 'utter boredom'. Jackson never at any time showed an interest in the child, made no effort to contest custody, and filed for divorce in 1949. It has been suggested that Deanna married him purely to give her baby a name, that the father was, in fact, her lover of at least two years, Joseph Cotten.
Deanna and first husband Vaughn Paul
with husband #2 Felix Jackson
Deanna's divorce became final in October 1949. In December of 1950 she married for the third time, to 44 year-old French director Charles David. Their son was born seven months later, on 21 June 1951. These details provide nothing substantial to confirm or deny the alleged affair with Joe Cotten, but two pregnancies outside of wedlock do suggest that she was not quite as innocent as the image projected by her studio, Universal, but then who could be? If we discard the stories from Miss Hudson and her nursing friend as mere unsubstantiated hearsay, we are left with four viewpoints to choose from, if we wish to arrive at the truth.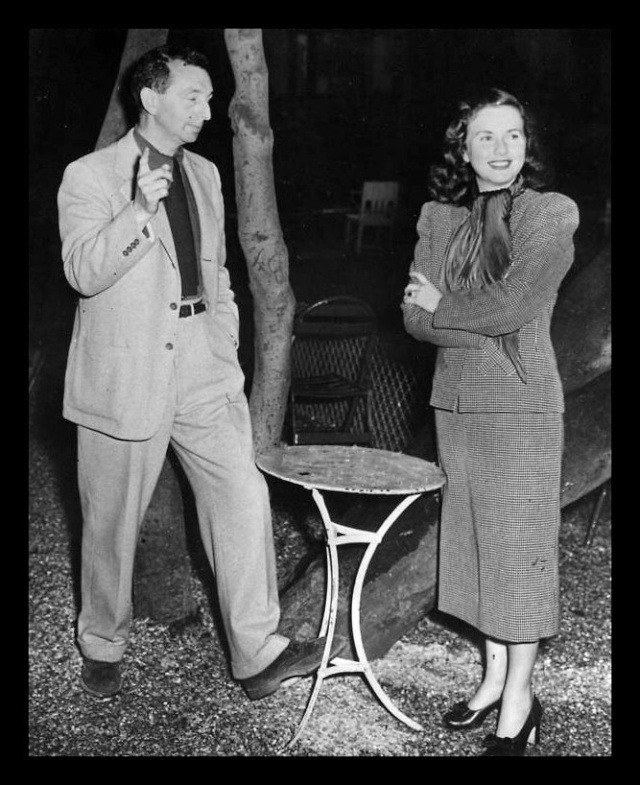 with Charles David, husband #3 in Paris 1950
First, we have Hedda Hopper's column. In fairness to this much-maligned (and rightly so) woman, she employed an army of informants and, much like Walter Winchell, her opposite number in New York, she usually made damn sure of her facts before she published anything. Even when Cotten threatened her, she did not back down, hence the boot in the backside. Second, we have Cotten's own story, one that is at complete odds with hers. There was no funny business that night nor, presumably, at any other time, if we are to believe him. Third, there is his friend Orson Welles. He was quite matter of fact about the whole thing. He had no known axe to grind and seemed totally unperturbed about any kind of adverse response from Cotten. And finally, we have Deanna. She flatly refused to say anything, write anything, confirm or deny anything. Not then. Not ever. How significant her quite sudden retirement to France was is open to debate. As is the entire story, I guess.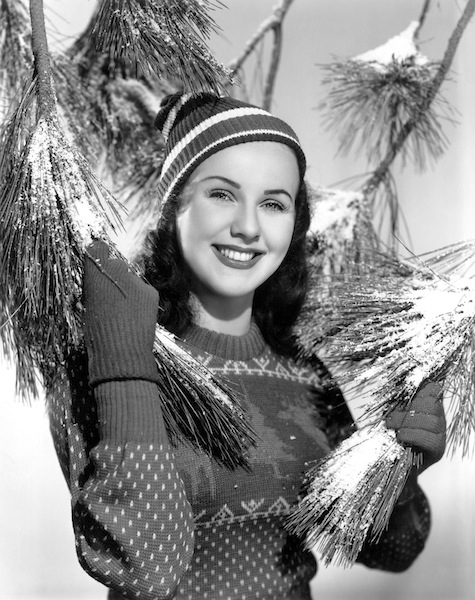 Everybody's ideal daughter at the peak of her popularity
Deanna Durbin made 21 movies in her short career. In 1946 she earned $323,477, just $5,000 less than Bette Davis who was the highest-earning female in all of America! She made them all for Universal and single-handedly saved the studio from bankruptcy. When she and Judy Garland auditioned for LB Mayer at MGM, he listened carefully, then gave an assistant an order that was either, 'Hire the flat one', or 'Fire the fat one'. There is still disagreement on what exactly was said. Anyway, the hard of hearing assistant hired Judy and ditched Deanna. He got it wrong, apparently. LB wanted Deanna, although it must be said he did pretty well out of Miss Garland. Suffice to say, both girls oozed talent and personality, and both gave a lot of listening pleasure to millions of fans. Not a bad legacy.