Steve McQueen's mother was a prostitute, his father a circus stuntman and neither cared a fig about their boy. He lost his virginity at 13 to an obese teenaged hooker who accepted candy for sex. At 16 he was a towel boy in a brothel and encouraged to sample the wares on offer. Shoplifting and stealing hubcaps would land him in Chino Reformatory in California for five years between 1944 and 1949. He said it was the best thing that ever happened to him; that it straightened him out. From there he went into the US Marine Corps.
Pre-1960 on TV                            Martin Landau
In 1955, after getting out of the Corps, he used his G I Bill to join over 2,000 aspiring actors auditioning for Lee Strasberg's exclusive Actor's Studio. Only two were accepted – Steve was one and Martin Landau the other. Coincidentally, the two had met previously when Landau, on the back of James Dean's motorcycle, pulled into a garage for repairs. McQueen was the mechanic who worked on the bike. It was his years at the garage that formulated his life-long passion for motorcycles.
McQueen (centre) in Never So Few
In 1959 he landed a breakthrough role in a Frank Sinatra film titled Never So Few. The story goes that the role had been promised to Sammy Davis Junior, but Sinatra had fallen out with him over a radio interview Sammy had recently given. In the interview he stated that he was a better singer than Frank (possibly in jest), but, apparently, 'Ole Blue Eyes' took umbrage to it and had him fired from the picture. It all sounds a little difficult to believe, although Frank did have a massive ego and an unpredictable short fuse.
Mamie van Doren
It was in the mid-sixties that McQueen publicly threatened billionaire Howard Hughes. Both men had been involved with sex siren Mamie Van Doren. Hughes continued to hassle her after the volatile McQueen threatened to break his nose if he did not desist. The billionaire could easily have had him 'dealt with', but that was not how he operated. Instead, he never bothered Mamie again. While on location making The Magnificent Seven in 1960, McQueen and co-star Robert Vaughn spent the whole of Good Friday in a Mexican brothel entertaining seven hookers in their double bed.
McQueen and Robert Vaughn in the 1960 classic western The Magnificent 7
Unbeknown to him, McQueen's name was at the top of Charles Manson's hit list on 8 August 1969, the night he accepted an invitation to have dinner at the Polanski-Tate home. Roman Polanski, the director, was away in Europe that evening. McQueen later confided to friends that he used to have 'threesomes' with hairdresser Jay Sebring and Sharon Tate, even after Sharon wed Polanski. Since all three are now dead it is impossible to verify this, but we do know that it was Sebring who invited McQueen to dinner at Sharon's home that night. As luck would have it the actor got a call from one of his eager young women that evening and she convinced him they could have more fun, just the two of them, in a hotel room. While he spent the night with her, Sebring, Tate and the other guests were systematically tortured and butchered by the Manson Gang at Sharon's home in Cielo Drive.
with Sharon Tate and Roman Polanski                 Jay Sebring and Sharon Tate                                   Jay and McQueen
After the killings, McQueen took to carrying a loaded Magnum pistol at all times. On one occasion he actually pulled it on his first wife, Neile Adams, demanding to know if she had slept with anyone during his absences. With the gun pressed against her temple she admitted having had sex with Oscar-winning actor Maximilian Schell, in retaliation for her husband's continual philandering. McQueen beat her that night and several subsequent nights when he was high on cocaine. Soon afterwards Neile found out she was pregnant. He refused to believe the child was his so she flew to London for an abortion.
with his 1st wife Neile Adams                                           Maximilian Schell
In their early years, before fame button-holed him, he would spend her earnings on booze and women. Hopelessly devoted to him, she agreed to tie the knot in 1956 just before he landed a role in Never Love a Stranger. Immediately, he seduced the picture's leading lady, Lita Milan and could scarcely wait to tell his new bride about it. 'Lita would be the first in a long line of flings', Neile acknowledged later. He regularly boasted of his conquests. These included co-stars Jacqueline Bisset and Lee Remick, not to mention a host of starlets, hookers and fans.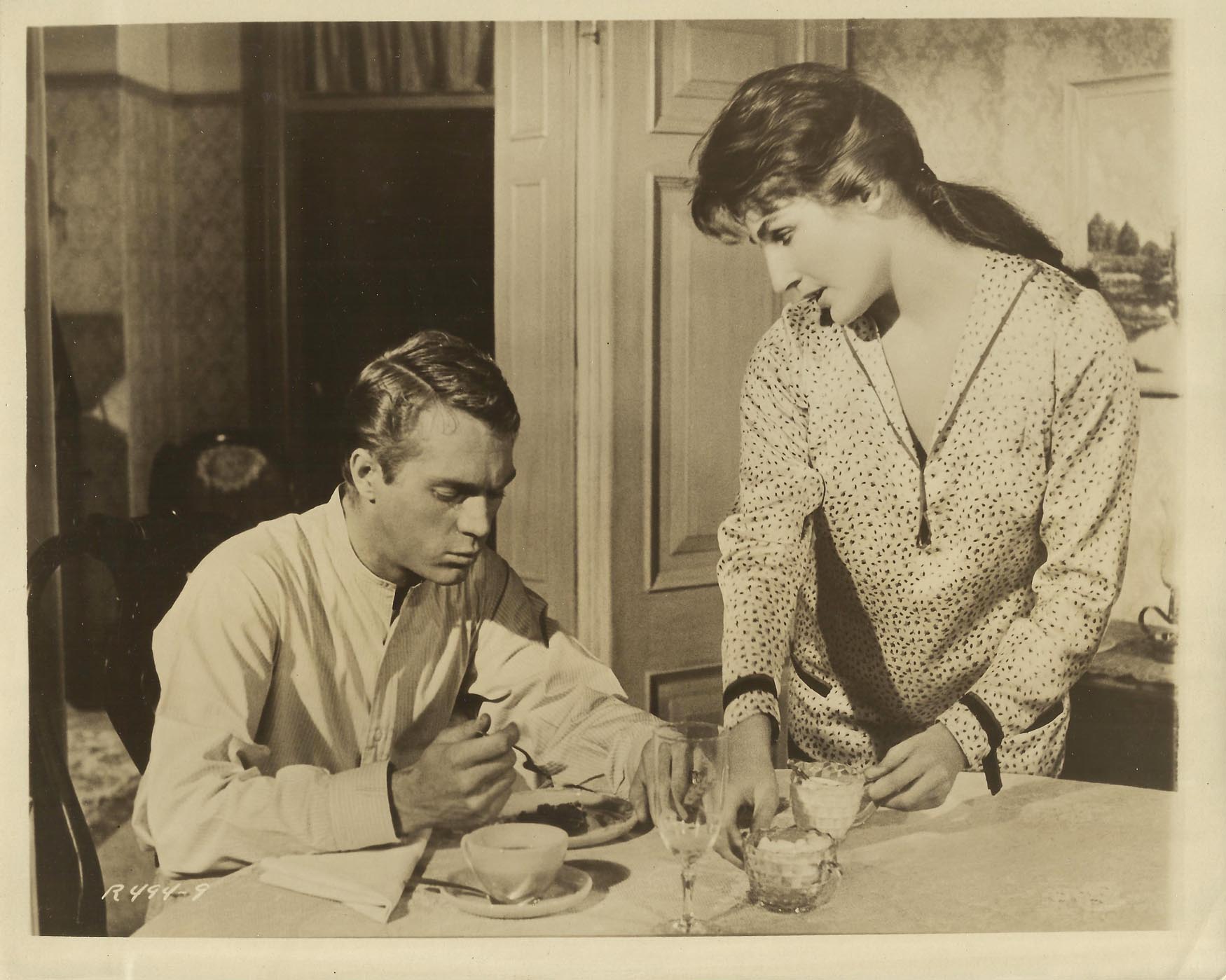 with Lita Milan in Never Love A Stranger
When McQueen's downstairs neighbour James Garner won the lead in Grand Prix (1966), a role Steve had desperately wanted himself, he began urinating on Garner's balcony below every evening. Another next door neighbour for a while in Malibu was the madcap Keith Moon, drummer for the British pop group 'The Who'. The Brit had a habit of leaving his bathroom light on all night, the beam shining directly into McQueen's bedroom. After asking him repeatedly to turn it off, and each time being ignored, the irate actor took a shotgun, blew out the light, and went back to bed.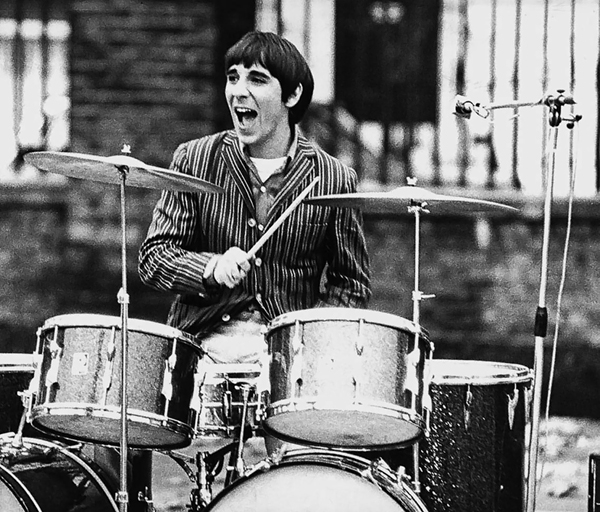 James Garner in Grand Prix                                           Keith Moon of 'The Who'
He was astonished to learn that his name was on President Richard Nixon's 'List of Enemies' in 1972. It is difficult to understand why a man who had refused to join the March on Washington in support of civil rights in 1963, and who had also refused to join his Hollywood colleagues in support of Robert Kennedy's short-lived presidential campaign, would somehow find himself on that list.  Furthermore, he had publicly announced his support for the Vietnam War and had actually voted for Nixon in 1968.
Obsessed with sex and women, McQueen maintained a suite at the Beverly Wilshire in Los Angeles, during his marriage to Ali MacGraw. There he would service young actresses auditioning for movies, movies that did not even exist. Then he would tell Ali about the ones he slept with. There was always a steady supply of 'groupies' on hand as well, eager young girls he would 'accommodate' in his trailer during filming breaks on the sets of his pictures.
McQueen and Ali MacGraw
As for Ali, he expected her to give up her career to become a dutiful wife to him. She was a hot property when they married, yet she gave up her career for five years because he demanded she do so. If her agent rang her at home with job offers, McQueen would grab the phone and slam down the receiver. Soon after she miscarried his baby in 1977, she agreed to make a movie called Convoy. 'In that case we are filing for divorce', he told her. Ali did not know it, but he was sleeping with a 28 year-old model named Barbara Minty at that time.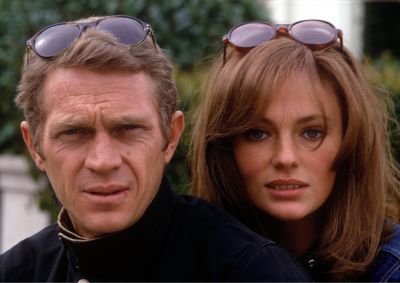 with Jacqueline Bisset                                                         with Robert Vaughn in Bullitt                 with Lee Remick in Baby the Rain Must Fall
He was heavily into all kinds of drugs, especially those that would increase his already outsized libido. These included cocaine, LSD, peyote and vials of amyl nitrate to pep up his performance in the sack. Young women half his age threw themselves at him. If one was not readily available he would use prostitutes. And the more the merrier. His last wife, Miss Minty, (and his flying instructor Sammy Mason), influenced him into becoming a born-again Christian. This happened before he learned he was seriously ill. The Reverend Billy Graham was 'the flavour of the month' back then and he helped McQueen through his Bible studies.
his last wife Barbara Minty                                        his last role as Pappy Thorson in The Hunter
Before marrying for the final time, McQueen called Ali and asked if she would like to see the new home he had bought for his fiancée. Not one to hold a grudge she went for a drive with him, whereupon he promptly asked her to have sex with him in the car 'for old time's sake'. She angrily refused.
In December 1979, shortly after completing The Hunter, he was diagnosed with pleural mesothelioma, a rare and almost always fatal form of lung cancer associated with inhalation of asbestos fibres. All kinds of theories were put forward regarding how this came about in his case, but McQueen himself thought it was due to being ordered to remove asbestos lagging from pipes in the ship's engine room aboard a troopship while he was enlisted in the US Marine Corps. Whatever the reason, he underwent surgery in November 1980 and less than 24 hours later suffered consecutive heart attacks that ended his life at 50. As a person he was seriously flawed, but the movie industry lost a unique talent far too soon.