PETER O'TOOLE   (1932 – 2013)                                     
Peter O'Toole hailed from Leeds in Yorkshire. He always maintained he was born in Ireland, but there are simply no records indicating that. As a teenager he started out as a newspaper copy boy, showed promise as a reporter, but was drawn to the theatre. At 17 he made his stage debut before serving two years in the Royal Navy as a radioman. 'I vomited every cubic foot of the seven seas', he recalled with a shudder. After he was discharged he attended the Royal Academy of Dramatic Arts (RADA) from 1952 to 1954 on a scholarship. His classmates included future stars of stage and screen Albert Finney and Alan Bates. While at RADA during the fifties, O'Toole actively protested Britain's involvement in the Korean War, just as he would later protest America's involvement in the Vietnam War.
Vivien Leigh 1965
For almost the last decade of her life (from 1958 until 1967), Vivien Leigh slept off and on with O'Toole. More often than not they carried out their trysting in her bedroom, surrounded by photographs of her ex-husband Sir Laurence Olivier. The room, according to O'Toole, was a veritable shrine to the man. Perhaps ironically, Peter would win the Laurence Olivier Award in 2000 (for Outstanding Achievement in the theatre).
Peter and his wife Sian Phillips                                         together in Becket (1964)
He married actress Sian Phillips in 1959, a union that survived 20 years and produced two daughters, Kate and Patricia. According to Peter, he and Sian remained friends after the divorce. However, her two autobiographies described their marriage as volatile; that he subjected her to mental cruelty because of his excessive drinking and that he was prone to fits of extreme jealousy, especially when she left him for a younger man. In 1983 he fathered a son, Lorcan O'Toole, by a model named Karen Brown They were together for six years but were never married.
Liz Taylor, Peter & Richard Burton         Karen Brown, Lorcan & Peter
In 1960 he was invited to Liz Taylor's Dorchester suite to discuss the possibility of him playing Antony in her upcoming picture Cleopatra. Liz was Mrs. Eddie Fisher at that time. When it became apparent that she wanted him to seduce her, O'Toole got extremely nervous. 'I was going to fuck Elizabeth Taylor', he told a friend later, 'something that at least half the men on the planet wanted to do. I was nervous, fearing she might critique my performance.' He must have passed muster because their affair continued for over a decade.
Ava Gardner 1960
After being introduced by John Huston to a middle-aged Ava Gardner in 1960, Peter then spent three nights alone with the legendary actress in her hotel room at the Savoy. 'She told me that I was ten times the lover that Gable was', he confided to an associate, 'but not quite the equal of Robert Mitchum. A few years later, in Puerto Vallarta, Mexico he, Burton and Ava (all heavily fuelled with local tequila) indulged in a ménage a trois.
Peter in Lawrence of Arabia 1962                                                                         Greg Peck in To Kill a Mockingbird 1962
For Peter, the world of instant superstardom reared its ugly head the moment he portrayed Lawrence in the 1962 masterpiece Lawrence of Arabia, his first leading role. It would be the first of his eight Oscar nominations, none of which were successful, although he did receive an Honorary Oscar in 2003. For many people, myself included, it is still a mystery how he did not win for Lawrence. The ultimate winner, Gregory Peck, was excellent in To Kill a Mockingbird, but O'Toole was better, I feel.
meeting Princess Margaret at the premiere of Lord Jim 1963
Peter met Princess Margaret at a Royal Command performance of Lord Jim in 1963. He bedded her for the next eight years as her marriage to Lord Snowden went down the tubes. They used her Kensington Palace apartments, holidayed on the Caribbean island of Mustique, and journeyed to Marrakesh at least once. 'We floated around in scented water with flower blossoms on the surface', he remembered. 'For the next three days, I smelled like an over-perfumed whore.' It was around that time he was challenged by friends to seduce three blonde bombshells of the day – Diana Dors, Jayne Mansfield and Anita Ekberg. He accepted the challenge and accomplished the task with ease.
with Audrey Hepburn in How to Steal a Million 1965                              Audrey and husband Mel Ferrer
He had no sooner met his leading lady in How to Steal a Million (1965), the lovely Audrey Hepburn, and they were in bed together. 'I believe that an actress has to be at least a little bit in love with her leading man and vice versa', she told him that night. She was married at the time to Mel Ferrer. On discovering she was pregnant she had no idea if the father was O'Toole or Ferrer, but she miscarried anyway. O'Toole was devastated, having fallen deeply in love with her.
with Ursula Andress in What's New Pussycat?        and with Sophia Loren in Man of La Mancha    
He was in What's New Pussycat? (1965) and had the pleasure of meeting (and admiring) Ursula Andress. 'I've had luck with my leading ladies', he said. 'She's a bloody sex symbol and all that, and yet she's one of the nicest people you'll ever meet. A real mother hen, looking after everybody.' Sophia Loren impressed him equally when the co-starred in Man of La Mancha in 1972. 'Sophia is gorgeous', he said. 'A marvellously put together machine. But she's a grievous card sharp; in Naples, they're born with a pack of cards. Give her a nudge and she's the funniest woman in the world. A helluva woman!'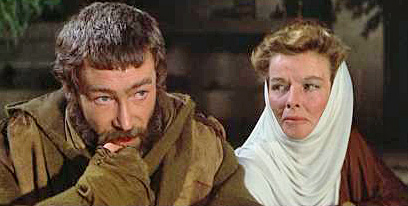 with Kate Hepburn in The Lion in Winter 1968
In 1967, he and Richard Burton (who were good friends) got into a heated argument about acting that eventually degenerated to one about who was better in bed. At the height of the fight O'Toole screamed: 'I've been 'boffing' your wife for years, and she tells me I'm much better in the sack.' Burton stormed out and went wenching for a week. O'Toole spent most of the next week in Liz's suite servicing her. Incredibly, he and Burton remained pals. Only Katharine Hepburn was held in higher esteem by O'Toole. 'I worship that bloody woman', he said. 'I've never enjoyed working with anyone so much in my whole life, not even Richard Burton.' Of all the hundreds of women he seduced during his life, he was the first to admit that Kate was not one of them. 'Katharine Hepburn called me a pig and a drunkard', he confessed, 'but I can't think of any other ladies I missed.'
In the 1970s he was diagnosed with stomach cancer. It was generally assumed that his ill-health was due to his drinking, but it was not, although the booze ravaged his once handsome features and made decent roles difficult to come by. When he made Lawrence of Arabia he was at his physical peak. Noel Coward thought he looked so 'pretty' in the role that the picture should have been called Florence of Arabia! An operation in the seventies was successful and he gave up drinking which prolonged his life for another 30-40 years. O'Toole shuffled off this mortal coil in 2013, but his fabulous portrayal of T. E. Lawrence will doubtless live on forever. It should.