In 1971 a 23 year-old unknown actress named Jennifer O'Neill made quite a splash, especially with teenaged boys, portraying the 'older woman' involved in an affair with a youth in a movie called Summer of '42. The events in the picture are true, although the book of the same name was written after the movie by Herman Raucher. It was about his sexual experiences as a 14 year-old with a war widow named Dorothy during the summer of 1942 on Nantucket Island. Curiously, in all the time he knew her young Hermie never bothered to ask what her last name was. He became severely depressed after she ended their relationship upon receiving a telegram advising her of her husband's death. He was killed in action with the USAAF over France. Raucher (Hermie in the movie) said she kept calling him by her husband's name that last night while they were in bed. For some considerable time after the break-up Raucher dated every girl he could find named Dorothy.
Herman Raucher
After the movie and book were released Raucher received quite a few letters from women claiming to be Dorothy. And one of those letters was from the lady herself. By then Herman was married with children, so he opted not to have any further contact with her. In 2002, after the death of his wife of 42 years, he expressed during an interview that he wished he had remained in contact with Dorothy and that he hoped she might still be alive. He never heard from her again. The postmark of the 1971 letter was Canton, Ohio, but it contained no address details. In it Dorothy wrote how she worried about how she may have hurt the young Hermie and damaged his psyche.
Jennifer as Dorothy
The movie and her sensual portrayal of Dorothy put Jennifer on the map as an actress, despite her only appearing on-screen for a total of just 12 minutes. It was a hit almost everywhere, although it was promptly banned in Catholic Ireland because Hermie had purchased contraceptives at a drug store in one scene. Contraceptives, (surprise, surprise), were banned in Ireland at that time. It would eventually be released there (uncut) in 1979.
If the story of Summer of '42 was sad, Jennifer's own real-life story reads like a soap opera of the first water. She began life in 1948 in Rio de Janeiro, Brazil to a Puerto Rican father and an English mother. A B-17 bomber pilot during WW2, her father was shot down over Germany, captured, survived a POW camp, and married Jennifer's mother on his return to London. His father was President of the Bank of Rio de Janeiro. The family moved to Connecticut when Jennifer was a young girl. At fourteen she attempted suicide with sleeping pills after her parents told her the family was re-locating to New York and she would have to give up her animals; her beloved horse and dog. She continued riding as much as possible prior to the move, but a horrendous fall put a stop to that. Her horse rolled on her, breaking the girl's back and neck in three places.
Cover Girl
After surviving the sleeping pill overdose (she was in a coma for two weeks) and moving to New York City, the beautiful Jennifer soon gained a modelling contract and, equally quickly, lost her virginity to a 20 year-old college boyfriend. She was 15. Her new career took her to Paris intermittently, and at 17 she joined New York's Neighbourhood Playhouse for aspiring actors, but dropped out soon afterwards to get married. It was the first of her nine marriages.
Marriage number one (to a man named Dean Rossiter) produced a daughter, Aimee, and lasted around six years, but it was not a happy union. Jennifer suffered from mental stress to the extent that she actually checked herself into a hospital for treatment that included electro-shock therapy. The couple divorced in 1971, Jennifer made Summer of '42, following which she aborted a pregnancy to a Wall Street socialite. Then, a year later, she married husband number two, Joseph Roster. She wrote later of having experienced an orgasm for the first time in her life during this particular union, but the sex was not enough on its own to keep them together and the marriage ended in 1974. Between 1973 and 1975 she was involved in a relationship with actor Elliott Gould, even becoming briefly engaged to him after her marriage folded. They eventually went their separate ways.
With Elliott Gould, about a month
before their intended wedding that
never eventuated.
Husband number three came along in 1975. Nick De Noia was the original choreographer for the Chippendale dancers. They divorced after one year together and Nick was found shot to death a decade or so later. Jeff Barry joined the marriage queue in 1978. He was a successful songwriter who had penned several huge hits, among them 'Leader of the Pack', 'I'm a Believer', 'I Honestly Love You', 'River Deep-Mountain High', 'Hanky Panky'  and the monster hit 'Sugar, Sugar' for The Archies. As a husband, however, he had even less success with Jennifer than some of his predecessors; her fourth venture down the aisle lasting barely a year.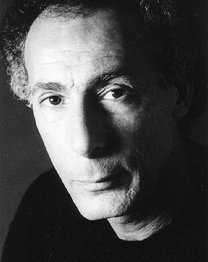 Jeff Barry
Perhaps number five would have better luck. Sadly, no. John Lederer, her manager at the time, gave Jennifer a son (Reis) during the four years they were together. In exchange, he went through all of her  money. The lot. Far worse even than that, he was subsequently convicted of sexually molesting little Aimee three or four times a week for the entire four years! In October 1982 Jennifer 'accidentally' shot herself in the stomach with Lederer's .38 revolver – while she was trying to determine if it was loaded or not, she said. The marriage ended in 1983. It was part-way through this abominable union that she made the movie Scanners (1981). As if things we not stressful enough, she had to put up with running abuse from her co-star, radical Catholic actor by the name of Patrick McGoohan. He openly called her a whore and a slut on the set in front of cast and crew because he had learned she had been married five times!
Patrick McGoohan in 'Scanners'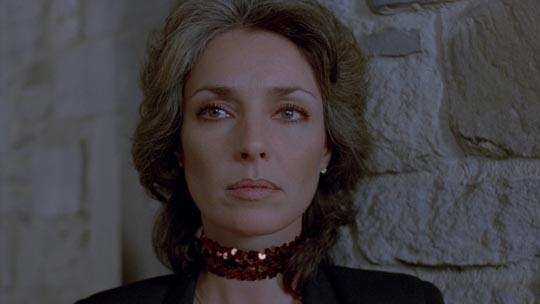 As Kim Obrist in 'Scanners'
The old age about climbing back on the horse if you get thrown off might have been penned specifically for Jennifer O'Neill because, in 1984, she buttered up again. Lederer had spent all her money, but she was soon earning plenty more (she was the face and spokeswoman for Cover Girl Cosmetics for thirty years!). Hubby number six was her limo driver, Richard Alan, a man she had met on a blind date. They produced a son, Cooper, but her luck in the marriage stakes had not changed. Good old Richard had a nasty habit of frequenting prostitutes and Jenn found out about it in 1987. Exit Mr. Alan.
Surely, the whole institution of marriage had at last worn out its welcome. Not so. At the age of 44 the 'never say die' model/actress wed Neil L. Bonin during a cross-country trip to Texas in 1992, with five-year-old Cooper standing in as best man. Bonin was eleven years her junior and marriage number seven only survived for five months until May 1993. Apparently, luckless Jenn had been fraudulently induced into the union. Seven months later she up and married Dick Alan – again! Evidently, she either caught him between hookers or he had become more adept at hiding them. All was wedded bliss – until it wasn't! The couple parted company (presumably for good this time) in 1996. That same year this most resilient of ladies saddled up with husband number nine, and (touch wood), this time she finally hit pay dirt. Mervin Louque, a music producer, has remained married to her for the past 20 years. Hallelujah!
In 1999 Jennifer O'Neill penned her autobiography 'Surviving Myself', in which she openly discusses her nine trips down the aisle, her four children, nine miscarriages, her solitary abortion – and becoming a born-again Christian back in 1986. Her movie career never really progressed as it should have after Summer of '42, probably because she was too busy tracking down a decent guy to marry. Well, it appears, she has at last succeeded. If persistence counts for anything we can only admire her tenacity. As for the poignant 'Summer of '42', it will more than likely remain in the minds of young adolescent males as the stuff that dreams are made of, long after Jennifer is no more.