WRANGLER (1960) 6 EPISODES                         
This extremely short-lived western series was the summer replacement for a musical series, The Tennessee Ernie Ford Show (1956). Wrangler's only claim to fame, miniscule as that claim may have been, is that it was the very first western show to be videotaped (as opposed to filming). In fact, it was the only western series to be videotaped; that format becoming the premise of a number of day-time 'soaps' only. The first of its six thirty-minute episodes aired on NBC on August 4, 1960, the last of them on September 15 the same year.
Chris Evers portrayed the title character, a wrangler named Pitcairn, who was supposed to roam the West finding adventure along the way. Unfortunately, the show's ratings were all but non-existent, so he never really got to do an awful lot of adventuring. Three years later he would land the lead in a series on ABC called Channing, but it also had a short run (just twenty-six episodes. Other than a number of B-pictures, none of them very meritorious, Evers made sixty-five appearances in television series in an otherwise uneventful career. He passed away in 2005.
YANCY DERRINGER (1958-9) 34 EPISODES    
Yancy is an adventurer, a former Confederate Army Captain, gambler, and respected southern gentleman, who is recruited (at no pay, I hasten to add) as a secret agent in post-Civil War New Orleans. For reasons known only to God and the creators of the series, he is accompanied by (of all people) a silent Pawnee Native American! And this in the Deep South state of Louisiana no less! His Pawnee companion communicates with him via sign language and carries a sawn-off double-barrel shotgun loaded with split buckshot. More often than not, however, when called upon to come to Yancy's aid, he uses a throwing knife sheathed on his back.
Sally Fields, her step-father, and brother Richard
Sally Fields' step-father, Jock Mahoney, landed the role of Yancy Derringer. In her 2018 autobiography titled In Pieces, she accused him of sexually abusing her when she was a child until she reached the age of fourteen! As a former stuntman who worked with the likes of Gregory Peck, Randolph Scott and Errol Flynn, Mahoney developed a strong reputation for insisting on safety in stunt preparation. If he declined a stunt everyone knew it was too dangerous to pull off. When he played Tarzan in Tarzan's Three Challenges (1963), he was forty-four years old!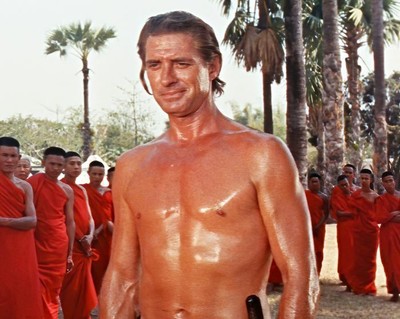 Mahoney as Tarzan
An actor with the odd name of X Brands played the Pawnee 'Pahoo – Ka – Ta – Wah' which when translated meant 'Wolf who stands in water'. He toted a shotgun, did not speak, and had Yancy's back! If you can accept that scenario you'll accept just about anything. Brands, incidentally, was not a Native American. He was of German descent and born in Kansas City, Missouri. Nevertheless, his portrayals of American Indians throughout his screen career earned him considerable praise for their authenticity. In direct contrast to Sally Fields' opinion of him, Brands admired Mahoney immensely, commenting thus: 'Jocko was always there when you needed him…He was the greatest guy in the world…He loved everybody. I never heard this man put another man down. He was so beautiful.' Brands clearly saw one side of Mahoney's character only. It would be reasonable to assume Sally knew the whole picture.
X Brands, Frances Bergen & Jock Mahoney
Although he is based in New Orleans and lives on the family plantation, Yancy's riverboat (the Sultana) and his sense of adventure often take him as far afield as Nevada and California.  His weapon(s) of choice are four-barrel Sharps Pepperbox Derringers, (he carries three of them concealed on his body), a swordstick/cane and a knife in his belt. Yancy's recurring love interest is Nora Francine (played by Frances Bergen, mother of actress Candice Bergen), the beautiful owner of a 'members only' gambling house in New Orleans.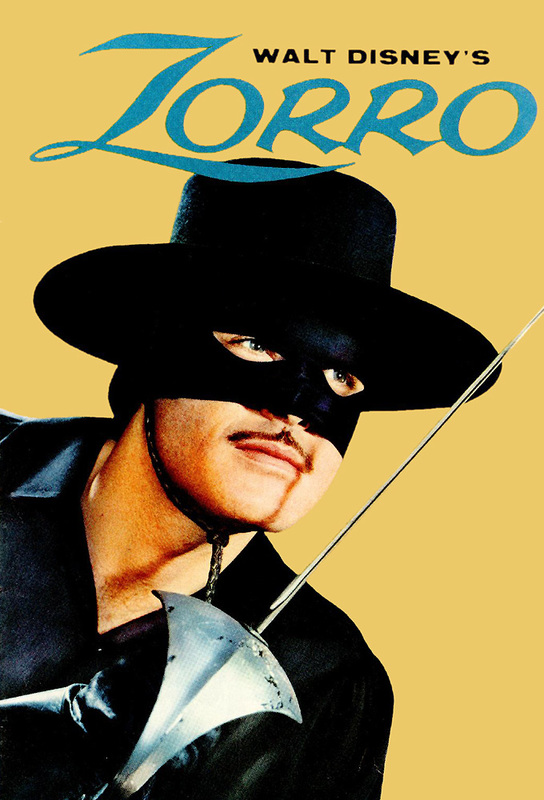 ZORRO (1957-9) 82 EPISODES                
Don Diego de la Vega, the only son of Don Alejandro, returns to the California of the 1820s to fight against the corrupt local military. Much like the equally fictional Scarlet Pimpernel, he plays the fop by day and the champion over injustice by night. Portrayed by Guy Williams, this masked swordsman slashes 'Z's' into his hapless opponents as he rides about on his noble steeds Tornado and Phantom. The series began in 1957 but production was halted in 1959, due to a two-year lawsuit between Disney and ABC, in effect carrying it through until 1961. Not that the star, Williams, was overly concerned because Disney kept him on full salary throughout. By the time the dispute was settled, however, it was evident that the show's public had lost interest in the Zorro character and the series was cancelled.
Guy Williams – Lost in Space (1965)
Williams was a former male fashion model, a strikingly handsome man with a serene baritone speaking voice. Universal Pictures screen tested and signed him to a contract in 1952. After a few nondescript years he left Universal, deciding to freelance in films until Walt Disney signed the thirty-three year-old to play the lead in the Zorro series in 1957. The series was initially so popular that Disney joined several episodes together to form two feature films, The Sign of Zorro (1958) and Zorro, the Avenger (1959). Today, Williams is best-remembered for his portrayal of the patriarch, John Robinson, in the 1965 cult classic series Lost in Space. He was not happy on the set of Lost in Space, feeling that too much focus was given to the Dr Zachary Smith character played by the eccentric Jonathan Harris. Nor did he get along with young Bill Mumy, the child actor who played his son Will in the show. In fact, once Lost in Space was cancelled (after three seasons), Williams never heard from Mumy again.
Bill Mumy & Jonathan Harris – Lost in Space
That series would prove to be Guy Williams' last hurrah in the acting business. In 1973, he visited Argentina for the first time and was taken aback by the admiration and fascination the Argentines had for both he and his signature character 'El Zorro'. He soon fell in love with the people and culture of Argentina and chose to retire to Buenos Aires where he sporadically made personal appearances when called upon over the years until his death in 1989 at the age of sixty-five.