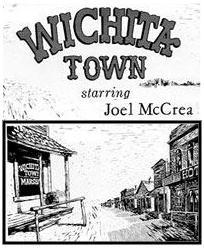 WICHITA TOWN (1959-60) 26 EPISODES  
The model for this series had already been laid out in shows such as Gunsmoke, The Life and Legend of Wyatt Earp and Lawman, so it was anything but unique. However, it did have the services of popular western star Joel McCrea who portrayed Marshal Mike Dunbar, the man in charge of keeping the peace in the booming cow town. His real life son Jody played one of his deputies (Ben Matheson) which, in itself, provided a source of curiosity for viewers. It would be accurate to say that Wichita Town was never destined to survive in an era that was fast becoming saturated with TV western series, a situation not helped by the show's time-slot following the weepy This is Your Life. When the sponsors pulled out, the series was cancelled after just one season comprising twenty-six episodes.
Joel McCrea as 'Deadhead' in Beach Party
Already in his mid-twenties and looking very much like his famous father, Jody McCrea landed numerous early opportunities in the movie business but never quite made it. Probably, his best-remembered roles were in the 'Beach Party' films released by American International Pictures in the sixties. In them he played a witless character named 'Deadhead', opposite the stars Annette Funicello and Frankie Avalon. Oddly enough, Jody was the only credited cast member who could actually surf! In all, he made six of these teen movies and handled his comedic role pretty well. In real life he married a Native American woman named Dusty Iron Wing, who taught him a great deal about Native American culture. In 1971, he abandoned show business to run a cattle and elk ranch in Hondo, New Mexico. After his wife passed away in 1996, he travelled the world before eventually resettling in Roswell, Mexico, where he spent his remaining days until his death in 2009. His father preceded him to that great round-up in the sky by nineteen years. His lovely mother, Frances Dee, died in 2004 at the age of ninety-four.
WIDE COUNTRY (1962-3) 28 EPISODES                                               
It could be convincingly argued that having two series about bronco-riding airing in the same season could only be a recipe destined for failure for both of them. Wide Country was an NBC series and Stoney Burke an ABC release. The former was gone after twenty-eight episodes, the latter after thirty-two. Both shows were graced by fine stars (Earl Holliman and Andrew Prine played brothers in Wide Country, while Jack Lord starred as the title character in Stoney Burke), but could bronco-riding and rodeo really provide a demographic that might attract a wide viewing audience? In hindsight it appears not. The first episode of Wide Country went to air in late September 1962 and the last in late April 1963.
Wide Country, in particular, faced some tough time-slot competition anyway, when it was placed opposite ABC's The Adventures of Ozzie and Harriet and The Donna Reed Show; CBS's popular comedy Mr. Ed and the first half of the iconic legal drama series Perry Mason. Equally threatening, however, was the limited premise of the series, that of an older, wiser brother's endeavours to dissuade his younger sibling from pursuing the tough life of breaking into the big time on the rodeo circuit. This was the core of most episodes and it soon wore out its welcome. There was simply nowhere for the show to go.
Holliman played the older brother (Mitch Guthrie), a rodeo champion; Prine portrayed Andy, the youngster keen to follow in his big brother's footsteps. After Wide Country was cancelled, Holliman spent the next two months touring the country in the acclaimed musical 'Oklahoma!' appearing in the lead role of Curly McLain. In September of that same year, he starred in a theatrical version of 'The Tender Trap' in New York opposite Anthony George. Earl possessed a reasonably good singing voice. He had a recording deal with Capitol Records and, from 1958-63, enjoyed a moderately successful career as a pop and country singer. In September 2021, he celebrated his ninety-third birthday.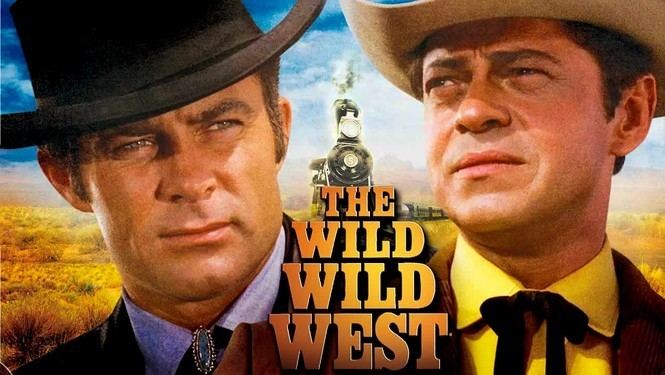 WILD, WILD WEST, THE (1965-9) 104 EPISODES       
Although set in the American West, this series is pure fantasy, half-science fiction and half-western. James West (Robert Conrad) and Artemus Gordon (Ross Martin) are two Secret Service Agents working for President U.S. Grant. Equipped with a splendidly appointed private train (for which Artemus devises gadgets and gizmos used to foil bad guys), the agents in The Wild, Wild West deliver a very much 'tongue-in-cheek' series from go to whoa. Surprisingly, the show developed a strong following that saw it run for over a hundred episodes. To lovers of true westerns the leeway given to the science fiction angle became a source of annoyance, especially when technology was introduced that did not exist in the real world until decades later!
(L to R) Ross Martin & Robert Conrad
Robert Conrad stood only 5'8" high, (he passed away in 2020, aged eighty-four), and was forced to wear three-inch heels throughout. Consequently, CBS insisted on not casting for the show any woman who stood over 5'6". Conrad also insisted on preparing all his own 'fight choreography' as well as performing his own stunts. That all came to an abrupt halt after a stunt backfired and almost killed him. The series was shot in the same studios as other popular shows of the day – Star Trek: The Original Series, Batman, Get Smart, Mission Impossible, Lost in Space, The Time Tunnel, and The Twilight Zone, for instance – all of which interchanged familiar faces in minor roles whenever it was needed.
All action shot inside the train was done in the studio. Sharp-eyed viewers probably noticed that there were two different trains used in the show. The first was a dark-panelled model used in the early seasons when the episodes were filmed in black and white. Once the series gained momentum and more money was available, (enough to introduce colour episodes), a second more functional model, decorated in green and gold and housing the unique gadgets associated with the show, was used instead. This was the train most fans remember. Interestingly, the series was not discontinued because of poor ratings, but because CBS executives became uncomfortable with the 'excessive violence' in it.