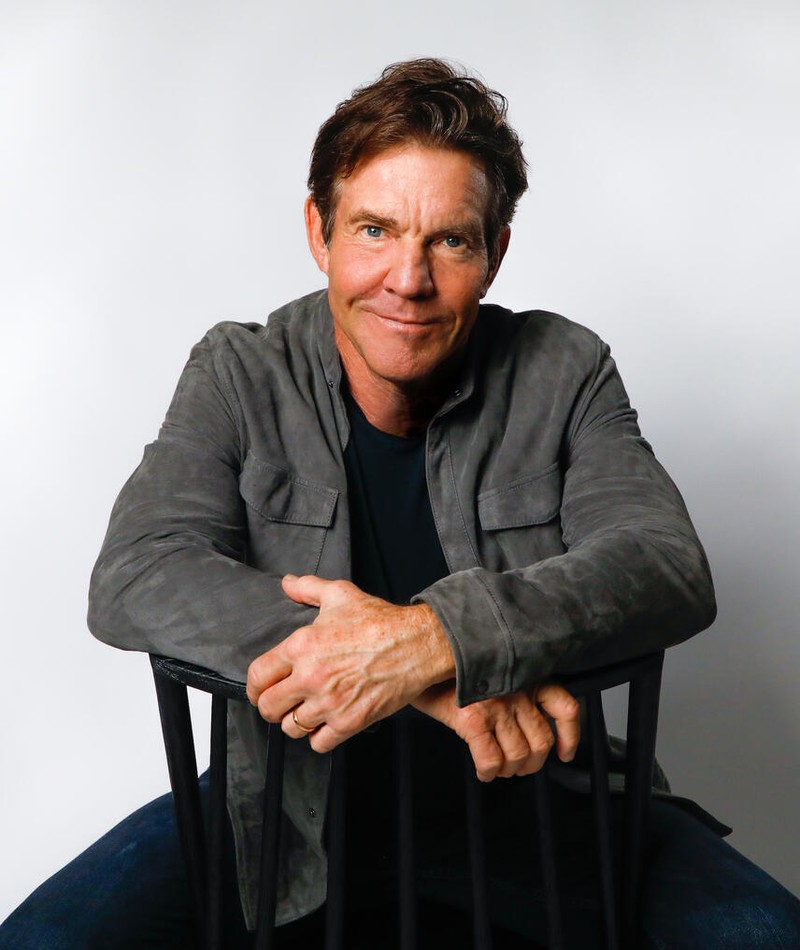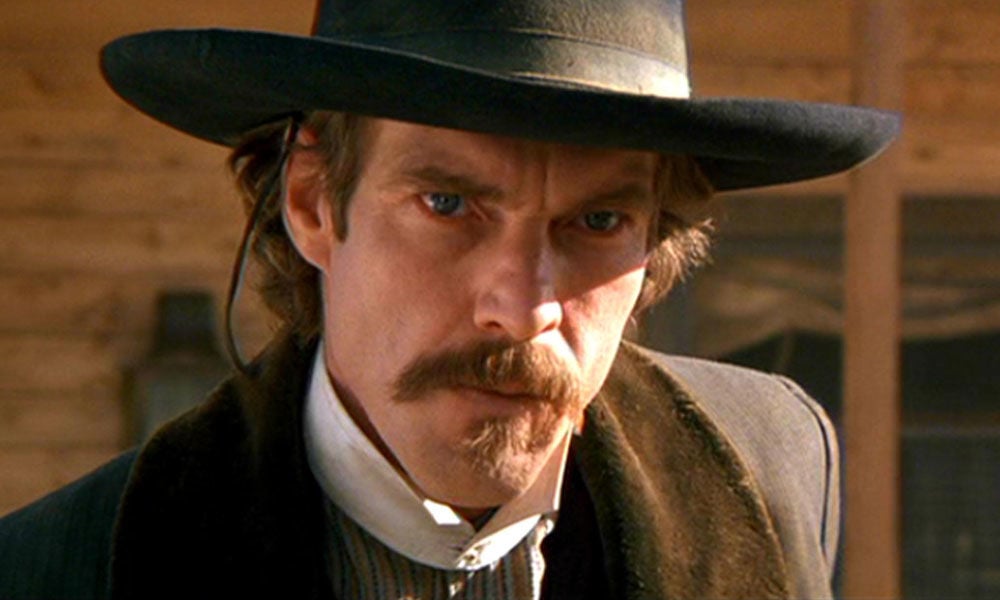 Dennis Quaid as Doc Holliday in Wyatt Earp (1994)
If you have ever watched the film Wyatt Earp (1994), starring Kevin Costner in the title role, you were probably shocked to see how emaciated Dennis Quaid looked in his role as the consumptive killer Doc Holliday. By the time Quaid had started shedding the forty pounds in weight required for the role, he had become embroiled in a desperate battle with anorexia. 'I'd look in the mirror and still see a 180 – lb guy', he said, 'even though I was 138 pounds.' He eventually sought treatment and recovered.
Margaret Lockwood & James Mason in The Wicked Lady (1945)
Beautiful English actress Margaret Lockwood was actually born in Karachi, British India, (now Pakistan), and is best-remembered today for two classic Gainsborough period dramas, The Man in Grey (1943) and The Wicked Lady (1945), both of which co-starred James Mason. The second of these films saw her playing a cunning and cruel bandit, a kind of female Dick Turpin, and attracted widespread publicity for its rather daring (for its day) depiction of immorality. In fact, some of Margaret's scenes had to be reshot for American audiences who were not accustomed to seeing so much décolletage. Years earlier, she had been selected for the female lead in Hitchcock's 1938 thriller The Lady Vanishes and had given an intelligent and convincing performance for him. Margaret might have become a major star in American movies but she was given poor material during her subsequent stay in Hollywood and soon returned home to the UK. She died at seventy-three in 1990.
Tommy Lee Jones in The Fugitive (1993)
The Fugitive (1993) was a huge box-office success, one that turned Tommy Lee Jones into a megastar for his portrayal of US Marshal Sam Gerard. In the famous tunnel chase scene, Dr Richard Kimble (Harrison Ford) tries to appeal to Gerard by saying, 'I didn't kill my wife!' The original script called for Jones to say, 'That's not my problem.' Instead, he chose to make the more in-character retort: 'I don't care.' Tommy Lee won a Best Supporting Academy Award for his performance. Perhaps, that ad-libbed line had something to do with his win.
WArner Oland as Charlie Chan
Warner Oland would gain world-wide success and recognition as Charlie Chan, a Honolulu-based Chinese-American police detective, in sixteen Fox Studios movies over six years in the 1930s, yet he was a man who was born in a little village in Sweden in 1879. Before hitting it big as Charlie Chan, he co-starred in Warner Brothers' ground-breaking part-talkie The Jazz Singer (1927). Despite having no Asian ancestry whatsoever, Oland found himself playing Asian characters for much of his career. It is fair to say that before Shirley Temple came along, the Charlie Chan pictures were all that kept Fox from going under. At the height of his fame he visited China. To his astonishment he was addressed in Chinese wherever he went and introduced as 'Mr. Chan' on every occasion. Throughout his life Oland struggled with alcoholism, a condition that Fox went to great lengths to keep secret from the public. Suffering from dementia in his final years, it was bronchial pneumonia that took him before his 60th birthday, however, in 1938.
Arthur Kennedy in Lawrence of Arabia (1962)
In Lawrence of Arabia (1962), the role of Jackson Bentley (based on real life journalist Lowell Thomas) was originally given to Edmond O'Brien. After filming several scenes, however, he suffered a heart attack and had to be replaced. Anthony Quinn suggested to director David Lean that Arthur Kennedy would be ideal in the role. Back in 1960, Kennedy had replaced Quinn in the role of King Henry II in the play 'Beckett' and Quinn was impressed with his performance.
Frank DeKova
Lovers of the comedy western TV series F Troop (1965-7) will be familiar with the name Frank DeKova. He played the scheming (and hilarious) Chief Wild Eagle and stole scenes left, right and centre as he did so. Before he became an actor, however, DeKova was (of all things) a schoolteacher! His sinister scowl, piercing eyes and generally threatening demeanour soon had him in demand to portray killers, brutal officers and the like. His movie debut was as the Mexican colonel who sets up Emiliano Zapata for assassination in Viva Zapata! (1952), and he continued to play such types until he landed the comedy role in F Troop for which he is primarily remembered. Frank died in his sleep in 1981, aged 71.
Pola Negri
Polish-born silent screen vamp Pola Negri claimed to have been engaged to movie heartthrob Rudolph Valentino at the time of his unexpected death in August 1926, and at once set out from Hollywood by train to attend his funeral in New York City. Along the way she collapsed several times and there was always a photographer around when she did. The perception that she was using Valentino's death as a publicity stunt severely damaged her reputation. In her autobiography, she stated that he was the love of her life. Fellow silent star Ben Lyon later claimed that she ordered a blanket of flowers to be placed across her lover's coffin, reading 'P.O.L.A.' in large letters, but photographs taken of his funeral clearly show that the flowers draped over the coffin had no such lettering. Furthermore, no contemporary newspaper accounts supports this claim either, something they would surely have done had the story been true.
Diane Keaton – Michael Keaton
Quite a few fans are convinced that Diane and Michael Keaton are related. They are not. Her birth name is Diane Hall but had to change her surname to her mother's maiden name because there was already a Diane Hall in the Screen Actors Guild. Michael Keaton encountered a similar problem. His birth name is actually Michael Douglas, the same as Kirk Douglas's acting son. He picked 'Keaton' because he liked Diane's name.
Barry Foster in the role of the killer in Frenzy (1972) that Michael Caine turned down
Michael Caine is living proof that, in the movie business, it did not pay to say 'no' to directors of the calibre (and spiteful nature) of Alfred Hitchcock. 'Alfred offered me the part of a serial killer in a movie called Frenzy and I turned it down', Caine recalled. 'It was so brutal and disgusting I just didn't want to do it. Alfred made the movie in 1972 with Barry Foster in the lead role and it did very well, but he never spoke to me again…A couple of years later I was filming in Berlin and was walking down the Kurfurstendamm when I saw Hitchcock walking towards me with a group of people. He saw me, he looked at me, and he very deliberately turned his head away and kept walking.'