WAGON TRAIN (1957-65) 284 EPISODES           
Ward Bond & Robert Horton
This iconic series followed the daily life and adventures of a post-Civil War wagon train as it meandered its way from Missouri to California. For 134 episodes the trail master was Seth Adams, played by veteran movie actor Ward Bond. In 1960, however, he unexpectedly died and a new trail master had to be found. Steely-eyed, craggy-featured John McIntyre, another veteran of the big screen, was selected to play Christopher Hale for the remaining 152 episodes. McIntyre's real life wife, actress Jeanette Nolan, guest-starred in three episodes but not as Hale's wife.
Terry Wilson & Frank McGrath
Fans of the early episodes (when Adams led the train) preferred Robert Horton as scout Flint McCullough over his successors Denny Miller and later Robert Fuller. Horton was born into a Mormon family and was a singer long before he achieved fame as the Wagon Train scout. In fact, he made his stage debut at twenty-three and appeared in no fewer than thirty-four musicals! While openly conceding that Wagon Train was the 'best thing that happened to me', he held out against an exclusive contract because he did not wish to be typecast as a western actor. Indeed, he missed twenty episodes of his final season in the series, due to his work in musical theatre. Although he and Bond feuded on the set, Horton admired the man and willingly attended his funeral. When Horton himself passed away at ninety-one in 2016, he was the last surviving member of the original cast.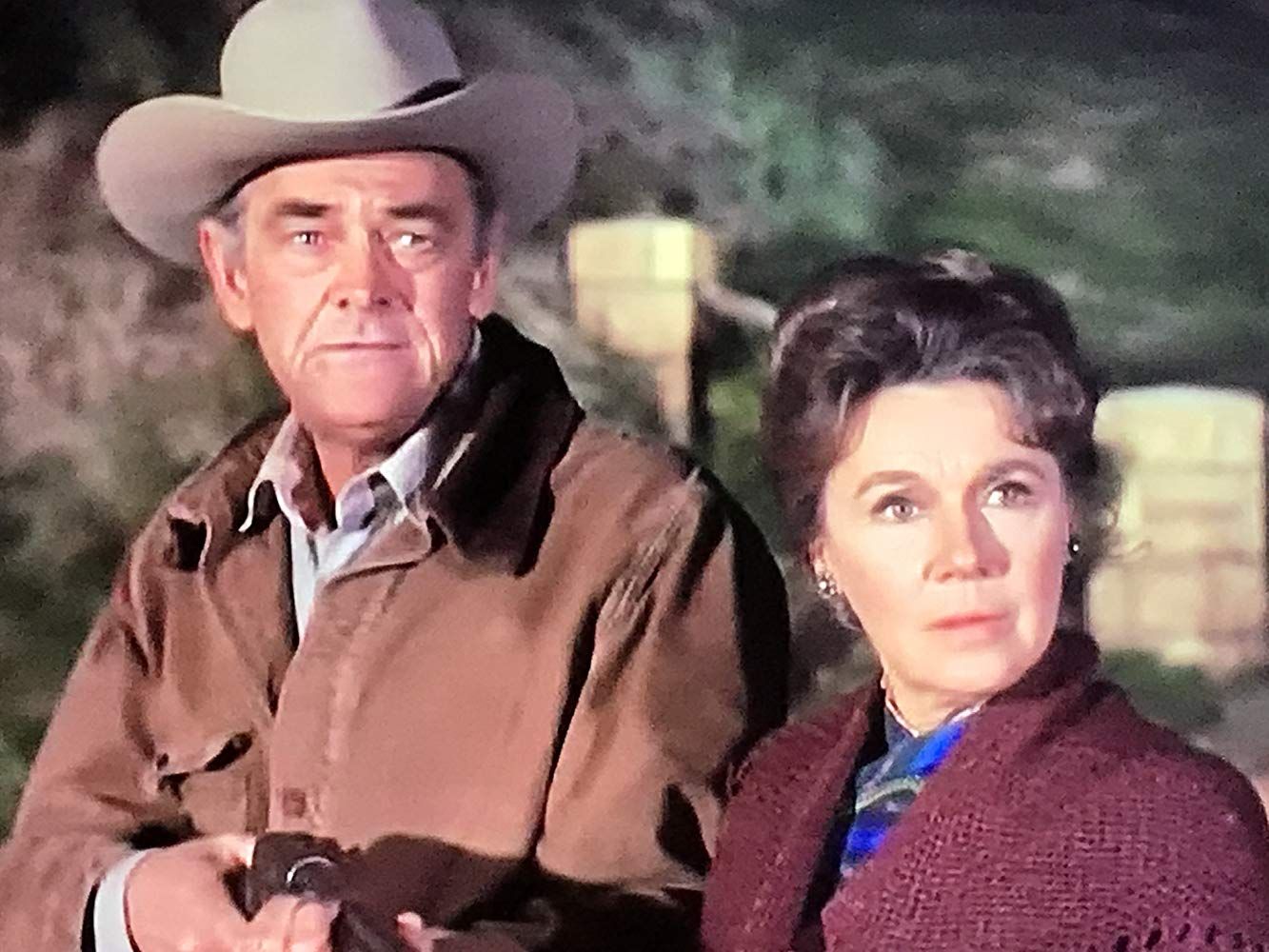 John McIntyre & his wife Jeanette Nolan
McIntyre met and married Jeanette Nolan in 1935, and they remained husband and wife until his death in 1991. The couple had two children, actors Tim and Holly McIntyre. Holly's career was a brief one, but Tim's appeared to be quite promising (I recall him playing Henry, one of James Stewart's sons, in Shenandoah in 1965). Tragically, his drug and alcohol problems led to congestive heart failure that ended his life at forty-one. His father not only replaced Bond in Wagon Train but also replaced Charles Bickford as owner of the Shiloh Ranch in The Virginian after Bickford died in 1967. He remained with the show until it ended in 1971.
Denny Miller as Duke Shannon
Other original regulars on Wagon Train included Frank McGrath as the cook, Charlie Wooster, (271 episodes), and Terry Wilson as Bill Hawks (267 episodes). McGrath was a well-known stuntman prior to becoming a character actor, but had a fondness for liquor and a reputation for starting (but rarely finishing) brawls. In two 1952 westerns, Pony Soldier and Apache War Smoke, he was actually Robert Horton's stuntman, five years or so prior to joining him in the cast of Wagon Train. A heart attack took him at the age of sixty-four in 1967. Terry Wilson was an ex-Marine and also a former stuntman who doubled for John Wayne, Ward Bond and Forrest Tucker in movies. A close friend of fellow stuntman McGrath, the two pals were big hits on the rodeo circuit and at prison rodeos. Along with John Wayne and Ken Curtis they were pall-bearers at Ward Bond's funeral.
Robert Fuller as Cooper Smith
When Horton quit the series he was replaced as scout by Denny Miller (acting then under the name of Scott Miller) in the role of Duke Shannon. He would stay with the show for 106 episodes before Robert Fuller took over for the final two seasons, playing Cooper Smith in sixty episodes. The only other actor to be involved with Wagon Train for any major length of time was former child star Michael Burns. He portrayed teenager Barnaby West in fifty-four episodes from 1960-65, but ultimately gave up acting to become a college professor and a distinguished historian and author.
WANTED: DEAD OR ALIVE (1958-61) 94 EPISODES 
Josh Randall is a Civil War veteran and bounty hunter who carries a sawed-off rifle as a holstered weapon. The whole idea of having a bounty hunter as the hero of a series was a matter of great concern to the show's producers. Such individuals had always been depicted as unscrupulous and unsavoury men on the screen. Something had to be done to soften Randall's image. It was decided that the hero (portrayed by Steve McQueen) should make it his policy to give away most (sometimes all) of the reward money he collected, to the families of people murdered by the killers he brought in, thereby making him a sympathetic and likeable character. Dick Powell, head of Four Star Productions, the people who produced the series, also had serious issues with using McQueen in the lead role. He felt that the little-known actor was not big enough or tall enough to be believable as a rough – hewn bounty hunter. Furthermore, the actor could not even ride a horse. Powell changed his mind after watching McQueen's charismatic performance in the early rushes of episode one.
Steve McQueen in The Magnificent Seven (1960)
In truth, Steve only took the Randall role because he felt his chances of making it as a movie star were rapidly passing him by. Then, as the series and his performances in it gained popularity, he was offered a major role in The Magnificent Seven (1960). It was the opportunity he had been desperately waiting for, but there appeared to be an insurmountable problem – both Wanted: Dead or Alive and The Magnificent Seven were being shot simultaneously! According to his first wife, Neile Adams, he solved the problem by 'faking' a car crash. He ran the vehicle into a tree, suffering minor cuts, muscle pulls and bruises that resulted in him being granted medical leave. His TV series went on temporary hiatus until he could recover and McQueen went off to film The Magnificent Seven. The picture made him a star of the big screen.
When it became evident that McQueen would be leaving the series the moment his contract was concluded, an actor named Wright King was brought in to take his place. He was to be introduced as Jason Nichols, a protégé of Josh Randall's, the idea being he would move into the lead once McQueen had left. The idea was soon abandoned when it became clear that nobody could hope to duplicate his predecessor's success. Whether it be on the big screen or on television, Steve McQueen had a charisma that was difficult, if not impossible, to replicate. The Wanted: Dead or Alive series died when he walked away from it.