MARGOT KIDDER (1948-2018) 
Brian De Palma           
Margot's name and face became known to the world when she portrayed Lois Lane opposite Christopher Reeve in the title role of the 1978 movie Superman, a box-office smash that grossed over $300 million worldwide. Margot was born Margaret Kidder in Yellowknife, Northwest Territories, Canada in 1948, so she was almost thirty when she played Superman's girl, although she looked much younger. Even as a child she suffered from violent mood swings (what is today recognized as bipolar), that led to an attempt at suicide when she was just fourteen.
John Heard
In the early seventies, in Hollywood, she became romantically involved with promising director Brian De Palma, which led to him giving her a role in his 1972 feature film Sisters. Critics loved her performance and her career was suddenly up and running. By 1975 her relationship with De Palma had ended and she found herself starring in a film titled 92 in the Shade, directed by Thomas McGuane, whom she wed in August 1976. The union produced a daughter but it was not a happy marriage, one that ended in divorce eleven months later. Her second trip down the aisle, (to actor John Heard who portrayed Kevin's father in the Home Alone movies), was even more disastrous. The couple married on August 25, 1979 but separated six days later! Their divorce was finalized in December 1980. In the early '80s Margot became briefly romantically involved with the former Canadian Prime Minister Pierre Trudeau.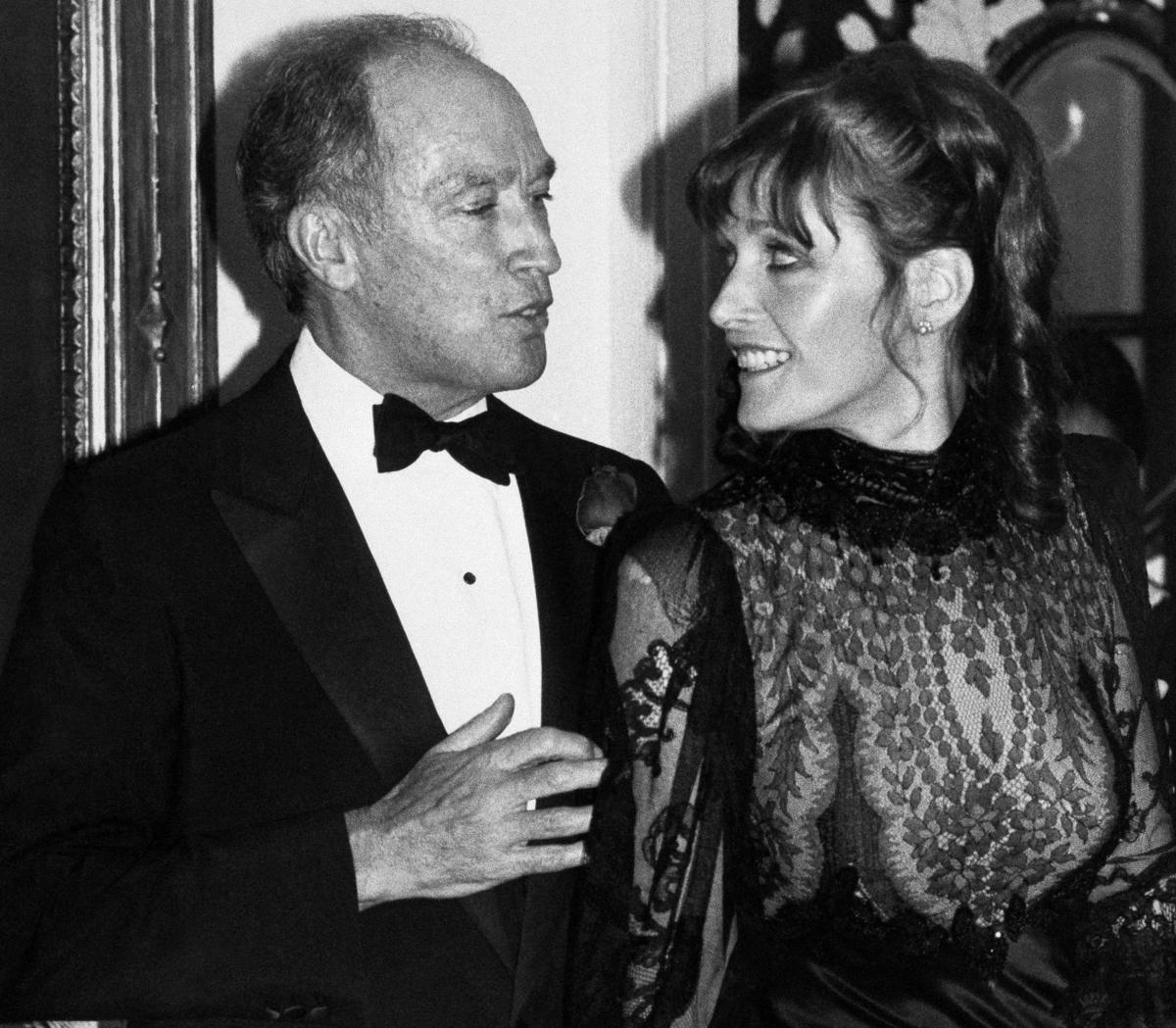 Margot & Pierre Trudeau
During the shooting of Some Kind of Hero (1982), she and African-American comedian Richard Pryor had a number of erotic love scenes, all of which landed on the cutting room floor. Inter-racial sex was a big no-no back then. Off-screen, however, the two were heavily involved indeed. 'I fell in love with him in two seconds flat', said Margot. 'He was smart and funny and sexy, and you wanted to take care of him. He was just – Richard was irresistible.' Their romance was rekindled when they made Superman III a year later. A year or so later, whilst producing and starring in the French-Canadian period television film Louisiana (1984), Margot began dating the picture's director, Philippe de Broca, and the two married in France in 1983. Once again, she found success elusive and the union lasted just one year. Margot later characterized the marriage as 'impulsive' and 'not a little irresponsible', adding that, 'we just weren't meant to be married to each other.'
Richard Pryor
In December 1990, Margot was seriously injured in a car crash; a spinal injury leaving her partially paralysed and unable to work for two years. She was eventually forced to declare bankruptcy. Her mental health had been in decline for some time when a highly publicized manic episode in April 1996 brought her once more to the public's notice. After disappearing for four days in Los Angeles, she was found by a home-owner in the backyard of a residence and taken to Olive View, UCLA Medical Centre in a distressed state. Caps on her teeth had been knocked out during a rape attempt and she was placed in psychiatric care. Margot died in May 2018 aged sixty-nine. The coroner insensitively said her death was 'a result of self-inflicted drug and alcohol abuse'. That finding has been questioned.
NICOLE KIDMAN (1967 – )                      
Nicole Kidman was born in Honolulu, Hawaii to Australian parents who were there on educational visas at the time. Today, she has dual Australian and American citizenship. She is a very tall woman at nearly 5'11" (1.8m), and towers about four inches over her ex-husband, actor Tom Cruise. She rarely wore heels when seen publicly with him so they could appear similar in height. 'Now I can wear heels', she triumphantly told an interviewer after their divorce in 2001. Since the divorce she has rarely been seen on the red carpet without them.
Tom Burlinson & Nicole
Her first lover was a thirty-seven year-old man with whom she went off to Amsterdam for a while when she was seventeen. She did not name him to her biographer. In 1985, however, she travelled to Perth, Western Australia, to make Windrider with up and coming actor Tom Burlinson. She was eighteen and the picture included her first ever nude scene, a topless wind-surfing prank alongside a cruise ship full of passengers. The sequence was later deleted prior to the picture's release. Nicole and Tom were together until he asked her to marry him in 1988. She said no. She and Perth-born actor Marcus Graham lived together for more than a year after that until she fell for megastar Cruise on the set of Days of Thunder (1990) and stopped taking his calls.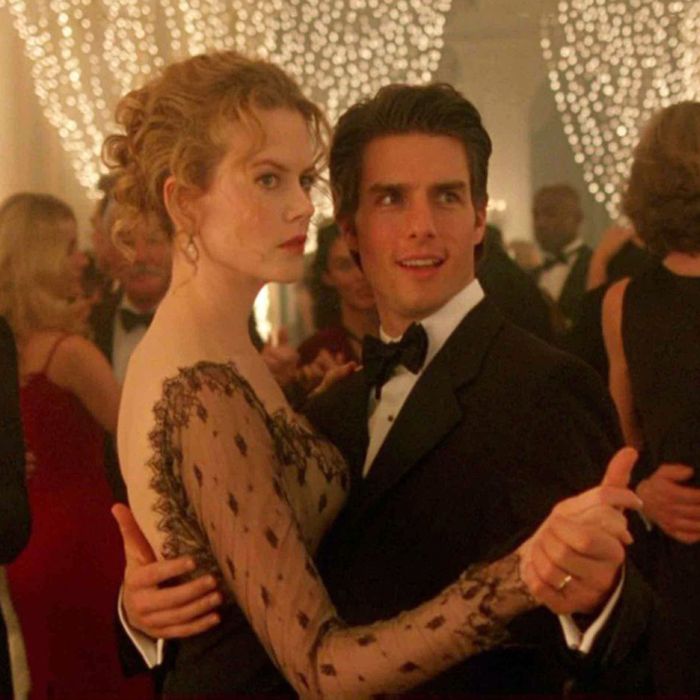 Nicole & Tom Cruise in Eyes Wide Shut (1999)
Nicole had been hoping for an audition for Ghost (1990) when she sent off tapes of herself to the picture's producers. The audition never happened but the tapes were eventually seen by Cruise, just when he was looking for a leading lady for his movie Days of Thunder. He liked what he saw and cast her. In 2017, her manager of fifteen years or so, Marc Epstein, spilled the beans about Nicole's first sexual encounter with her future husband. He claimed that she rang him straight afterwards and exclaimed, 'You won't believe this, but I've just been fucking the Risky Business guy! I loved it.' Tom and Nicole dated for a year before marrying on Christmas Eve 1990. During their ten-year marriage they adopted two children (a boy and a girl). Mr. & Mrs. Cruise separated in February 2001 and he filed for divorce two days later! The union was dissolved in August that year. Nicole lived with her good friend, actress Naomi Watts, in the interim and has steadfastly remained reluctant to discuss her ex-husband's involvement with Scientology. Nicole herself remains a staunch Catholic.
Both Tom and Nicole were eager to co-star in Stanley Kubrick's 1999 film, a sexual so-called thriller titled Eyes Wide Shut. In fact, Nicole signed up for it before she had even seen the screenplay, such was her admiration for its director. Whether or not their participation in this picture had an impact on their somewhat shaky marriage is debatable, but when Kubrick insisted on banning Tom from the set for the six whole days it took to shoot naked scenes involving Nicole and a male model, scenes that required the pair to pose in fifty erotic positions, all of which resulted in just one minute of the movie's final footage, tension between the director, Tom and the Cruise marriage heightened considerably. Things did not get any better when Kubrick forbade Nicole to tell her husband about anything that had happened during those six days of filming. It was all to do with exaggerating the distrust between the fictional husband and wife, he said. Evidently, this was, he stated, the best method for drawing convincing performances from his two stars. All that footage (except for the single minute that made it to the screen) has since disappeared.
In 2015, former Church of Scientology executive Mark Rathbun claimed in a documentary film that he had been instructed to 'facilitate [Cruise's] break-up with Nicole…' Tom's auditor further claimed that Nicole had been wiretapped on her husband's suggestion. Since the lady is determined not to discuss the subject we are left to ponder the possible ramifications. Did she sign something that forbade her to discuss anything about the 'Church'? More than likely.
With her divorce about to be finalised, Nicole was free to recommence dating. Italian movie producer Fabrizio Mosca debuted his film The One Hundred Steps in Cannes in May 2001 and the two dated for a while. Nicole and her close friend Russell Crowe have always denied they have ever been lovers but, in July 2001, she took her private jet to Fiji for a holiday and Russell is said to have joined her there in his private jet. It is no secret that he comforted her after her divorce. He was making Master and Commander: The Far Side of the World in Mexico in 2002 when she stayed overnight at the Club Marena where Russell was registered as a guest. The following month she again flew to Mexico for what bar-tenders described as 'romantic evenings for two.' Later that year it was rumoured that Spiderman star Toby Maguire had been spotted with Nicole at a Brentwood restaurant, cuddling over breakfast.
Nicole engaged to Lenny Kravitz
In 2003, Nicole and rocker Lenny Kravitz started dating and a serious relationship developed. Indeed, they were engaged to be married in 2004 but the wedding never eventuated. There were rumours of brief flings with British star Jude Law and with rapper Q-Tip that same year, as well as with singer Robbie Williams in 2004. She also dated director/producer Steve Bing from 2004 through 2005 before the two went their separate ways. Vin Diesel was another who was spotted in her company around that time.
Keith Urban and Nicole
Her dating ceased, however, when she accompanied fellow Australian singer Keith Urban to the Grammy Awards in 2006. They had first met in 2005 and this was their first public appearance together. By June they were husband and wife. 'We didn't really know each other', she told an interviewer in 2015.'We got to know each other during our marriage.' Urban's substance problems were well-known so it came as no surprise when Nicole insisted on a 'pre-nup' before the wedding. It stipulated that for every year they stay married, he will receive $640,000 if he does not relapse into drug use. If he does relapse, the contract becomes null and void and he gets nothing! It is now November 2021 and they are still together, and have two daughters as well. Keith seems to have well and truly passed the test. Good for them.