STAKEOUT (1987)              
This is a pretty slick action/comedy directed by John Badham, the man who gave us Saturday Night Fever (1977). Most red-blooded males would probably agree that if you were a cop given a two-week stakeout assignment that required you to spy on someone, if that someone turned out to be the very beautiful Madeleine Stowe, you would more than likely consider that the gods had smiled upon you. This was (surprisingly enough) Madeleine's first ever starring role in a feature film and the start of big things to come. She is terrific. In fact, the entire movie is great entertainment. Richard Dreyfuss and Emilio Estevez are perfect as the two stakeout cops, while Aidan Quinn portrays an evil villain most convincingly.
Madeleine Stowe & Richard Dreyfuss
While in rehearsals Dreyfuss and Estevez were overheard asking each other trivia questions, some of which included identifying quotes from movies. When Emilio asked his co-star, from which film was the line: 'This is not a boating accident!' he was astonished by his 'I don't know' response. Dreyfuss, of course, had spoken the line himself whilst examining the first shark attack victim's remains in the mortuary at the commencement of Jaws (1975). Director Badham thought the exchange between the two actors funny enough for it to be included in the Stakeout screenplay, and it duly was.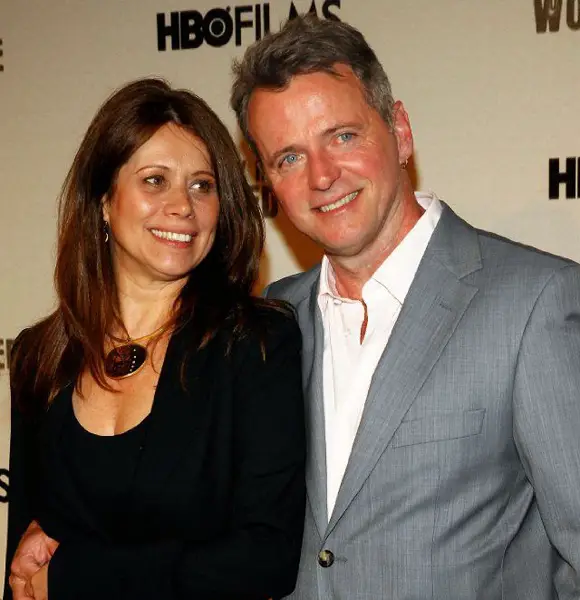 Aidan Quinn & his wife Elizabeth Bracco
Aidan Quinn met his future wife on the set of this movie. Elizabeth Bracco, younger sister of actress Lorraine Bracco, had a bit part as a bar waitress in Stakeout. She and Quinn hit it off and were married in September 1987. They remain husband and wife to this day (November 2021) and have two children. Quinn is best known for his theatrical work in both Chicago (his home town) and in New York City. Incidentally, Bruce Willis and Demi Moore first met at a screening of Stakeout in July '87 and married four months later.
Madeleine Stowe & her husband Brian Benben
Madeleine had only appeared in one feature film prior to this one, and that was six years earlier in Gangster Wars (1981). In it she played the wife of a gangster portrayed by Brian Benben whom she wed in August '86. Today they live on his working ranch outside Fredericksburg, Texas, having been married for more than thirty-five years and the proud parents of a daughter. Interestingly, Madeleine was hell bent on becoming a concert pianist as a child, practicing hour upon hour every day from the age of ten. Sadly, her teacher passed away in 1976 and eighteen year-old Madeleine lost her desire to continue. Cinema fans have since benefited from her change of direction.
This movie, plus Down and Out in Beverly Hills (1986) were very much the comeback films for Dreyfuss, following his rehabilitation stint for cocaine abuse in 1982. He had begun to frequently use the drug in 1978 and was arrested four years later after he blacked out while driving his Mercedes-Benz 450 SL and crashed into a tree. Arrested for possession, he entered rehab and later emerged 'clean and sober', ready to resume his career. The side effects of his addiction were, however, severe. Even today, he cannot recall ever making the 1981 movie Whose Life Is It Anyway? He still suffers from memory loss brought on by his addiction.
Emilio EStevez & his brother Charlie Sheen
Emilio Estevez is the oldest son of actor Martin Sheen and the brother of the erratic Charlie Sheen. Charlie and Emilio did not get along as children and fought constantly. Estevez was one of the nine original members of 'The Brat Pack' of the 1980s, along with Sean Penn, Rob Lowe, Demi Moore, Molly Ringwald, Ally Sheedy, Andrew McCarthy, Judd Nelson and Anthony Michael Hall. It is not generally remembered today, but he was once engaged to be married to Demi Moore.
THE WINSLOW BOY (1999)          
This is the second cinema adaptation of the 1946 play by Terrence Rattigan. It is based on a father's fight to clear his son's name after the boy was expelled from a military college in England for allegedly stealing a five-shilling postal order from a fellow cadet at Osborne Naval College in 1908. Family honour and the boy's future were at stake over the issue, so the most respected barrister of the day, Sir Edward Carson, was engaged to defend the lad.
Jeremy Northam as Sir Robert Morton KC
The play first became a film in 1948 when it was directed by Anthony Asquith and starred Robert Donat, Sir Cedric Hardwicke and Margaret Leighton. This 1999 version features Jeremy Northam, Nigel Hawthorne and Rebecca Pidgeon. The actual case on which Rattigan's play was based concerned a youngster named George Archer-Shee whose name was changed to Ronnie Winslow in the play. Sir Edward Carson became Sir Robert Morton KC in the play and in both movies. In 1989, the play was adapted for a television movie starring Ian Richardson, Gordon Jackson and Emma Thompson.
Nigel Hawthorne as Arthur Winslow
David Mamet directed the 1999 film, his wife, Rebecca Pidgeon, portrayed Catherine Winslow in it, and her real life brother Matthew Pidgeon appeared as her on-screen brother Dickie Winslow. Mamet also wrote the screenplay. Nigel Hawthorne (Arthur Winslow) made five films that were released in 1999. Two years later he was dead. Although he underwent several operations for pancreatic cancer, it was a heart attack that claimed him in 2001 at the age of seventy-two. Fans of the enormously successful TV series – Yes Minister and Yes, Prime Minister– will forever remember his outstanding characterization of Sir Humphrey Appleby throughout both series.
Jeremy Northam & Rebecca Pidgeon
The actor with the showiest role is, without a doubt, Jeremy Northam, as he portrays Sir Robert Morton. This writer is an enormous fan of Northam as an actor. He is one of those rare players that draw one's focus whenever they appear on-screen. He was excellent in his Hollywood debut as a killer in The Net (1995); and was a lot of fun as a phony, gay, children's beauty pageant organizer in Happy, Texas (1999). I especially liked his turn as an MI5 agent named Wigram in the under-rated Enigma (2001). He seems to select his roles with considerable care – eg:  An Ideal Husband (1999) and Gosford Park (2001).