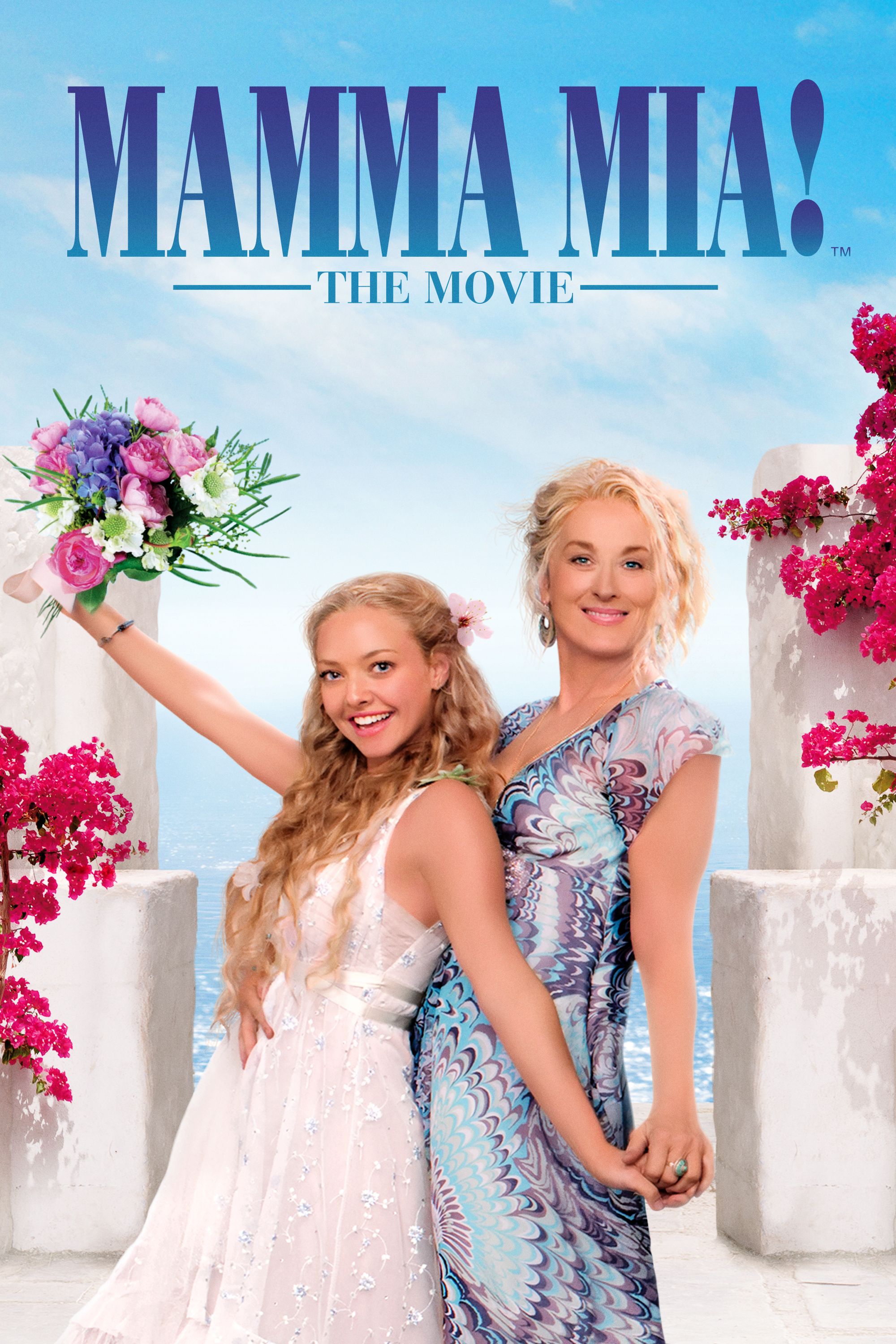 MAMMA MIA! (2008)                                                                                 
It will probably come as a shock to readers (it certainly did to me) to learn that this bloody awful musical became, in December 2008, the highest-grossing movie in UK history, surpassing Titanic (1997)! It has, however, since been passed by Avatar in 2009. Furthermore, as of July 2018, it has now become Meryl Streep's biggest box-office hit! All of which goes to show that most people would not recognize a good singing voice if it bobbed up in their Corn Flakes. The likes of Mario Lanza, Sinatra and Crosby, Gordon MacRae, Howard Keel, Shirley Jones, Mitzi Gaynor and Jane Powell (those of them still living that is) must wonder what the hell is going on. The actors in this movie tried their utmost to sing effectively but the task was beyond them. Olivia Newton-John was considered for the lead but Meryl got the nod ahead of her despite there being no age difference between them. Emmy Rossum lost out to Amanda Seyfried for the Sophie role even though they are also about the same age. Most judges would agree that Emmy is, by far, the better singer of the two.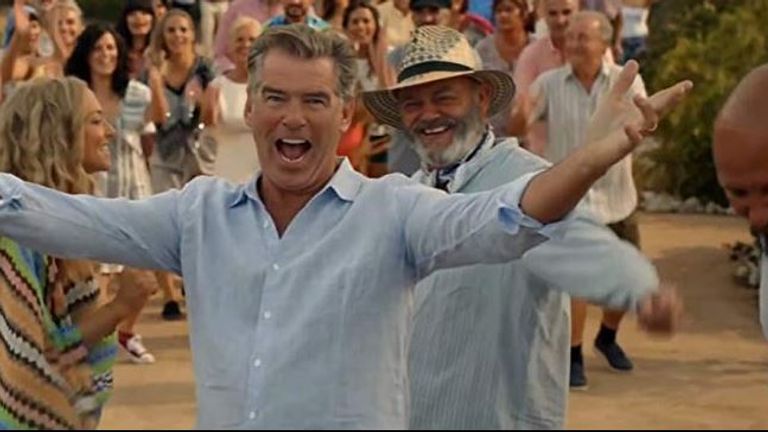 Pierce Brosnan 'vocalizing'
Pierce Brosnan had no idea what the project was about when he signed on for it. All he knew was that Meryl Streep would be at the top of the bill and that was good enough for him. His singing is nothing short of diabolical but he got to play opposite Meryl, something he had wanted to do since he fancied her in Drama School, so he is more than likely content with that. One is left to wonder just who he beat to get the role because he is one woeful singer. Curiously, Colin Firth considers Mamma Mia! to be one of his favourite films. He once stated that if heaven exists, when he arrives he wants to hear God say, 'I personally thought you were very good in Mamma Mia!' I sincerely hope Colin doesn't hold his breath whilst waiting for that to happen. I should point out that I am actually a fan of ABBA's music and of Meryl Streep, but this monstrosity does neither the group nor the actress any favours. Incidentally, not all of the four members of ABBA were born in Sweden. Frida entered this world via Norway.
Colin Firth doing likewise
I must say that I was mightily impressed by Meryl's vocalizing when she belted out 'I'm Checkin' Out' as the credits rolled for Postcards from the Edge (1990). She had just turned forty and she was terrific. But Mamma Mia! was shot nearly twenty years later when she was almost sixty! Perhaps, the producers mistakenly figured that ABBA's songs could get by regardless of the singing ability of those performing them; but the old adage 'you can't make a silk purse out of a sow's ear' gains even greater credence when you have a half dozen 'sow's ears' doing the singing. Add to that some of the dullest choreography ever put on celluloid and one is left to wonder how on Earth this film broke box-office records in the UK.
Meryl in Postcards From the Edge
Historically speaking, the bar had been set at rock bottom the day Lee Marvin croaked his way to a gold record with his rendition of 'Wanderin' Star' in Paint Your Wagon (1969). Just about every critic on the planet was nonplussed so the precedent had been set almost forty years earlier. Indeed, no-one was more surprised than the man himself. Mind you, the song itself was terrific, the arrangement quite beautiful, and the male chorus exceptional. Even his guttural rasping couldn't wreck it. Come to think of it, the producers even let Clint Eastwood warble 'I Talk to the Trees' in that one. In fact, non-singers Lee and Clint struggled through numerous numbers in Paint Your Wagon while the genuinely gifted Harve Presnell was allowed only one! Forty years down the track and audiences (not to mention producers) are still, generally speaking, incapable of discerning the difference between talented singers and hacks. Perhaps, they no longer need to because the public greedily devours whatever is served up to them.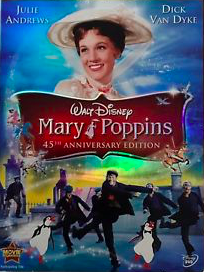 MARY POPPINS (1964)                  
No doubt I shall make a host of enemies when I state that I really dislike this movie. Really dislike it. As with most Disney films that contain animation, this one is chock-full of songs. Far too many songs. And they are especially boring and tuneless! This, coupled with the choreography for 'Chim Chim Cher-ee' (that drags on for an eternity), and Dick Van Dyke's unbelievably annoying voice (both speaking and singing), and we are provided with a recipe for one hideous musical. The picture has, in my opinion, one saving grace, but even that cannot rescue it. I refer to the presence of Julie Andrews who has never looked more beautiful and who fits the title role like a hand in a glove. Mercifully, a sequence known as 'The Magic Compass', consisting of four more songs, was dropped from the movie in pre-production. If P L Travers, the author of the 'Mary Poppins' books had been allowed to have her way, the entire score would have consisted only of period pieces – Ta Ra Ra Boom De Ay' and/or 'Greensleeves'.  It least it would have been a whole lot shorter.
Dick Van Dyke & Julie Andrews
I cannot honestly recall a musical that featured more sub-standard, wearisome tunes than this one. 'Jolly Holiday', 'Chim Chim Cher-ee', 'Feed the Birds', 'Supercalifragilisticexpialidotious', 'Step in Time', 'A Spoonful of Sugar', 'I Love to Laugh', and the abominable 'Let's Go Fly a Kite', all contribute to a thoroughly dull score. At least The Sound of Music (1965) contained three or four reasonably good tunes, but this monstrosity…And just to make the whole thing even more tiresome, it runs a tick under a hundred and forty minutes! Last week I forced myself to watch Mary Poppins Returns (2018), simply because Emily Blunt was playing the lead. She was actually good in the role and the songs (in my opinion) were marginally cleverer than those in the original. Marginally! Of course, there was the interminable dance sequence (this time with lamp-lighters standing in for chimney-sweeps), and a positively stupid sequence at the end involving Big Ben. I mean, using lamp-lighters' ladders to climb up to the top of Big Ben! Uh-huh. But back to the original.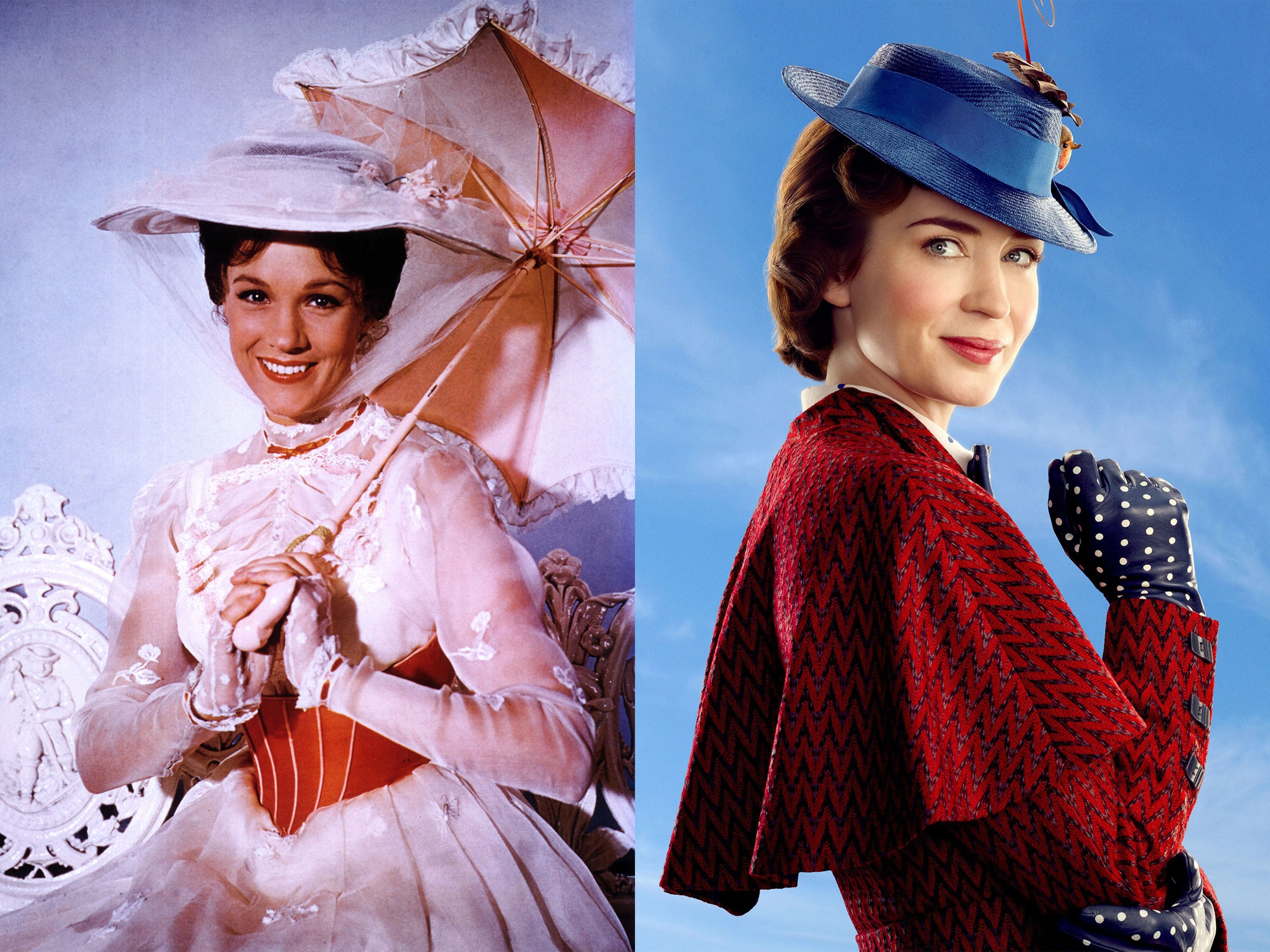 Two Mary Poppins – Julie Andrews & Emily Blunt
Walt Disney, believe it or not, considered Mary Poppins to be one of the crowning achievements of his career. I am so glad he used the term 'one of'. No doubt Julie winning 'Best Actress' helped him reach that conclusion. This was her first nomination in her first movie! Fortunately, My Fair Lady knocked Walt off for 'Best Picture' and 'Best Music Score', as indeed it should have. Mind you, that endless 'Chim Chim Cher-ee' won for 'Best Original Song'! I still shudder! The film actually won five of its thirteen Oscar nominations, making it Walt's best ever night at the Academy Awards. Made on a budget of between four and six million dollars, it raked in over $100 million! No wonder he had a soft spot for the thing. Julie only became available for Mary Poppins because Jack Warner refused to cast her in My Fair Lady, opting instead for Audrey Hepburn. When she beat Audrey for the Golden Globe for 'Best Actress in a Leading Role', Ms Andrews thanked Warner for being, 'the one man who made it all possible.'