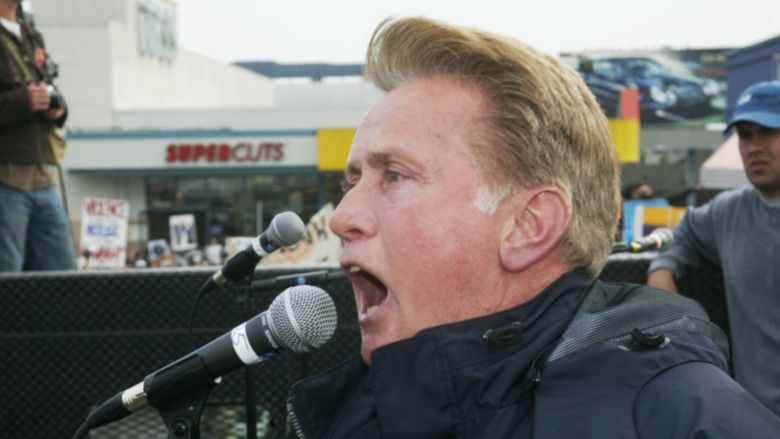 Martin Sheen
Martin Sheen is now in his eighties. He has been arrested more than seventy times, mainly for liberal protests. He was one of twenty-two people arrested for crossing over a line established by the US Air Force, in an anti-militarization protest at California's Vandenberg Air Force Base in October 2000. He was charged with trespassing. A strong advocate for the closing of the School of the Americas, a military base that trains Latin American soldiers, allegedly teaching them techniques of torture and political terror. Sheen has been involved in a large protest every year since 1998.
George Antheil – Hedy Lamarr
Inspired by an early Philco wireless radio remote and player piano rolls, actress Hedy Lamarr worked with composer George Antheil to invent a frequency-hopping system for remotely controlling torpedoes during the Second World War. The concept appeared as early as 1903 in a US Patent by Nikola Tesla, but had been examined superficially before being filed away and all but forgotten. Due to the expiration of the patent lodged by Lamarr and Antheil and their unawareness of time limits for filing claims, they were never compensated for their invention. By 1960, frequency-hopping radio had become a US Navy standard. It is used today for WiFi, Bluetooth, cell-phones and even top secret military defence satellites. The invention is currently valued at around thirty billion dollars! During her final years Hedy scraped by on Screen Actors Guild (SAG) and social security checks totalling about $300 a month. In 1966, (and again in 1991), she was caught shoplifting and received a one-year's suspended sentence on the second offence. She died impoverished in Florida in 2000. Fourteen years later she was inducted into the National Inventors Hall of Fame!
During the Second World War, Hedy participated in a war bond-selling campaign with a sailor named Eddie Rhodes. He would always be positioned in the crowd whenever the popular actress made an appearance and she would invariably call him up on stage. She would briefly flirt with him before asking the audience if she should give him a kiss. Of course, the crowd would answer 'yes', to which Hedy would promise to do so if enough people bought war bonds. Once enough bonds were purchased, she would kiss Rhodes and he would head back to the audience. Then they would head off to the next war bond rally in the next town or city.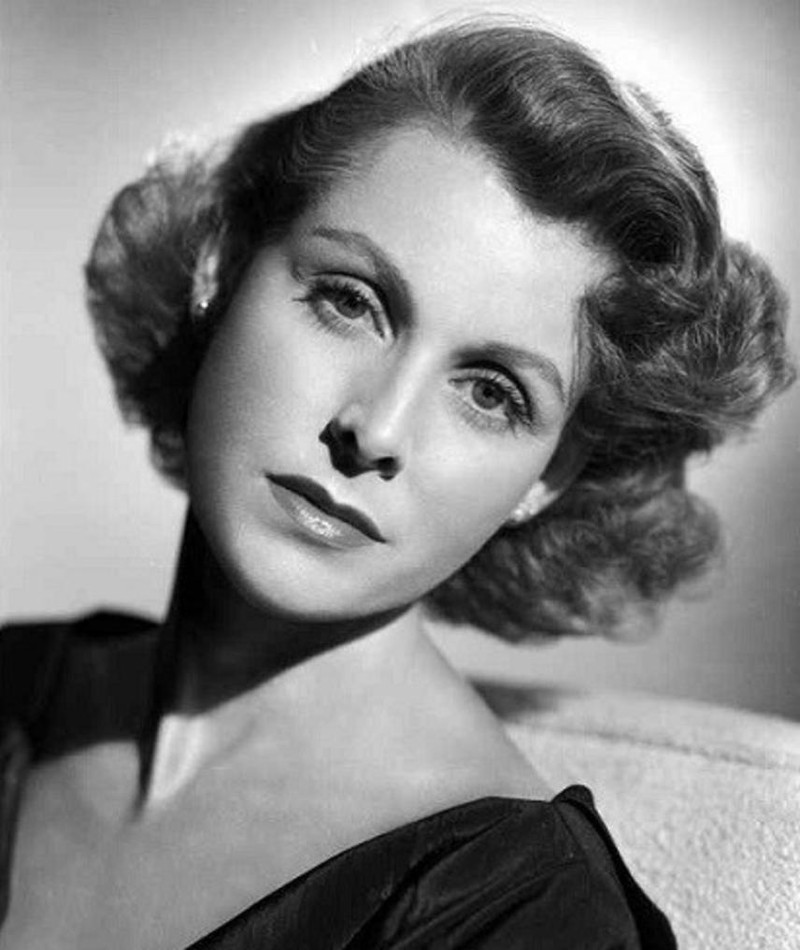 Frances Dee
Already wed to Joel McCrea since 1933, lovely Frances Dee was in her late twenties when she did a screen test for the role of Scarlett O'Hara in Gone with the Wind (1939). She was actually the initial director George Cukor's first choice to play the supporting role of Melanie Hamilton. Unfortunately for Frances, David O. Selznick felt she was too similar in beauty to Vivien Leigh (already ear-marked for the lead) to play Melanie. Olivia de Havilland was given the Melanie role and Frances found herself out of the picture altogether. For that matter, Cukor was soon out of it as well.
Stockard Channing
Stockard Channing is the actress who, at the age of thirty-three, played seventeen year-old Rizzo in the 1978 musical Grease. Merely as a point of interest, it may surprise readers to learn that she also provides the voice-over for the footage about the history of Pearl Harbor that is shown at the USS Arizona Memorial for the National Park Service in Honolulu, Hawaii.
Angela Dorian circa 1968
Angela Dorian is a name that few cinema-goers would be familiar with. She and Luciana Paluzzi played the two Mexican ladies in the fine 1967 Rod Taylor western titled Chuka. She was also known by her birth name of Victoria Vetri until taking her stage name from the ill-fated cruise liner Andrea Doria. Born to Italian parents in 1944, she grew up in Los Angeles; was Miss September 1967 in Playboy magazine and named Playmate of the Year in 1968. Indeed, she was one of the most popular Playmates of the Vietnam War era. While filming Rosemary's Baby (1968), she became close friends with Sharon Tate, wife of the picture's director Roman Polanski. On August 9, 1969, Sharon invited her to her home while Polanski was away, but she had to decline due to illness. That was the night Sharon and four others were murdered at the house by followers of Charles Manson.
Angela convicted 2011
On October 16, 2010, 66 year-old Angela was charged with attempted murder, after she allegedly shot her husband of twenty-five years, Bruce Rathgeb, from close range in their Hollywood apartment. He was the fourth of her four husbands. Eleven months later, on September 7, 2011, after pleading 'no contest' to charges of attempted voluntary manslaughter whilst she was high on drugs, she was sentenced to nine years in prison. Incarcerated in California's Chowchilla Women's Facility, she was released on parole in April 2018.
Tommy Rettig & Lassie
Tommy, Mitchum & Monroe in River of No Return (1954)
Child star Tommy Rettig played Robert Mitchum's son in the 1954 western River of No Return, opposite Marilyn Monroe. The thirteen year-old boy was Marilyn's youngest ever date when he escorted her to the movie's premiere in 1954. In the seventies he and his wife cultivated marijuana on their Californian farm by growing it between rows of corn. He was sentenced to two years' probation in 1972, but worse was to follow. In 1975 he was ordered to serve five years for running cocaine. That was dropped on appeal but in 1980 he was indicted again for drug offences. His multiple drug busts ultimately led to the destruction of his marriage in 1977. He suffered a fatal heart attack in 1996 and was dead at fifty-four.
Dick Shawn in The Producers (1967)
Fans of the (far superior) 1967 version of The Producers will no doubt recall the very funny Dick Shawn impersonating Adolf Hitler in the play 'Springtime for Hitler'. In the scene where he sends for Goebbels (played by David Patch), instead of extending his palm upwards when requesting him to 'give me five', Shawn held it up high and Patch reached up and slapped it, thereby executing the very first 'High Five' many years before it became popular to do so. Shawn had always left strict instructions to stage crews not to react to anything he might do on stage, (he was prone to toss in a pratfall when it was least expected). Tragically, on April 17, 1987, his death on-stage mid-performance went un-noticed for some time, until it was discovered that he had actually passed away as he lay on the boards, crew members initially unaware the sixty-three year-old performer had suffered a fatal heart attack.