There has been no shortage of situation comedies since television in the USA, Great Britain and Australia began. This segment will look at every show that went to air between 1949 and 1999. Assessments will vary according to the amount of information available today, not only on the shows themselves but concerning the main players in each. Unlike my 'TV Westerns' (which will soon appear in book form), I have addressed the sitcoms in chronological order rather than alphabetical:
THE LIFE OF RILEY (1948-50 and 1953-58) 26 + 219 EPISODES
This appears to be the very first sitcom to air on American television, although it did so in two separate attempts. The first series (1948-50) was supposed to run for thirty-nine episodes but was cancelled after only twenty-six when its sponsor, Pabst Beer, switched to Pabst Blue Ribbon Bouts rather than sponsor the remaining thirteen episodes. The original choice to portray Chester Riley was to be William Bendix who would have been reprising his role from the radio series that ran from 1944-52. However, he was committed to making the 1949 film of the same name and was unavailable. Jackie Gleason replaced him in this, his first TV series, and it became the first sitcom ever to win an Emmy Award. 
Jackie Gleason & Rosemary DeCamp       
Rosemary DeCamp, an actress who was the quintessential small-town American mother in numerous movies, played Chester's wife Peg. Just two years earlier, on July 7, 1946, she and her husband were in their Beverly Hills home when Howard Hughes was piloting his experimental model airplane called the XF-11, and it experienced mechanical problems before crashing into the roof of the house next door. The aircraft's wing sliced through the roof of Rosemary's house and landed in the bedroom where she and her husband were. Hughes eventually made a full recovery and paid for the damage to the houses in the neighbourhood.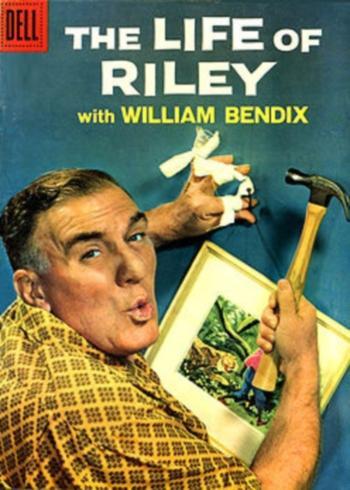 In 1953, The Life of Riley series received a reprieve and went on the air again, this time with Bendix in the starring role and Marjorie Reynolds as Peg. Riley's standard response to every twist of fate, 'What a revoltin' development this is!' became a catch phrase. In 1922, when he was fifteen, Bendix had been a 'bat boy' for the New York Yankees and became a favourite of no less a personage than Babe Ruth! In 1948, he played Ruth in the sappy movie The Babe Ruth Story.
THE GEORGE BURNS AND GRACIE ALLEN SHOW (1950-58) 292 EPISODES    
During the first two seasons this series was performed 'live' bi-weekly, but at the commencement of season three, the show was committed to film on a weekly basis. Beginning late in the fifth season, George and Gracie (real life husband and wife) closed each show with a three or four minute 'afterpiece', (one of their old vaudeville routines), which they performed in front of an audience after the weekly sitcom had been resolved. Gracie had wanted to retire from show business in the 1940s and was most reluctant to branch out into television, but George convinced her to give it a try. By the fifth season, however, she had tired of television entirely and wanted out, but George continued to sign contracts behind her back for additional seasons. During season eight she demanded she be allowed to retire. Unbeknown to the public, she had begun to experience mild heart attacks in the late fifties. A severe one took her in 1964 at the age of sixty-nine. She and George had been married for thirty-eight years.
Upon Gracie's retirement in 1958, George retained the cast of characters for his short-lived spin-off, The George Burns Show, still hoping his wife would return to the series one day. But she never did. His comedic style was not as popular as his wife's and the show was soon cancelled due to low ratings. Gracie's true age had been the cause of much speculation ever since her birth certificate was lost in the San Francisco earthquake and fire of 1906. When she first teamed up with George in 1922, she was still engaged to another man. It took Burns four years to get her to change her mind and marry him instead. George is often credited with being the first entertainer to step out of character and 'break the fourth wall' by directly addressing the television audience. In season one, Episode 15, however, Jack Benny guest-starred and broke the 'fourth wall' many time, well before George began doing it.
George gets an Oscar for The Sunshine Boys
In 1975, George was successfully nominated for a Best Supporting Actor Academy Award for his performance in The Sunshine Boys. He was eighty years old, making him the oldest recipient of an Oscar to that time. Jessica Tandy would become the new title-holder when she won for Driving Miss Daisy (1989). George enjoyed his greatest film success when playing God in the comedy Oh, God! (1977). The picture made fifty-one million dollars at the domestic box-office and spawned two sequels. The comedic legend that was George Burns passed away in March 1996, less than three months after celebrating his 100th birthday.
THE EGG AND I (1951-52) 6 EPISODES
Newly-wed city girl Betty (played by Betty Lynn) joins her husband Jim (played by John Craven) in their endeavour to make a go of owning their own farm. They are advised on how to raise chickens by their eccentric neighbours Ma and Pa Kettle. It is surprising to learn that this was CBS TV's highest-rated afternoon serial, garnering much higher ratings than both Search for Tomorrow and Love of Life, yet it only lasted for six episodes! The problem was the network's inability to acquire a five-day sponsor for it, thereby condemning it to sure-fire cancellation. Proctor and Gamble sponsored the show for one day per week, but CBS simply could not interest anyone else, even after lodging an ad campaign through the broadcast trade journal Variety.
Betty Lynn
Betty Lynn is probably best-remembered for her role as Thelma Lou, the long-suffering girlfriend of Barney Fife (Don Knotts), in the TV series The Andy Griffith Show (1960). Betty never married throughout her long life and passed away in 2021 at the age of ninety-five. Although the actors who portrayed Ma and Pa Kettle did not enjoy lengthy careers, the Kettle characters certainly did have their moment in the sun. Marjorie Main and Percy Kilbride played them in the 1947 movie version of The Egg and I and they struck a chord in movie-goers, a chord that led to them co-starring in seven 'Ma & Pa Kettle' films in all.