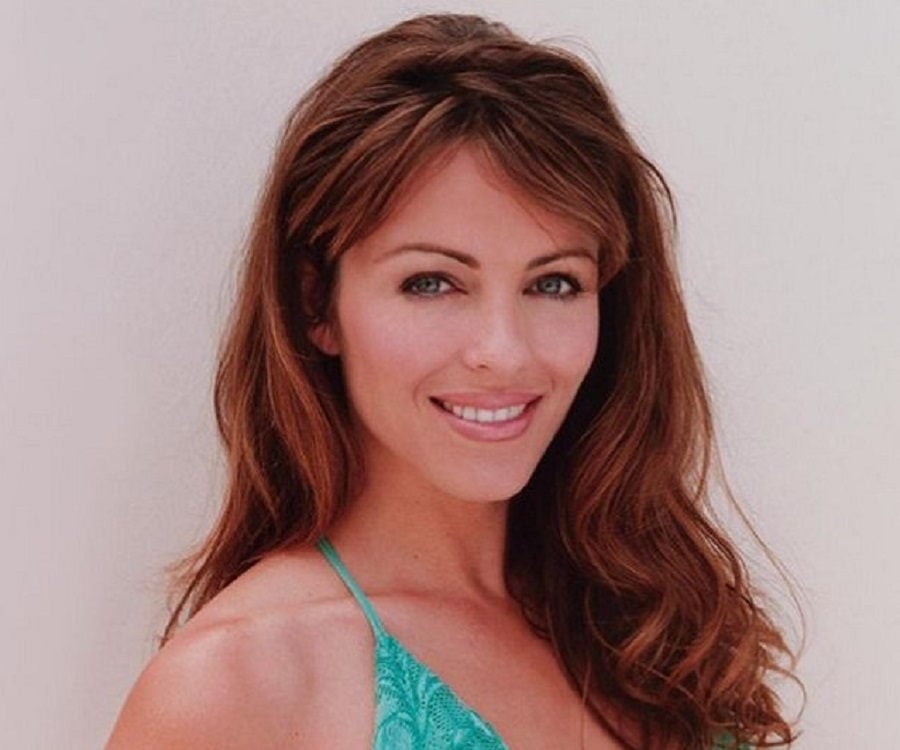 HURLEY, ELIZABETH (1965 – )      Born in Basingstoke, England.
Here is a chronological account of the love life of actress/ beauty consultant Elizabeth Hurley, starting in 1982 at age 17 and concluding with her most recent relationship (June 2017). I have uncovered eighteen lovers and her husband, but on no account do I regard the list as comprehensive.
 Liz in her punk days
Septic – The youth with the decidedly unappealing name was Liz's punk lover when she was a spikey-haired, bolt through her nose, punk teenager in the early eighties. In fact, she was dating him and Thomas Arklie simultaneously in 1982. The relationship fizzled out in 1985.
Arklie, Thomas – Liz was 17, Arklie 23, when they met in a Basingstoke pub in 1982. A marine, he had just returned from the Falklands War. They were seemingly wildly in love, friends claimed, and even Liz's penchant for swimming topless in mixed company, not to mention her disdain for wearing nickers on the dance floor, seemed not to faze him. 'Liz never wore nickers', her girlfriends remembered, 'even when she wore little leather mini-skirts.' At times she and Tom liked to have sex in empty railway carriages, enjoying the reactions of passengers in full carriages passing in the opposite direction.
   Hugh and Liz
Grant, Hugh – Liz and Hugh met in 1987, when they were up for roles in Rowing in the Wind, and have remained friends long after the romance wore off. Enemies of Liz argue that she slept with him for 13 years without falling pregnant, yet 'accidentally' found herself with child to a billionaire (Stephen Bing) after just a few months. Hugh's much-publicized encounter with LA hooker Divine Brown in his car in June 1995 actually boosted his career and, by association, Liz's as well. He would later say that Liz had stopped fancying him 'years ago', hence his indiscretion.
   Tom Sizemore & Liz
Sizemore, Tom – The American actor fanned the flames of the rumour mill when he responded to tales of him seducing Liz in 1990, by describing her as 'a sexy, wonderful girl.' The problem, however, is that Sizemore had such a massive drug problem back then that it is difficult to separate truth from fantasy.
Annesley, William – While her boyfriend Hugh Grant was away in Australia making Sirens in 1993, Liz embarked upon a torrid sexual relationship with restaurateur Annesley in 1992, a man who just happened to be the boyfriend of her supposed best friend, Charlotte Lewis. He delighted in detailing his romps with Liz to News of the World in 2000 – for a price of course. 'She's supple and athletic', he said, 'and what she doesn't know about sex isn't worth knowing.' She liked to wear a tiny red bra and nickers for 'lust-filled' sessions with him. There were 'spanking sessions' with the 'insatiable Liz'. He received thirty thousand pounds for his disclosures.
   Liz and Ted Forstmann
Forstmann, Teddy – In 1998 it was the 58 year-old, balding, grey-haired billionaire to warm the Liz Hurley bed for a while. She was 33 at the time. He would send his private plane to collect her and whisk her away to his luxury home in the Rockies and would lavish money on her. They ceased seeing each other in 2000.
Somerset, John – In 1998, Liz dated the 33 year-old son of the Duke of Beaufort, Lord John Somerset. He was the former husband of Cosima Somerset, Princess Diana's close friend.
   Liz with Dennis Leary
Leary, Dennis – American comedian Leary, a former lover of Liz's in 2000, was named as one of her son's godfathers in 2002.
Ley, Sven – A German socialite Liz dated in the early 2000s.
   Santo D'Orazio
D'Orazio, Santo – Liz and photographer Santo were seen holidaying together on the Italian isle of Capri in 2000.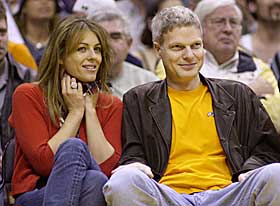 Liz and Stephen Bing   
  with her son Damian aged 15
Bing, Stephen – Bing is the billionaire father of Liz's son Damian. He and Liz had been dating for several months prior to the public announcement in December 2000 that the Grant – Hurley relationship was no more. Bing refused to accept her decision to keep the baby, demanding she have an abortion instead. Liz refused, so he insisted on a DNA paternity test to prove beyond doubt that he was the father. He was. In order to maintain the high moral ground and to ward off accusations of 'gold-digging', Liz publicly declined his offer of financial assistance to raise the boy. Nevertheless, Bing immediately began to deposit a hundred thousand pounds a year in Damian's bank account, so the boy will receive a 1.8 million pounds nest-egg on his 18th birthday in 2020. So, Liz knows her boy's future is secure. Before he met Liz, Bing lived for nine years at the exclusive Hotel Bel-Air in Los Angeles, forking out a cool $2,500 per night – meals and tips not included! Money is simply not an option with him! His Hollywood conquests have included Sharon Stone, Farrah Fawcett, Uma Thurman, Alana Hamilton – and Liz. Not for nothing has he been labelled 'The Star Fucker'.
   Tim Jefferies L) & Liz
Jefferies, Tim – The former husband of Koo Stark had an encounter with Liz in 2001.
Adams, Bryan – Liz was photographed dating the singer in the summer of 2001.
   Steve Nash & Liz
Nash, Steve – The Canadian basketball star was pictured dating Liz in 2001.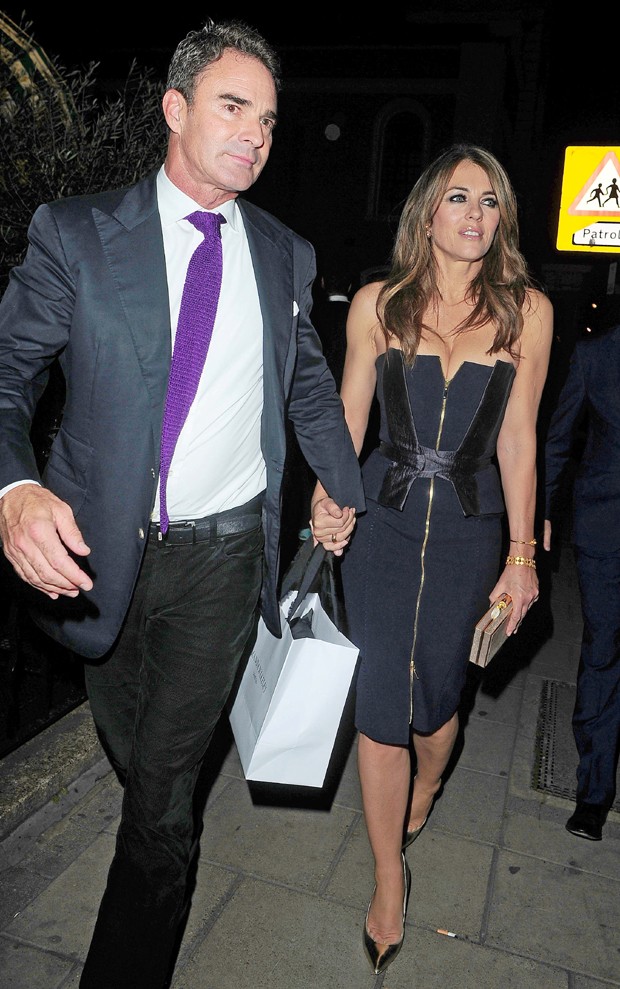 Liz and Mark Reynolds
Reynolds, Mark – In 2001 Liz was photographed at a charity polo match on Long Island, kissing and cuddling handsome New Yorker Mark Reynolds. Bizarrely, Bing and Leary were also there and Liz found herself in a group photo alongside three of her lovers past and present.
   Mr. & Mrs. Arun Nayar
Nayar, Arun (husband) – 38 year-old Liz met her husband in February 2003 when he was still somebody else's husband. Heir to a textile fortune, he owned a penthouse in Bombay's most exclusive area and living apart from his Italian-born model wife Valentina. 'I know him and he is an obnoxious and arrogant brat', declared Bombay newspaper columnist Shoba De, commenting in the Daily Mail. Liz clearly judged him more favourably, for the couple married in 2007. The union ended in 2011.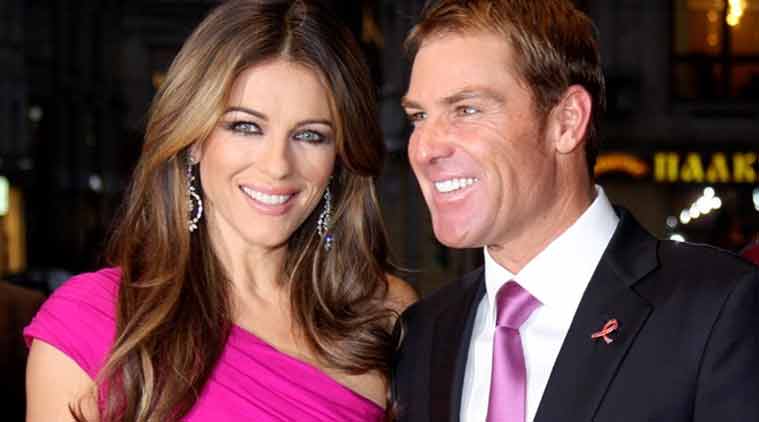 with Shane Warne   
   Michelle Mone & Warne
Warne, Shane – The legendary Australian cricket star seemed all set to wed Liz when they announced their engagement in 2011, three months after Liz and Arun were officially divorced, but it all fell to pieces by December 2013. Both claimed that their heavy work schedules were the cause, but friends stated that Warne became disgruntled with Liz inviting former beau Hugh Grant to stay over at her home whenever Shane was away. A possible reconciliation was, according to Liz, torpedoed two days later when Warne spent four hours in a hotel room with lingerie tycoon Michelle Mone. Warne denies that happened.
   Liz and David Yarrow
18. Yarrow, David – Tycoon and wildlife photographer Yarrow was photographed with Liz soon after her break with the Australian cricketer Shane Warne.
19. San Pietro, Niccolo Barattieri – At the age of 52, Liz became romantically involved with the Italian property tycoon who promptly dumped the late Princess Diana's niece Lady Kitty Spencer for her in June 2017.