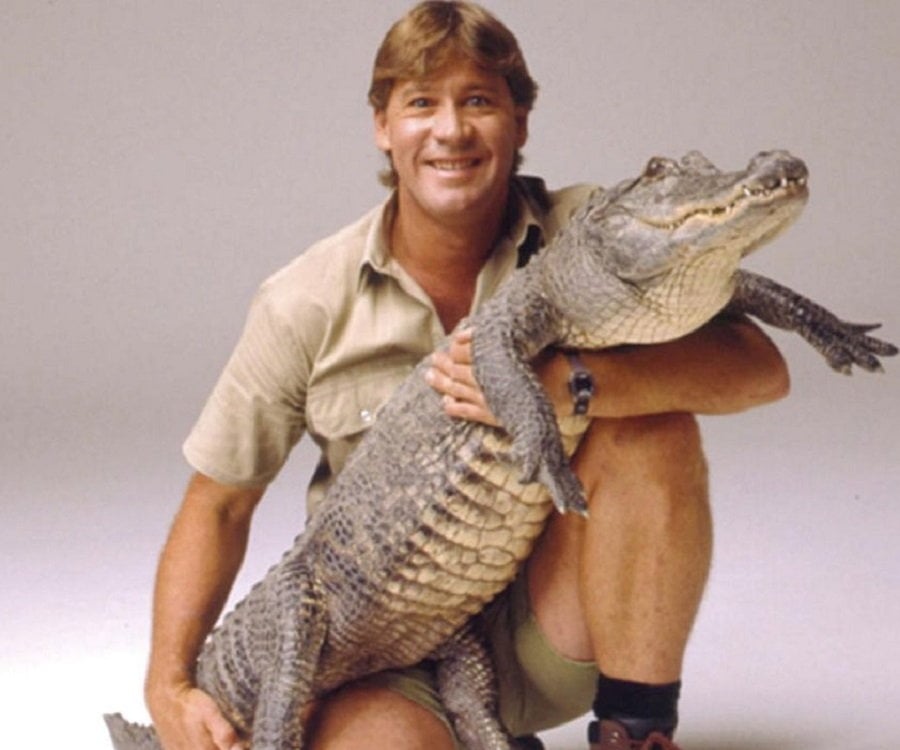 STEVE IRWIN (1962 – 2006)
Steve Irwin was born in Essendon, a suburb of Melbourne, Victoria, in 1962, to parents who were wildlife naturalists. He was raised at the Queensland Reptile and Fauna Park where he learned how to handle crocodiles before his tenth birthday. His shortish life was devoted to conserving and protecting wildlife in his native Australia, and he made no bones about his preparedness to give his life if necessary to help animals and reptiles from being mistreated or exploited. Aware of the dangers, he simply shrugged them off. 'If something ever happens to me', he would say, 'people are gonna say, 'we knew a croc would get him!' But that was not to be. Steve would die, not on land in the jaws of a crocodile, but at sea in a tragic encounter with a stingray.
Steve Irwin in his natural habitat
His 1997-2004 TV series The Crocodile Hunter was a hit around the world, mainly because of his unbridled enthusiasm for his job and his willingness to risk life and limb week after week with seemingly reckless abandon. But he was by no means a reckless man. He knew what he was doing and treated the reptiles he encountered with the utmost respect. In 1992 Steve married Terri Raines, an American he met when she visited the zoo. She would co-star with him in the series and give him two children, Bindi and Bob. In 2004 Steve earned the ire of the authorities when he was filmed feeding a 13 foot croc with one hand while holding one-year old Bob in the other. Both parents declared that the boy was in no danger, that they were merely teaching their children to be 'croc savvy'.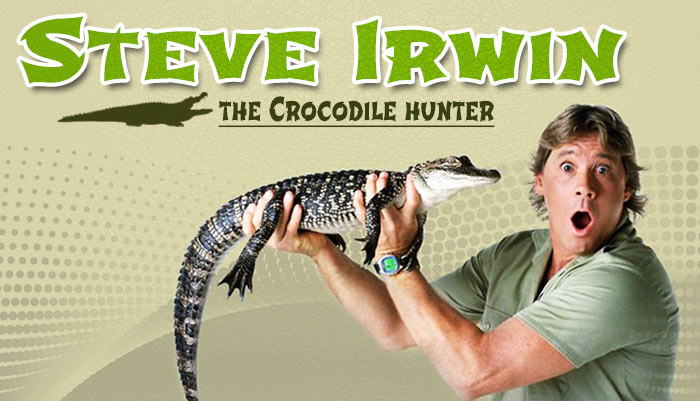 Steve with Terri & Bindi 2002
Sadly, Steve's expertise with crocodiles did not extend to stingrays. In September 2006, he was filming marine life off the Great Barrier Reef near Port Douglas, Queensland when he was killed by a stingray. His last words were said to be – 'Don't worry, they usually don't swim backwards.' Tragically, this one did indeed swim backwards and its barbed tail fatally pierced Steve's chest. Over 360 million people around the world tuned in on Animal Planet to the Steve Irwin Memorial Service on September 19, 2006. He was a much-loved man who devoted his life to championing the crocodile in its natural habitat.
(Major credits)
The Crocodile Hunter (1997-2004)
The Crocodile Hunter: Collision Course (2002)
Steve Irwin's Great Escapes (2006)
JOAQUIN PHOENIX (1974 – )
Joaquin's parents, Arlyn Dunetz and John Bottom, were living in San Juan, Puerto Rico in 1974 when he was born, serving as Children of God missionaries. He was the middle of five children – his older siblings being River and Rain – the younger ones, Liberty and Summer. In keeping with the exotic names of his siblings, he soon changed his name to Leaf. By the time he was six the family had settled in Los Angeles, their years of travelling throughout Central and South America at long last behind them. Arlyn unearthed an agent prepared to represent all five siblings and before long they were getting television work. Joaquin's older brother River quickly became a star.
River & Joaquin Phoenix
Joaquin's first big screen appearance was as a crew member in the interstellar feature Spacecamp (1986). His first starring role was in Russkies the following year. He made Parenthood in 1989 before becoming disenchanted with acting altogether. He and his father lit out for Mexico when Joaquin's parents separated in 1990. Three years later the youngster was with his brother at Johnny Depp's Viper Room when River fatally overdosed on cocaine and heroin, collapsing outside the club. It was Joaquin who made the 911 call which was later broadcast on radio and TV the world over. He told the operator that his brother was 'laying on the cement', that he had 'taken a Valium', and was 'having seizures.' Of course, it was all too late and River died.
Joaquin as Emperor Commodus in Gladiator (2000)
Joaquin gradually returned to acting after his brother's death, impressing patrons and critics alike with his turn in the Nicole Kidman hit To Die For in 1995. He met Liv Tyler on the set of Inventing the Abbotts in 1997 and they became engaged during the three years they spent together. It was his performance as the Emperor Commodus in the 2000 blockbuster Gladiator, however, that propelled him to stardom and earned him a Best Supporting Actor nomination. A strict vegan, he will not wear apparel made from leather. Synthetic material must be substituted, even in his movie costumes and shoes. The scar on his lip is a birth mark, nothing more.
(Major movies)
To Die For (1995)
Gladiator (2000)
Walk the Line (2005)
KEANU REEVES (1964 – )
His father was Hawaiian and his mother English, yet Keanu was born in, of all places, Beirut, Lebanon. He spent the first 6 months of his life there before moving to Sydney, Australia for the next 3 years, then to Manhattan, New York until he was six, then to Toronto, Canada until he turned 21. His geologist father served time in prison for selling heroin at Hilo Airport in 1992. He was paroled after doing two years and disappeared out of Keanu's life early on. The Reeves family is nothing if not cosmopolitan, with a sister born in Australia, one half-sister who is Canadian by birth, and another who arrived in this world via Hawaii. The name Keanu is Hawaiian also and means 'cool breeze over the mountains.' He took an interest in acting on his return to New York in the mid-eighties. After a couple of tele-movies and a few minor films, he was finally noticed in a minor role in a highly acclaimed feature, Dangerous Liaisons (1988).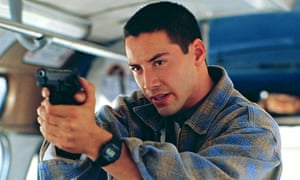 in Speed (1984)                                                                           in A Walk in the Clouds (1995)
In 1989 teenage movie-goers identified with his zany but dumb character, Ted Logan, in the rather lame Bill & Ted's Excellent Adventure. It took him several years to shake off the 'Ted' stigma. Keanu was a serious actor, nothing like Ted Logan, and he craved serious recognition. Out of the blue he suddenly soared into the big time as an action star with the lead in the phenomenally successful thriller Speed in 1984. To the surprise of everyone he wisely opted out of the diabolically bad Speed sequel, but struck box-office gold a second time in 1999 with The Matrix. This time he gladly climbed aboard for two sequels and they made him a rich man.
in The Matrix (1999)                                                                          Keanu & River Phoenix
Keanu began a relationship with a minor actress named Jennifer Syme in 1998. She became pregnant, but the baby was stillborn just a few weeks shy of the anticipated delivery date and the couple broke up soon afterwards. In 2001 Jennifer was killed in a traffic accident in Los Angeles at the age of 28. The death of River Phoenix in 1993 also affected Keanu deeply. They were best friends. He was also extremely close to the late Anthony Quinn whom he befriended when they made A Walk in the Clouds in 1995.
(Major movies)
Speed (1995)
A Walk in the Clouds (1995)
The Matrix (1999)