THE RAZOR'S EDGE (1946)                     
It's a pity that Bill Shakespeare had already used the title 'Much Ado about Nothing' a few centuries earlier, otherwise W. Somerset Maugham might have used it for this much-overrated melodrama. The Razor's Edge takes 148 minutes focusing on Larry Darrell (Tyrone Power) and his vague 'search for the meaning of life' or something. He has no interest in working or making money, and he is quite happy to give up love and marriage to the beautiful (and wealthy) Isabel Bradley (Gene Tierney), and instead run off to the Himalayas in search of truth. Once there, he meets an Indian mystic named Kosti. This dude is your usual Eastern wise man, full of obtuse statements and little else, as the following conversation between the two men demonstrates:
KOSTI: 'You're a rum one, Larry. But what about all the answers to those profound questions you've been asking yourself? Don't you know, people have been asking those same questions for thousands of years?'
LARRY: 'Yes, but doesn't the fact that people have been asking those same questions for thousands of years only go to prove that they can't help asking?'
KOSTI: 'Very good, very good. You're not altogether stupid. As a matter of fact, you sound like a very religious man who doesn't believe in God.'
LARRY: 'I'm not sure that I believe in anything.'
And so on and so forth. (No wonder I kept nodding off listening to drivel like that!)
Miss Tierney was Maugham's original choice to play Isabel, but Fox boss Darryl F. Zanuck cast Maureen O'Hara instead. He told her to keep her casting a secret but she blabbed it to her pal Linda Darnell. Zanuck found out, fired Maureen on the spot and hired Tierney! She and Power got along very well indeed on the set. In fact, Ty fell head over heels for her and even bought her a scarf with the word 'Love' embroidered on it. When he gave it to her after the film's premiere, she had to inform him she was seeing another man at the time – the handsome naval officer John F. Kennedy, still a few years away from political success. The fact that Gene was also married to fashion designer Oleg Cassini at the time was a secondary hindrance to romance with Power. She and Oleg had already decided to divorce, anyway.
The long-shot of Ty Power's stand-in the 'Himalayas'.
20th Century Fox purchased the film rights from Maugham for $50,000 plus 20% of the film's net profits. The writer further stipulated that he would receive an additional $50,000 if shooting had not commenced by February 2, 1946. The picture had not yet been cast when Zanuck sent the second unit to the mountains around Denver, Colorado (they were to stand-in for the Himalayas) in August '45, with instructions to get some footage that could be used in the picture. Ty Power was not due for release from the US Marines until January 1946, so a stand-in for him was filmed in extreme long-shot. Problem solved. Incidentally, Maugham wrote an early draft of the screenplay, but not one word of it was used in the final screenplay. Totally miffed, he refused Zanuck's request to write a sequel to The Razor's Edge and never worked in Hollywood again.
Anne Baxter winning her Oscar
Testament to the drawing power of the two leads (especially Power), this picture was a resounding box-office success, breaking all previous Fox box-office records, and was nominated for four Academy Awards – including (incredibly) Best Picture. There was one winner. Anne Baxter was voted Best Supporting Actress for her portrayal of the ill-fated Sophie MacDonald. For what it is worth, I thought her performance was on a par with the rest of the movie. The Razor's Edge was the only Best Picture nominee that year that saw neither of its stars nominated as Best Actor or Best Actress. And rightly so. They were ordinary. 
The 1946 version of Maugham's novel has one thing going for it. Despite its dull dialogue, insipid plot and uninspired acting, compared to the abominable 1984 remake starring Bill Murray, it could almost be mistaken for a masterpiece! Murray made a deal with Columbia – he would only appear in Ghostbusters (1984) if they financed the remake of The Razor's Edge, starring himself as Larry Darrell, of course. Columbia executives reluctantly agreed but wanted the film to take place in modern times. Murray disagreed, insisting it stick to the novel and be a period piece set between the two world wars. 'I was wrong, and they were right', he admitted in a 1993 interview. On the final day of shooting, Murray took a plane to New York City to start filming Ghostbusters.
BOB & CAROL & TED & ALICE (1969)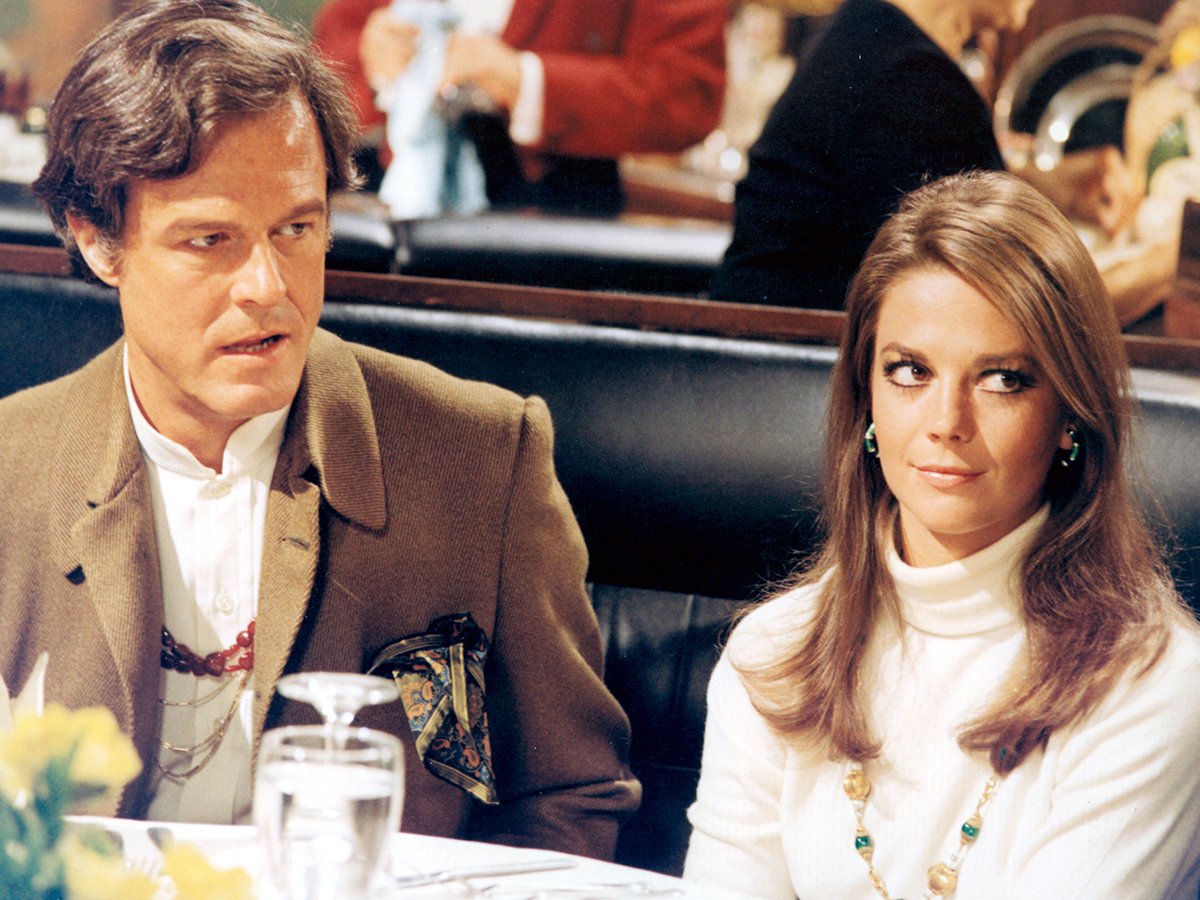 Bob (Robert Culp) & Carol (Natalie Wood)
Director Paul Mazursky considers this movie to be the finest work of his career. It isn't. Inexplicably, both Elliott Gould and Dyan Cannon found themselves nominated for Oscars for their performances in this 'non-event'. Even more inexplicably, the screenplay and cinematography were also nominated! It must have been a slow year Oscars-wise. Anyway, all four nominations were unsuccessful.
Alice (Dyan Cannon & Ted (Elliott Gould)
Miss Cannon claimed that the four participants in the 'famous' bedroom scene were extremely nervous about doing it. Why? The men, Gould and Robert Culp, were sitting bare-topped in the bed; the women, Natalie Wood and Cannon, were sitting with the bedclothes pulled up to their chins and revealing nothing. On the screen we see Gould and Wood kissing; then Culp and Cannon kissing. And that's it! Fade-out. According to Ms Cannon, Gould nervously stuffed food in his mouth throughout, Culp nervously talked non-stop, and Ms Wood had to be coaxed out of her trailer. All four stars were a wreck – or so she said.
This shot was intended to sell the picture. It didn't.
In 1973, the ABC attempted to turn the movie into a TV sitcom of the same name. The whole sub-text about wife-swapping was taboo (it was, after all, 1973), so could not be pursued during the seven episodes aired. The ratings were abysmal, so were the reviews, and the series was quickly cancelled. Probably, the only point of interest for today's readers might be the noteworthy casting of eleven year-old Jodie Foster as Elizabeth Henderson, Ted and Alice's daughter.