ANN SHERIDAN (1915-67)                                               
She was born Clara Sheridan in Denton, Texas during World War One. It has been said that Ann was a direct descendant of Union General Philip Sheridan and maybe she was. Her sister thought she was beautiful enough to win 'The Search for Beauty' contest set up by Paramount in 1933, and successfully submitted a picture of eighteen year-old Clara in a bathing suit.  She enjoyed a brief stint with Paramount in the thirties where she was often used as a 'body double', (hands, legs and shoulders only), changed her Christian name to Ann, made a solitary picture with Universal and then landed a contract at Warner Bros. It was there she was lumbered with the nickname she hated – 'The Oomph Girl'. 'It's the sound an old man makes when bending to tie his shoes', she complained. Decades later she conceded: 'I know if it hadn't been for 'oomph' I'd probably still be in the chorus.' Highlights of her screen career included her performances in They Drive by Night (1940), King's Row (1942) and I Was a Male War Bride (1949).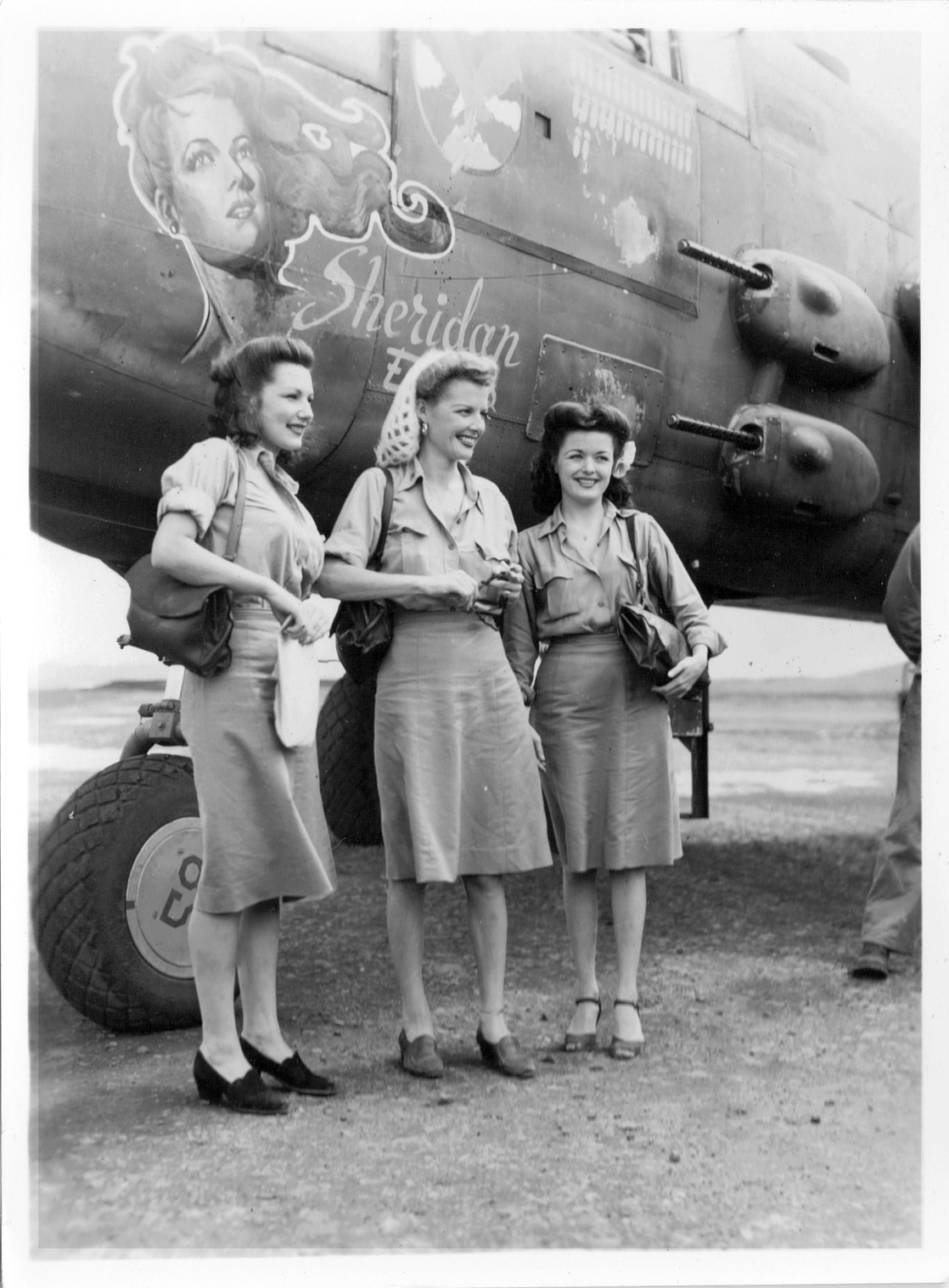 Ann (C) at Yangkai Airfield, China – USO tour 1944
During her years at Warner Bros, she toured with the USO to entertain GIs overseas. This included journeys to China where she spent part of her time signing her name to the fuselage of American bombers and fighters. In all, she put her acting career on hold for an entire year while she flew around the Pacific and Asia entertaining GIs. Along with Betty Grable and Rita Hayworth, Ann was one of the top pin-ups for US servicemen of the entire war. In 1942, she made Edge of Darkness (1943), a propaganda film set in Norway and co-starring Errol Flynn. He and Ann embarked upon a torrid affair even though she had only recently married actor George Brent. Their marriage lasted precisely one year and was more or less over by January 1943 anyway.
Ann & Errol in Edge of Darkness (1943)
Interestingly, Warner Brothers wanted Ann to be known as 'a Girl about Town', so it was written into her contract that she had to hit the night clubs at least three times a week! The natural gap between her front teeth was always covered by a porcelain cap whenever she appeared in public. Of course, her fans were unaware Ann was quite flat-chested and always wore 'falsies', both in her screen roles and in public. It was not uncommon for colleagues to hear her voice echoing across the set when she was about to shoot a scene: 'OK, where the hell are my tits?' A born tomboy, she once admitted, 'I can whistle through my fingers, bulldog a steer, light a fire with two sticks, shoot a pistol with fair accuracy, set type, and teach school…' During her 1941 strike from Warner Brothers, she spent her time rebuilding abandoned cars at a friend's garage. Sadly, this unique Hollywood star was a month shy of her 52nd birthday when esophageal cancer claimed her in 1967.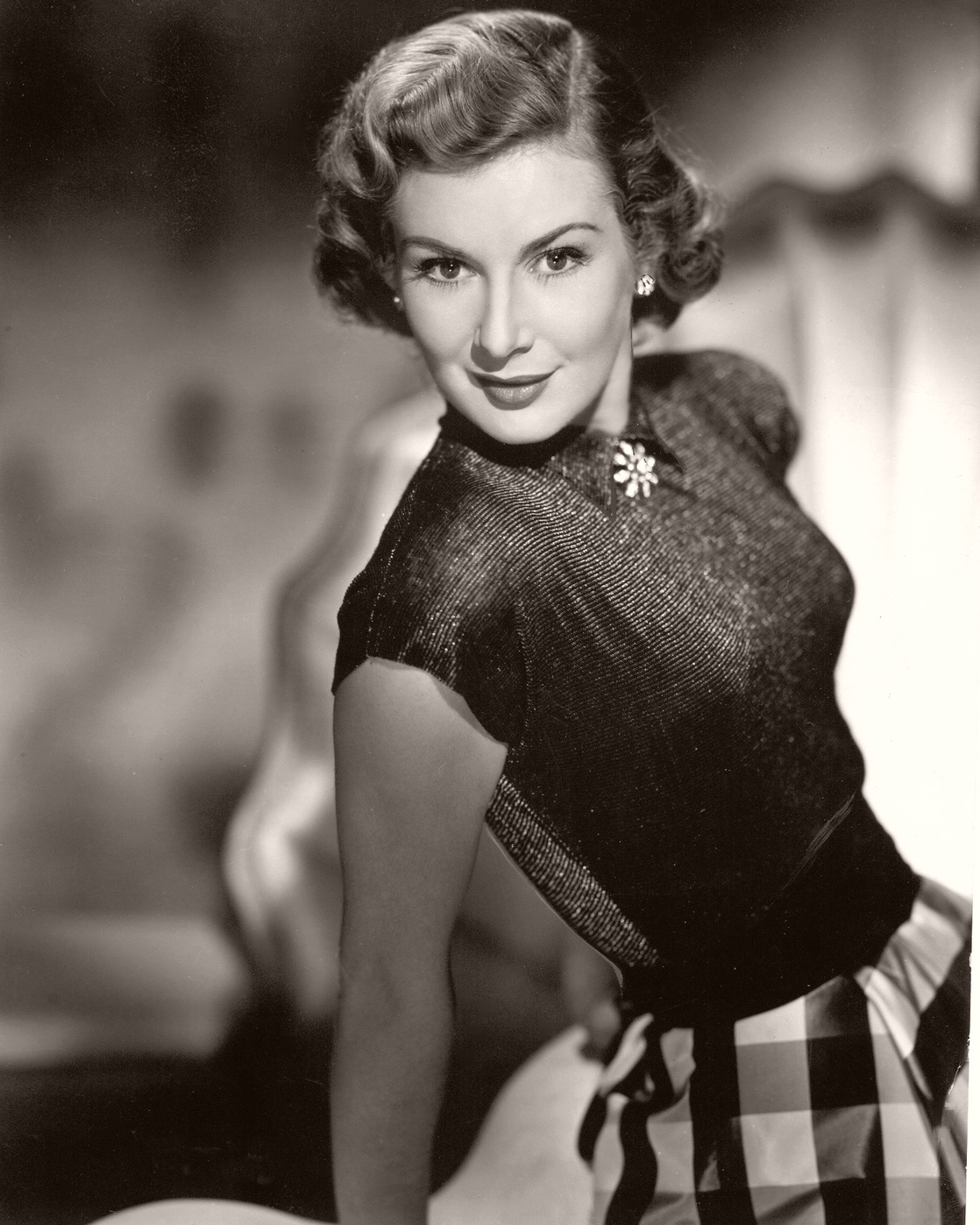 DINAH SHERIDAN (1920-2012)                                      
Londoner Dinah Sheridan was considered to be the quintessential English rose, winning the hearts of war-torn England during the Second World War, despite being born to a Russian father and a German mother. Her parents were, in fact, photographers to the Royal Family, by appointment to both the Queen and Queen Mother. The lovely Dinah broke into films at sixteen but her momentum was interrupted by the advent of the war. In fact, she intentionally postponed her film career for two full years to work as an ambulance driver at Welwyn Garden City during the early days of the conflict. Only when she married actor Jimmy Hanley in 1942 did she return to film-making.
Her screen career peaked after the war, in 1953, when she starred alongside Kenneth More, Kay Kendall and John Gregson in the hugely popular hit comedy Genevieve. Following her divorce from Hanley in 1952, she wed Sir John Davis, the President of the Rank Organization. At his insistence, she abruptly retired from the screen, but the loss of her career placed an enormous strain on their marriage that would ultimately bring about their divorce eleven years later. Two more marriages would follow, with Dinah outliving both husbands. She died peacefully at home in 2012 at the ripe old age of ninety-two.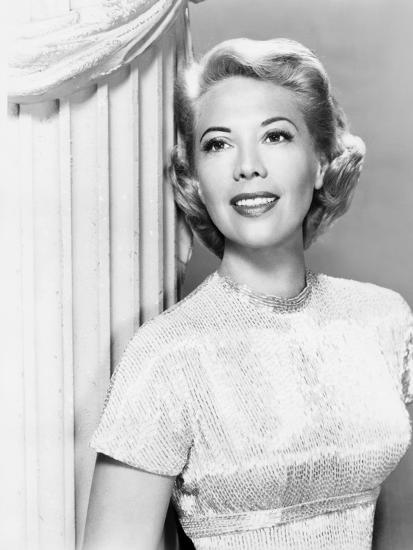 DINAH SHORE (1916-94)              
She was born Frances 'Fanny' Rose Shore in Winchester, Tennessee in the middle of World War One. Both parents were Russian-born Jews. After overcoming polio at eighteen months of age, she eventually took voice and acting lessons in her teen years and sang on radio station WSM in Nashville. In 1938, she headed for New York City and made her first recordings, singing with bandleader Xavier Cugat, and changed her name to Dinah after successfully recording a song of the same name. 
Dinah & husband George Montgomery                                      
Already an established recording artist when the USA entered WW2, she soon became a favorite with American troops as the war got into full swing, later earning the USO Medallion Award as the first entertainer to visit GIs on the front lines during the war. She participated in Command Performance Programs for Armed Forces Radio and traveled to Europe to entertain the troops personally. Dinah was also a regular at the Hollywood Canteen. In 1943, she married actor George Montgomery, a union that survived twenty years and produced two children.
Performing for the troops WW2
When engineers assigned to the 4th Infantry Division were ordered to build bridges across the Seine River shortly after D-Day, they were treated to an hour's break in construction so that they could attend a concert put on by her in person. They dubbed the structure they were working on 'The Dinah Shore Bridge' in her honor. She often sang in cow pastures for front-line troops on what became known as the 'Moo Circuit'. Dinah performed in person, on radio and on record with numerous British and American stars, including Major Glenn Miller and his Army Air Force Band.
Dinah & Burt Reynolds
After divorcing Montgomery, Dinah enjoyed several affairs. According to George Jacobs, (Frank Sinatra's long-time valet), in his biography about his boss titled Mr. S, Old Blue Eyes and Dinah had a lengthy and intimate relationship in the 1950s while she was still wed to Montgomery. In the sixties she was involved at various times with comedian Dick Martin, singer Eddie Fisher and Australian actor Rod Taylor. Then, of course, there was her much-publicized four-year romance during the 1970s with actor Burt Reynolds who was twenty years her junior. After that relationship cooled, her name was linked with other younger men – Wayne Rogers (who played Trapper in TV's M.A.S.H. series), singer Andy Williams and former Tarzan actor Ron Ely. In the spring of 1993, she was diagnosed with ovarian cancer. This much-admired lady of movies, television and records died in February 1994, five days before her 78th birthday. Ex-husband George and their two children were at her bedside at the end.