George Clooney in ER               
George Clooney has always been a man of his word, even when he was barely starting out in the acting business. As his star meteorically rose during his time on ER he adamantly refused to quit before his five-year contract expired. Furthermore, he never once asked for an increase in his $42,000-a-week salary on the show, even though co-stars Anthony Edwards and Noah Wyle had renegotiated theirs almost ten-fold, and were collecting almost a quarter of a million dollars each for every episode. When several crew members were lost to cancer, according to star Julianna Margulies, 'George was the first person there by the family's side with money, if that's what they needed, or to help the children through school.' When shooting Batman and Robin (1997), he would step in to support octogenarian actor Michael Gough, (who was playing Alfred), when the elderly gent at times forgot his lines.  George would instantly apologise to the director, Joel Schumacher: 'I'm sorry, Joel, I put him off. I was coughing. I caught his eye. My fault.'
(L to R) Clooney, Anthony Edwards & Noah Wyle
When George and Michelle Pfeiffer co-starred in One Fine Day (1996), the tabloids in both the USA and in Britain carried stories of the two stars cuddling up over cosy dinners; stories that were complete fabrications. 'I loved working with George', Michelle conceded. 'He was charming and funny and he humanized the character. But we never even had lunch together. He'd go off and play sport with his pals and I'd go and be a mom.' Similar baseless rumours abounded when George co-starred with Nicole Kidman in The Peacemaker (1997). Nicole's husband, Tom Cruise, actually accompanied the shoot to Eastern Europe. 'Tom was in Slovakia all the time', said George. 'He's a nice guy. We're good friends; we spent a lot of time together. I think Tom was bored but Nicole would always say, 'You boys go have fun', so we would play ball.' As far as the Slovakian population was concerned, George was summarily ignored whenever Tom was around! 'They thought I was Tom and Nicole's bodyguard', he laughed. Often, he would be asked if it was OK to ask the famous couple for an autograph.
Michelle Pfeiffer in One Fine Day
Celebrity tittle-tattle provided the core of a show called Hard Copy (among others) on American TV in the 1990s. Stories were created around the flimsiest of data; snippets of an eaves-dropped conversation, a photograph taken with a telephoto lens at a distance, paraphernalia acquired via break-ins of the homes of celebrities, or the results obtained from a new breed of 'stalkerazzi' who deliberately goaded stars into angry responses. 'Who's the fat chick with you?' they would enquire, for instance. 'Does she give good head?' Any reaction to such questions would be captured by photographers or cameramen standing by and made public on the show that evening or the next. In February 1996, George Clooney decided to do something about it.
He got Frank Kelly, President of Creative Affairs for Paramount Domestic Television, who syndicated both Hard Copy and Entertainment Tonight, to suggest that they make a deal. George would continue to do interviews and the like, in exchange for Kelly promising never to screen footage or stories about him again that had been obtained through intrusive paparazzi sources. The agreement was then put in writing. Kelly kept his word for just six months! When he broke it Clooney took him on. 'Officially', the actor wrote, 'no interviews from this date on. Nothing on ER, nothing from One Fine Day, nothing from Batman and Robin, and nothing from DreamWorks' first film, The Peacemaker. These interviews will be reserved for all press but you… Maybe other actors will join me. Maybe not. That doesn't matter. It's about doing what's right'.
It was a bold stance for an actor to take on the media in Hollywood. In that town the media giants could easily band together and destroy his career. But George soon found he was not alone. Madonna, a victim the previous week of Hard Copy's desire to show first shots of her new baby, joined in the fight stating that she, too, would be off limits to Entertainment Tonight. Whoopi Goldberg, Rosie O'Donnell, Tom Cruise and Nicole Kidman, Jim Carrey, Ellen Degeneres, the entire cast of ER, and many others voiced their support. 'I got a call from Steven Spielberg', said Clooney, 'who said, 'I have a little project called Lost World: Jurassic Park II, and Entertainment Tonight won't get any of it if we don't get some of this changed. It beats litigation.' Assurances from Paramount were again given, promising not to use such tactics in future. The industry's real newsmen, incidentally, were in full support of the boycott.
Maggie Smith
It probably will never happen again, but actresses with the initials 'MS' won four consecutive Supporting Actress Oscars between 1978 and 1981. Maggie was the first for California Suite (1978); then came Meryl Streep for Kramer vs. Kramer (1979); then Mary Steenburgen for Melvin and Howard (1980). The fourth in consecutive years went to Maureen Stapleton for her performance in Reds (1981).
  Jim Backus & Natalie Schafer in Gilligan's Island                      
Natalie portrayed Mrs. Thurston Howell III on the popular TV comedy Gilligan's Island (1964). She was in her mid-forties and engaged to comedian Charles Butterworth when he was killed in a single vehicle auto crash on Sunset Boulevard in 1946. Although his death was officially classed as an accident, it is believed by some of his friends that he was extremely despondent over the death of his close friend Robert Benchley a few months earlier and had deliberately crashed his speeding car into a lamp post.
Bud Spencer – Olympian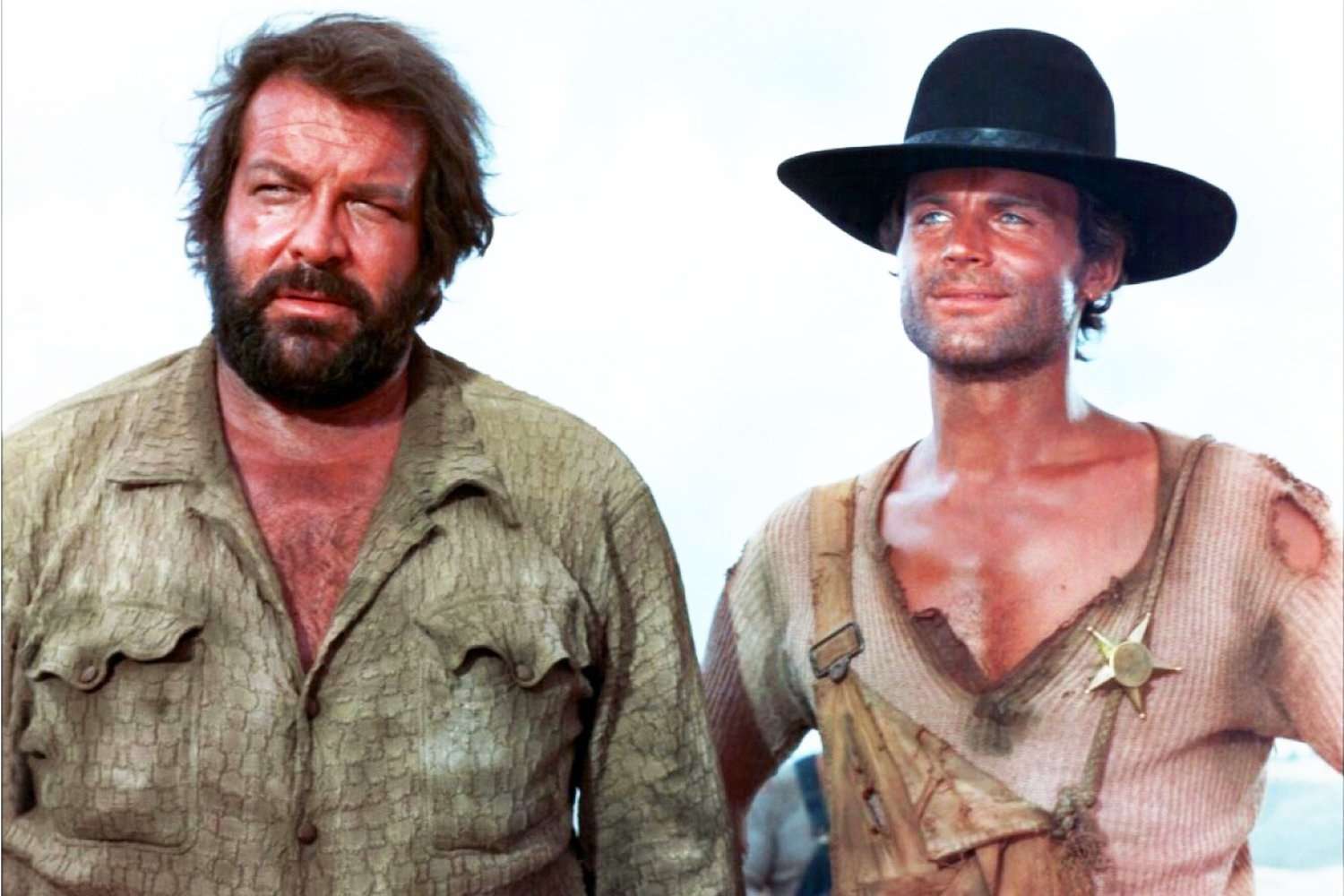 Bud the actor (L) with Terence Hill in the Trinity series
Born Carlo Pedersoli in Naples, Italy, he changed his name to Bud Spencer in 1967 for two reasons – in homage to actor Spencer Tracy, and because the American beer Budweiser was his favourite. He first appeared on film as one of the Praetorian Guard in MGM's epic Quo Vadis, which was shot in Italy in 1951. The following year, Carlo represented Italy as a swimmer in the 1952 Olympics in Helsinki, Finland, and would do so again in Melbourne in '56. He was the first Italian to swim the one hundred metres freestyle in less than a minute! Today, of course, he is best remembered for appearing in eighteen films with frequent co-star Terence Hill, (also an Italian), including the popular Trinity series of comedic Westerns.