A new batch of WAMPAS Baby Stars were named in 1929. Two went on to be big stars, three others enjoyed a modicum of fame and the remaining eight faded into oblivion.
The 1929 group (top L to R): Loretta Young, Josephine Dunn, Jean Arthur,
Doris Hill, Anita Page, (centre L to R): Mona Rico, Betty Boyd, Sally Blane,
Ethlyn Clair, (sitting L to R): Helen Twelvetrees, Carl Lincoln, Helen Foster,
Doris Dawson.
JEAN ARTHUR (1900 – 91)     and in Shane with Alan Ladd (R)
According to her New York Times obituary, Jean Arthur was born in 1900, which makes her almost 30 when named in 1929's WAMPAS Baby Stars. Odd. It took until the arrival of sound for studios and audiences to appreciate her throaty voice and excellent comedic timing. A couple of Frank Capra hits alongside the likes of Gary Cooper and Jimmy Stewart and she was into the big time. Most biographers believe she was a star with very little self- esteem, one who suffered from chronic stage fright all her career. Her final film was the George Stevens classic 1953 western Shane.
SALLY BLANE (1910-97)
Sally Blane was the acting name chosen by Elizabeth Jane Young, the older sister of A-Grade actress Loretta Young. One of Sally's earliest roles was an uncredited spot in Rudolph Valentino's 1921 classic The Sheik, but it would be fair to say that her mostly B-Grade career was of her own doing because Sally never did have her sister's drive and ambition. She was, however, very beautiful and in great demand off-screen. 'Loretta was always really ambitious', she told an interviewer. '…but while Loretta was concentrating on her career, I had all the beaus.'
BETTY BOYD (1908 – 71)
Betty Boyd arrived in this world in Kansas City, Missouri in 1908. Beginning in 1927 she made a couple of dozen comedy shorts, but her career never developed as expected and it petered out in the mid-thirties. Her biggest role was probably in Gun Law (1933), a B-Western that only ran for 59 minutes. After that pickings were slim indeed.
ETHLYNE CLAIR (1904 – 96)
A native of Talladega, Alabama, Ethlyne Clair retained her first two names as her stage name, making her (as far as I know) the only Ethlyne ever in the movies. Her career lasted less than a decade, although she had her brief moment in the sun courtesy of two serials in the Roaring Twenties – The Vanishing Rider (1928) and Queen of the Northwoods (1929). She had great natural beauty but her voice was deemed unsuitable for the talkies which sounded the death knell for her screen career.
DORIS DAWSON (1909 – 86)
Doris Dawson hailed from Nevada. She only accumulated 21 screen credits, nearly all of them in the silent era. A lot of actresses saw their careers falter with the arrival of sound because their voices did not match their looks. According to her contemporairies, poor Doris's voice actually 'grated' on listeners.
JOSEPHINE DUNN (1906 – 83)
Josephine Dunn went straight from a New York City convent to a Broadway chorus line at the age of just 15, and then to a brief stint in the Ziegfeld Follies. In 1926, the 20 year-old blue-eyed blonde was signed by Paramount and her future looked rosy. Co-starring with Carole Lombard in Safety in Numbers (1930) proved to be the zenith of her patchy career and she retired from the screen in the mid-thirties.
HELEN FOSTER (1906 – 82)
Kansan Helen Foster was a vivacious, diminutive star of short comedies during the silent era. Unfortunately, between 1935 and 1956 she would make only nine talkies and would be uncredited in all nine.
DORIS HILL (1905 – 76)
Doris Hill came out of Roswell, New Mexico and was a vaudeville dancer before Hollywood beckoned. Her career seemed to be progressing satisfactorily until she was unlucky enough to be a featured player in His Glorious Night (1929), the movie that effectively derailed John Gilbert's career and put the skids under the careers of the rest of the cast, Doris included. Her last five years in the business were spent in B-Grade westerns churned out by Poverty Row studios.
CARYL LINCOLN (1903 – 83)
Caryl Lincoln's biggest claim to fame was being the sister-in-law of Barbara Stanwyck through her 30 year marriage to minor actor Bert Stevens. He was Barbara's older brother, her birth name being Ruby Stevens. Caryl did nothing of note on the screen and retired in 1951. After that she occasionally landed uncredited bits in both film and TV.
ANITA PAGE (1910 – 2008)
At the zenith of her considerable beauty Anita Page was nicknamed, 'The Girl with the Most Beautiful Face in Hollywood'. In 1929, the 19 year-old was receiving 10,000 fan letters a week, yet MGM did not really know what to do with her because she was far too inexperienced as an actress. She had a delightful personality and the public loved her. Her leading men included Clark Gable, John Gilbert, Buster Keaton and Bob Montgomery. Even so, MGM decided to let her go in 1932. After four years of appearing in B-Graders for Columbia, Universal and even lesser studios, she tired of the whole business and retired in 1936. She passed away from natural causes at the age of 98.
MONA RICO (1907 – 94)
Mona Rico was born Enriqueta Valenzuela in Mexico City, Mexico in 1907. Sadly, this rather cute senorita only made a total of 14 screen appearances. In 1932 she suffered facial injuries in an airplane crash which severely hampered her career.
HELEN TWELVETREES (1908 – 58)
Brooklyn-born Helen Jurgens went to Hollywood in 1929, along with several other actors, to replace a bevy of actors and actresses who were unable (or unwilling) to make the transition to talkies. She married and took her husband's surname, becoming known from that time onwards as Helen Twelvetrees. Starting at Pathe and Fox, she moved to RKO where she made most of her movies. By 1935, however, the public had tired of her. Worse still, her temperament had alienated most directors and, consequently, opportunities dried up. In February, 1958, she took her own life with an overdose of barbiturates.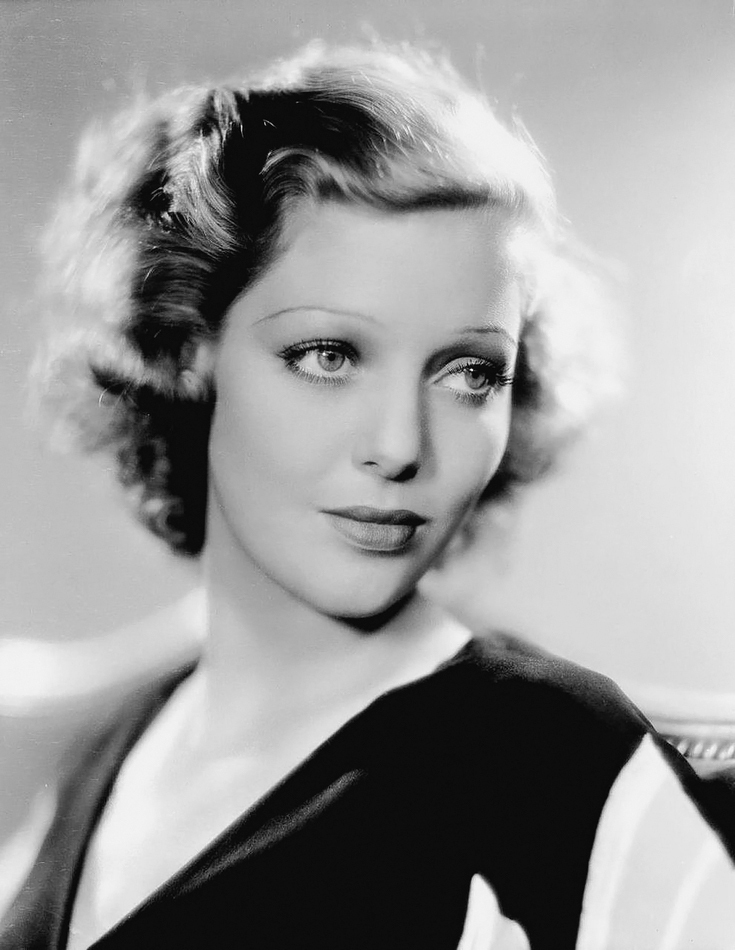 LORETTA YOUNG (1913 – 2000)   at the peak of her powers
Loretta Young was one of four sisters who made it into the movies. She was born Gretchen Young in Salt Lake City, Utah. Polly Ann Young and Sally Blane were her full sisters; Georgiana Young her half-sister. Loretta enjoyed a long and successful career on both big and small screens. She had several lovers and gave birth to a child out of wedlock, all the time maintaining her piety and aloofness, qualities that brought her nicknames such as, 'Attila the Nun, 'Saint Loretta' and 'The Steel Butterfly'. She might best be described as a 'beautiful hypocrite'.