Peggy Lee was not only an extraordinary singer, she also had the makings of a fine dramatic actress as evidenced by her Oscar nomination for Pete Kelly's Blues (1955). She later complained that more movie offers never came her way because her agent was making a lot more money out of her being on the road year in and year out, so he kept her in the dark about any film opportunities. The truth, however, was far less complicated. Peggy had a drinking problem and the studios knew it. In James Gavin's 2014 biography, Is That All There Is? The Strange Life of Peggy Lee, he writes about her drunken-ness at a Warner Bros. party. 'She sang and took a bow but was too drunk to stand up straight again.' Things got even worse at a state dinner at the White House. Despite being told not to approach the President, she finished her performance and then tottered over to President Nixon's table and kissed him on the cheek!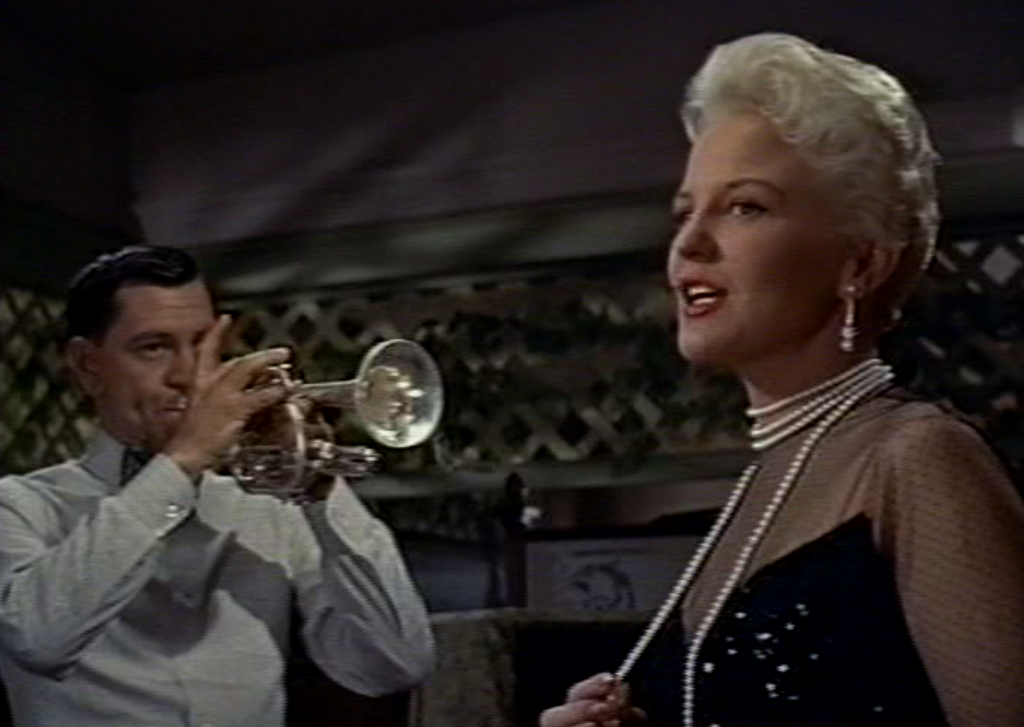 with Jack Webb in Pete Kelly's Blues
Peggy hailed from Jamestown, North Dakota, where she entered this world as Norma Egstrom in 1920. For decades she would maintain she was the survivor of a horrendous childhood, one in which she was regularly beaten by her stepmother after her birth mother had passed away when little Norma was only four years old. The evil stepmother of Peggy's imagination beat her with a frypan and dragged her around the house by her hair. But none of this was true. Nevertheless, Peggy stuck to this, her own interpretation of her upbringing, until the day she died. 'She recalled trying to poison herself by drinking bleach', wrote Gavin. It was all part of the same fantasy.
Peggy and Benny Goodman         with her husband Dave Barbour
Norma escaped her prairie home as soon as she could and was soon singing on radio in Fargo where the program director suggested she change her name to Peggy Lee. Her big professional break came when Benny Goodman hired her to sing with his band in 1941. In July 1942, backed by Benny and the band, she recorded her first hit song, 'Why Don't You Do Right?' In 1943 she suddenly married Dave Barbour, a guitarist in Goodman's band. She was two months pregnant when they tied the knot, most Hollywood insiders convinced that the father was Benny himself. Whatever the truth of it, Benny was livid about the marriage and fired the love-struck couple. Later, he rehired Peggy, but not her husband.
The next time Stagedoor Canteen (1943) appears on Foxtel, look for the uncredited Peggy singing 'Why Don't You Do Right?' with the Goodman band. It is her first screen appearance. In 1948 she scored another #1 hit single with a tune she wrote herself called 'Manana'. Between 1952 and 1956 she briefly left the Capitol label for Decca where she churned out the acclaimed 'Black Coffee' album, plus a couple of hit singles, 'Lover' and 'Mr. Wonderful', before returning to Capitol for the remainder of her career.
Peggy & Brad Dexter 1953                              Brad in The Magnificent Seven (1960)
Her second husband was Brad Dexter, an actor who would later gain a sliver of fame as one of The Magnificent Seven (1960). Their union only lasted a few months in 1953. His biggest complaint, according to Gavin, was that the insatiable Peggy would not let him out of their marital bed for the entire honeymoon! Dexter was a friend of Frank Sinatra ever since he saved the singer's life in Hawaii. Frank and the wife of producer Howard Koch got into difficulties while swimming, and it was Brad who came to their rescue. The friendship lasted until Dexter attempted to talk Sinatra out of marrying the much younger Mia Farrow. Frank angrily ignored his advice and never spoke to him again.
wedding # 3 to Dewey Martin               and # 4 Jack Del Rio
Husband number three was another actor – Dewey Martin. Their whirlwind romance ended in a tempestuous marriage that was never, ever going to last. 'Instead of a wedding veil', said Peggy later, 'I should have worn a crash helmet. It was during her three year hitch to Martin that she recorded her monster 1958 hit single 'Fever'. Her fourth trip down the aisle was to bongo player Jack Del Rio. If anything, this union was even more destined to fail than its predecessors, for even as she was marrying the man she knew it was a mistake. Three months later Jack moved out.
Sinatra and Peggy – an item
According to her biographer, 'Peggy Lee was a deeply troubled and delusional woman who was desperate for love, over-sexed, afraid to be alone, in the grip of addictions to booze and tranquilizers and increasingly living in a fantasy world of her own creation.' She had far too many one night stands, seducing a number of her musicians, especially the married ones. One of her lovers was Sinatra. Whenever he was unable to get Marilyn Monroe or Judy Garland to dash over to his apartment for sex, he could always count on Peggy to fill in at a moment's notice. It may not be very flattering, but the Muppets' Miss Piggy, a stylish self-assured blonde with a sense of romance, was inspired by Miss Peggy Lee.
Peg in Disney's Lady and the Tramp     Peggy & her animated alter-egos
By the 1970s Peggy's style of singing had been replaced by the disco boom. Her answer was to slip into Valium addiction. She also held grudges against a great many people. For instance, after signing a contract to perform in a Las Vegas casino for $250,000, she was incensed to learn that Barbra Streisand had been paid a million dollars by the same establishment. She loathed Streisand from that day forward. Back in 1955 Peggy wrote and sang tunes for Walt Disney's animated classic, Lady and the Tramp. She also played four of the characters – Peg, Darling and the two Siamese Cats. Almost four decades later she sued the studio for video royalties, won and collected a 2.3 million dollar payout. When the Waldorf Astoria in New York City fired her in 1978 after her long-standing booking there, she appeared to slip while walking through the hotel and sued the hotel for millions.
As her royalties and income slowly ebbed away Peggy continued to maintain her lavish lifestyle. 'She spent lavishly', wrote Gavin, 'and even in her final months in hospital she demanded a luxury suite and around-the-clock security.' At the age of 78, Peggy suffered a massive stroke. It was 1998 and she was scarcely able to speak, yet she tenaciously clung to life for another four years. Just one week prior to her death the courts delivered a preliminary approval ruling of almost five million dollars in a class lawsuit for royalties against Universal Music Group. Peggy was the lead plaintiff of a group of 300 Decca recording artists.