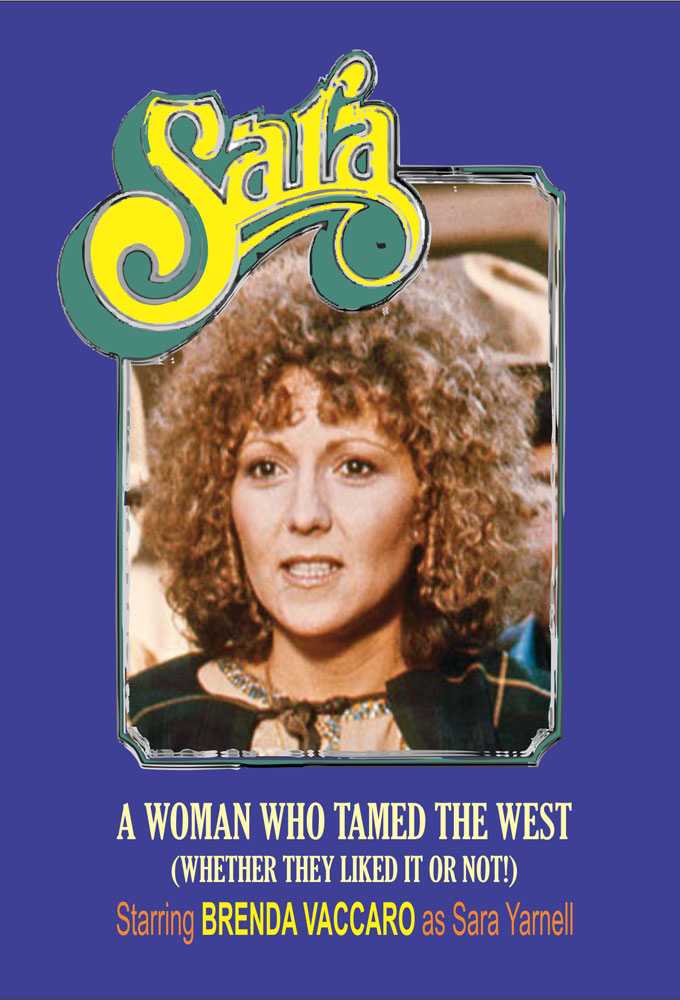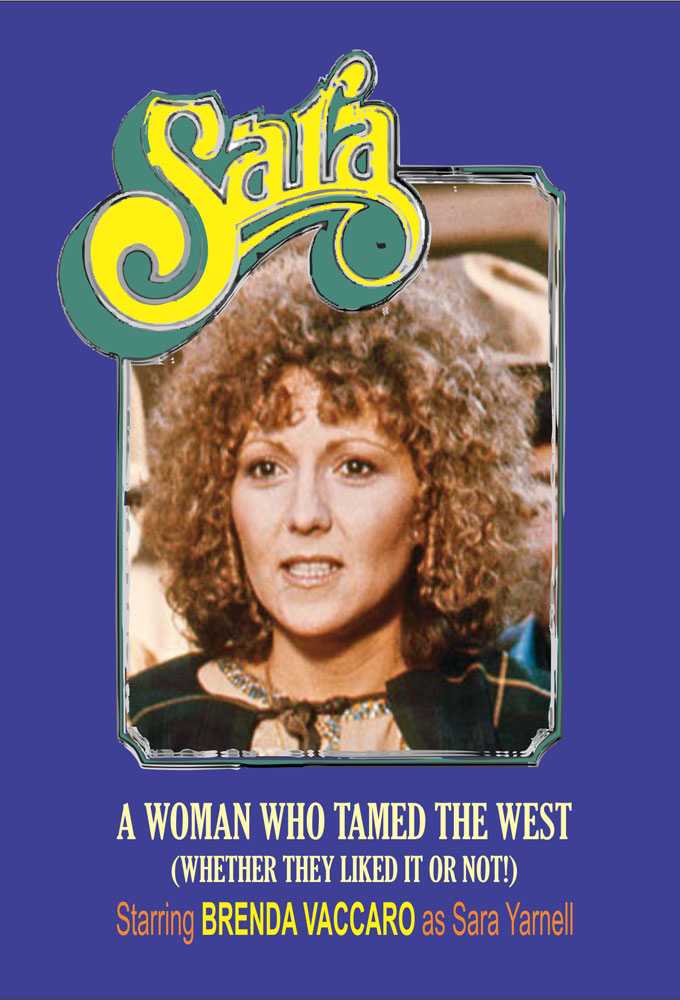 SARA (1976) 12 EPISODES                                   
This series of just twelve sixty-minute episodes starred Brenda Vaccaro and was based on the novel The Revolt of Sarah Perkins by Marian Cockrell. Set in Independence Colorado in the 1870s, the show sees Brenda portraying an unmarried schoolteacher, Sara Yarnell, who gives up her staid, predictable life in Philadelphia in order to move to the western frontier in search of new challenges. Vaccaro's strong performance resulted in a well-deserved Prime-Time Emmy (Outstanding Lead Actress in a Drama Series), but the series scored very low ratings and had the briefest of life spans – February 13 to May 7, 1976 – before CBS dropped it. On July 30, that same year, CBS broadcast a made-for-television movie titled Territorial Men, compiled from footage shot for the weekly series.
SERGEANT PRESTON OF THE YUKON (1955-8) 78 EPISODES      
This series starred Dick Simmons in the title role. Casting had been whittled down to two candidates – him and James Garner. This was two years before Garner landed the lead in the Maverick series. Fortunately for Simmons, his opposing candidate chose to pursue a career in movies and dropped out of contention for the role of Sergeant Yukon at the last minute, so it went to the 41 year-old Simmons. Throughout his long career he would chalk up over one hundred big and small screen credits, none of which were memorable, yet he was briefly most popular playing Sergeant Preston in the fifties. Alzheimer's disease would take Simmons at the age of eighty-nine in 2003.
According to the back story, William Preston was actually an American from Chicago who arrived in the Yukon with the intention of solving his father's murder. Working with Mounties assigned to the case brought out his natural talents as a policeman, and after he helped track down his father's killers he was invited to join the force. He brought with him his horse named Rex and his part Husky-part wolf canine friend 'Yukon King'. King was not a Husky at all and was played by a large Alaskan Malamute.  Many of the show's story-lines were adapted from fifteen-minute radio scripts and lengthened to thirty minutes for the TV episodes.
Soon after the series gained a solid following, popular American musician/singer Ray Stevens brought out a comedy single that parodied Sergeant Preston. In the song it was stated (tongue in cheek) that Yukon King actually solved all the cases and that Preston merely took the credit! Since the series still airing at the time, the producers decided to sue both Stevens and his recording label Mercury Records. The lawsuit was eventually dropped after Mercury and Stevens agreed to remove the record from the market and off the airwaves. The series was sponsored by Quaker Oats, a company that gave away Klondike land as part of the 'Klondike Big Inch Land Promotion' which was directly tied to the TV show. Genuine deeds, each to one square inch of a lot in Yukon Territory, were issued by Klondike Big Inch Land Co. Inc., and inserted into Quaker's Puffed Wheat and Puffed Rice cereal boxes!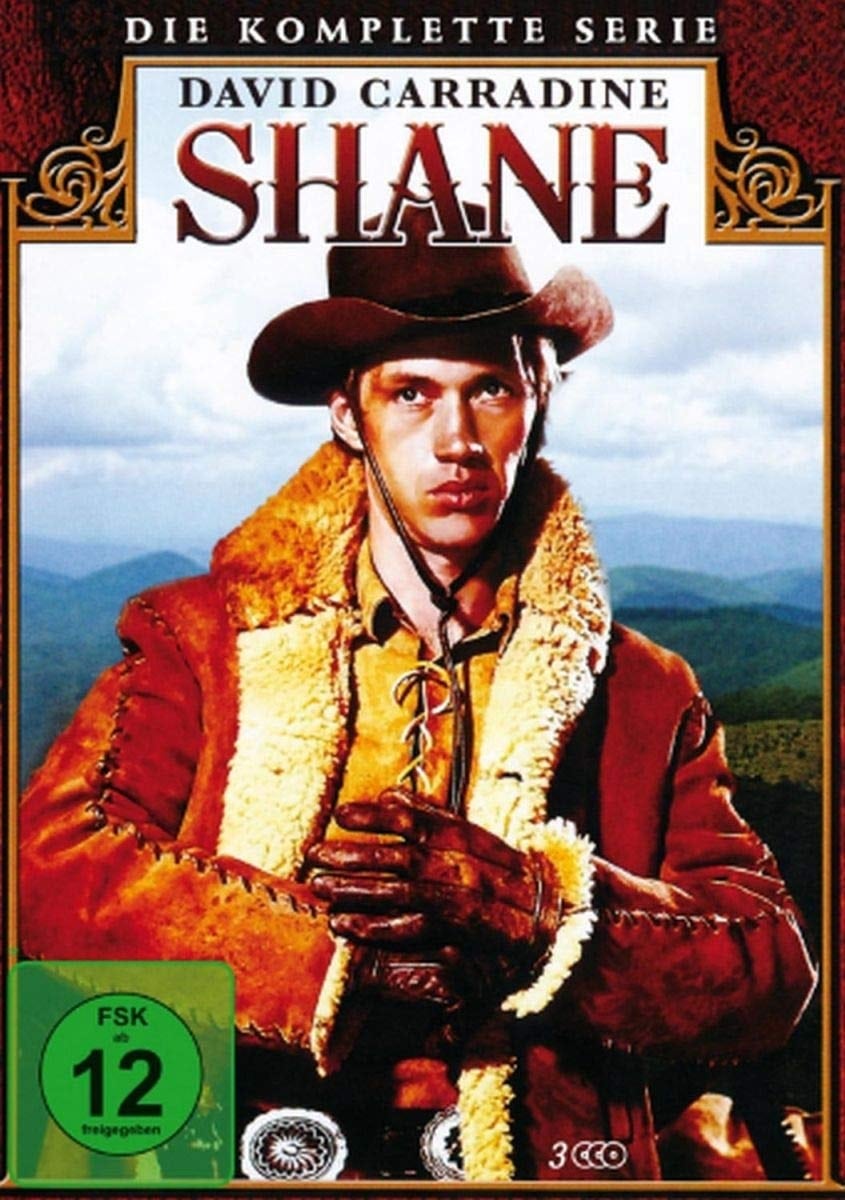 SHANE (1966) 17 EPISODES                    
This series aired on ABC in 1966 and was based on the novel of the same name, penned by Jack Schaefer in 1949. The 1953 movie Shane, starring Alan Ladd, followed the book. In the TV series more than a decade later, David Carradine played the former gunfighter/occasional outlaw title character. He takes a job as a hired hand at the ranch belonging to the widowed Marian Starett (Jill Ireland) and her father-in-law portrayed by Tom Tully. Just why the show's producers chose to spell the Starett name with only one 'R' (it contained two in both the novel and the movie) is anyone's guess. Chris Shea plays Marian's young son Joey. As it was in the 1953 movie, the Staretts are in continual confrontation with neighbouring rancher Rufe Ryker (Bert Freed). Unfortunately, the programme was slotted against The Jackie Gleason Show, then ranked the fifth most popular series in the country, and that time-slot resulted in Shane being cancelled mid-season.
Carradine would go on to star in the hugely popular 1972 Western series Kung Fu, the role that would make his name and face known throughout the world. Four of his five marriages ended in divorce (the fifth with his death from 'accidental asphyxiation' in Bangkok, Thailand in 2009). Back in 1974, Carradine's excessive drug-taking saw him arrested (for the fourth time), and charged with 'attempted burglary and malicious mischief'. Under the influence of peyote, the stark naked actor had wandered around his Laurel Canyon neighbourhood before breaking into a neighbour's home. At some juncture during this episode he also accosted two women, one of whom he allegedly assaulted as he demanded to know if she was a witch or not! Carradine pleaded 'no contest' to the mischief charge and was given probation after the burglary charge was dropped. He was never charged with assault. The woman sued him for $1.1 million. She was awarded $20,000!
SHOTGUN SLADE (1959-61) 78 EPISODES                  
This late entry into the plethora of western series on American television as the fifties drew to a close was a rather unusual one. Slade was actually a private detective hired to roam the West tracking down outlaws, stolen money or the killers of towns-people. He carried an over/under rifle-shotgun combination – a .32 calibre rifle upper barrel and a twelve-gauge shotgun lower barrel. Most unusually, the series had a modern jazz score, much like the private detective show Peter Gunn (1958). Clearly, the producers were influenced by the growing popularity of TV private eye series such as the above-mentioned Peter Gunn, as well as 77 Sunset Strip and Hawaiian Eye. Even so, Shotgun Slade only lasted two seasons.
Rugged Scott Brady portrayed Slade. Born in Brooklyn, he was the real life brother of actor Lawrence Tierney whose promising 'bad guy' career was sabotaged by a severe drinking problem that resulted in several skirmishes with the law involving narcotics charges and illegal bookmaking activities. The two brothers had a falling out in the sixties that lasted for two decades. Scott was born Gerard Tierney in 1924 (they were not related, incidentally, to screen beauty Gene Tierney).