PETER PAN (1953)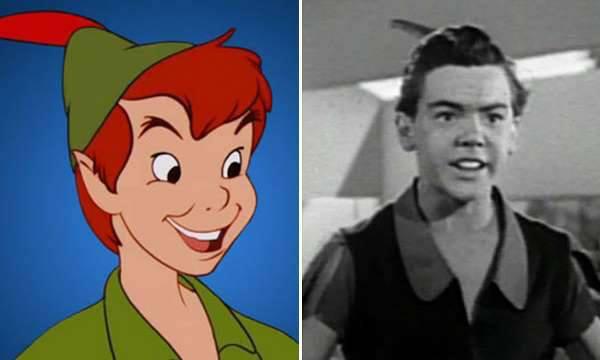 Bobby Driscoll was the voice & model for Disney's Peter Pan.
Walt Disney was disappointed in the finished product of his 1953 adaptation of J. M. Barrie's classic play about the boy who never grew up. Walt felt that Pan was depicted as 'cold and unlikeable', a sentiment this writer is inclined to agree with. Child star Bobby Driscoll voiced the title character and veteran actor Hans Conried provided the voice for Pan's nemesis Captain Hook. Peter's face was modelled on Driscoll's as well.
Hans Conreid, the voice of Captain Hook
Experts on the works of J.M. Barrie, not interested in box-office returns, were happy with Peter's portrayal in the picture, insisting that the boy was originally written by Barrie to be a heartless sociopath anyway. Indeed, in the play, the Lost Boys were infants who had fallen out of their prams whilst their nurses were not paying attention to them, and Peter, a permanent resident of Neverland, was a thoroughly nasty piece of work altogether. If any of the Lost Boys seemed to grow up, he would murder them in order to prevent over-population of Neverland, whilst simultaneously reducing any chance of a challenge to his rule. In the original story it is implied that he 'thins out' the older, more disruptive boys, which some people have interpreted as killing them.
Barrie had bequeathed the rights to his play to the Great Ormond Street Hospital for Sick Children in London. It took Disney four years to finally secure the rights to it in 1939. In fact, in The Reluctant Dragon (1941), there is a tour of the Disney studios in which drawings of Captain Hook can be clearly seen, indicating that the film was in active development more than a decade before it was eventually filmed and released. Disney was only concerned with providing family fare that made money at the box-office, so the darker aspects of Barrie's play were ultimately ignored over the years it took him to complete the feature. The stereotypical depiction of Amerindians, both in the book and in this feature film, is deplorable and probably explains why there are no Native Americans in the 2002 sequel titled Peter Pan 2: Return to Neverland. At one point in Peter Pan one of the children matter-of-factly mentions that Indians are cunning but lack intelligence! They are referred to as 'savages' and by Hook as 'redskins'.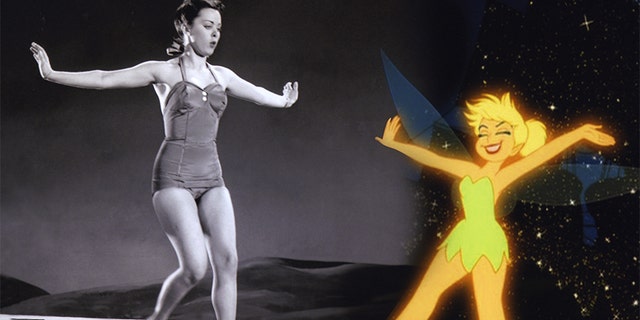 Margaret Kerry, the model for Tinkerbell
For decades it has been accepted that Marilyn Monroe was the model for the Tinkerbell character, but that was not the case. Twenty-two year-old Margaret Kerry (35-25-36) was the real life model. She provided the voice for the red-headed mermaid. Many Peter Pan purists were unhappy that Tinkerbell was portrayed as a petulant young woman – and a voluptuous one at that! German actor Henry Brandon, (he would portray Chief Scar/Cicatrix three years hence in The Searchers), was the live action reference model for Captain Hook.
MEDICINE MAN (1992)
The critics had a field crucifying this rather enjoyable little film. In particular they were merciless when it came to assessing the performance of the leading lady Lorraine Bracco. Owen Gleiberman from Entertainment Weekly was especially hard on her. 'It's not every day you get to see a performance as bad as Lorraine Bracco's in Medicine Man', he sniffed. And he even took a shot at Sean Connery's leading man in the picture, saying that he 'doesn't do much that he hasn't done before. Well, for what it is worth, I enjoyed both stars' performances and the picture in general. Ms Bracco was both very likeable and funny as well. The scenery was beautiful (it was mostly shot in Mexico) and Jerry Goldsmith's delightful score was an added bonus. Perhaps, the lack of violence, sex scenes and special effects disappointed the critics. Personally, I found the simple story and the rapport between the two stars entertaining enough. Medicine Man was directed by John McTiernan, the man who helmed Predator (1987), Die Hard (1988) and The Hunt for Red October (1990). Maybe, the critics were anticipating more of the same. In fact, McTiernan said as much: 'If the press hadn't defined it as an action movie, it probably wouldn't have been considered a disappointment.' The film was also given a PG-13 classification which can often be the 'kiss of death' these days.
Lorraine Bracco & Harvey Keitel
Lorraine, who portrays Dr Rae Crane here, was born in Brooklyn in 1954. In this movie Connery's character dubs her 'Brooklyn' and is instantly corrected when she proclaims she is, in fact, a native of The Bronx. Her New York accent is both appealing and hilarious, to me, anyway, yet most critics hated it. At the age of twenty, Lorraine moved to Paris where she became a fashion superstar for Jean-Paul Gaultier. She has since married and divorced twice and has two children, one of them sired by former boyfriend, actor Harvey Keitel. Lorraine is probably best remembered for her portrayal of Dr Jennifer Melfi in the hit TV series The Sopranos that ran from 1999 until 2007. 'After doing Goodfellas (1990), I was offered every Mafia girl, wife, mistress, daughter available', she recalled. 'And I said to them – 'No. I don't want to do that. I did it. Can't do it better…I don't want Carmela – I want Dr Melfi.' She would play the Mafia Don's shrink in seventy-one episodes and would be nominated (unsuccessfully) for four Primetime Emmy Awards for the role. She was also nominated for a Supporting Actress Oscar (also unsuccessfully) for her performance in Goodfellas.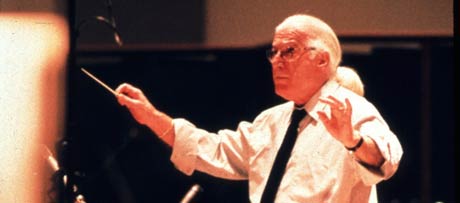 Composer Jerry Goldsmith complete with pony-tail
Sean Connery was in his sixties when he was chosen to play Dr Robert Campbell in Medicine Man. For his services he was paid a cool $10 million! Composer Jerry Goldsmith scored a total of seven of Connery's films – Ransom, First Knight, Outland, The Russia House, The Wind and the Lion, The First Great Train Robbery – and Medicine Man. The Scottish actor even chose to honour him by adding a pony-tail to the character of Dr Campbell. Goldsmith was well-known for having a pony-tail. Cinema-goers around the world were saddened to learn of Sir Sean Connery's death at ninety in the Bahamas in October 2020.