Angelique Pettyjohn in Star Trek: The Original Series (1968)
The name Angelique Pettyjohn probably means nothing to all but the most avid fans of Star Trek: The Original Series, and to those 'Trekkies' who ventured along to the numerous conventions held over the ensuing years. Devoted fans will no doubt recall Angelique's singular moment of fame when she played the drill thrall Shana in the second-season episode titled 'The Gamesters of Triskelion' (1968). It is true she played opposite Elvis Presley in the un-memorable Clambake (1967), and unsuccessfully tested for the role of Nova in Planet of the Apes (1968), but the part went to Linda Harrison (the producer's girlfriend), but her career never rose to any great heights.
Angelique in an episode of Get Smart (1965-70)
As opportunities dried up, Angelique took work as a stripper in Las Vegas, as well as some soft-core film work. As she fell upon hard times the soft-core porn became hard-core and her self-esteem nosedived. She suffered from alcoholism and drug addiction before the Star Trek conventions gave her an income and restored her confidence. She even headlined some conventions as their 'Special Guest Star', happily selling signed posters of herself, in and out of her 'Gamesters of Triskelion' costume. She died from cervical cancer in 1992, less than a month shy of her 49th birthday.
On March 23, 1990, four 25 cent commemorative postage stamps were issued in the United States, honouring four classic motion pictures released back in 1939. The year is considered by most movie fans as the greatest in Hollywood history because of the inordinate number of truly classic productions that were created. The four films chosen for the postage stamps were – Gone with the Wind starring Clark Gable and Vivien Leigh, The Wizard of Oz starring Judy Garland, Beau Geste starring Gary Cooper and Stagecoach starring John Wayne. Good choices. To demonstrate the quality of the movies released in that landmark year, here are just a few of them, listed alphabetically:
Adventures of Sherlock Holmes, The – Basil Rathbone & Nigel Bruce
Another Thin Man – William Powell & Myrna Loy
Babes in Arms – Mickey Rooney & Judy Garland
Dark Victory – Bette Davis & George Brent
Destry Rides Again – James Stewart & Marlene Dietrich
Dodge City – Errol Flynn & Olivia de Havilland
Drums Along the Mohawk – Henry Fonda & Claudette Colbert
Golden Boy – Barbara Stanwyck & William Holden
Goodbye, Mr. Chips – Robert Donat & Greer Garson
Gunga Din – Cary Grant & Victor McLaglen
Hunchback of Notre Dame, The – Charles Laughton & Maureen O'Hara
Idiot's Delight – Clark Gable & Norma Shearer
Intermezzo – Ingrid Bergman & Leslie Howard
Jesse James – Tyrone Power & Henry Fonda
Juarez – Paul Muni & Bette Davis
Love Affair – Irene Dunne & Charles Boyer
Mr. Smith Goes to Washington – James Stewart & Jean Arthur
Ninotchka – Greta Garbo & Melvyn Douglas
Of Mice and Men – Burgess Meredith & Lon Chaney Jr.
Old Maid, The – Bette Davis & Miriam Hopkins
Private Lives of Elizabeth and Essex, The – Errol Flynn & Bette Davis
Union Pacific – Barbara Stanwyck & Joel McCrea
Women, The – Joan Crawford & Rosalind Russell
Wuthering Heights – Merle Oberon & Laurence Olivier
Young Mr. Lincoln – Henry Fonda & Alice Brady
Ursula Andress
Even a beauty like Ursula Andress has not always nailed every lover she has pursued. Despite her relentless hitting on Elvis Presley, for instance, he repeatedly rejected her. According to author Peter Guralnick, 'He never could fall for a girl whose shoulders were broader than his.' At the time, Elvis was living with his future wife Priscilla Presley. Ursula was twice in relationships with actor Ryan O'Neal (from 1972 to 1973, and again from 1977 to 1978), and both stints were quite fiery. When Ursula broke her arm in the summer of 1978, the official story was she had collided with Hurricane Norman while body-surfing at Malibu. However, rumours abounded that she had actually acquired the injury during one of her numerous fights with O'Neal. The couple parted company soon afterwards.
Kate Winslet in Titanic (1997)
During a March 2004 episode of Inside the Actors Studio, Kate Winslet stated that the nude portrait of her done by Leonardo DiCaprio in the film Titanic (1997), was actually drawn by the picture's director James Cameron. In fact, the artist's hand shown in close-up was his, even though he is left-handed. The image was flipped so it would appear that Jack (Leo DiCaprio) was drawing it with his right hand.
Celeste Holm with Frank Sinatra in High Society (1956)
Over her long life, (she lived to be 95), Celeste Holm married five times. The last of these unions took place when she was 87 years old. The groom, a singer named Frank Basile, was forty-one. Soon after their 2004 wedding, Celeste and Frank jointly sued to overturn her irrevocable trust, which had been set up in 2002 by her youngest son from a previous marriage. Initially, the trust had been created to shelter Celeste's financial assets from the IRS, but her new husband was convinced its real purpose was to keep him away from his aged wife's money. The lawsuit dragged on for five years and cost millions of dollars. At its conclusion all Celeste and Frank had left was a 'fragile hold' on their New York apartment. Celeste had purchased it in 1953 for $10,000. In 2011, a year before her death, it was said to be worth in excess of $10 million!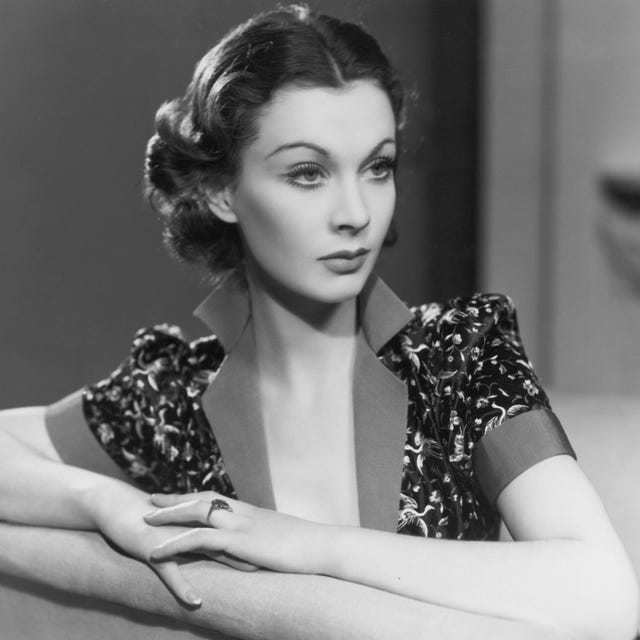 Vivien Leigh at the height of her great beauty
Vivien Leigh was offered the plum supporting role of Isabella in Wuthering Heights (1939) for her American screen debut, but she chose to hold out for the lead role of Cathy instead. She ended up with neither. Director William Wyler told her she was crazy to pass up such an opportunity. 'You will never get a better part than Isabella for an American debut', he said. Shortly afterwards, she landed the role of the century, that of Scarlett O'Hara in Gone with the Wind.
David Wayne
When David Wayne was rejected by the US Army, he volunteered as an ambulance driver for the British in North Africa and was erroneously reported as being killed in action at Tobruk. He later served in the US Army when America entered the war. Tragedy struck his family in August 1970 when his son, Timothy Wayne, disappeared while canoeing with a friend near Yellowknife, in Canada's Northwest Territory. The Royal Canadian Mounted Police discovered an overturned canoe, two life jackets and two paddles, but no bodies were ever recovered. David's beloved wife of 52 years, Jane Gordon, passed away in 1993 and he retired completely at once. Lung cancer claimed him in February 1995. He was 81.