DOUBLE JEOPARDY (1999)                    
Box-office returns of over $100 million in the USA alone, coupled with it topping the popularity poll for three weeks in the year it was released, indicate that Double Jeopardy (1999) has been a financially successful movie, despite the critics (generally) being unimpressed by it, and despite the premise on which it is based being quite flawed. If the reader intends watching this entertaining production, you might want to cease reading this piece now, because 'spoilers' are about to come. Ashley Judd replaced the originally cast Jodie Foster in the role of Libby Parsons after Jodie became pregnant and dropped out. Even though Tommy Lee Jones (who plays parole officer Travis Lehman) does not appear in the picture until the 33rd minute, he was still given top billing over Ashley and was paid $10 million for his services.
Ashley Judd doing time in Double Jeopardy 
Ashley portrays a woman imprisoned after being convicted of murdering her husband. He later turns out to be alive, having faked his death in order to avoid bankruptcy. She lies to the parole board and is released early, having been informed by a cellmate that she cannot be convicted if she chooses to 'kill' him again – according to the 5th Amendment in the US Constitution. She is told that, in other words, she could choose to find him and shoot him in broad daylight without any fear of re-prosecution or accountability. The information, however, is not quite right. The 5th Amendment does not apply, because a subsequent murder would take place in a different time and place from the original 'non-murder' for which she had been earlier convicted. It becomes a second crime entirely and would be prosecuted as such.
Ashley & Tommy Lee in a spot of bother
The rather significant double jeopardy error aside, there are a number of factual goofs throughout this film as well. For example, pay phones in prisons do not take coins. When Libby travels from Colorado to New Orleans, she incorrectly does so by plane. As a wanted fugitive, she would have been immediately flagged as 'wanted' and arrested as soon as she attempted to board an aircraft. And, of course, she would be unable to take Lehman's gun with her onto the aircraft, not even in her luggage. Another mistake. At Libby's trial the murder weapon is presented, still covered in bright red blood; a mistake not uncommon in movies. After such a time the blood would by then, of course, be dried and black. Needless to say, bright red blood looks far more dramatic than the less exciting dried, black stuff.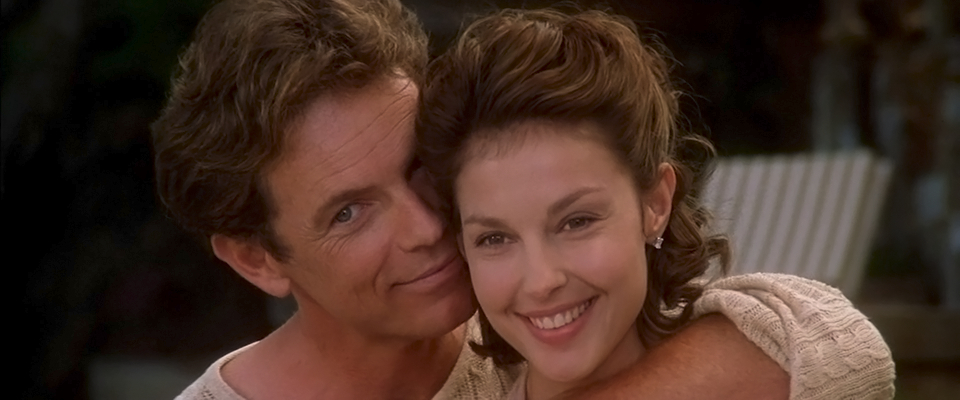 Ashley with her screen husband Bruce Greenwood in happier times
As for the ferry sequence in which Libby pushes a vehicle off the car-deck, Washington State ferries have large, heavy wheel blocks on the front wheels of every car at the front of the rows. She could not possibly bump a car off the deck. Furthermore, should a car somehow fall off a ferry, an alarm sounds instantly so that the coast guard can institute rescue and recovery procedures. In the movie, the alarm only sounds after the second vehicle, the one containing Libby (and Lehman) hits the water. Also, cars loaded on these ferries are always parked facing the direction in which the vessel is headed, so there is no way any car could fall off the back of the boat.
Annabeth Gish in Double Jeopardy
Double Jeopardy is far from being a perfect movie and is certainly no classic. But it is slickly directed by Bruce Beresford and well-acted by its principals – Ashley Judd, Tommy Lee Jones and Bruce Greenwood. Annabeth Gish has a smaller role but, as usual, handles it with aplomb. It is never dull and takes us to some pretty scenic locations. The scenes in Colorado were actually shot in Vancouver, Canada; as were those supposedly taking place in San Francisco. The New Orleans sequences were filmed there, on location, in Louisiana, a half dozen years before Hurricane Katrina devastated 80% of the city and caused the evacuation of over 40% of its population. Most fans would probably rate Double Jeopardy as Miss Judd's best work.
TRUE WOMEN (1997)                                            
Dana Delany & Powers Boothe
This telemovie runs just over three hours, yet manages to hold one's attention throughout, mainly because of the outstanding acting performances by the three principals – Dana Delany, Annabeth Gish and Angelina Jolie – ably supported by the much-under-rated Powers Boothe and Canadian actor Michael Greyeyes, who gives a memorable performance as Tarantula, the Comanche chieftain. He is probably better known in theatre circles as a dancer with the choreography company of Eliot Feld in New York City, having left the National Corps de Ballet in Canada to join him in 1987. Perhaps, dancing's gain is acting's loss.
Angelina Jolie, Dana Delany & Annabeth Gish – the stars of True Women
The small role of Tobe, the Indian girl horrifically lynched by three rednecks early in the film, is played by Anchorage, Alaska – born Irene Bedard. If her face looks familiar to viewers, it is probably because she was the lady chosen as the physical model for the title role in Disney's animated feature Pocahontas (1995). She also supplied the voice of Pocahontas in both the movie and its sequel. In 1995, she won a Golden Globe nomination for her portrayal of Mary Crow Dog in the telemovie Lakota Woman: Siege at Wounded Knee.
Irene Bedard
Several critics have dismissed True Women as a 'chick flick', possibly because it is based on a historical novel written by a woman (Janice Woods Windle), it is directed by a woman (Karen Arthur), and the stars are clearly the three female leads, Delany, Gish and Jolie. However, it is so well directed and acted that I for one found it impossible to find major fault with it. Having said that, there is one scene during the 'Runaway Scrape' that is especially poor. Dana and another pioneer woman start chopping down a tree, as a prelude to building a raft to cross the Brazos River in Texas, and the scene is quite pitiful. The way both women were swinging their axes, it would not be unfair to suggest that the raft should be finished sometime in the 21st century!
Michael Greyeyes as Tarantula
That aside, this heroic tale that covers around fifty years of Texas history (beginning with the Alamo battle in 1836), is a sweeping saga that takes in Comanche raids, the Texas Rangers, The US Civil War, a cholera epidemic, slavery and women's suffrage. Interwoven with these epic historic themes are deep friendships, family tragedy and romance. True Women is a bit of a soap opera – but a most entertaining one. The novel started out to be a cookery book, but eventually blossomed into a kind of family history (of two families, in fact, the King family and the Woods family), that ultimately evolved into the novel published in 1994.