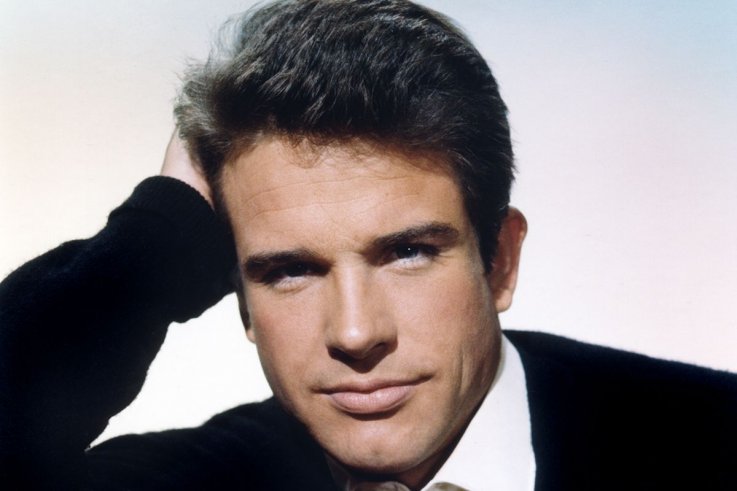 Warren Beatty
During the making of Bonnie & Clyde (1967), the star of the picture, Warren Beatty, got into an altercation with Jack Warner in his office at Warner Bros. Voices were raised during the confrontation until, finally, in exasperation, Jack walked across the room to the window and pointed to the Warner Bros water tower. 'See that?' he said. 'Whose fucking name is on the tower? Mine!' Beatty looked at it, paused for a second or two, and countered: 'But they are my initials!' He won the argument.
Joan Hackett
Anthony Perkins
Joan Hackett was a much-loved actress, born in Harlem, New York City, who left us far too soon. She was a delight as Prudy Perkins in the hilarious western spoof Support Your Local Sheriff! (1969), opposite James Garner, and acquitted herself admirably in the serious western drama Will Penny (1967) when teamed with Charlton Heston. In her personal life she was willing to admit she was actor Anthony Perkins' first ever heterosexual affair. When asked to describe him, she gave the single word response – Nuts!' Diagnosed with ovarian cancer in 1983, she checked herself out of hospital in order to host a wedding party at her Beverly Hills home for Carrie Fisher and Paul Simon. Just a few days later, her condition rapidly deteriorated and she passed away at the age of 49 on October 8, 1983. Her one marriage was to comedian Richard Mulligan (1966-73). He is remembered for portraying Burt Campbell in the popular TV series Soap (1977-81).
Fred MacMurray in My Three Sons
My Three Sons (1960-72) was a surprisingly popular television series starring Disney stalwart Fred MacMurray. A little-known fact, concealed for years, was that Fred always insisted all his scenes for the entire season be filmed up front. Consequently, he would do all his kitchen scenes one after the other; all his scenes in the upstairs or the hallway would be shot consecutively as well, and then he would leave until the next season. It was not until Dawn Lyn joined the cast as Dodie, that viewers began to wonder. Whenever she was on the screen it became noticeable that her upper front teeth grew irregularly during the entire 1969-70 season. Her teeth were barely visible in scenes with Fred, but plainly visible in scenes without him. His contract guaranteed he only had to work 65 days each year on the series. The supporting players had to do all their scenes, in his absence, opposite a prop player.
Julie Andrews in Mary Poppins 
Director Garry Marshall was the brother of director/actress Penny Marshall, the former star of the popular TV series Laverne & Shirley (1976-83). He counted Julie Andrews as one of his favourite director/actor experiences. When asked why this was so, he replied, 'She could act, she can sing, she's a lady who can curse with perfect diction.' The iconic portrayer of Mary Poppins was well-known to have quite a mouth on her!
Tom Selleck in Christopher Columbus: The Discovery
No-one can accuse Tom Selleck of not having a sense of humor. He guest-starred on The Chevy Chase Show in 1993 and, as a gag, asked if he could be presented with his 1993 'Worst Supporting Actor Razzie Award' for his performance as King Ferdinand of Spain in the spud ordinary 1992's Christopher Columbus: The Discovery. When the Razzie was presented to him on the show, he asked the entire studio audience to 'blow me a raspberry'. And this they most obligingly did.
Jeremy Brett & Audrey Hepburn in War and Peace (1956)
Jeremy in My Fair Lady (1964)
English actor Jeremy Brett was selected to play Nicholai Rostov in War and Peace (1956), partly because it was felt he resembled Audrey Hepburn who was playing his sister Natasha in the film. He would again appear with Audrey in 1964's My Fair Lady, this time, oddly enough, as her suitor. His early death at 61 was the result of heart failure due, in part, to his heart valves being permanently scarred by the bout of rheumatic fever he suffered as a teenager, in part because of the medication prescribed for his bipolar disorder, and in part because of his long-time habit of going through three packs of cigarettes a day. He was the cousin of actor Martin Clunes, best known for his portrayal of Doc Martin in the TV series of the same name.
Scarlett Johansson & Sean Penn
Shortly after Lost in Translation was released in 2003, nineteen year-old Scarlett Johansson confided she had a connection with older men and could not imagine herself dating any man under thirty. She then embarked upon an intimate relationship with actor Benicio Del Toro, who is 17 years her senior. In September 2008, she married Ryan Reynolds (eight years her senior). The marriage ended in December 2010, Reynolds citing 'irreconcilable differences.' She has also been involved with Jared Leto (13 years her senior) and Sean Penn (24 years older than her). She admitted to undergoing HIV tests twice a year but denied her prolific sex-life has anything to do with it. 'Contrary to popular belief', she assures us, 'I am not promiscuous.'
Darryl F. Zanuck at 20th Century Fox (L) & Harry Cohn (Columbia)
The year 2019 has seen producer Harvey Weinstein accused of a string of sexual offences perpetrated over several years, yet what he is accused of is hardly anything new in Tinsel Town. Back in the days of the big studios, the likes of Columbia's head man Harry Cohn and Darryl F. Zanuck at 20th Century Fox devised their own elaborate plans for the seduction of young starlets bent on becoming stars by whatever route was available to them. Cohn built a passageway from his office to the dressing-rooms of his contract actresses. Zanuck went one better and constructed a boudoir off his office in which, every afternoon at 4pm, work in the office would come to a standstill so he could be serviced by one of his starlets. RKO boss Howard Hughes simply set up whatever beauty he signed with her own apartment and he would visit each one at least once a week. None of the studio moguls were guilt-free when it came to utilizing the casting couch.