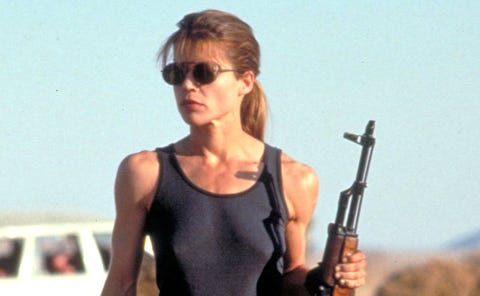 LINDA HAMILTON (1956 – )                   
Linda Hamilton played Sarah Connor in The Terminator (1984) and in Terminator 2: Judgment Day (1991). She readily admits that her bipolar disorder and her addiction to cocaine destroyed both her first marriage to Bruce Abbott (1982-9) and her second to James Cameron (1997-9). Linda openly admitted that she inflicted verbal and physical abuse on Abbott in particular.
Suzy Amis & James Cameron
She was living with director Cameron when she found out he was having an affair with actress Suzy Amis during the making of Titanic (1997). Suzy portrayed Old Rose's daughter in the picture. Later, Cameron left Suzy, returned to Linda, and married her. Eight months after the wedding he went back to Suzy. Then they parted again. As Linda put it: 'For Jim, the one that doesn't end up with him is the one he wants.' Even so, she commented favourably on her feelings for her ex-husband after their divorce: 'I love him as much as I ever did. But that doesn't mean that the heartache wasn't huge and I haven't suffered. I knew how Jim was when I married him and I love him still.' Their divorce was the second-most expensive divorce, next to that of Steven Spielberg and Amy Irving, in Hollywood history. Cameron's infidelity meant Linda could claim half of his earnings – close to $50 million.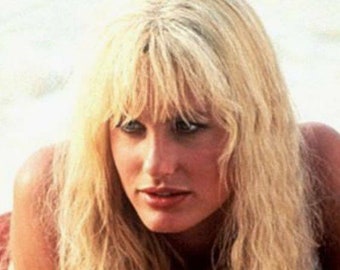 DARYL HANNAH (1960 – )                                    
Daryl Christine Hannah was born and raised in Chicago, Illinois. Her breakout role was as the punk android in Blade Runner (1982), but her life changed when she portrayed a mermaid named Madison in Disney's first ever Touchstone Pictures release, Splash, in 1984. The film's box-office success green-lighted Disney's decision to make the animated feature The Little Mermaid (1989).   
Daryl Hannah & Harvey Weinstein
Daryl is one of many beautiful women who have accused producer Harvey Weinstein of sexual misconduct. She spoke of how he pursued her relentlessly at the Cannes Film Festival, while she was taken there to promote Kill Bill Vol. 2 (2004). He even obtained a key to her hotel room, enabling him to burst in while she was watching a video with her make-up man. 'He came through the living room and into the bedroom', she recalled. 'He just burst in like a raging bull. And I know with every fibre of my being that if my male make-up artist was not in that room, things would not have gone well. It was scary.'
Weinstein then told her she was expected to attend a party downstairs in the hotel reception room, but when she arrived there the room was empty. Weinstein appeared and straight out asked her: 'Are your tits real?' When he asked if he could feel them, she angrily replied, 'No, you can't!' He replied, 'At least flash me then.' 'Fuck off, Harvey!' was her response. The next morning her planned promotional trip to Cannes had been cancelled.
Daryl & singer Jackson Browne
Singer Jackson Browne dated her for ten years (1983-92), after he spotted her in the audience while he was performing one night in Chicago. She went home with him in his limousine that night. It all ended in 1992 after a violent confrontation, at their Santa Monica home, that left Daryl with a broken finger, black eye and swollen lip. Browne denied having hurt her and she refused to press charges. 'In men, I like a certain darkness', she later said, 'but I would love to just have someone with no problems, who's easy.'
In 1987, Warren Beatty is believed to have had an encounter with her. Daryl was 27 and Beatty was 50 at the time. Her dalliance with him may very well have been the reason why Jackie Kennedy (another of his myriad lovers) was steadfastly against her son, John Jr, making Daryl his wife. Hannah's penchant for being attracted to older men continued in '87 when 45 year-old rocker Mick Jagger dated her as well. Two years later, the media speculated that 53 year-old Muppets creator Jim Henson hooked up with her as well, when she was 29.
With John Kennedy Jr.
John Kennedy Jr was killed in a plane crash off Martha's Vineyard in 1999. Daryl's serious nineties relationship with him over five years did not evolve into marriage because Jackie did not approve of him marrying an actress. Given her deceased husband's record of bedding every actress he could lay his hands on, her lack of respect for those in the movie business is understandable. John Jr and Daryl first met in the early 80s in the Caribbean where they were vacationing separately. In 1988 they met again at a Kennedy family wedding.
Dodi Fayed
She was dating Egyptian socialite Dodi Fayed for the month (June-July 1997), prior to his death in the car crash that also claimed Princess Diana in August 1997. Val Kilmer and Daryl met on the set of the abominable Hard Cash (2002) and were seen around town together for a few months before going their separate ways. Kilmer confided: 'I thought I was going to marry my last girlfriend, she was just so wonderful. Daryl Hannah, fantastic woman. We shared so many interests, and we really made each other laugh…she just fascinated me.' But not for long, it would seem.
Daryl & David Blaine
An American magician named David Blaine began a relationship with Daryl in 2002, and for once she was involved with someone younger than herself. Blaine was 12 years her junior. The media spotted the couple kissing in Paris in 2002, but the relationship ended that same year. Hotelier Sean MacPherson (The Ludlow Hotel and others) dated her for two years (2004-6), and caused a ripple in the fashion world in 2004, when he brought Daryl along to the memorial service of Amy Spindler, the former style editor of The New York Times Magazine.
With Val Kilmer
In 2006, the papers reported extensively on Daryl's relationship with 23 year-old troubled star Brad Renfro. As a child star he had made an enormous impression in The Client (1994), but his drug problems were dangerously out of control when the 45 year-old actress started dating him and supporting him in his battle against his addiction. She regularly visited him as he underwent inpatient treatment at The Ranch, a Malibu rehab centre. But it did little good. Renfro died from a heroin overdose two years later, a week before fellow actor Heath Ledger passed away from a prescription overdose on January 22, 2008.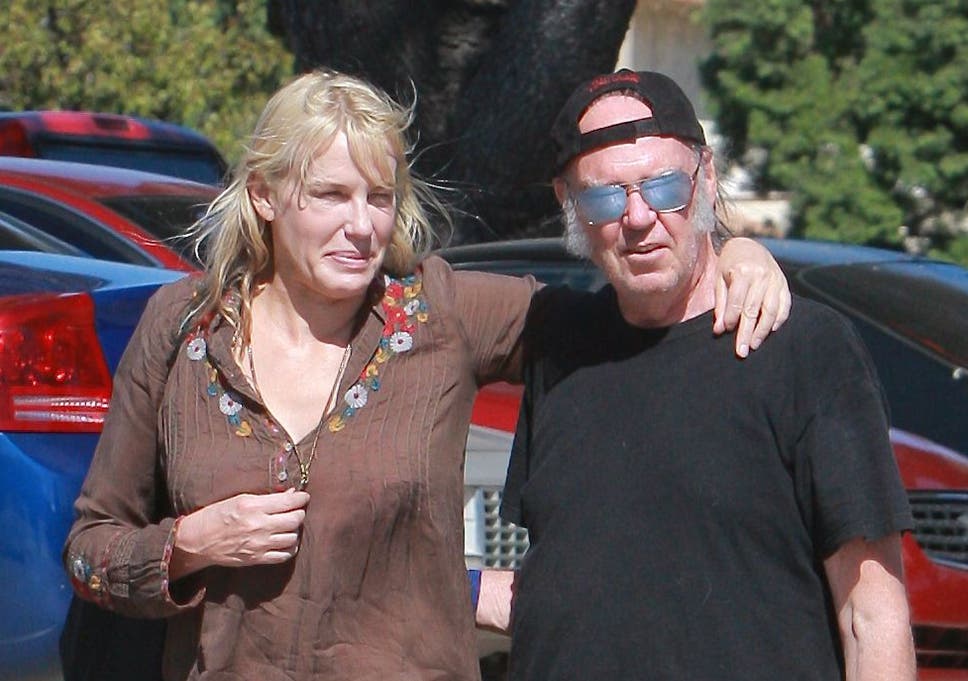 Daryl & husband Neil Young
British actor Paul Blackthorne was seen holding hands with her on several occasions, often attending wildlife fundraisers together during their eleven-month relationship in 2010-11. Foo Fighters musician Rami Jaffee was involved with the aging actress for three years. But then, in 2014, she met legendary Canadian musician Neil Young. He left his wife of 35 years for her and, after four years together, tied the knot with 58 year-old Daryl aboard his yacht in Washington State, in 2018. Young is 73 years old.