James Dean & Paul Newman screen testing                                          Dean with girlfriend Pier Angeli
Paul Newman was a finalist for the Cal Trask role in East of Eden (1955), but it ended up going to James Dean. When Dean turned down the part of Basil the sculptor in The Silver Chalice, Newman quickly (but unwisely) accepted it. It was a terrible part in an equally terrible movie. During filming, Jimmy wandered over to the set and was introduced to the lovely Pier Angeli. 'I loved Jimmy as I have loved no one else in my life', she would later say. 'But I could not give him the enormous amount that he needed. Loving Jimmy was something that could empty a person.'
Beverly Tyler                                                  Beverly & Audie Murphy
Pretty Beverly Tyler got into movies the way most people dream about. In 1941 the fourteen year-old Beverly was on a day trip to New York City with friends when the bus passed by MGM's New York office. Her companions dared her to simply walk in and ask for an audition and she accepted the challenge. She must have seriously impressed someone for she was given an immediate screen and voice test and on their completion was told: 'You are now a movie actress.' To her astonishment she was signed to a contract that same afternoon. Audie Murphy fans might remember her in The Cimarron Kid (1952) and The Battle at Apache Pass (1952). She and Murphy dated for a while.
Gloria Grahame                                                                        Gloria & Nicolas Ray 
I never warmed to Gloria Grahame as an actress, but the Academy loved the lady, bestowing upon her one Oscar and one other nomination. Her private life was a little bizarre, however. 'I married Nicolas Ray, the director', she said. 'People yawned. Later on I married his son, and from the press's reaction you'd have thought I was committing incest or robbing the cradle!' Perhaps, they believed the rumour that Nicolas had found her in bed with his 13 year-old stepson ten years earlier! She was actually tone deaf and sang without dubbing in only one film – Oklahoma! (1955) – where her songs were edited together from recordings made almost literally note by note. For years her Oscar for The Bad & the Beautiful (1952) was a record-holder of sorts; her 9 minutes on screen being the shortest ever for an Academy Award win to that point in time.
Olivia de Havilland, James Cagney & Rita Hayworth in The Strawberry Blonde (1941)
After drifting un-noticed through thirteen minor roles, Rita Hayworth found herself loaned out by Columbia to Warner Brothers as a replacement for Ann Sheridan in The Strawberry Blonde (1941). Ann was having a major pay dispute with Jack Warner and Rita's career was foundering anyway. The picture, however, was a success and Rita's role as the gorgeous Virginia Brush touched a chord with cinema audiences everywhere and her career suddenly took off as Warners rushed her into a picture titled 'Affectionately' that same year. Director Raoul Walsh always considered The Strawberry Blonde to be his best film and I am inclined to agree. It is one of my favourites.
It would be reasonable to say that the title of a movie is, arguably, its least important factor unless, of course, it also happens to be the title of a best-selling book and is well-known to the public. Take the 1949 film Red Light, for instance. Don 'Red' Barry wrote a short story called This Guy Gideon, to which producer/director Roy Del Ruth purchased the rights even though he detested the title. He then bought the rights to Red Light, a story he had no interest in at all, just so he could use its title for the movie he intended making based on Barry's book!
Robert Taylor & Eleanor Parker 
Valley of the Kings (1954) was filmed in Egypt in 1953, a year before the pro-Soviet Egyptian President Abdul Nasser came to power in Cairo and banned American film companies from making movies in his country. 'It was simply a dreadful nightmare', recalled star Eleanor Parker. '…no sanitary facilities, no dressing rooms to speak of. Robert Taylor and I had to use the bathrooms with the locals, hiding behind coats…the director had no idea what he was doing; the head cameraman (Robert Surtees) was directing the film. We had a terrible producer who made no accommodations for the company or crew on location.' Even so, she and Taylor soon became romantically involved off-screen as well as on it. The movie is ordinary.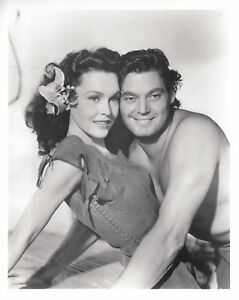 Maureen & Johnny as Jane & Tarzan            Gable & Norma Shearer in Strange Interlude (1932)
Maureen O'Sullivan played Jane to Johnny Weissmuller's Tarzan in six features between 1932 and 1942. 'I could never feel much sympathy for Cheetah the Chimp', she said, 'who was really rather queer, I'm afraid. Didn't like girls at all. But he adored Johnny Weissmuller and was terribly jealous of me.' It was in 1932 that Maureen met Clark Gable who, unbeknown to her, was in 'old man' make-up' for Strange Interlude (1932). Consequently, when he asked her to go horseback riding with him she declined, believing he was far too old for her. He never asked her again.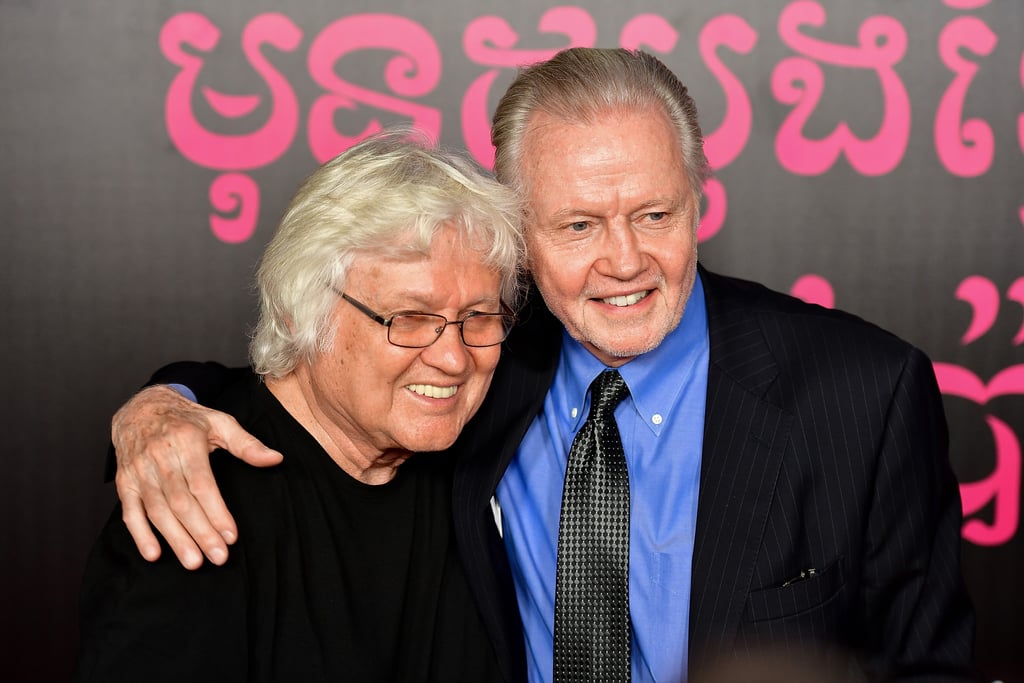 Jon Voight & daughter Angelina Jolie                         Chip Taylor & his brother Jon
Jon Voight is one of three brothers, all three achieving considerable success in their chosen fields. Jon won an Oscar for Coming Home (1978), his brother Barry became a leading vulcanologist, and the third brother, James, wrote a number of hit pop songs, including 'Wild Thing' for the Troggs which he wrote under the pseudonym Chip Taylor. Oddly enough, Jon's greatest claim to fame today is that he is the father of Angelina Jolie.
Cyd & Gene performing the 'Crazy Veil' sequence                     Cyd in her Louise Brooks- vamp outfit
An unusual problem occurred during filming of the 'Crazy Veil' section of the 'Broadway Ballet' in Singin' in the Rain (1952). Several hours delay were caused when it was noticed that dancer Cyd Charisse's pubic hair was clearly visible through her costume! The film's costume designer Walter Plunkett eventually overcame the problem and gleefully announced to the cast and crew, 'It's OK, guys, we've finally got Cyd's crotch licked.' Her stunningly sexy performance as the Louise Brooks-like vamp so impressed producer Arthur Freed that he moved to elevate her to star status. She soon found herself in The Band Wagon the following year and was equally memorable in that. A non-smoker, she had to be taught how to smoke a cigarette for the 'Broadway Ballet' sequence. She never smoked another for the rest of her life.