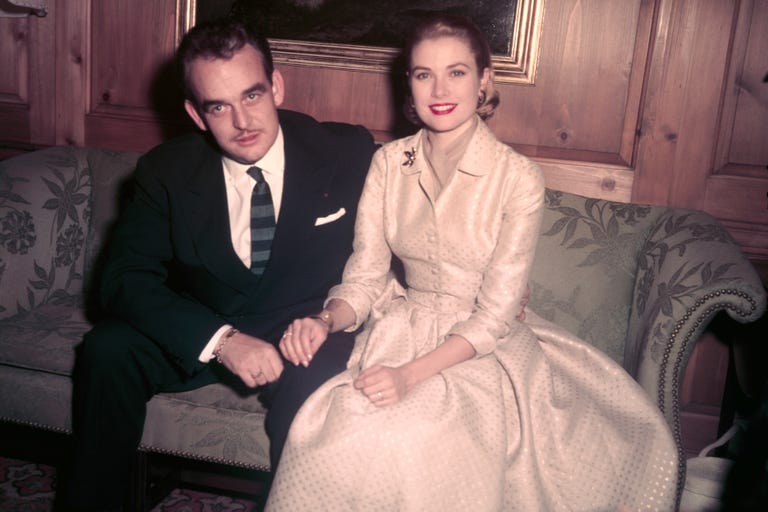 Grace & Prince Rainier
For a while it appeared that 1977's The Turning Point might see Princess Grace of Monaco come out of retirement to star as the ballet dancer who opts for marriage over career. She was on the Board of Directors at 20th Century Fox at that time and fell in love with the script the moment she read it. When she showed it to her husband Prince Rainier, however, he told her he did not want her to go back to work, so she reluctantly had to turn down the opportunity for a Grace Kelly comeback. Indeed, the prince had already banned all her previous films from being shown in Monaco. Former ballet dancer Audrey Hepburn also desperately wanted the part that ultimately went to non-dancer Anne Bancroft, but she missed out as well. She later described the role as the one she most regretted losing in her entire career.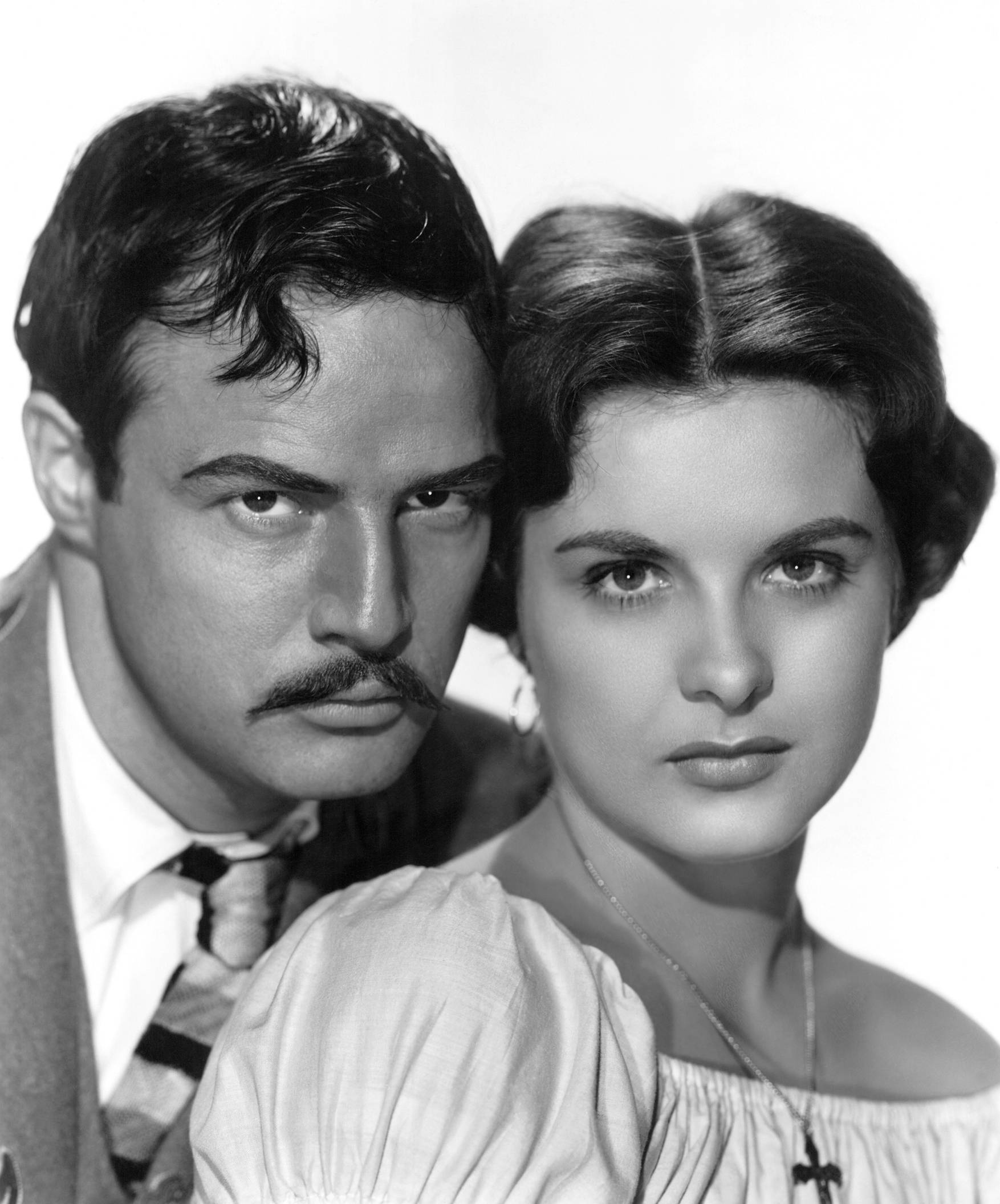 Brando & Jean Peters
There were numerous trivia morsels connected to the 1952 drama Viva Zapata! First, it featured Jean Peters as Zapata's wife. Five years on she would become the wife of billionaire Howard Hughes. Anthony Quinn played Zapata's brother, picking up a Best Supporting Actor Oscar for his efforts. His father-in-law C B DeMille would collect one that same night for his picture The Greatest Show on Earth. Joseph Wiseman was terrific as Fernando. A decade later he would be even better as Dr No in the first Bond film. Alan Reed played Pancho Villa, but his voice would become instantly recognisable around the world in the sixties as that of cartoon star Fred Flintstone. Frank Silvera is almost unrecognisable as the bald-headed, evil Huerta, a far different look from his terrific Mexican bandit in Hombre (1967), and Frank DeKova (Chief Wild Eagle in the TV series F-Troop (1965-7) makes his big screen debut as Colonel Guajardo towards the end of the picture
Amelia Earhart & Paul Mantz 1937                            Mantz crashes making The Flight of the Phoenix (1965)
The B-17 we see crash-landing at the start of Twelve O'clock High (1949) was not wartime footage. Legendary stunt flier Paul Mantz was paid the record sum (at that time) of $4,500 to pilot the aircraft for the highly dangerous stunt. The crash went off without a hitch and he walked away from the wreckage. Sadly, he would not be so lucky when he died after crashing during the making of The Flight of the Phoenix in 1965. It is probably less well known that Mantz was technical adviser to Amelia Earhart on her first round-the-world flight attempt. Furthermore, she was named as co-respondent in his 1936 divorce.
Julia Roberts & George Clooney
Rumours abounded on the set of Ocean's Eleven (2001) that Julia Roberts and George Clooney were getting along very well. Very well indeed. They were observed 'bumping and grinding' on the dance floor at a cast party and 'smooching' near the set. Then, at a crew auction, George paid $1,000 for a hug and a kiss from her. In an Enquire magazine article in December 2002, their pretend interview of one another only added fuel to the fire, in particular, their continued references to 'Waldo'; clearly their pet name for George's penis!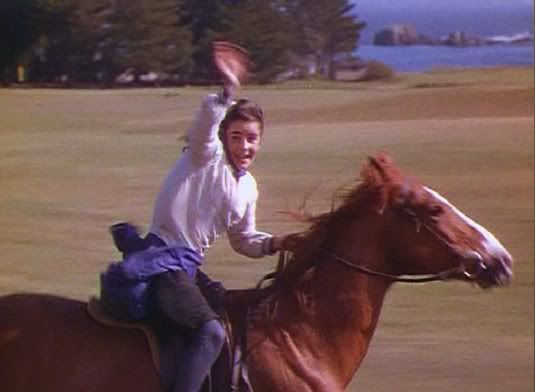 Liz Taylor & 'the Pie' in National Velvet (1944)
Twelve year-old Elizabeth Taylor first saw a horse named King Charles at the Rivera Country Club and fell in love with him on sight. MGM purchased the animal for $800 and he became 'The Pie' in her debut film National Velvet (1944). King Charles was a first cousin to champion thoroughbred Seabiscuit and the mighty Man 'O' War was their grand-sire. At completion of filming the studio gave the horse to its young star and it remained with her until its death.
The one and only Shirley Bassey 'Goldfinger'                                                           The dynamic Tom Jones 'Thunderball'
Few would dispute that the two greatest vocal renditions of all the James Bond them songs have been delivered by Shirley Bassey (Goldfinger in 1964) and Tom Jones (Thunderball in 1965). Coincidentally, both singers hail from the tiny country of Wales. Shirley was born in Cardiff to a Yorkshire mother and a Nigerian seaman father in 1937. Tom arrived in this world in Pontypridd in 1940 to parents of English and Welsh ancestry. Shirley became a Dame Commander of the Order of the British Empire in 2000 and Tom was knighted in 2006. Two worthy recipients it must be said.
Jean Hagen & Debbie Reynolds in Singin' in the Rain (1952)
The wonderful world of 'dubbing' is never more exemplified than in 1952's Singin' in the Rain. In the looping sequence we see Kathy Selden (Debbie Reynolds) dubbing the dialogue for Lina Lamont (Jean Hagen) because Lina's voice is shrill and screechy. However, the beautifully deep, rich voice you hear is not Debbie's, but Jean's real speaking voice! Furthermore, when Debbie is supposedly dubbing Jean's singing in 'Would You', the voice we hear is that of Betty Noyes, not that of Debbie Reynolds. Betty had a far richer singing voice although, in fairness, she only dubs Debbie in that one song. Miss Reynolds did all her own singing in the remainder of the movie.
  Ensign Robert Westfield Beedle (1921-45)
Most of the shipboard scenes in The Bridges at Toko-Ri (1954) were filmed aboard the USS Oriskany, whose number (CV-34) is clearly visible when Lt. Brubaker (William Holden) walks out to the bow prior to flying on a mission. The ship is now an artificial reef at the bottom of the Gulf of Mexico near Pensacola, Florida. Pilots who knew Holden's real life younger brother Robert Beedle described him as very similar in character to Lt. Brubaker. Robert, a naval aviator, was shot down and killed while fighting in the Pacific in 1945.
Mary Astor (C) – L to R – Margaret O'Brien, Janet Leigh, June Allyson & Liz Taylor – Little Women (1949)
Mary Astor was 43 when she played 'Marmee' in the 1949 version of Little Women and made the following observations about Liz Taylor, June Allyson and Margaret Rutherford, the actresses who played her daughters: 'Taylor was engaged and in love, and talking on the telephone most of the time. June Allyson chewed gum constantly and irritatingly, and Maggie O'Brien looked at me as though she were planning something very unpleasant.' Only Janet Leigh was left uncriticised.