Fairbanks and his famous sail stunt in The Black Pirate
The 1926 silent feature The Black Pirate starred Douglas Fairbanks in arguably his most famous role. It certainly contained his most memorable stunt, one that saw him slide down the mainsail using his rapier to slow his descent! In 1952 Errol Flynn was asked to perform the same stunt in Against All Flags, but he wisely handed the task to a stuntman. In fairness to Errol, he was already suffering from liver disease and hepatitis and would be dead before the decade was out. Interestingly, the 1926 film saw Nino Cochise, grandson of the Apache chieftain Cochise, work as an extra. He would do so in four other Hollywood productions as well.
                                 Johnny Depp & his 'Winona Forever' tattoo
Johnny Depp has a history of being a self-injurer. He still has scars up and down his arms from the days when he would cut himself. 'There was no ceremony', he told Talk magazine. 'It wasn't like 'Okay, this just happened, I have to go hack a piece of my flesh off. My body is a journal in a way. It's like what sailors used to do, where every tattoo meant something, a specific time in your life when you make a mark on yourself, whether you do it yourself with a knife or with a professional tattoo artist.' Uh-huh. His break-up with Winona Ryder resulted in his 'Winona Forever' tattoo being altered to read 'Wino Forever'.
Diane & husband Sean Connery              Mia Sara & Matthew Broderick
According to Diane Cilento, her marriage to Sean Connery failed primarily because he wanted her to give up her acting career, to cease writing her memoirs and to focus her life entirely on being a housewife and mother. Indeed, he made it quite clear that he would give her no more house-keeping money if she insisted on continuing to act. Their son Jason Connery married the beautiful Mia Sara (1996-2002), the actress who portrayed Matthew Broderick's girlfriend in the very funny Ferris Bueller's Day Off (1986).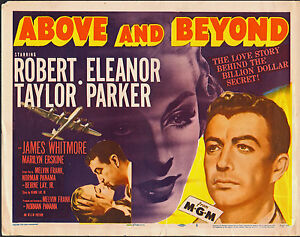 Lt-Col Tibbets (C) after delivering the bomb August 1945 
The 1952 feature Above and Beyond tells the story of the dropping of the atomic bomb on Hiroshima in 1945. It stars Robert Taylor as Lt- Colonel Paul Tibbets, the pilot of Enola Gay, the B-29 that dropped the bomb. Because the story focuses on Tibbets' moral dilemma over delivering the bomb that killed 80,000 people, certain liberties are taken with the facts. We see Tibbets and his crew watch in awe as the bomb detonates, then hear his one word exclamation, 'God!' In reality, Enola Gay turned sharply away as soon as the bomb was dropped and was miles from Hiroshima when it went off. The crew could not possibly have seen its effect on the city; only the mushroom cloud rising in the distance.
Daniel Day-Lewis                     Julia Roberts
While Daniel Day-Lewis and Julia Roberts were taking their time deciding whether or not to co-star in Shakespeare in Love as far back as 1993, they (not surprisingly) fell in lust. Julia flew back and forth to Ireland to be with him and even purchased a cottage for their trysting. The ever secretive Day-Lewis denied everything as usual, but enough people saw them together to leave no doubt that they were lovers. Julia (as always) was smitten, but for Daniel it was simply a fling that he tired of after a few months. Julia was still keen to make the movie, but when he pulled out so did she. Gwyneth Paltrow would get the role as Viola de Lesseps in the 1998 production of Shakespeare in Love, make it her own and snare the Best Actress Oscar for her performance.
Barbara Britton
In 1945 the exquisite Barbara Britton married Dr Eugene Czukor, a naturopathic physician and psychoanalyst 22 years her senior. While making So Proudly We Hail (1943) she had become his patient and love had bloomed. Throughout the 50s and 60s she positively radiated beauty and wholesomeness as the Revlon Girl on television across the states, appearing live on The $64,000 Question to present the company's advertisements. Czukor and Barbara remained together until her death from cancer at 59 in 1980.
If true love is ever measured by the number of expensive gifts one person bestows on another, (and let's hope it never is), then Richard Burton would surely qualify for the title of World Champion. The much-publicized baubles he showered on Liz Taylor included a 244-carat South African diamond, the Krupp Diamond, the Duchess of Windsor diamond brooch, the Grand Duchess of Russia Emeralds and the La Peregrina Pearl! Enough already.
Steve McQueen smoked two or three packs of cigarettes every day for most of his adult life. He also inhaled a lot of marijuana pretty much every day. When he contracted the cancer that killed him in 1980 it did not come as a very big surprise to those who knew him, but he never did accept his cigarette smoking was the cause. As far as he was concerned, it was his time as a nineteen year-old aboard a ship loaded with asbestos that was responsible. Perhaps, it was a combination of both.
  Jean Simmons
The 1949 version of The Blue Lagoon was first scheduled to be made in 1939 and to star Michael Redgrave and Margaret Lockwood, but then World War Two intervened. Fiji was chosen as a location for the 1949 production and that in itself posed a problem for the colonial regime. Eighteen year-old Jean Simmons was almost denied admission to the country by Fiji's government. For a while the regime contemplated banning all people under the age of nineteen from entering the islands as a precaution against polio being introduced. Incidentally, Donald Houston (24) won the male lead from 5,000 applicants, 100 of whom auditioned.
Lana Turner was given the choice of scripts for Mogambo and Flame and the Flesh. She read them both and decided the latter was the better of the two. It wasn't. The picture was a non-event, while Ava Gardner grabbed the role in Mogambo and gave one of her most memorable performances. Meanwhile, Flame and the Flesh (1954) co-starred the ill-fated Carlos Thompson and Pier Angeli. Thompson would put a gun to his head in 1990, four years after his wife Lilli Palmer died from cancer. Miss Angeli made no secret of her dread of reaching the age of 40. At 39 she overdosed on barbiturates.