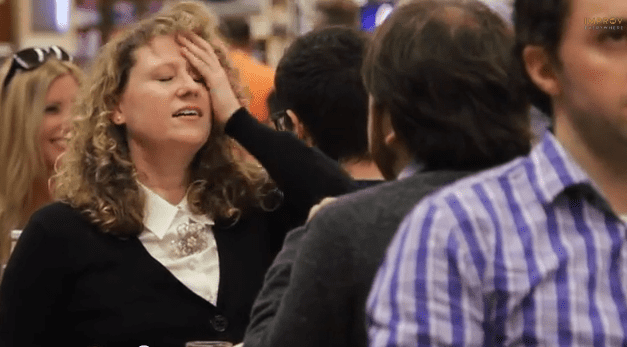 Katz's today                                                                     Meg Ryan and Billy Crystal in When Harry Met Sally…                           a daily occurrence
Katz's Delicatessen in Manhattan's Lower East Side was established in 1888. It gained worldwide fame in 1989's popular feature, When Harry Met Sally, after Sally (Meg Ryan) feigned an orgasm whilst dining there. The current owner claims he has stopped counting the number of times patrons ask: 'Can I have what she's having?' And scarcely a day goes by, he says, without someone faking an orgasm at one of the tables!
The Property Department at every studio deals with paraphernalia separated into three distinct classifications: a) Costumes, b) Props and c) Set Decorations. Determining one from another can be complicated at times, although the general rule of thumb seems to be: If an actor wears a sword but does not actually use it – it is deemed to be 'costume'. If he uses the sword, however, it is suddenly transformed into a 'prop'. If the sword is seen, but neither worn nor used, it is classed as 'set decoration'.
Hepburn & Cooper in Love in the Afternoon
Love in the Afternoon (1957) failed at the box-office, primarily because audiences did not warm to the idea of 56 year-old Gary Cooper being 28 year-old Audrey Hepburn's lover in the picture. Cary Grant had already rejected the role because he felt he was too old and Cooper would have been wise to follow suit, especially considering he had quite recently undergone a full face-lift that had proved largely unsuccessful. To combat the picture's many inferences suggesting Cooper and Hepburn's characters were having sex during their afternoon meetings, Coops was given the extra voiceover line: 'I can't get to first base with her'. But audiences weren't buying it for a minute.
The real shoot-out at the OK Corral in 1881 lasted just 30 seconds, resulted in the deaths of three of the outlaws confronting the Earp brothers and Doc Holliday, and was accurately re-enacted in Tombstone (1993) and in Wyatt Earp (1994). In Gunfight at the OK Corral (1957), however, the gunfight lasted about five minutes and was quite a bloodbath. In My Darling Clementine (1946), even more liberties were taken with the truth as it dragged on interminably. The anti-Earp element in Tombstone erected the above headstone, leaving no doubt about their interpretation of the gunfight.
  Ginger & Lela Rogers
Director/screenwriter Clifford Odets was staggered to learn that the actor chosen to play the 19 year-old lead character in None but the Lonely Heart (1944) was to be 40 year-old Cary Grant! The actor himself felt he was grossly miscast yet, to his amazement, he would be (unsuccessfully) nominated for a Best Actor Oscar for his performance. The abominable Lela Rogers (mother of Ginger) made it her business to denounce the film's script to the House Un-American Activities Committee (HUAC), describing it as 'a perfect example of the propaganda that Communists like to inject'. She cited the following innocuous line, spoken by Grant's character to his mother, as a prime example of Red propaganda: 'You're not going to get me to work here and squeeze pennies out of little people who are poorer than I am'. Lela was a paranoid right-winger. Her daughter Ginger, incidentally, was not even in the movie.
Darkest Hour (2017) is the latest Winston Churchill biopic, this one beginning with his return to power at the start of World War Two and ending with his 'we will fight them on the beaches…' speech to parliament in May 1940. Although the man did venture out into public at times to gauge the wartime attitude of the British public, there is no proof that he ever boarded an Underground train to chat with a cross-section of the community about it, as this film would have us believe. The cross-section, by the way, consists of a number of women, a child and a black man, all very politically correct but highly unlikely. The wonderful closing line uttered by Lord Halifax: 'He has just mobilised the English language and sent it into battle', was actually coined by Edward R. Murrow in 1954! Churchill never said it at all.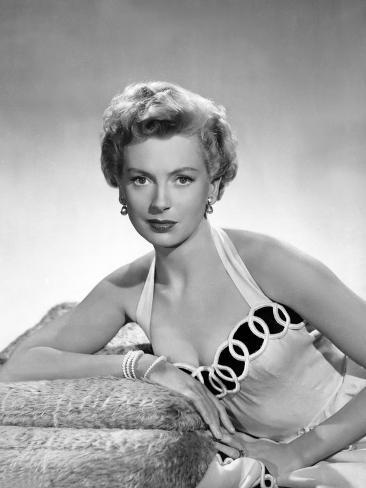 Deborah Kerr circa 1953                                            1993 – Deborah receives her Honorary Oscar
The delightful and vivacious Deborah Kerr died a miserable death from Parkinson's disease in 2007 at the age of 86. For those final few tragic years, her voice was so weak she could only utter a simple 'yes' or 'no'. Her misery was increased in 2004 when her beloved 78 year-old brother Teddy was murdered in a 'road rage' accident in Birmingham. Three weeks after her passing, Deborah's husband of 47 years Peter Viertel joined her in death.
Dana at the peak of her beauty              with her attorney/playboy husband Greg Bautzer
Lovely Dana Wynter (she always pronounced her Christian name 'Donna') was not born in England as we might suppose. Her birth name was Dagmar Winter and she entered this world from Berlin, Germany. Her father took the family to live in Rhodesia after WW2, but by 1956 she was living and working in Hollywood where she met and married hot-shot divorce lawyer and ladies' man Greg Bautzer. They divorced in 1981. This great beauty, once known as Hollywood's 'oasis of elegance', passed away in 2011 aged 79.
Robert Wagner & Janet Leigh in Prince Valiant             Shirley Eaton with Sean Connery in Goldfinger
Prince Valiant (1954) features Robert Wagner and Janet Leigh in the lead roles. Wagner had enormous problems with the ridiculous wig he was required to wear as the title character. On one occasion Dean Martin passed by on the set and mistook him for Jane Wyman! Although the story is set in the Middle Ages, all the women appear to be wearing the notorious 'torpedo bras' of the 1950s. The picture was mostly shot in England where Miss Leigh's stand-in was an unknown teenager named Shirley Eaton. Nine years later she would be painted gold in the third James Bond film Goldfinger.
                                                     Gloria Grahame & Mitchum in Macao                             Gloria with husband Nicholas Ray
The set of the 1952 feature Macao was anything but a happy one. Gloria Grahame had wanted to be released from the picture to make A Place in the Sun, but her boss Howard Hughes would have none of it. Years later she claimed to have intentionally over-acted out of sheer hatred for him. The initial director Josef von Sternberg was detested by cast and crew, especially by the two leads Jane Russell and Robert Mitchum. He rejoiced in insulting them in front of everyone on a daily basis. Eventually, he was replaced by Nicholas Ray who just happened to be the husband of Miss Grahame, and they were in the throes of a messy divorce! Little wonder the film does not really work.