If you have been following my WAMPAS Baby Stars posts since the first one (1923), you will have noticed that there was no article for 1930. In fact, there was no presentation by the Western Association of Motion Pictures Advertisers that year and in 1933 because independent studios objected to the rules regarding the awards. Only the major studios' contracted actresses were eligible to become WAMPAS Baby Stars, not those contracted by the 'minnows'. The awards would return for their swan-song in 1935, after which the association disbanded. In 1931, however, they were briefly back in vogue and the following 13 young ladies were selected:
Joan Blondell (1906-79)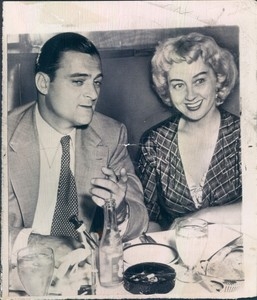 Joan & Dick Powell                        and with Mike Todd
Blonde, blue-eyed and buxom Joan was always going to make it in the movies. Born to a vaudeville father, she was on the circuit from the age of three, joined a stock company at 17, and made her New York debut with the Ziegfeld Follies.  In 1927 she was raped by a policeman who threatened to kill her if she reported it. For decades she kept the secret until she published it in her memoirs. She and Jimmy Cagney co-starred on Broadway in 'Penny Arcade' until Warner Bros decided to use them in the movie version (retitled Sinner's Holiday) in 1930. It was a hit and shot Cagney to stardom. Joan, on the other hand, became cast as the perennial 'good-time girl' or best friend of the lead. She wed Dick Powell and later entrepreneur Mike Todd, but neither union lasted. Todd was an inveterate high stakes gambler (bridge was his obsession) and he squandered Joan's entire life's earnings before they divorced. Leukemia claimed her in 1979.
  with her husband Benn Levy
Constance Cummings (1910-2005)
Constance left her native America for England at the age of 24, spending the remainder of her long life in that country performing in films and on stage. She only made 20 screen appearances in Hollywood and never really felt comfortable there. In 1974 she was awarded a CBE in the Queen's Honours List for her services to drama. She was married for 40 years to director/writer Benn Levy.
Frances Dade (1910-68)            with Bela Lugosi in Dracula (1931)
Early in her short career Frances was known as Lorelei Lee. Although she only appeared in 14 films over five years, she managed to snatch a glimmer of immortality playing Lucy Weston in Bela Lugosi's classic Dracula in 1931. A still of him hovering over her prostrate body has etched itself in horror movie history. In the early thirties she retired from acting, married a wealthy socialite and eventually moved back to her home town Philadelphia. She spent the remainder of her life as a nurse, passing away at 57 in 1968.
Frances Dee (1909 – 2004)          Mr. & Mrs. Joel McCrea
One of the most beautiful actresses ever to grace the screen, Frances Dee began as an extra (for a lark), and was soon in demand for more prominent roles. She met Joel McCrea when they made The Silver Cord in 1933. They fell in love, married, and remained together for 57 years until Joel's death in 1990. Frances had happily given up acting back in the fifties. Still farther back, in 1939, director George Cukor had wanted her to play Melanie in Gone with the Wind, but David O. Selznick vetoed the idea because he felt she looked too much like Vivien Leigh who was cast to play Scarlett O'Hara. He was right, too. Olivia de Havilland got the part instead. In the 1970s Frances and Joel's wealth was estimated at somewhere between 50 and 100 million dollars!
Sidney Fox (1907-42)
Carl Laemmle – Jr & Sr
Little Sidney Fox (she was just 4'10" or 1.47m) starred opposite Bette Davis in The Bad Sister (1931). It was a strange piece of casting; the sweet and innocent Sidney playing the scheming, waspish sister, while the tougher Bette portrayed her timid sibling. A year later she surprisingly earned top billing over Bela Lugosi in Murders in the Rue Morgue, but her performance was somewhat melodramatic. Her limited acting ability was not helped by her rather headline-grabbing private life. Her romance with Universal general manager Carl Laemmle Jr was well-publicized, but rumors of a simultaneous affair with his father, the studio's mogul, were rife and severely damaged her reputation. An unhappy and abusive marriage led to illness and depression, which in turn led to her probable suicide at 34. On November 14, 1942 Sidney's husband discovered her body in their bedroom. She had succumbed to an overdose of sleeping pills, probably intentional, possibly accidental.
Rochelle Hudson (1916 – 72)
in Rebel Without a Cause (1955)
Pretty Rochelle Hudson was just fifteen when she played her first romantic lead in 1931, so RKO tacked two years onto her age to avoid a public outcry. Interestingly, prior to America's entry into the Second World War, Rochelle and one of her four husbands, Harold Thompson, posed as vacationers and spied on German activity in Mexico. She played Shirley Temple's older sister in Curly Top (1935) and Natalie Wood's mother in Rebel without a Cause (1955). At 55 her body was discovered sprawled in her bathroom. She had died of pneumonia brought on by a liver complaint.
Anita Louise (1915 – 70)
in 'My Friend Flicka'
as beautiful as ever
Anita Louise's great beauty compelled her to always be playing ingénue roles – girlfriends, sisters and daughters – and this pigeon-holing grated on her. She became a star in Warner Bros costume dramas throughout the thirties, but the big starring roles always seemed to elude her. Fifties fans of the CBS TV series My Friend Flicka would recall her portraying the mother, Nell McLaughlin. She died from a stroke at the age of 55.
Joan Marsh (1914 – 2000)
Charles Rosher
Joan chalked up 66 screen credits, none of which was memorable except for a couple she made as a child alongside Mary Pickford. For what it is worth, as an adult Joan was reputed to have the tiniest feet in Hollywood history – size 2AAA. Rather sadly, that is about the extent of her fame, unless you count the fact that she was the daughter of Charles Rosher, Hollywood's first ever full-time cinematographer and Pickford's favorite cameraman. Charles had the ability to photograph her so that she never appeared to age throughout her career. Joan's final film was released in 1944, after which she retired and went into the stationery business at Paper Unlimited.
Marian Marsh (1913 – 2006)
Marian was born Violet Krauth in Trinidad just before the outbreak of the First World War. Her family relocated to Hollywood and she was soon signed by Pathe and began acting under the name of Marilyn Morgan. After appearing in Howard Hughes' Hell's Angels (1930) and Eddie Cantor's Whoopee! (1930), she again changed her name, this time to Marian Marsh. Her ability to project warmth and sincerity saw John Barrymore select her to be his Trilby O'Farrell in the 1931 classic Svengali, a role that required her to appear naked (she wore a body-stocking) in one scene. In the 1960s she founded Desert Beautiful, a non-profit, all-volunteer conservation organization.
Karen Morley (1909 – 2003)
Her name is all but forgotten today, but Karen Morley enjoyed a very successful career right up until the time she was called to testify before the House Un-American Activities Committee (HUAC) in 1947 and refused to 'name names' of other left-wingers she knew. In the thirties she had starred opposite many of the big names – with Garbo in Mata Hari (1931), Barrymore in Arsene Lupin (1932) and Harlow in Dinner at Eight (1933). Her career abruptly halted when she was blacklisted, although in the seventies she made occasional guest spots on some TV series. She passed away in her nineties at the Motion Picture Country House in Woodland Hills.
Marion Shilling (1910 – 2004)
Marion enjoyed a career, mostly in B-westerns and crime melodramas, that lasted just 7 years and forty or so movies. She often played opposite western stars Buck Jones, Rex Bell, Hoot Gibson, Tim McCoy and Guinn 'Big Boy' Williams. By the time she retired from the screen in 1936, to marry a real estate mogul, she had developed into a fine horsewoman. Her only marriage lasted over 60 years until her husband's death in 1998.
Barbara Weeks (1913 – 2003)
Barbara was one of those actresses who refused to play the 'casting couch' game and it cost her. She was under contract to Florenz Ziegfeld Jr when he died and her contract was sold to Samuel Goldwyn in 1932. 'Ziegfeld died and Goldwyn tried to get into my pants', she recalled. 'I outran the old man, and was sold down the river to Columbia. Everything you've heard about Harry Cohn [studio boss at Columbia] is the truth, take my word for it! He was a horrible man and so crude. He had no manners, no education, no anything. He was a terrible womanizer. That old buzzard tried me, and when he was rebuffed, he put me in westerns! He thought it was punishment, but I loved it! I loved making westerns. They were so much fun. The outdoors, everything about them.'
Barbara seemed to enjoy the indoors as well, often seen being squired around town by the likes of Gary Cooper and Clark Gable, to name just two of her many beaus. She attended parties at Pickfair, the estate of Doug Fairbanks and Mary Pickford, and often spent invited weekends at San Simeon with William Randolph Hearst and his mistress Marion Davies. She left acting in 1938 and later worked as a secretary for an aircraft manufacturer.
Judith Wood (1906 – 2002)
Judith Wood's first film was It Pays to Advertise (1931), starring Carole Lombard. In it she was billed under her real name Helen Johnson, but from that time onwards she acted as Judith Wood. After starring in six films that year her career stalled and opportunities virtually dried up overnight. It is uncertain why. She starred as Kitty Packard in the original Broadway production of Dinner at Eight, but the film role went to Jean Harlow. Judith's last role was an uncredited bit in The Asphalt Jungle in 1950.