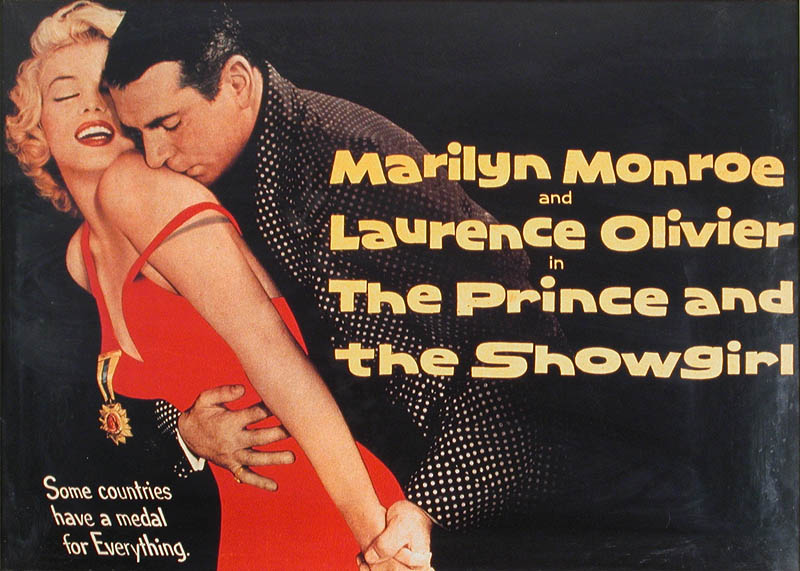 PRINCE AND THE SHOWGIRL, THE (1957)                                                                
This was the first film produced by Marilyn Monroe's own company. It made a slight profit, but God only knows how because it is as dull as dish water. Laurence Olivier was already contracted to play the lead before Marilyn came on board, so she was stuck with him. And he with her. It was anything but a happy pairing. There were problems everywhere, most of which were the fault of the erratic Marilyn. Indeed, she looks as lovely in this movie as in anything else she ever did but, by most accounts, she was an abomination to work with.
Olivier & Marilyn
MM & Jean Kent
and with Richard Wattis
Olivier directed and, according to actress Jean Kent, his difficulties with his leading lady 'caused him to age 15 years'. The normally placid photographer Jack Cardiff also struggled to get along with MM. He recalled how Olivier regularly referred to her as 'the bitch'. Support player Richard Wattis had a lot of scenes with her and again, according to Miss Kent, he took to drinking 'because takes had to be done so many times.' Kent complained that Marilyn was regularly late to arrive on the set and often 'appeared dirty and disheveled.' She never said a line the same way twice, seemed completely unable to hit her marks on the set, and would not make a move without first consulting her ever-present acting coach Paula Strasberg. When Olivier ordered Strasberg off the set at one point, Marilyn refused to continue until her mentor was restored. The final straw came when an exasperated Olivier threw his hands in the air and ordered his leading lady to 'try and be sexy'. She never forgave him for the remark. Donald Sinden bore mixed feelings for her. 'Of course, as a sex symbol she was stunning', he said, 'but sadly, she must be one of the silliest women I have ever met.'
her ever-present coach Paula Strasberg
Mr & Mrs Arthur Miller
The cast and crew of The Prince and the Showgirl may not have been aware of it at the time, but Marilyn was quite ill throughout the shoot. She was suffering from various illnesses that caused severe amounts of water retention and affected her dress size at different times. As a result four different versions of her white gown had to be made available. She was also pregnant to husband Arthur Miller and actually suffered a miscarriage during filming. Whatever her genuine and imagined problems, the fact still remains that this picture is a bore. It has no charm and there exists not a spark of chemistry between the two stars, nothing whatsoever that even faintly suggests they care for each other at all. It has just one thing going for it, and that is the sheer beauty of its leading lady. Her personality and girlish charm are all that make the picture barely watchable. As for Olivier, well, he is about as exciting as a dressage event, but nowhere near as appealing or attractive as the horses. And as for that irritating Teutonic accent…!
MY WEEK WITH MARILYN (2011)                      
In 2011, Simon Curtis directed My Week with Marilyn, a feature that looked at the making of The Prince and the Showgirl, in particular the leading lady's difficulties making the picture and her reliance on a young third director named Colin Clark. According to Mr. Clark she developed an attachment for him that bordered on intimacy. At times it is a very moving film, one that helps us understand how fragile Marilyn's mind-set was and how insecure she felt in the profession she had chosen for herself. The wonderful actress Michelle Williams is quite remarkable as Marilyn and thoroughly deserved her Oscar nomination. She, too, is a beautiful woman, but would probably be the first to admit that she could not hold a candle to the real Marilyn.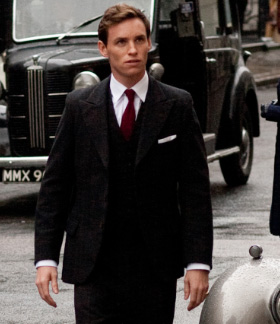 the real Colin Clark                                      as portrayed by Eddie Redmayne
I suppose I feel about Marilyn Monroe the way most of her male fans do. Colin Clark would have us believe he, too, was captivated by her sweetness and vulnerability. He wanted to love her and to help her, he says, but she was beyond salvation by him or anyone else. She was aboard the fame train and riding it to the end of the line, whatever the outcome. However, we have only his word for what occurred between Marilyn and himself. And there must surely be doubts about that because his own words cast them. After seeing her on the set for the first time he wrote the following description of the world's number one love goddess: 'Nasty complexion, a lot of facial hair, shapeless figure and, when the glasses came off, a very vague look in her eye. No wonder she is so insecure.' These are scarcely the words of one who would later confess to being 'captivated by her beauty' if we are to take My Week with Marilyn at face value.
the wonderful Michelle Williams
Unfortunately, there is no-one to verify any of Clark's recollections regarding what happened when he and Marilyn were alone. All we have is the man's diary. The sequence in which she takes too many pills, locks herself in her room, then asks for him to come see her, does not ring quite true to me. He claims he climbed through her bedroom window, lay down beside the incoherent woman and proceeded to tell her he loved her. And that is all that happened – or so he says. As for Marilyn, she later stated she could not recall anything from that night. She was too out of it. The worrying aspect of the story is his assertions that he felt compelled to protect and 'save' her. Somehow, recording details of their intimacy and Marilyn's indiscretions (she was, after all, married at the time), then writing a book about it, does not strike me as being overly protective, especially since the lady under discussion was no longer alive to refute any of it.
Watching this film I cannot keep from thinking about Marilyn's tragic life and death. Just a half a dozen years after making The Prince and the Showgirl she was no more. Still beautiful – but dead at 36. She never did find true happiness. It seems to me that her entire life was one long search for the right man, yet her desire for fame and recognition as an actress more or less ensured she only ever met the wrong ones. She used them as a comforting shoulder to lean on for temporary security. If that sometimes involved having sex with them – so be it. Marilyn wanted love and security. Her men wanted her physically. Clark, in my opinion, was just another in a long line who professed a desire to help her, but ultimately exploited her. In the end she had even less idea of how to achieve her contentment goals than when she started.