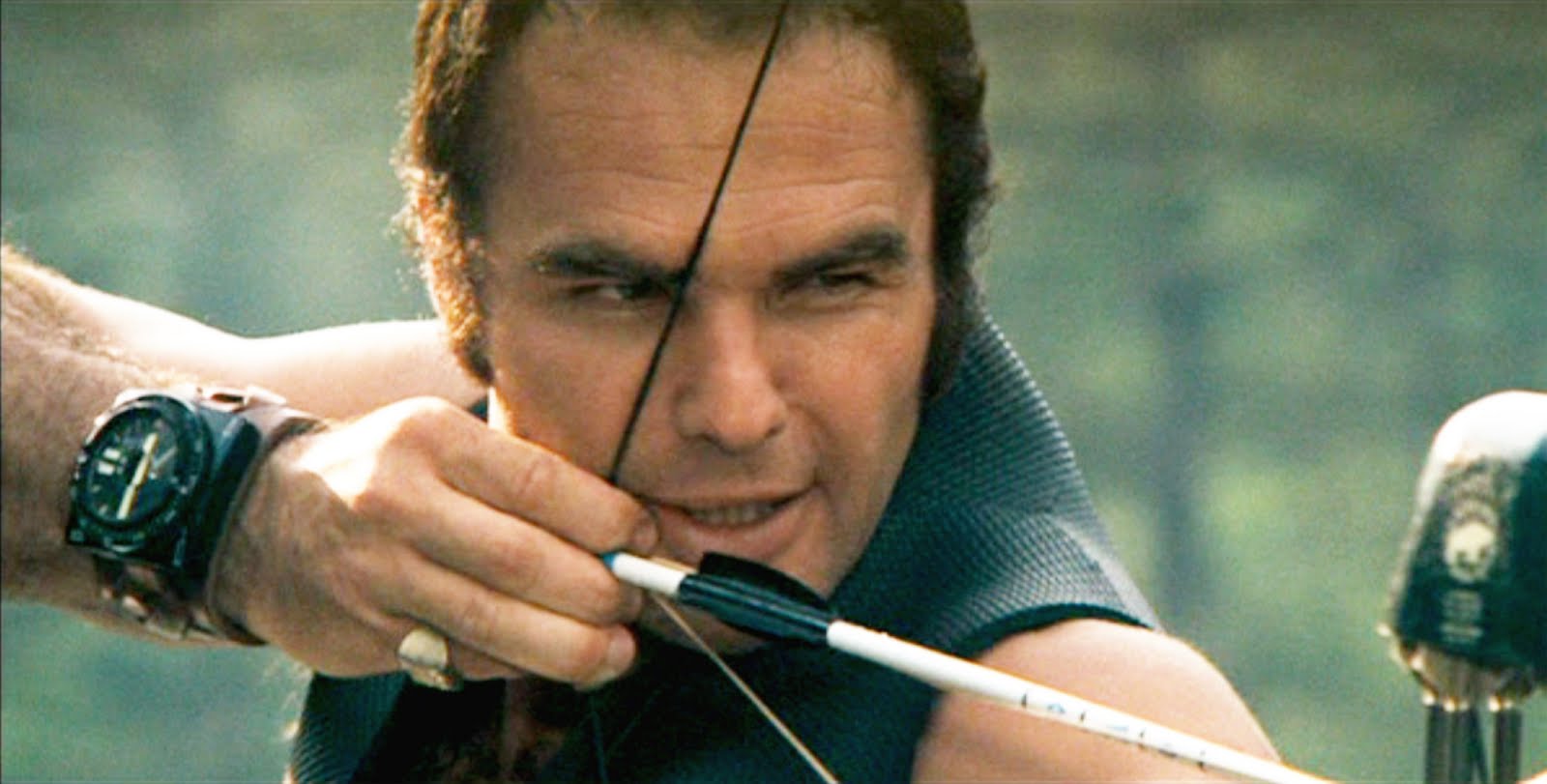 Burt Reynolds at the top of his game
After marriage to Judy Carne of Laugh-In fame, Burt Reynolds enjoyed relationships with the much older Dinah Shore, and then with actress Inger Stevens until shortly before her suicide in 1970. Out of respect for Miss Stevens he has always refused to talk about their romance. 'One of the greatest ladies I ever knew was Dinah Shore', he readily admitted, 'and she taught me right away if you can't laugh at yourself, you have no business in this business. If I have any class – and that's probably debatable – it's due to Dinah.'
Judy Carne in Laugh-In
Burt and singer Dinah Shore
Inger Stevens
Other relationships include actresses Faye Dunaway, Mamie van Doren and Sarah Miles, singers Doris Day and Tammy Wynette, and tennis star Chris Evert. He and his Smokey and the Bandit co-star Sally Field were also together for a number of years. 'You know, I never told Sally that I loved her', he admitted long after they parted. 'I should have done that'. He did, however, unsuccessfully propose to her on several occasions. He was astonished to learn that their Smokey and the Bandit was Alfred Hitchcock's all-time favourite movie!
with Sally Field
When Loni Anderson was a teenager, her mother developed a crush on Burt Reynolds, describing him as the kind of guy her daughter should marry. 'When I was 14 my measurements were 37D – 20 – 32', Loni recalled. She would take these assets with her to Hollywood where, in 1983, she would meet Burt on the set of Stroker Ace. Their tempestuous marriage would end acrimoniously six years later. Neither party emerged from the fracas with reputation intact. 'I am a real woman with a real heart', she told an interviewer, 'and I have to live with a beautiful body and a pretty face which is not nearly as easy as it sounds.' Evidently, it was not too easy for Burt to live with either. 'I'm paying the third highest alimony and child support in the world', he stated. 'And the only two ahead of me are sheiks.'  
Burt & Loni's wedding day
Throughout his career Reynolds turned down some mighty important roles. He says he was offered the Jack Nicholson role in Terms of Endearment, Bruce Willis's role in Die Hard and that of Han Solo in Star Wars. Cubby Broccoli even asked him to play James Bond after Sean Connery quit the role. Burt declined because he thought it ludicrous that an American should be asked to play the British super-spy.                                                                                                                         
Chevrolet offered him a free Camaro every year for the rest of his life because of his enormously successful Smokey and the Bandit films that had increased sales of the vehicle by 500%! After five years the company had second thoughts and reneged on the deal.
the Trans Am from Smokey & the Bandit
Burt will turn 80 in February 2016. If not for a knee injury and a car accident in his youth, there is every chance that he would never have been involved in the movies at all, for he was a highly promising grid-iron player who represented Florida State University, became an All Star Southern Conference half-back, and was earmarked by the Baltimore Colts.
His acting career kicked off with smallish parts in some TV shows such as Gunsmoke and Riverboat, and stints (usually as half-breed Indians) in a lot of westerns. 'The only Indian I haven't played is Pocahontas', he said. In 1972, just after completing filming on Deliverance, the picture that would make him an A-Grade star, Reynolds was asked by the editor of Cosmopolitan Magazine, Helen Gurley-Brown, if he would care to be the first ever male centrefold in her publication. She had already been refused by Paul Newman, but this she did not bother to tell Burt. He was flattered, he said, (and a little tipsy), so he agreed to do it.
the early TV years
The photographer took hundreds of shots of a naked Reynolds, each one showing him stretched out on a bearskin rug, his genitals obscured by any number of objects or his arm. One and a half million copies sold out very quickly as women all across America (and the world) bought a copy expecting to see the actor stark naked. Whichever way you look at it the entire exercise was a rip-off, but it made Burt Reynolds one of the most famous men on the planet.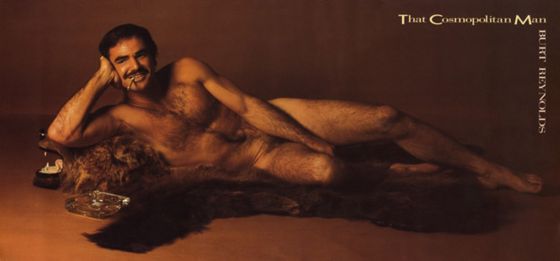 Then, Deliverance (1972) came out and he was suddenly number one at the box-office as well. He was fortunate indeed that the producers' first choices for the lead, Marlon Brando, Henry Fonda and James Stewart, all reneged on account of the dangerous reputation of the Chattooga River, the location for much of the filming. Incidentally, the author of Deliverance, a writer/actor named James Dickey, has the small but pivotal role of Sheriff Bullard in the picture. Reynolds had no time for him. 'He's the kind of man that, after he has had 4 martinis, makes you want to drop a grenade down his throat.'
Deliverance author James Dickey
a still from Deliverance
We tend to forget just how popular Burt Reynolds was with movie-goers. Between the years of 1978-1982 he was the top money-making star at the box-office in Quigley Publications' annual poll, thus equalling the record set by Bing Crosby from 1944-1948. No-one else has topped the poll in five consecutive years. Reynolds was also People's Choice Award's winner for a record six consecutive years of America's Favourite All Around Motion Picture Actor.
Boogie Nights
Late in his career he was Oscar-nominated for his performance in Boogie Nights (1997), a movie he kept turning down until, finally, he decided to take a chance with it. In 1996 he had filed for bankruptcy, citing $4.5 million in liabilities, so he really had little to lose except the remnants of his career and what remained of his reputation. He failed to win the Academy Award, but the nomination alone did much to restore his career and self-esteem. 'My being nominated this year is no comeback story', he told reporters, 'because I simply refused to go away.'
with his pal James Best (R) in a scene from Hooper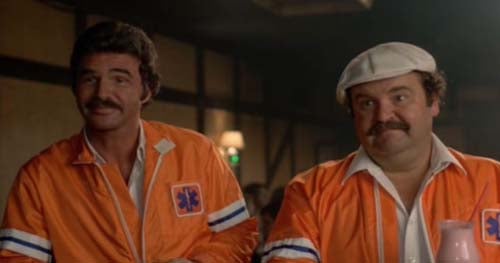 with another great pal Dom DeLuise
and another, Ossie Davis
Over his long career Burt Reynolds has made many friends who have stuck by him through thick and thin. Several are no longer with us. At the head of the list are character actors Ossie Davis and James Best, comedian Dom DeLuise, singer Willie Nelson, night show host Johnny Carson and director Clint Eastwood. He was also close to the late Elizabeth Taylor. His longevity is probably best summed up in his own words: 'I regret that I do not have the dignity of Ricardo Montalban, the class of Dean Martin, or the humour of Bill Cosby. I do have the heart of a lion.'