RJ & Natalie, marriage #1
'RJ', as Robert Wagner is known to most of his friends, was always destined to end up acting. As a boy he attended schools and Military Colleges with the offspring of movie stars and other celebrities. These included Charlie Chaplin's son Sydney, Irving Thalberg Junior, Edgar Rice Burroughs' son, Fred Astaire's step-son, and others. His first official date was with Alan Ladd's daughter Carol, followed by Harold Lloyd's daughter Gloria, and Melinda, the daughter of Joan Bennett. Gloria Swanson's daughter Michelle was another girl he dated as a teenager. At a pool party he met Roddy McDowall and through him the young Liz Taylor, all this before he managed to gain a toehold in the industry. On one occasion, while hitching on Sunset Boulevard, he scored a lift in the rain from none other than Errol Flynn. He also caddied for actors at the local country club. Throw in his matinee idol looks and it was only a matter of time before Hollywood came calling.
Once he began to be noticed as an actor (and a teenage heart-throb) women became available in numbers. Joan Crawford, whom he had never met before, asked him at a cocktail party to follow her home for a swim in her pool. She soon appeared stark naked and dived in. Things developed from there as she had expected. He later described her as a 'dynamic lover' and a 'memorable one-night stand'.
Joan Crawford
After completing The Pink Panther in 1963 his career stalled for some reason. A tongue in cheek espionage series on TV in 1968 kick-started it again. It Takes a Thief enjoyed a successful three season run, and led to several tele-movies and other series such as Colditz, Switch and the mini-series Pearl in 1978. However, it was his next series, Hart to Hart (1979-84) that brought him international popularity on a large scale.
in his hit TV series It Takes a Thief
with co-star Stephanie Powers in 
Hart to Hart
In 1985 he commenced a new series called Lime Street, but after just 8 episodes it was cancelled when his co-star, Samantha Smith, was killed in a plane crash. She had first come to prominence in 1983 when, as a 10 year-old, she wrote a letter to Soviet Premier Yuri Andropov. It read:
Samantha Smith & her letter 1983
'Dear Mr. Andropov,
My name is Samantha Smith. I am ten years old. Congratulations on your new job. I have been worrying about Russia and the United States getting into a nuclear war. Are you going to vote to have a war or not? If you aren't please tell me how you are going to help to not have a war. This question you do not have to answer, but I would like to know why you want to conquer the world or at least our country. God made the world for us to live together in peace and not to fight.
Sincerely,
Samantha Smith
Soviet Premier Yuri Andropov
Andropov replied, telling her it was not his intention to have a war, and inviting her and the Smith family to the USSR for a special tour. Overnight, Samantha was world famous. She was articulate and smart, although seemingly being used as a political football by both the USSR and the USA. Even so, she spent the next two years as a Goodwill Ambassador for the United States, speaking to groups around the world, some as far away as Japan. Tragically, in August 1985, the small plane in which she was traveling with her father crashed in Maine, and both were killed. She was returning from filming a segment for Lime Street. Over 1,000 people attended her funeral, among them her Lime Street co-star Bob Wagner.
RJ & Natalie the second time around
Natalie & little sister Lana
The Bond girls in Diamonds Are Forever
Jill St John as Tiffany Case                                        Lana Wood as Plenty O'Toole
Ever since Wagner's wife Natalie Wood was drowned off the coast of Catalina Island 1981, he has been estranged from his sister-in-law, Lana Wood, and all the family on Natalie's side. Mostly, this stems from Lana indicating in printed publications that she believes he probably played a role in her sister's death. Also, Bob's current wife, actress Jill St John, has had a running feud with Lana since they starred together in the James Bond film Diamonds Are Forever in 1971. Evidently, both women were dating Sean Connery at the same time, hence the animosity. A Vanity Fair cover shoot in 2001, featuring all the living Bond girls past and present, erupted into a furious argument between Lana and Jill, causing the shoot to be abandoned.
RJ & Stanwyck in Titanic (1953)
There has been no shortage of beautiful women in Robert Wagner's life, but three stand out above all the others – Natalie Wood, Jill St John and Barbara Stanwyck. He described his four-year affair with Miss Stanwyck as giving him 'a broader outlook that went beyond the movie business. Barbara gave me love and added a different direction to my life. She read everything, she had a fine appreciation of art and music and life.' When their affair began Bob was 22 and Barbara 45. Evidently, as she approached 50 Miss Stanwyck realized it could go nowhere, so she reluctantly ended it.
Wagner and Wood aboard their boat Splendour
'Natalie was just an incredible force in my life', he said. 'It's rare to be in perfect sync with another human being, and that's what we had. But we were also very young, and it ended, and then years later we discovered each other again at a totally different stage of life. That time, it was even better because it was so unexpected. Because we were older and more experienced it was deeper and truer. Jill came into my life after Natalie died and held me up. I was ripped wide open and she healed me in every way. I don't believe I would be alive today if it wasn't for her.'
Others he wooed over the 60 years he has been making movies include Elizabeth Taylor. 'Some beautiful women are passive in the bedroom', he said. 'Elizabeth was not one of those women. Apart from Crawford there were plenty of memorable 'one-night stands'. Yvonne de Carlo was one. So was Anita Ekberg. Other brief relationships included trysts with Marilyn Monroe, Susan Hayward, Joan Collins, Senta Berger, Anna Maria Alberghetti and Shirley Anne Field. Longer romances involved Debbie Reynolds, Terry Moore, Debra Paget, Jean Peters, Rita Moreno and Tina Sinatra. All in all it has been an interesting ride. At 86 years of age (February 2016), Wagner is still working, his 25 year marriage to Miss St John is regarded as one of the happiest. In 2011, police briefly re-opened the investigation into Natalie's death 30 years before, following new information from the captain of the Splendour and a deposition from a woman on another vessel nearby that night. I shall write about that shortly.
RJ with Spencer Tracy in Broken Lance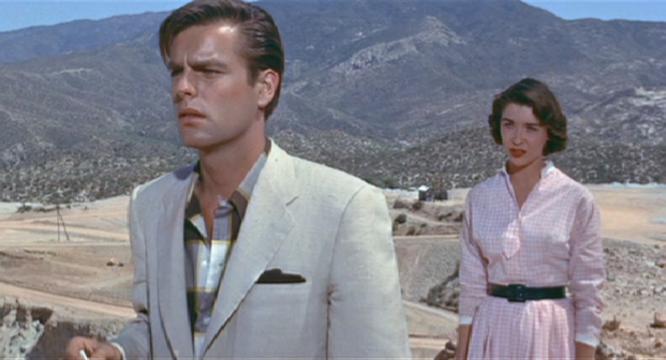 with Virginia Leith in A Kiss Before Dying
with Bob Mitchum (L) in The Hunters
On looking through my movie collection I am a little surprised to find no fewer than nine Wagner films. Of the nine, I really enjoy Broken Lance (1954), A Kiss Before Dying (1956) and The Hunters (1958). I watch the 1953 version of Titanic through different eyes than before, now that I am aware of the romance with Barbara Stanwyck that commenced during the making of that picture. All in all it would be fair to say that Robert Wagner nearly always delivered value for money. He had the looks, the charisma and the voice. And he could act.