When James Jones wrote his best-seller From Here to Eternity, he based it on his own experiences in the US Army on Hawaii just prior to the Pearl Harbor bombing. The original manuscript contained extensive use of the word 'fuck', which made it totally unacceptable to the Catholic group called The National Organization for Decent Literature, who blacklisted it and brought considerable pressure to bear on bookstores America-wide. Not only was it chock full of expletives, but From Here to Eternity also contained explicit homosexual scenes and dialogue which caused the hierarchy of the NODL to almost suffer group apoplexy as they moved Heaven and Earth to have it banned and/or censored. James removed all but 32 mentions of the f-word, but flatly refused to remove all the homosexuality from his book, arguing that 'homosexuality was a natural condition of men in close quarters'. He also felt that this would be 'unfaithful to reality he witnessed.'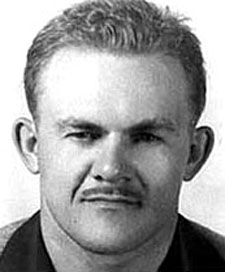 Author James Jones
In his novel, James includes conversations between Privates Robert E Lee Prewitt (played by Montgomery Clift in the Movie) and Angelo Maggio (played by Frank Sinatra), about receiving oral sex from rich men. 'I don't like to be blowed [by a man]', Prewitt tells Maggio, who replies, 'Oh, all right. I admit it's nothing like a woman. But it's something. Besides, old Hal treats me swell. He's always good for a touch when I'm broke. Five bucks. Ten bucks. Comes in handy the middle of the month…Only reason I let Hal blow me is because I got a good thing there.'
Sinatra as Private Angelo Maggio
Clift as Private Robert E Lee Prewitt
There were other issues as well. In the book Lorene (Donna Reed) was not an innocent dancehall girl, paid to 'dance' with servicemen at the club. She was a prostitute catering to service personnel. As for Deborah Kerr's character, Karen, she was sterile because her husband's many infidelities had landed her with a dose of gonorrhea. In the movie she blamed her sterility on a miscarriage. Both Reed and Kerr were cast against type and were excellent. Donna picked up a Best Supporting Actress gong. Deborah (as usual) was nominated and missed out – again. In fact, she would be nominated six times during her career without winning.
Donna Reed as Lorene
Deborah Kerr & Burt Lancaster
Obviously, this kind of activity was never going to appear on the screen in 1953. Nor was the language. When the government 'suggested' that the US Postal Service might refuse to deliver such 'salacious material' to American publishers and bookstores, James had little choice but to remove most of the offending content if he hoped to sell his book to the public and to a studio. He never did think much of the movie because it was 'too sanitized' he said.
Burt Lancaster is terrific in this picture. It, therefore, comes as a surprise to learn that he was quite overawed to be acting alongside a talent such as Montgomery Clift. 'The only time I was really afraid as an actor', he admitted later, 'was that first scene with Clift. It was my scene, understand: I was the sergeant, I gave the orders. He was just a private under me. Well, when we started, I couldn't stop my knees from shaking. I thought they might have to stop because my trembling would show. I was afraid he was going to blow me right off the screen.' He didn't. Lancaster was Sergeant Warden. Both men were nominated for Oscars, but took votes from each other, resulting in William Holden winning the Best Actor statuette for Stalag 17.
Burt & Monty in FHTE
Initially, Sinatra and Clift hit it off on and off the set, but their friendship ended three years later. At one of Frank's parties Ole Blue Eyes watched with revulsion as Monty made homosexual overtures to one of his entourage. Later, he had his bodyguards remove Clift from the premises. Harry Cohn most certainly did not want Monty to play Prewitt because he was, 'no soldier, no boxer, and probably a homosexual', he said. Director Fred Zinnemann refused to make the picture without him. Clift, who could not convincingly punch his way out of a meringue, is 'doubled' in the boxing scene, possibly the worst and most obvious use of a 'double' in the history of movies.
Director Fred Zinnemann
Speaking of Clift (and Lancaster), Burt was offered his first role as Matthew Garth in Red River, the part that ultimately went to Clift and made him a star. Burt had only just signed to make The Killers, so was forced to reject the (arguably) better role. Then again, he got to play opposite the stunning Ava Gardner. Every cloud, it would seem, has a dirty big silver lining! Perhaps, it was for the best anyway. The star of Red River, John Wayne, was a prominent Republican who would later be actively involved in the McCarthy witch hunts. Lancaster was adamantly opposed to them. The two men would most certainly have not got along. Years later Wayne attempted to get Burt to join him in another western. Lancaster dismissed the idea out of hand.
Monty's debut in Red River
Burt's debut (with Ava Gardner) in 
The Killers
Nick Cravat, a short, muscular man with a beard, was Burt Lancaster's circus pal and followed him into the movie business. Nick found it impossible to lose or even disguise his pronounced Brooklyn accent, one that was totally out of place in period pictures such as The Crimson Pirate (1952) and other Lancaster films like The Flame and the Arrow (1950), but the problem was solved by having him portray a deaf mute whenever he appeared on-screen. He would pass away in the same year as Burt – 1994. Lancaster's wife recalled that Nick's devotion to Burt was all-consuming, especially after his friend suffered a severe seizure that put him in hospital until February 1991. Between then and 1994 Cravat visited him at home every day, and usually ended up weeping copiously at his bedside. Mrs Lancaster had to regularly ask him to leave because he was depressing her husband. For those last three years of his life Lancaster was totally incapacitated and unable to speak yet, ironically, he would outlive Cravat by several months.
Burt & his pal Nick in The Crimson Pirate
During the shooting of FHTE Lancaster and Deborah Kerr had an affair off-screen. The delightful Miss Kerr was not the prim and eternally proper woman she usually portrayed on screen. She enjoyed life in a refreshing, open way. When she made Heaven Knows, Mr. Allison, in 1957 with Robert Mitchum, there was a turtle-chasing sequence in which she (playing a Catholic nun) was required to paddle the boat. Director John Huston kept yelling, 'faster, go faster' as she paddled furiously. Suddenly, the paddle snapped in two. 'Is that fucking fast enough?' she screamed. Mitchum and Huston adored her. Everyone did.
Deborah in Heaven Knows Mr. Allison
The famous 'kissing in the surf' scene between Lancaster and Kerr was considered to be 'hot stuff' back in the fifties. Today, it is as tame as dishwater, but back then many projectionists snipped stills from the scene to keep as souvenirs. The Motion Picture Association of America (MPAA) actually banned stills from their beach kiss for being 'too erotic'. The censors insisted that Deborah's bathing costume must have a skirt, to avoid it being too sexually provocative, The beach called Halona Cove, on the eastern side of Oahu, suffered a name change to 'The From Here To Eternity Beach', would you believe?
That kiss. Shocking!
The oft repeated story, enhanced by the fictional script of The Godfather, that Sinatra only got the role of Maggio through pressure being brought to bear by his Mob connections, would appear to be fictitious. In later years Frank's ex-wife Ava Gardner suggested to Columbia boss Harry Cohn that he use Sinatra. She was making a film for Columbia at the time. Frank's career was at rock bottom and Cohn knew it. He also knew he could get the washed up singer/actor for peanuts, so he hired him for a token $8,000. Frank would have done it for nothing, so desperate was he to get back in the game. As history will tell us, he won an Oscar for his performance and never looked back. The story that George Reeves' part was slashed because of his fame as TV's Superman is just not true. Zinnemann stated later that all his scenes in the picture remained intact.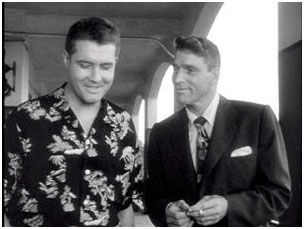 Reeves and Lancaster in FHTE
One final point of interest. Two years after the film was completed, Ernest Borgnine was in the Bronx one evening trying to get a 'feel' for his upcoming role in Marty, when a group of Italian-Americans accosted him, threatening his life because they were incensed that his character in FHTE, Fatso Judson, had killed Frank Sinatra's character. Borgnine managed to convince the group that he and Sinatra were, in reality, very good friends.
Borgnine as Fatso Judson