Saffron Burrows (1972 – ) in Enigma
The statuesque Saffron; she is 6 feet tall (1.83m), played Lorraine Weller in Boston Legal for two seasons (2007-8). She was also Detective Serena Stevens in the 2010 season of Law & Order: Criminal Intent. She was particularly beautiful in the WW2 spy thriller Enigma: Crack the Code (2001). For several years she was in a relationship with fellow British actress Fiona Shaw. Harry Potter fans will recall Shaw playing Aunt Petunia Dursley in five of the features. In 2013, the divine Saffron wed writer/producer Alison Balian and they now have a child. Alison wrote and produced for Ellen: The Ellen DeGeneres Show for several years.
Robert Reed (1932 – 1992)
Today Reed is chiefly remembered for playing Mike Brady in the inordinately popular family sitcom The Brady Bunch back in the late 60s and early 70s (1969-74), but he was also an important player in several other series far better than the schmaltzy rubbish that was The Brady Bunch. His other series included The Defenders, Mannix, Dr Kildare and Rich Man, Poor Man. Interestingly, in one of his final interviews he admitted that he, too, detested The Brady Bunch and his role in it. Reed kept his homosexuality secret all his life. A close friend of his was another gay actor George Maharis, but whether they were lovers has never been established. Reed died from colon cancer and was HIV positive at the time of his demise.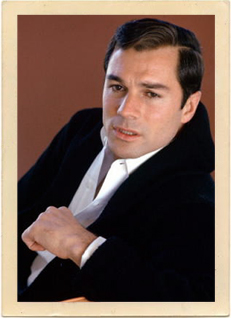 George Maharis (1928 – )
Route 66 (1960 – 63),  developed quite a cult following in the three seasons it lasted, due in no small way to the charismatic appeal of its two leads, especially Maharis who played Buzz Murdock. His clean-cut co-lead was popular Martin Milner, an actor who promised much but never really hit it big. George bared all for a 1970 Playboy centrefold spread, but his career unravelled in 1974 after he was charged with committing a sex act with a hairdresser in the men's room of a Los Angeles gas station. He had previously pleaded guilty to a 'lewd conduct' charge with another man back in 1967. When a former male lover died and George's homosexuality was revealed in the tabloids, 'casting offices stopped calling after that', he said.
Meredith Baxter (1947 – )
For seven years (1982-89), Meredith was known throughout the world as Elyse Keaton, the mother of the massively popular Alex, played by Michael J Fox. Unlike shows such as The Brady Bunch, this sitcom had clever, funny scripts, and is still effective today. Fox's comic timing was exceptional. Meredith had three failed marriages (that produced five children) before she chose to 'come out' as a gay in 2009. In 2013, she married her lover of seven years, Nancy Locke. Her former Family Ties co-star, Michael Gross, toasted the couple at their wedding.
Jim Nabors (1930 – )
For five successful seasons(1964-69), Nabors portrayed the gawkish, bungling, but loveable Gomer, always at loggerheads with Sergeant Carter played by Frank Sutton. The role pretty much pigeon-holed Nabors as a simple-minded bumpkin, but he had another talent – a rich baritone singing voice that saw five of his albums go gold and one platinum. A vicious prank did the rounds while he was at the height of his popularity in the 1970s, stating that he and Rock Hudson had secretly married each other. Nabor's network immediately cancelled his upcoming variety series and his career stalled. Today, he is legally married to a former firefighter, Stan Cadwallader, his partner of 38 years.
DAVID HYDE PIERCE (1959 -)
After tasting only fleeting success as an actor in film and on stage, Pierce auditioned for the role of Dr Niles Crane in the popular sitcom Frasier (1993 – 2004). His strong facial resemblance to Kelsey Grammer helped secure him the part. His acting ability has done the rest. In fact, he was nominated for a Supporting Actor Emmy in a Comedy Series every year the series ran, eleven in all, winning four times. Quite an achievement. In 2008 he married his partner, producer of Titus and Caroline in the City, Brian Hargrove.
DAN BUTLER (1954 -)
Butler appeared in 53 episodes of Frasier playing Bulldog Briscoe. He had small roles in the movies Enemy of the State and The Silence of the lambs, and had been a successful writer for TV and film for some time. Openly gay, he married actor/director Richard Waterhouse in 2010.
Barbara Stanwyck                             in Double Indemnity (1944)
(1907-1990)
Although she was Victoria, the matriarch of the Barkley family on TV's The Big Valley (1965-69), the inimitable Barbara Stanwyck enjoyed a long acting career that far excelled such mundane fare. My favourite performance of hers came in 1944's film noir Double Indemnity (in spite of the abysmal blonde wig she was compelled to wear), a movie I must have watched 40 times already. Her determination to lead a private life, surely a contradiction in terms for a Hollywood movie star, saw her remain tight-lipped about her sexuality, but the lady was clearly bisexual, at least according to those who knew her in the old days when she, Joan Crawford, Tallulah Bankhead and Marjorie Main spent a lot of leisure time in the gay and lesbian haunts of Harlem during the Roaring Twenties. Her marriage to Robert Taylor was almost certainly arranged by the studio to allay accusations of bisexuality directed at both of them.
David Ogden Stiers (1942 – )
I suppose it comes as no great surprise that Stiers is gay. He played Major Charles Winchester in M.A.S.H. (1972-83), in a way that was anything but 'macho', never once showing an interest in a female; unlike his tent-mates who chased anything in a skirt. On his 'coming out' in May 2009, he was most candid: 'I could claim noble reasons as coming out in order to move gay rights forward, but I must admit it was for far more selfish reasons. Now is the time I wish to find someone and I do not desire to force any potential partner to live a life of extreme discretion for me.'
Nick Adams (1931 – 1968)
The Rebel ran for three seasons (1959-61) and 76 episodes, Adams playing the star Johnny Yuma in every one. Although landing a part in Rebel Without a Cause (1955) and an Oscar nomination for 1963's Twilight of Honor, Adam's career failed to go anywhere in the next five years. He befriended James Dean prior to his death, and was linked (some say romantically) with Dean, Elvis Presley and heartthrob Robert Conrad. Everything ended for Adams in 1968 when his body was found slumped against his bedroom wall, dead from an overdose at 36. It was said at the time that his death was an accident, that he was taking the drugs for a nervous disorder. Nothing since then has managed to alter that assessment.