Nigel Hawthorne (1929 – 2001)
The most surprising fact about the superbly written (and acted) Yes, Minister and Yes, Prime Minister is that only 38 episodes in total were made, 22 in the first show and just 16 in the second. Hawthorne was quite brilliant as Sir Humphrey Appleby in both, clearly (in my opinion) the star of both series, but Paul Eddington and Derek Fowlds were both wonderful as well. Just prior to the 1995 Academy Awards, in which he was nominated for his performance in The Madness of King George, a magazine 'outed' Hawthorne as a homosexual. He and partner, writer Trevor Bentham, were together for decades leading up to Sir Nigel's death in 2001.
Tab Hunter (1931 – )
Tab was one of gay agent Henry Willson's stable of young actors. Henry had a penchant for thinking up odd names for his young hopefuls, for example: 'Tab' Hunter, 'Rock' Hudson, 'Dack' Rambo, 'Guy' Madison, 'Ty' Hardin, 'Rory' Calhoun, 'Troy' Donahue, 'Chad' Everett, 'Junior' Durkin and, worst of the lot, the pathetic 'Dare' Harris, later changed to John Derek. Most of Hollywood assumed, because of Willson's flaming homosexuality, that all his charges were also gay, but that was not always so. But in Tab's case it was. This 50s heartthrob with the stupid studio nickname 'The Sigh Guy' was exposed as a gay after an all-male pyjama party. He met his partner, Allan Glaser, in 1983. Tab had a huge pop hit in the fifties with Young Love, the title of the album pictured above. The Tab Hunter Show ran for two seasons (1960-61) over 32 episodes.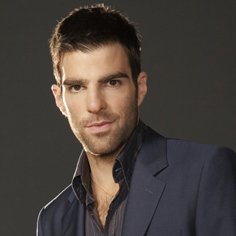 Zachary Quinto (1977 – )
He was so popular portraying Sylar in the series Heroes (2006-10), that his fans call themselves 'Sylar's Army'. In 2013, he became the only person in history to make the cover of Entertainment Weekly two weeks in a row, which is some kind of achievement I suppose. What was significant, however, was the reason behind him 'coming out' as gay on his blog in 2011. He had been deeply moved by the suicide of teenaged gay Jamey Rodemeyer. The 14 year-old hanged himself in September 2011 because of constant bullying by homophobes, and Quinto now believes that simply hiding one's gayness is no longer enough, that only openness about one's sexuality can eventually (hopefully) lead to acceptance from society.
Tommy Kirk (1941 – )
The 14 year-old Tommy Kirk starred as Joe Hardy (with Tim Considine) in all 19 episodes of the popular Disney series The Hardy Boys in 1956, but Walt dropped him like a hot spud a decade later when he discovered the boy was gay. Between 1957 and 1963 Kirk played little Kevin Corcoran's brother in five films: Old Yeller (1957), The Shaggy Dog (1959), Swiss Family Robinson (1960), Bon Voyage! (1962) and Savage Sam (1963). By 1965 it was all over. 'In the 1960s, all my social life was underground gay bars', he recalled. In 1964, he picked up a teenage boy at a public pool, they had sex, and the boy told his parents. They fronted Walt Disney and Kirk's contract was torn up. A real pity, because he had talent and was likeable on-screen.
Sheila James Kuehl (1941 – )
The success of the popular series The Many Loves of Dobie Gillis (1959-63) lay in the choice of cast. Dwayne Hickman was terrific as Dobie, Bob Denver was perfect as the hippie Maynard G. Krebs, and Sheila was Zelda Gilroy, perfect as the tomboy chasing after Dobie. An instant hit with the younger crowd, Sheila looked set for her own spin-off series until her lesbianism became known and producers suddenly got very cold feet. With her acting career hit with the 'kiss of death', she went back to college, gained a law degree (at Harvard no less) and eventually became the first openly gay member of the California State Assembly (a 6 year tenure), followed by 8 years as a Senator. This diminutive dynamo (she is just 4'10" (1.47m) tall), is still a force to be reckoned with at 74.
John Travolta (1954 – )
as Vinnie Barbarino
For decades there have been rumours about John Travolta having gay relationships, but just recently a pilot formerly in his employ, Douglas Gotterba, was lodging a lawsuit, not to win a lot of money from the outcome he says, but for a judgment that will permit him to disclose details about a 6 year relationship he says took place with the actor back in the 80s. Travolta's lawyer accuses Gotterba of demanding $10 million from the actor if he will settle out of court. Gotterba claims that is a lie. Well, somebody is telling 'porky pies'. It is now June 2015. I guess we just wait and see. Personally, I think Travolta is a terrific actor to watch. He was delightful as Vinnie Barbarino in Welcome Back Kotter (1975-79), when he first burst on the scene, and he has (usually) been well worth watching since, especially in Pulp Fiction (1994), Get Shorty (1995) and Primary Colors (1998).
John Inman (1935 – 2007)
If ever there was an actor born to play a camp sales assistant in the menswear department of a store it was John Inman. As a small boy his favourite pastime was dressmaking. As a young man he worked in a gentlemen's outfitters in Blackpool, mainly in window-dressing, the ideal work experience for a part like his Mr Humphries in Are You Being Served? (1972-85). Despite the BBC's reluctance to include a camp character in the show, Inman became wildly popular throughout Britain (and Australia) in a series that just kept going and going…In 2005, he entered into a civil partnership with his partner of 33 years, Ron Lynch. Inman passed away two years later from Hepatitis A.
Chekov (left), Sulu (right) in Star Trek
George Takei (1937 – ) today
Star Trek fans (of the first series, the real one – 1966-69) would, of course, know that George Takei played Sulu. Following the Japanese attack on Pearl Harbor in 1941, George and his family were 're-located' from Los Angeles to an internment camp, first in Arkansas, then in Norther California, for the duration of the Second World War. His autobiography highlights the terrible injustices perpetrated on Japanese-Americans at that time. In September 2008, he and his partner of 21 years, actor Brad Altman, were married. George's best man was Walter Koenig (pictured at top), who played Chekov in the original series.

Spring Byington (1886 – 1971)                   Marjorie Main
Spring possessed the features and the soft, sincere voice that made her the perfect choice to play Mother March in the 1933 version of Little Women. This pretty much typecast her for motherly roles, culminating in her most popular stint as Lily Ruskin in TV's December Bride, a series that ran for five years in the fifties and featured the wonderfully droll humour of Harry Morgan. Fans would have been astonished to learn that Spring had been in a lesbian relationship with actress Maude Adams for a while, and an even longer union with Marjorie Main, the lady who made Ma Kettle a household name in the forties and fifties. Spring and Marjorie lived together as a couple, quite openly I might add, for years.