It is difficult not to admire English actor Stewart Granger. In an era that spawned a generation of actors and actresses ready and willing to do and say whatever their studios demanded of them, and equally unwilling to cross powerful gossip columnists like Hedda Hopper and Louella Parsons for fear of risking their careers, he stood out as a man among men. I imagine, like all the others, he enjoyed the wealth and fame of being a movie star, but he placed values such as loyalty and friendship above these things, and that made him unique in an industry where success and career were everything. If not exactly unique, then at the very least part of a select minority.
A young Stewart Granger
His real name was, in fact, James Stewart, but that was already taken and universally known, so he settled on Stewart Granger instead. Starting his acting career with the Old Vic Company in 1939, the young man was progressing steadily when World War Two intervened. He joined the British Army, firstly in the Gordon Highlanders before transferring to the Black Watch, but he suffered badly from stomach ulcers and was invalided out in 1942. The dearth of leading men in Britain at the time left the door open for him to pursue bigger and better roles, both on stage and on the screen.
Elspeth March
Mostly, he was chosen to play romantic leading men, all the really meaty, dramatic roles in British films at the time going to James Mason. Mason was a conscientious objector and never did take part in the war. When he left for Hollywood, however, Granger began to get his roles and eventually success came with them. He had met actor Michael Wilding back in 1933 and they remained firm friends all their lives. Rumours persisted that their 'friendship' ran much deeper, that both were bisexual and intimately involved, but I shall get to that later. He also met actress Elspeth March and in 1938 she became his first wife. The union lasted 10 years.
Fighting Mel Ferrer in Scaramouche
By 1945 Granger was one of Britain's most popular leading men. In that same year he worked with young newcomer Jean Simmons on Caesar and Cleopatra. When they starred together in Adam and Evelyne in 1949 they fell in love. A year later eccentric billionaire Howard Hughes flew them to Tucson, Arizona in his private aircraft, and they were married. Michael Wilding was best man. MGM offered Granger the lead in King Solomon's Mines (after Errol Flynn had turned it down), he signed on, and the picture was a huge hit. He was on his way in Hollywood. Two years later he starred in possibly his best film, Scaramouche. The picture simply has the best sword-fighting sequences in movie history, due mainly to Granger's brilliance with a blade. He worked so hard on his fencing that he became, undoubtedly, the second best swordsman in Hollywood. Only former Olympian Basil Rathbone was more proficient.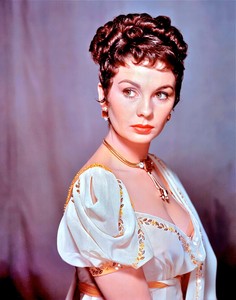 Jean Simmons
In that same year, 1952, he and Jean became involved in a running battle with their former benefactor Hughes. Jean awoke one morning to learn that her contract with J Arthur Rank had been purchased by him overnight, and that he now wanted her to sign a seven-year exclusive contract with him at RKO. Everyone, including the Grangers, knew that his objective was to get her in his bed. He had already tried, but she had steadfastly refused his advances. In retaliation he took her to court, charging her with breach of contract. Granger, aware of the oft-repeated observation that Hughes had personally deflowered in excess of 200 virgins in his lifetime already, had no intention of seeing his wife exposed to this notorious sexual predator, so he took him on. Years later, he would write that he and Jean discussed paying someone to kill hughes, but opted against it.
Howard Hughes
The trial was a big media event. The Grangers quickly reached the conclusion that the judge was in Hughes' pocket. The man ruled in the billionaire's favour on every point. For two weeks Hughes had his minions badger Jean to give in and sign the contract, but she stubbornly refused. Granger was extremely angry – and he was no fool. He made it very clear that when it came time for Hughes himself to take the stand, he would be hit with a veritable barrage of questions of the most personal and private nature. Such a public spectacle was anathema to this most secretive man. He suddenly capitulated and Jean was free to pursue her career independently, but the delay caused by the legal proceedings had cost her the lead in Roman Holiday. She had been William Wyler's first choice, but Hughes refused to release her from her RKO contract, so the plum role went to newcomer Audrey Hepburn instead, and it made her a star. Simmons was compelled to complete four movies for RKO because of the deal made behind her back with Rank. Never again would she sign a studio contract.
Burton & Simmons in The Robe
Granger considered Richard Burton to be a good friend, but that ended when he realized the incorrigible Welshman had seduced Jean while he was a guest in their home. So, he fronted Burton and demanded an explanation. 'Why do you fuck the wife of one of your best friends?' he insisted on knowing. All Burton could offer was some feeble excuse about 'being drunk at the time'. 'Let's face it', said Granger later. 'Burton was a prick. He was a clever actor, but a shit, an absolute shit'. Years later, Burton would own up to having an affair with Jean, but claimed it happened when they made The Robe together in 1952. Either way, she was still married to Granger at the time.
Deborah Kerr
The Grangers' last film together was Footsteps in the Fog (1955). He turned down the role of Messala in Ben-Hur, seemingly because he did not wish to take second billing behind Charlton Heston. The role went to Stephen Boyd who was wonderful in it. Then he made the popular western comedy, North to Alaska, with John Wayne in 1960. In the same year his marriage to Jean ended and he left Hollywood to live in Spain. In his 1981 autobiography, Sparks Fly Upwards, he wrote of Deborah Kerr propositioning him in the back of his chauffeur-driven car while he was making Caesar and Cleopatra in 1945 and still married to Elspeth. He stated that he and Miss Kerr had a six months affair. Her response to this revelation was typical of the lady: 'What a gallant man he is,' she said. And nothing more.
Hedy Lamarr
He also wrote about his first meeting with screen beauty Hedy Lamarr at a small get together in her apartment. After looking the young actor over she dismissed everyone else and openly propositioned him. 'My God, I don't believe you want to!' she exclaimed, aware of considerable reluctance on his part. And it was true. Although taken by her beauty (she was about 36 then), Granger wrote that he was put off by her extremely bossy manner which he found to be anything but feminine. 'Kings want to. Heads of studios want to. Presidents want to. Why don't you want to?' she demanded of him. He quickly assured her that he did, in fact, 'want to'. 'Then go and get your clothes off!' she ordered. He duly did so and on his return found the stunning beauty awaiting him, quite naked on the bed. 'Now don't come too fast, will you!' was her final instruction. Evidently, that tore it. He dressed and left.
Michael Wilding
Elizabeth Taylor married Michael Wilding in February 1952, even though he was 20 years her senior, and despite a stern warning from interfering gossip columnist Hedda Hopper. In fact, Hopper went so far as to publish in her column that Wilding was a homosexual and Liz should drop him at once. When Granger heard about it he immediately rang Hopper direct and gave her the following legendary blast: 'I think you're a monumental bitch', it began. 'How bloody dare you accuse a friend of mine of being queer, you raddled, dried up, frustrated old cunt!' Most people thought he had destroyed his career with that call, but Hopper was never able to get even, although she certainly tried. For the record, Wilding sued her and her paper for $3 million dollars. It was settled out of court for a substantial sum.
Hedda Hopper
Ironically, had Hedda lived until 1981 (she died in 1966), she would surely have read Granger's autobiography. In it he wrote that he and Wilding were intimate one evening in London during an air-raid at the height of the Blitz. 'People would say we were both queers', he wrote. 'But that isn't so. It was just the kind of thing that happened during the war.' Well, not to everybody. Boze Hadleigh, the author of Hollywood Gays (1996), insists that Granger was indeed bisexual. Possibly, that explains why his name was never connected with a great many actresses. Considering his appeal to the opposite sex, not to mention the track record of most of Hollywood's leading men, that in itself is unusual.
By all accounts, he was a tempestuous man and difficult to live with. Perhaps, that drove Jean into the arms of Burton, who knows? She and Granger divorced in 1960 and she remarried that same year to director Richard Brooks. Seventeen years later that also ended. By 1986 she had an alcohol problem and checked herself into the Betty Ford Clinic at the age of 57. Granger passed away in 1993 from prostate cancer at the age of 80. He had been single since his third marriage ended in 1969. Jean would live a further 17 years before dying of lung cancer in 2010. She, too, was 80. Between them they made some truly fine films, the best of which (in my opinion) were Scaramouche and North to Alaska for Granger, Spartacus and Elmer Gantry for Jean – and Footsteps in the Fog together.