JILL IRELAND (1936-90)                    
Jill's movie career was hardly the stuff of legend yet she has still managed to be remembered for three things: Her marriages to David McCallum and to Charles Bronson, and for her role as 'Leila Kalomi', the only woman Mr. Spock ever loved (in Star Trek: The Original Series: This Side of Paradise (1967). Born in London, in April 1936, Jill made her credited screen debut in Oh… Rosalinda! (1955), after an uncredited bit in another movie. Two years later she met and married Scottish actor David McCallum and the couple moved to the USA in the mid-sixties so he could star as agent 'Ilya Kuryakin' in the TV series The Man from U.N.C.L.E. (1964). Jill's looks landed her steady film and TV work, all of which was helped by her being married to one of TV's hottest properties at the time. In fact she worked alongside David in five episodes of his hit show through 1964, 1965 and 1967.
Jill & David McCallum
When McCallum landed a role in The Great Escape (1963), he introduced his wife to one of his co-stars, Charles Bronson, on the set. Evidently, Bronson told him that one day Jill would become his wife. And she did. Jill divorced David in 1967 and wed Charlie the following year. She had already borne three sons to David and would give birth to Charlie's daughter in August 1971. A second daughter would be adopted. The marriage lasted over twenty-one years until Jill's death from breast cancer in 1990. During their time together she had co-starred with Bronson in more than a dozen movies when he was at the height of his profession and rivalling Clint Eastwood as the number one box-office champion of the world. Even so, she was quoted as saying: 'I'm in so many Charles Bronson films because no other actress will work with him.' She did not say why this was so.
Jill & husband # 2 Charles Bronson
I have only been able to unearth two men who may or may not have been lovers of this lovely actress in her early days. I refer to minor actor Richard Lyon who was in a relationship with her in the early fifties prior to her meeting David McCallum, and British director Michael Winner who admitted taking her for granted once he had seduced her. 'It wasn't until she left me a few months later that I realised just how much I loved her…Jill was desperate to become a wife.' Two weeks after her twenty-first birthday party she married David in a registry office in South London.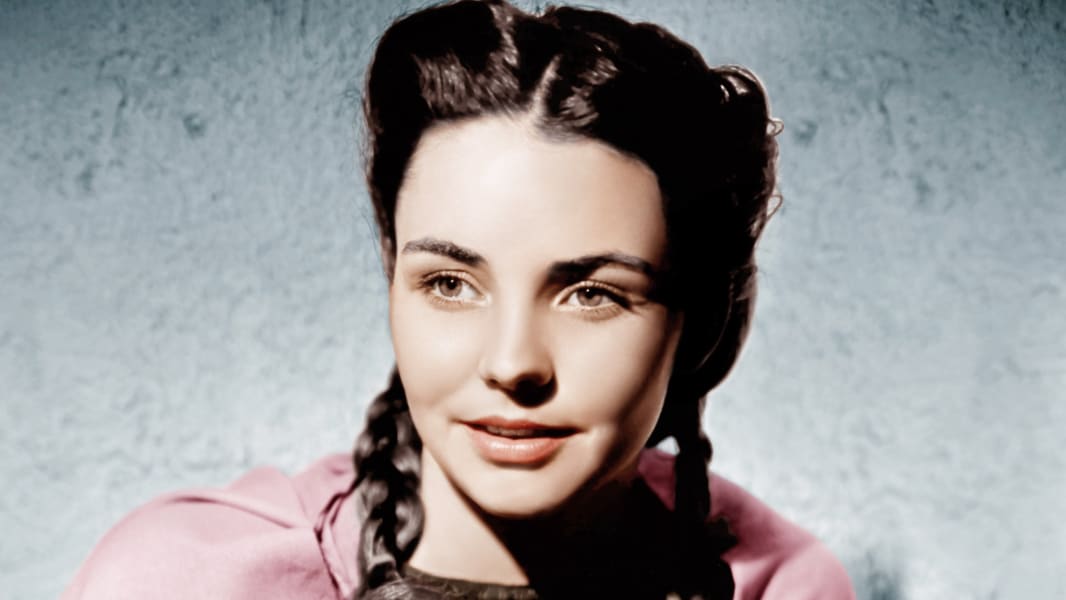 JENNIFER JONES (1919-2009) 
Robert Walker & Jennifer in Since You Went Away (1944)           
She entered this world in 1919, via Tulsa, Oklahoma, as a Catholic girl named Phylis Isley. She would leave it ninety years later as the Oscar-winning actress Jennifer Jones. In January 1938, eighteen year-old Jennifer met a young Mormon actor named Robert Walker who was one year her senior. They married twelve months later. By 1943, however, Jennifer was intimately involved with film producer David O. Selznick. 'I was only nineteen', said Walker, 'but even then I knew there could never be anyone else. I didn't consider myself good enough for her. She made me want to be somebody. We were happy. Or at least I thought we were. My personal life has been completely wrecked by Selznick's obsession for my wife. What can you do to fight such a powerful man?' Walker died in August 1951, aged just thirty-two.
Jennifer & husband # 2 David O Selznick
Jennifer was just twenty-four when she fell for the forty-one year old Selznick. In 1944, his classic film Since You Went Away hit screens throughout America and the world. Two of the featured players were Jennifer and her estranged husband who were portraying a young couple in love during wartime. It must have been extremely difficult for Walker, in particular, who was still hoping to reclaim his wife's love. It was a lost cause and their divorce was finalised in June 1945. Jennifer and Selznick married six years later and a child was born to them in 1954. The marriage ended with Selznick's death in June 1965.
And with husband # 3 Norton Simon
Husband # 3 was a professional American businessman, an industrialist named Norton Simon, a multi-millionaire, philanthropist, remembered now for the Norton Simon Museum in Pasadena. They were husband and wife for twenty-two years until he died at eighty-six in 1993. When they met he was sixty-two and Jennifer had just turned fifty. She lived on until December, 2009.
DIANE KEATON (1946 – )             
Diane Keaton came into this world as Diane Hall, in 1946, in Los Angeles. She was first noticed when, in 1968, as understudy to the lead, she refused to shed any of her clothing at the end of Act 1, in the Broadway rock musical 'Hair'. Not that nudity was a requisite to land a part in the play. Those who were happy to strip received a $50 bonus for doing so. It was optional. Nine months into the production she was cast in Woody Allen's, Play it Again, Sam. Despite being two inches taller than Woody she was given the role anyway. Her relationship with Allen became romantic after they enjoyed a late dinner one evening. He said it was her sense of humour that attracted him. The couple lived together until the film of the same name came out in 1972 and their living arrangements by then had become informal. Between 1971 and 1993 they worked together on eight films. Years later, a 50 year-old Diane said, 'I think Woody said that living with me was like walking on eggshells. To be with me was just too hard.'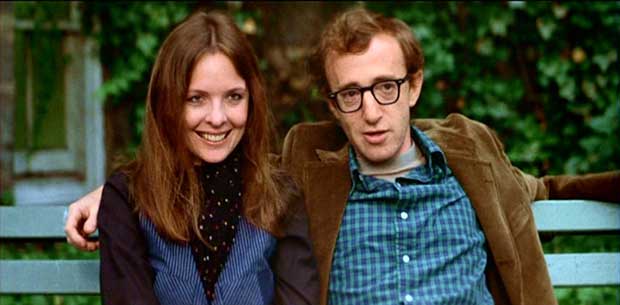 Diane & Woody Allen
Diane and Al Pacino dated off and on for a couple of decades after making The Godfather (1972), but they finally parted company when she wanted a serious long-term relationship and Al did not. They met again on the set of The Godfather Part III (1990) and, although frosty at first, soon overcame their differences. The final straw came when she found out he had fathered another woman's child. Interestingly, it appears that Diane and Tuesday Weld were 'sharing' Pacino's favours without either being aware of the other. He was intermittently involved with Weld from (roughly) 1972 to 1982; and with Keaton from 1971 to 1991. 'Al was simply the most entertaining man', Diane nevertheless recalled. 'To me…the most beautiful face. I think Warren [Beatty] was gorgeous, very pretty, but Al's face is like whoa! Killer, killer's face.'
Diane & Al Pacino
Warren Beatty spotted her in Looking for Mr. Goodbar (1977) and was instantly smitten (as was often his way). Her Oscar for Annie Hall in April 1978 was the icing on the cake in his eyes. He had to have her. She was thirty-two and he was in his early forties. Producer Robert Evans recalled Beatty phoning him early in the romance with Keaton, requesting his blessing to pursue actress Ali MacGraw, Evans' ex-wife. She had broken up with Steve McQueen an hour before. 'His obsession in life was to be first', Evans wrote in his memoir, 'first with the new hot girl in town, preferably model or starlet…' Beatty and Keaton were together for two years in a supposedly monogamous relationship from 1978 – 80, not that Warren could remain monogamous for even two weeks, much less two years! After they broke up they continued to see each other for some time but on a non-exclusive basis. When he started romancing Mary Tyler Moore who lived in the tower opposite Diane's at Manhattan's famous San Remo high-rise, Diane would reportedly use binoculars to spy on them. Beatty never had a place of his own in New York City and would shuttle between the two women.
Diane & Warren Beatty
Diane Keaton would remain unmarried by choice, although she would adopt the first of two children when she was 49. In 2003, she made Something's Gotta Give, a rather dull film in which she agreed to do a nude scene! The woman who had refused to do nudity in her early twenties, suddenly chose to do so at the age of fifty-seven! 'At this point, does it really matter?' she said. 'Nobody is looking at me the way I once imagined people would look at me, like with deviant thoughts. I think they just go, 'Huh. There it is. Intact.'