If there has been a more unlucky actress awards-wise than Scotland's Deborah Kerr I am yet to hear of her. In a screen career that lasted 46 years she was nominated for fifteen major awards – and won just one. The break-down is unique in itself:
6 Academy Award Nominations                                No wins
4 BAFTA Award Nominations                                    No wins
4 Golden Globe Nominations                                     One win
1 Primetime Emmy Award Nomination                    Lost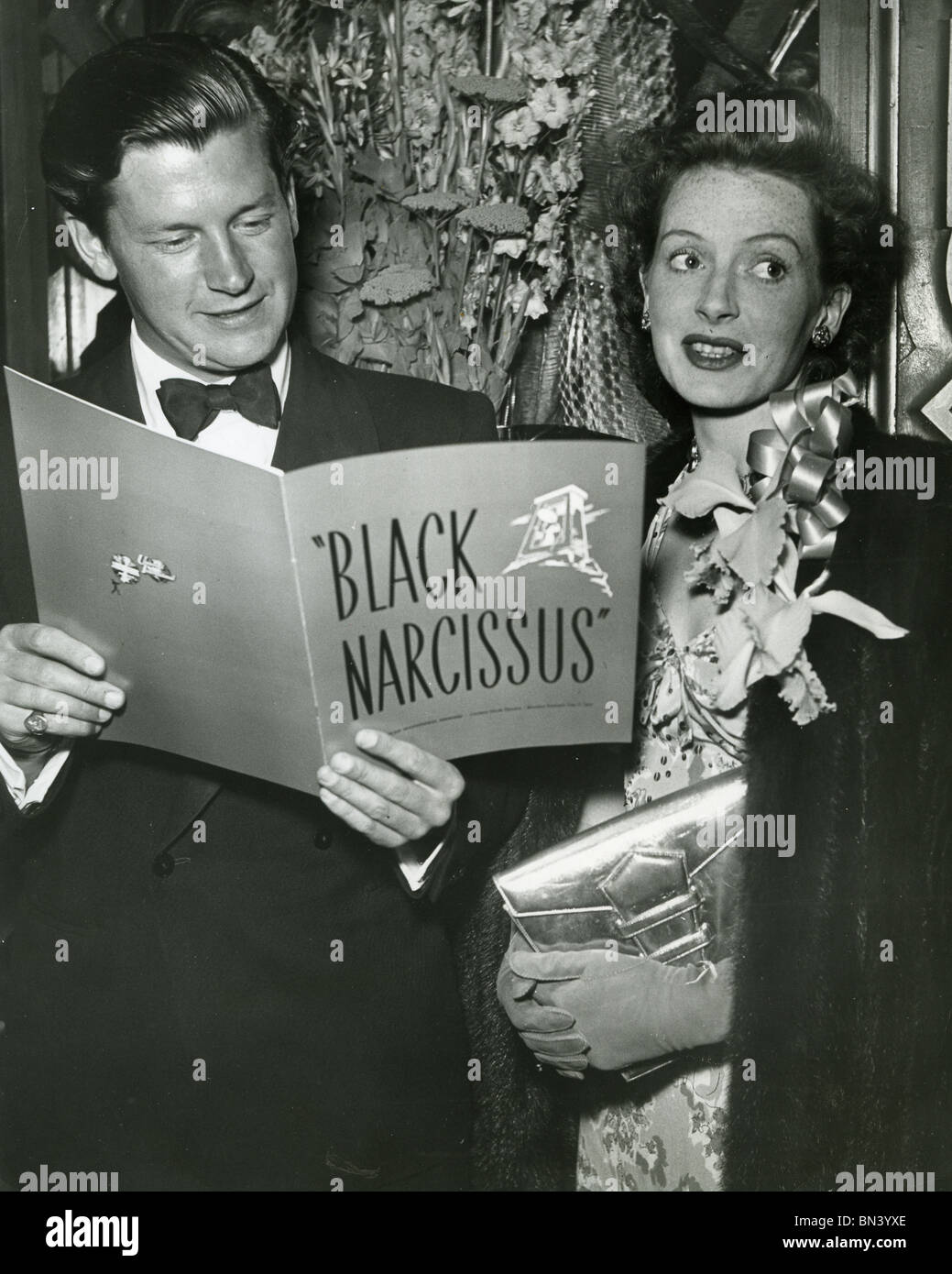 with husband Anthony Bartley
Born in Glasgow in 1921, Deborah was a ballet dancer (appearing at Sadler's Wells no less) before switching to acting when she became too tall. The theatre would become her first love, despite her enormous movie success, and she returned to it time and again. On-screen she immediately struck a chord with audiences when, in 1942, British movie-goers voted her the most popular local female actress. Popularity was never a problem for her. She was fun-loving, even risqué, and far more down to earth than her screen portrayals suggested. Co-stars adored her and she was not above having affairs with her leading men. But more of that later.
with director (and lover) Michael Powell
In 1943 Deborah made The Life and Death of Colonel Blimp and fell into an intimate relationship with its director Michael Powell. Four years later she played a nun in his Black Narcissus and he had another picture lined up for her when she received an offer to go to Hollywood. Having already advised him that, should an offer to act in America be forthcoming, she would end their relationship at once and accept it, she promptly set off for Hollywood and MGM. Louis B. Mayer billed her (rather lamely) as: 'Kerr rhymes with star!' She really disliked hearing her surname rhymed with 'cur', but that mistake would be made by many interviewers and others for the remainder of her life. As she said many times: 'It rhymes with 'car', not with 'cur' and not with 'care'.'
with Spencer Tracy in Edward, My Son
It did not take Deborah long to gain recognition in America for her screen performances. 1950 saw her nominated for an Oscar and a Golden Globe for Edward, My Son – and she missed out on both awards. To avoid being typecast in 'refined and proper' English roles she journeyed to Africa to make King Solomon's Mines with Stewart Granger. Back in 1945 she had married Squadron Leader Anthony Bartley RAF, but the marriage encountered problems from the outset. Bartley was jealous of his wife's fame and resented her traveling on location. She and Granger enjoyed a passionate affair in Africa before moving on to others.
with Stewart Granger on the set of
King Solomon's Mines
It would probably surprise fans to learn that Deborah and Burt Lancaster fell for each other when they made From Here to Eternity in 1953. Their steamy (for those days) rolling in the surf scene at what is now called 'From Here to Eternity Beach', was not all acting. They were hot for each other. He wrote about it – she denied it. But by all accounts it happened. Perhaps, her denial stemmed from the fact that both parties were married to others at the time. Her on-screen performance (which was excellent I thought) earned her second Oscar nomination. Unfortunately, it was well and truly Audrey Hepburn's year and she deservedly took out the gong for Roman Holiday.
the scene that had everyone talking in 
From Here to Eternity
another great scene with Lancaster
The British Academy for Film and Television Arts (BAFTA) recognized Deborah's talents for the first of four times when it nominated her for The End of the Affair in 1956. In that same year she made the controversial Tea and Sympathy with John Kerr (no relation), and received her second BAFTA nomination in 1958 (two years later for some obscure reason). Both nominations were unsuccessful, but she did experience her one and only taste of success in 1956 when she was nominated for an Oscar and a Golden Globe for The King and I. The film won the Best Picture Oscar, its male lead Yul Brynner took home the Best Actor statuette, but Ingrid Bergman won Best Actress for Anastasia. Deborah had to settle for a Golden Globe, but at least it was a win at last!
with Brynner in The King and I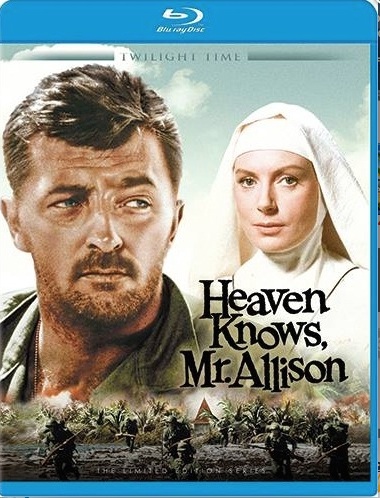 1957 saw the making of the terrific World War Two romance (kind of) story between an American GI and a nun who find themselves alone on a Pacific island behind Japanese lines. The picture was called Heaven Knows, Mr. Allison and brought together two actors who, on the surface, were as different as chalk and cheese. But Robert Mitchum soon discovered that his British co-star was everything he admired in a woman. She was uncomplaining, hard-working, sensual and beautiful, with a delicious sense of humour. And, like many of his leading ladies, she found him to be a real charmer. They were probably not intimate on this picture, but by 1960 when they made The Sundowners on location in Australia they were heavily involved. Yet again Deborah was nominated, this time for Heaven Knows, Mr. Allison, and once again both Oscar and Golden Globe eluded her for she had the great misfortune to strike Joanne Woodward's tour de force in The Three Faces of Eve.
Mitchum & Kerr in The Sundowners
at Mascot Airport, December 1959
A year later it happened again. Both awards bypassed her when she found herself nominated for Separate Tables. David Niven won for that film, possibly out of admiration and respect for his work over the years, but Deborah was not to be so fortunate. Susan Hayward's harrowing gas chamber scene in I Want to Live was always going to be a tough nut to crack. Even Deborah's brave attempt at handling an Australian accent in 1960's The Sundowners went only partially rewarded – another Oscar nomination, another BAFTA nomination – and two more disappointments. Oscars-wise, her timing was yet again lousy. Liz Taylor's notorious 'tracheotomy Oscar' for her super-ordinary turn in Butterfield 8 made a mockery of the Best Actress Academy Award that year. Around that time Deborah became briefly involved with Niven whose marriage was in difficulty and hers had ended acrimoniously back in 1959.
Separate Tables – an Oscar for Niven but
none for Deborah
with Hayley Mills in The Chalk Garden
The BAFTA people would momentarily raise her hopes once more in 1965 with a fourth nomination, this time for The Chalk Garden, but…the same old result. Twenty years down the track would see her nominated for the fifteenth (and last) time. This one was a little different, recognizing her contribution to a TV mini-series titled A Woman of Substance. A Primetime Emmy Award would have been a nice cap on her illustrious career but, needless to say, it was not to be and she became another 'also-ran'. Nearly a decade later, in 1994, the Academy finally decided to acknowledge this great lady of the screen by presenting her with an Honorary Academy Award. Three years earlier BAFTA had given her a 'Special Award' which, presumably, was to atone for her four unsuccessful nominations. As far as Oscar nominations are concerned there have been three women thus far who have been nominated six times without winning – the other two being Thelma Ritter and Glenn Close. It was Miss Close, ironically, who presented a humble and visibly frail Deborah Kerr with her Honorary Oscar.
Glenn Close presented the
Honorary Oscar in 1994
In 1968 Deborah temporarily retired from movies, appalled at the increasing violence and sex appearing in pictures of the day. She did a little television here and there after that. Her friendship with Mitchum lasted until his death in 1997. He still adored her. Director William Wyler summed up two of the screen's truly great ladies when he said: 'I still think of Audrey Hepburn as the princess, but Deborah Kerr as the queen'. Amen to that.