I have been looking through the history of the Academy Awards and, like most people interested in such things, I have found myself disagreeing with many of the choices and agreeing wholeheartedly with others. Here are a few of my thoughts on the merits or otherwise of those lucky enough to have received the coveted statuette. Most of the really early films I am yet to watch, but there has been the occasional 'oldie' popping up on Foxtel lately, so I have made a point of sitting through as many of those that featured recipients of Academy acknowledgement as I can, in an effort to determine what the judges of the day saw in them. I must say that some of the choices are a complete mystery to me. It did not take long to find results that I disagreed with:
1929-30           George Arliss – Best Actor for Disraeli.
Arliss in Disraeli
Lew Ayres in All Quiet…
Arliss was an 'old school' actor, affected and hammy. I thought Lew Ayres' beautiful performance as the young soldier in All Quiet on the Western Front was far superior to Arliss's Disraeli, yet Lew was not even nominated. That in itself came as a surprise because the film actually won the Best Picture Oscar that year! George, in fact, was nominated twice that year, so perhaps he was given an award to cover both performances.
1930-1             Lionel Barrymore – Best Actor for A Free Soul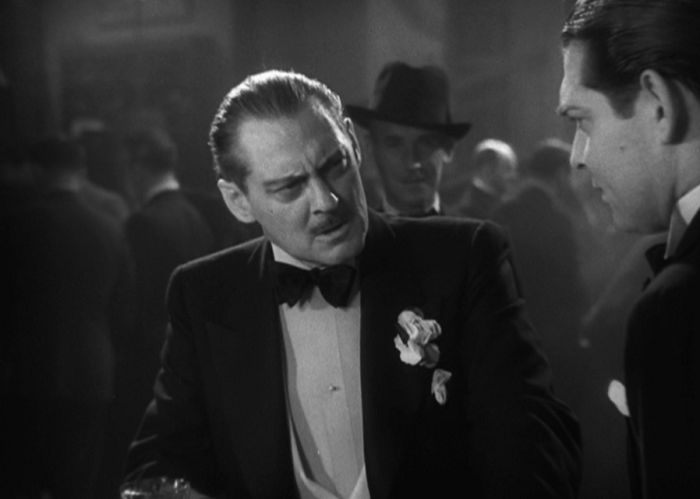 Lionel Barrymore in A Free Soul
I had the misfortune to see this on Foxtel recently and forced myself to see it through to the end. What a rotten movie! And Barrymore was guilty of some of the most outrageous over-emoting in movie history, in my opinion. A pity really, because the man became an accomplished player later in his career – but not here. He positively stole his Oscar. The only possible saving grace is that the other nominations, (none of which I have seen), might have been even worse. If that was at all possible.
1934                Clark Gable and Claudette Colbert in It Happened One Night
Gable & Colbert – a delight
Clark destroys the singlet industry
A thoroughly enjoyable romantic comedy that richly deserved its Best Picture nod. Mind you, there was not a lot of competition that year, the best of the other nominations being The Thin Man with William Powell and Myrna Loy. Gable and Colbert were terrific together and their performances have stood the test of time. It was in this picture that Clark removed his shirt to reveal he did not wear a singlet underneath. Single-handedly he pretty much ruined the industry.
1935                Victor McLaglen – Best Actor for The Informer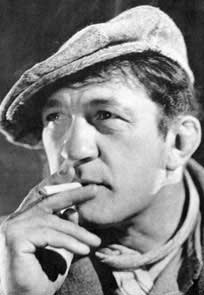 McLaglen as The Informer
Gable & Laughton – Mutiny on the Bounty
Franchot Tone
Mutiny on the Bounty rightly won in the Best Picture category and everyone expected either Gable or Charles Laughton, its two featured players, would carry off Best Actor. But it was not to be. There were just four nominees for Best Actor and three of them came from Mutiny on the Bounty. This was the year before the introduction of Supporting Actor and Actress Oscars, so someone with a sense of humor decided to nominate Franchot Tone in the Best Actor category as well. The inevitable result, of course, was that the 'Mutiny' nominees split the votes from that picture's devotees and Victor McLaglen (the only other nominee) got the rest – and won.
1936                Walter Brennan – Best Supporting Actor for Come and Get It
Brennan in Come and Get It
This year saw the introduction of Best Supporting Actor and Actress categories. The trouble was, however, that Academy rules permitted pretty much everybody in the business to vote. Consequently, there were literally thousands of bit players, extras and stunt people all allowed to vote along with voters from every other category. One of their own was former extra Walter Brennan and they voted for him in swarms. He may well have won on merit (I am yet to see Come and Get It), but a precedent was being set, one that saw him triumphant three times in four years. His third victory resulted in an Academy rule change. The members of the Extras Union were disenfranchised and he never won again.
1937                Spencer Tracy – Best Actor for Captains Courageous
Tracy in Captains Courageous
Muni as Emile Zola
Being the brilliant actor that he was Spencer Tracy more than likely took his Oscar for Captains Courageous home and just about died laughing when he got there. It was one of his worst ever performances, not helped by his abominable dark-skinned make-up and his equally abominable 'Portuguese' accent. Paul Muni must have been disappointed. His movie The Life of Emile Zola picked up the Best Picture gong but he missed out to Tracy.
1938                Walter Brennan – Best Supporting Actor for Kentucky
Brennan in Kentucky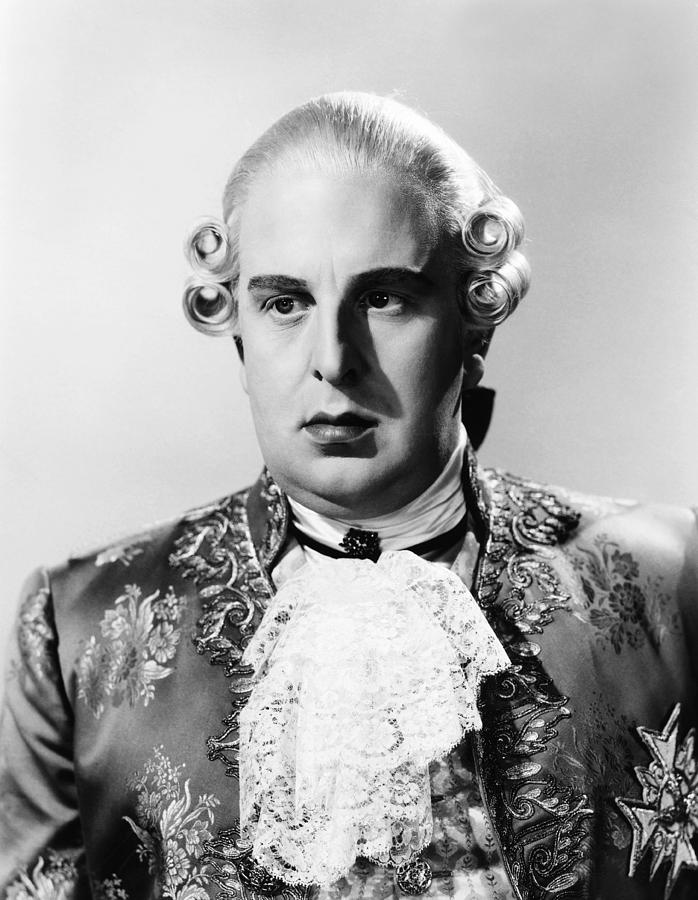 Robert Morley as King Louis XVI
Brennan's popularity with his former workmates clearly saw him through to victory again here. Surely, that is the only reason his performance won out over Robert Morley's memorable portrayal of King Louis XVI in Marie Antoinette. His is one of the most moving performances in movie history and it merited the highest acknowledgement. It would be his only Oscar nomination and the fellow was robbed.
1939                Robert Donat – Best Actor for Goodbye, Mr. Chips
Greer Garson &  two shots of Robert Donat in Goodbye Mr. Chips
Gable as Rhett Butler in GWTW
The Academy Awards can be cruel at times. Clark Gable turned in the finest performance of his entire career in Gone with the Wind but was desperately unlucky to come up against one of the greatest pieces of movie acting ever. Englishman Robert Donat was nothing short of superb in the title role of Mr. Chips. He had to win. Poor Clark had to watch as his movie won accolade after accolade – but nothing for him. Quite often it all gets down to chronology. I would venture to say that his Rhett Butler would have prevailed in almost any other year for decades either side of 1939. Personally, I thought he was even better than Vivien Leigh, and that's saying plenty. He was Rhett Butler.
1940                James Stewart – Best Actor for The Philadelphia Story
                          Rebecca – Best Picture
Kate Hepburn & Jimmy Stewart in
The Philadelphia Story
This was a tough year too. Jimmy Stewart surprisingly won for The Philadelphia Story, although he was pretty much being Jimmy Stewart as usual. And Henry Fonda was left wondering how anyone could vote against his superb performance in The Grapes of Wrath. For that matter, how on Earth did Rebecca knock off The Grapes of Wrath for Best Picture? And just to confuse us further John Ford took home the Best Director Oscar for 'Grapes'. Alfred Hitchcock, the director of Rebecca, was left to ponder why his movie won and he didn't.
1941                How Green was My Valley – Best Picture
I suppose if I were voting in 1941 the chances are I probably would have opted for The Maltese Falcon over the eventual winner although, in retrospect, I think I appreciated the performances more than the actual picture. This was also the year of Citizen Kane, the so-called greatest movie ever made according to most of the 'experts'. Frankly, I find it a bit of a bore. The speculation regarding who it was about was far more interesting than the spectacle itself. The Hearst machine went to work and ensured it did not win any accolades but I have my doubts that it would have won any anyway. All in all 1941 was a weak year, as evidenced by Gary Cooper taking home the Best Actor statuette for Sergeant York. Nothing much to beat.