COLMAN, Ronald                            HUME, Benita                                  1938 – 58 (his death)
Ronald Colman was very nearly one of the millions of fatalities of World War One. He had only been in France for two months when he was seriously gassed at the battle of Messines and invalided out of the battle zone and back to England. His war was over almost before it had begun. He fell into acting by accident and was soon on his way to New York to try his luck on Broadway. Vastly popular in the silent picture era, he was even more so when talkies arrived because of his beautiful speech. By today's standards his style was quaint at best, but women around the world swooned over him at the zenith of his career.
as Sydney Carton in A Tale of Two Cities
with Greer Garson in Random Harvest
He was Sydney Carton in A Tale of Two Cities (1935), Robert Conway in Lost Horizon (1937), Major Rudolf Rassendyll in The Prisoner of Zenda, also in 1937, and Charles Rainier in Random Harvest opposite Greer Garson in 1942. His second wife was English actress Benita Hume who made 44 films between 1925 and 1955, although she virtually gave up acting just before WW2 and became quite a socialite, marrying Colman and George Sanders later in 1959. She was still married to him when bone cancer took her in 1967. Colman had already pre-deceased her nearly a decade earlier.
CONNERY, Jason                            SARA, Mia                                        1996 – 2002 (div.)
Mia and Matthew Broderick in Ferris Bueller's Day Off
Jason is the son of Sean Connery and Australian actress Diane Cilento. He is forever being compared to his famous father, but Jason has worked hard to establish himself as an actor and director in his own right. In 1995 he traveled to Moscow and St. Petersburg to shoot Bullet to Beijing with Michael Caine. It was there that he met American star Mia Sara whom he married a year later. They divorced in 2002.  Fans of Ferris Bueller's Day Off (1986) will recall her playing Ferris's girlfriend. Since divorcing Connery she has married Brian Henson, son of the creator of the Muppets, Jim Henson.
CONNOLLY, Billy                           STEPHENSON, Pamela                  1989 –
Scotsman Billy Connolly is a comedian, an actor, a writer and a composer. Most people would identify him as a stand-up comic first and foremost, but he has always been a man of many parts. In his younger days he was a banjo-player in a group called The Humblebums, one of its members being Gerry Rafferty of 'Baker Street' fame.
Pamela with Mel Brooks in History of the World Pt 1
Among Billy's screen credits are Mrs. Brown (1997) and The Last Samurai (2003). In 1989 he married New Zealander Pamela Stephenson and they have produced three children. His wife first came to prominence acting in Australia in 1973 as the female lead in a series called Ryan. Mel Brooks put her in his 1981 comedy History of the World Part 1, but her movie career was spasmodic and unremarkable. She has since retired from acting and earned a doctorate in Psychology.
COOGAN, Jackie                             GRABLE, Betty                                1937 – 39 (div.)
Fans of the sixties TV series The Addams Family may find it difficult to believe that the actor who portrayed Uncle Fester was once married to the actress chosen by American servicemen during World War Two to be their dream girl. Despite competition from the likes of Rita Hayworth, Ava Gardner, Joan Blondell, Hedy Lamarr, Ingrid Bergman and all the others, it was Betty Grable who emerged as the number one pin-up of the war. And good old Uncle Fester, otherwise known as actor Jackie Coogan, had once been married to her for a couple of years prior to the war.
Jackie and Chaplin in The Kid (1921)
as a glider pilot in Burma during the war
Jackie as Uncle Fester
Born in 1914 in Los Angeles, Jackie became world famous at the age of seven when he starred opposite Charlie Chaplin in the silent classic The Kid in 1921. He recalled how life treated him at the zenith of his fame: 'I had a 65' by 80' room filled with toy trains, and my own golf course and football field in my backyard. Other boys went to see Babe Ruth. Babe Ruth came to see me.' His parents were seasoned vaudevillians who first presented him on stage well before his second birthday. In 1935 his father died in a road accident that very nearly took Jackie's life as well. His mother married his business manager soon afterwards and the two of them quickly went through Jackie's four million dollar fortune. Under California law at that time children had no rights to any money they earned, so he was awarded a paltry $126,000 after a lengthy trial. Public outcry soon had the law amended, but too late for Jackie. The Coogan Act (also called the Child Actors Bill) now prevents this from happening.
that iconic WW2 pin-up
In 1937 Jackie married Betty Grable, but the union only lasted two years. She was 21 and had been treading the boards since she was 13; ever since her pushy mother lied about her age to get her little girl's foot in the door as one of the original 20 Goldwyn Girls. Lucille Ball and Paulette Goddard were others who got their start in the Goldwyn Follies. Betty's marriage to Coogan helped boost her career when it needed boosting, but it was her performance in 1940's Down Argentine Way that suddenly turned her into a star.
Betty Down Argentine Way (1940)
She married band leader Harry James in 1943 and they remained together until 1965 despite her husband's alcoholism and infidelities. The famous pin-up of Betty, the one from WW2 showing her looking coyly over her shoulder, was done that way because she was pregnant at the time and clearly showing! A 'front-on' shot was deemed to be in bad taste. While Betty was making a name for herself on the home front, Jackie was flying gliders behind Japanese lines in Burma.
Marriage to Harry James
For publicity purposes Betty's legs were insured by her studio for what was reported to be a million dollars (it was probably a lot less). She earned an estimated $3 million in the forties, however, which was an enormous amount of money back then. Her husband (James) owned racehorses and was extremely well off in his own right, so she wanted for nothing until her death in 1973 from cancer. She was 56. Jackie outlived her by a decade or so.
CRAIG, Daniel                                  WEISZ, Rachel                                 2011 –
In 2005 Daniel Craig became the sixth actor to be named to play James Bond in the movies since Sean Connery started the ball rolling in 1962, but success for Daniel has not come easily. He made his film debut in The Power of One in 1992, but it was not until Lara Croft: Tomb Raider in 2001 and the superb Road to Perdition the following year that he began to earn the recognition his talents so richly deserved. He was also excellent in a small role as a Papal assassin in Elizabeth (1998). His portrayal of Bond is far different to his predecessors (with the probable exception of Connery). He is tougher, more ruthless; more rugged than the likes of Moore, Brosnan and the others, more like the Bond described in Ian Fleming's novels. Some fans dislike this style of 007, but the man is a serious actor, far more talented than the others (again Connery excluded).
as an assassin in Elizabeth
as 007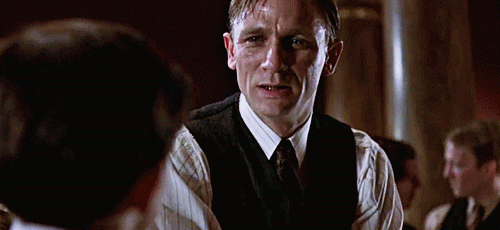 in Road to Perdition
In 2011, as if life wasn't good enough already, Daniel married the delightful Rachel Weisz (pronounced 'vice', by the way), in a private ceremony in New York. Her parents are of Hungarian-Jewish- Italian extraction, escapees from Europe prior to WW2. Her father, an inventor, is responsible for respirators that supply their own oxygen; and for a machine that can 'sense' land mines. Rachel first became noticed by red-blooded males when she starred in 1999's The Mummy, then, two years later, in Enemy at the Gates. It may surprise you to learn that she is now forty-six years old! I saw her last year on The Graham Norton Show and she looked sensational for 45. In 2011 she became a citizen of the United States.
Rachel in The Mummy
in Enemy at the Gates