If you were to look at a list of the greatest grossing movies of all time without taking into account the inflation factor, you would discover some very ordinary titles. The diabolically poor Indiana Jones and the Kingdom of the Crystal Skull (2008), for example, makes it to #64 on that list, just one spot behind the first ever Star Wars offering way back in 1977. Even the less than memorable Bond vehicle Skyfall (2012) registers as #15 of all time! It ain't that good. The interminably dull 2013 feature Man of Steel also makes the list, as do other non-events from the same year, Gravity and Monsters University. Jurassic World (2015) actually rests at number four! Obviously, if we wish to examine the most popular films in the history of the cinema we must do so only after allowing for the effects of inflation. On doing so we find the following: Of the entire top 100 grossers where inflation is not taken into account only seven make the all-time Top 20 in which inflation is taken into account.
Below is the all-time Top 20 after inflation (as of January 2016). Numbers 2, 4, 5, 11, 17, 18 and 19 made both lists. The remaining 13 did not make the inflated Top 100 at all.
#20      THE STING (1973) 
Paul Newman, Robert Redford, Robert Shaw, Eileen Brennan.
An extremely clever caper film that has not dated one iota in over forty years. Robert Shaw plays a wonderful 'heavy' and there is a brilliant score by Marvin Hamlisch. The Sting picked up 7 Oscars including Best Picture, Best Director and Best Screenplay. Three other nominations were unsuccessful.
#19      THE LION KING (1994)
An animated Walt Disney production.
An enormously popular children's animated feature that won two Oscars for Best Original Score and Best Song. The film features the voices of Matthew Broderick, Jonathan Taylor Thomas, James Earl Jones and Jeremy Irons.
#18      STAR WARS EPISODE 1: THE PHANTOM MENACE (1999) 
Liam Neeson, Ewan McGregor, Natalie Portman, Samuel L Jackson
For those of you who are not familiar with the Star Wars saga it may be a little confusing to learn that this particular release, even though it is labeled 'Episode 1', is actually the fourth movie released by the franchise. It is the first one that does not feature the iconic trio – Harrison Ford, Carrie Fisher and Mark Hamill. They had all outgrown their characters.
#17      JURASSIC PARK (1993) 
Sam Neill, Laura Dern, Jeff Goldblum, Richard Attenborough
The remarkable advances in computer generated imaging have never been more brilliantly demonstrated than through the early sequences in Jurassic Park when we see what appear to be real live dinosaurs biting the tops off trees! There are some dreary stretches in the picture, but as a spectacle for its time it was staggering.
#16      STAR WARS EPISODE VI: RETURN OF THE JEDI (1983)
            Harrison Ford, Carrie Fisher, Mark Hamill, Alec Guinness
This is the third of the first trio of Star Wars offerings, the last one with the original trio (until they were dusted off for the 2015 'oldies convention'), and the less said about that the better. I am not a Star Wars fan but I liked this one better than the rest, whatever that is worth.
#15      AVATAR (2009)
            Sam Worthington, Zoe Saldana, Sigourney Weaver, Stephen Lang
This truly is an astonishing cinematic achievement, even better if you watch it in 3D. How it did not win the Best Picture Oscar that year is a mystery in itself. Perhaps, it was just too long. Stephen Lang provides the best acting but the performers take second billing behind the mind-boggling scenery and effects. An incredible feast for the eyes.
#14      BEN-HUR (1959)
            Charlton Heston, Stephen Boyd, Jack Hawkins, Hugh Griffith, Martha Scott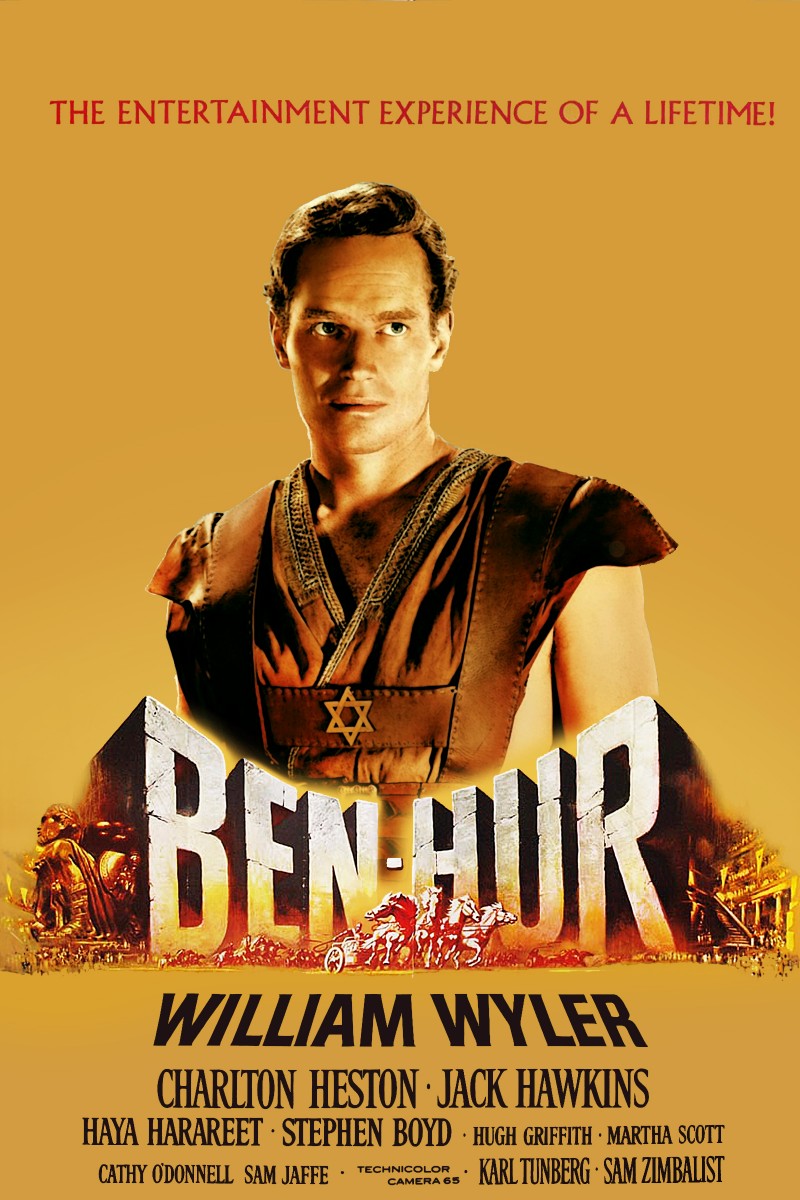 Of all the over-rated movies in history I venture to say that this is the most over-rated of the lot. The fact that it actually won eleven Oscars is still as big a mystery as the meaning of life, and second only to how Charlton Heston could score a Best Actor Academy Award and yet Stephen Boyd could not even get nominated. At least the Golden Globes got it right. Chuck missed out and Stephen won.
#13      STAR WARS EPISODE V: THE EMPIRE STRIKES BACK (1980)
            Harrison Ford, Carrie Fisher, Mark Hamill, Alec Guinness
After the monumental success of the very first Star Wars film in 1977, the movie-going world could scarcely wait for a sequel. This was it. By the time number three (Return of the Jedi) came along, Star Wars mania would be at fever pitch.
#12      101 DALMATIONS (1961)
            An animated Walt Disney production.
It is difficult to determine why this particular Disney offering would be so popular, given that he churned out so many over the decades. Personally, I thought The Little Mermaid and The Jungle Book were far better. The public felt differently.
#11      STAR WARS: THE FORCE AWAKENS (2015)
            Harrison Ford, Carrie Fisher, Mark Hamill, Max von Sydow
I watched this sorry bag of bones a few months ago. If ever a picture paid for itself through sheer expectation it was this one. Fans anticipated something quite magically nostalgic (or something). They had to be very disappointed. It was tired and lacking the old magic. Methinks they went to the well once too often.
#10      SNOW WHITE AND THE SEVEN DWARFS (1937)
            An animated Walt Disney production.
The very first full length animated feature, Snow White and the Seven Dwarfs has had nearly 80 years and several re-releases to rack up a healthy gross figure. Like far too many Disney features it contains a lot of songs, something I never cared for as a kid and care even less for now. Come to think of it, I never met a single kid my age who cared for all that singing either!
#9        THE EXORCIST (1973)
            Linda Blair, Ellen Burstyn, Max von Sydow, Lee J Cobb
This is the only one of the twenty films listed here that I have not watched all the way through.  I just did not like the thing. I am afraid that the mere mention of the words 'supernatural, exorcism, religion, the devil, Satan and so on send me scurrying for the hills. Then again, if watching little girls vomiting, swearing and inserting crucifixes in themselves is your idea of entertainment – knock yourself out.
#8        DOCTOR ZHIVAGO (1965)
            Julie Christie, Omar Sharif, Alec Guinness, Tom Courtenay
Now, here is a film I have seen a number of times. Why? Two words really – Julie Christie. I was 18 when it came out and she epitomized all that was perfect in womanhood in my eyes. I have a copy of Doctor Zhivago in my collection and usually drag it out about once a year. I cannot say for certain, but I imagine there are other actors in it as well, but I have no recollection of actually seeing any. Just Jules.
#7        JAWS (1975)
            Richard Dreyfuss, Robert Shaw, Roy Scheider, Murray Hamilton
As scary movies go this one still provides a serious jolt or two. My grandkids love it and it is well worth wading through the whole thing just to see their popcorn shoot into the air every time that head pops out through the hole in the boat!
#6        THE TEN COMMANDMENTS (1956)
            Charlton Heston, Yul Brynner, Anne Baxter, Martha Scott
Another shocker. C B DeMille could not direct traffic! Yul Brynner was pretty good, Heston was his usual wooden self, but the story…and CB's endless depiction of the exodus out of Egypt took up half the picture. Let's face it, it won an Oscar for Best Special Effects (parting the Red Sea), which was fair enough, but that was really why it was nominated for Best Picture as well.
#5        TITANIC (1997)
            Leonardo DiCaprio, Kate Winslet, Billy Zane, Kathy Bates
I think the star of this movie was the ship. For those of us who were not there in 1912 to witness the tragedy, Ridley Scott provided us with a ringside seat. The sinking is spectacular movie-making at its very best. The silly love story is simply icing on the cake.
#4        ET – THE EXTRA-TERRESTRIAL (1982)
            Henry Thomas, Dee Wallace, Peter Coyote, Drew Barrymore
This, too, was a very clever slice of movie-making when it was made. It is quite slow in its build-up, but then so was Gandhi, the picture that knocked it off for the Oscar that year. Indeed, Attenborough stopped off at Spielberg's table on his way to the podium to receive his Oscar and whispered, 'This should be yours.' He was probably right.
#3        THE SOUND OF MUSIC (1965)
            Julie Andrews, Christopher Plummer, Eleanor Parker, Richard Haydn
The most successful musical of all time by a long, long way. It struck a chord with millions of people and still does to this day. Rodgers and Hammerstein, of course, wrote several terrific musicals – South Pacific, Carousel, and Oklahoma! etc – But, for some reason, this one has proved the most successful with cinema-goers. Maybe it is the Salzburg scenery. Surely it cannot be the songs.
#2        STAR WARS EPISODE IV: A NEW HOPE (1977)
            Harrison Ford, Carrie Fisher, Mark Hamill, Alec Guinness
The very first Star Wars and it took the world by storm.
#1        GONE WITH THE WIND (1939)
            Clark Gable, Vivien Leigh, Olivia de Havilland, Leslie Howard
Reams have been written about Gone with the Wind. I have never liked the picture because the whole concept that fiery Scarlett would prefer insipid Ashley over dynamic Rhett – elderly Leslie Howard over dashing younger Clark Gable – is just impossible to swallow. Gable and Leigh are exceptionally good though. She deservedly won an Oscar. Clark was robbed.
Courtesy of the Star Wars franchise the trio of Harrison Ford, Carrie Fisher and Mark Hamill appear in four of the twenty most successful movies ever. Alec Guinness is in three and there are three Disney animated features. It should be noted that most of the films listed have been re-released several times and these figures form part of their overall gross receipts.